Lakshmipat Singhania Academy
Passion and inspiration were the focus of Indradhanush 2021 — a fest organised by Lakshmipat Singhania Academy recently. Sixteen schools and over 100 students from classes I to V took part in the online event that saw them talking about their hobbies and role models through various presentations.
A pre-recorded cultural programme started the fest.
The first event, P-Leisure Paradise, had six-member teams from each school talking about their passion followed by a question-answer round with the judges.
The second event, Captivating Celebration, was open to students of classes III to V.
Each school was represented by two students from different classes enacting their role models.
"Students are like the seven colours of the rainbow. Life offers different experiences. We must learn the balancing act and to accept everything," said school director Meena Kak.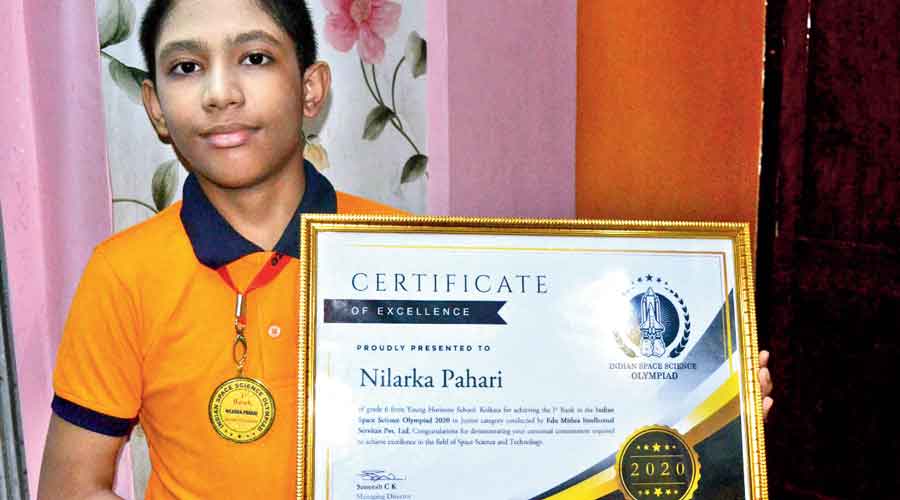 The Telegraph
Young Horizons School
Two Class XI students, Nandini Deb and Disha Maity, recently represented the school in ASISC Senior Regional Debate for West Bengal and North East Region, 2021.
It was conducted virtually in the honour of Fr George Hess.
They stood first at the contest where candidates from 52 schools had taken part. "Celebrities and cricketers are grossly overpaid" was the topic on which the students had to put forth their views.
"It is important to have an opinion about everything, and it is all the more significant to express it with precision. Debating helps to achieve that," said Deb, who has taken interest in debating since past five years and was speaking for the motion.
In another development, Class VIII student Nilarka Pahari recently stood first in the Science Olympiad 2021.
He aspires to work with the Indian Space Research Organisation as a scientist. "Besides my interest in science and astronomy, I enjoy reading the books of J.K. Rowling.
I believe if one enjoys a particular subject, studying it would become easier," said Pahari.Principal Sarmistha Sen said: "Debating is important as it helps one think rationally and answer promptly. Our children proved their potential at the regional contest. Besides, Nilarka is a wonder kid, who has portrayed his ingenuity in the field of science and technology in this tender age."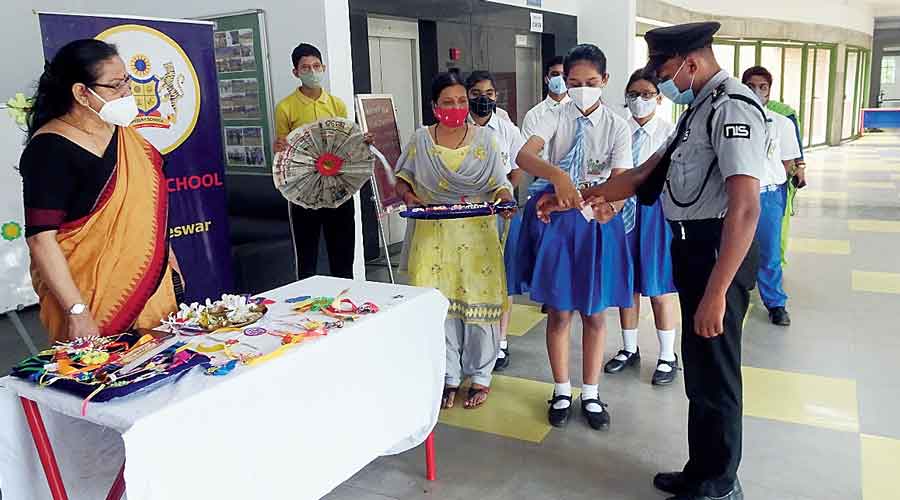 The Telegraph
Apeejay schools
Teachers from Park Street, Salt Lake and Haldia branches of the Apeejay schools and some students from its Bhubaneshwar branch went to some hospitals and police stations in their localities to tie handmade rakhis to the frontline Covid warriors.
Students made the rakhis from recycled materials at various workshops held in their respective institutes.
"Rakhi is a festival of relationship, emotions and trust. It was the apt time for our kids and teachers to show their gratitude to those, who had worked tirelessly during the pandemic. We wanted to say — we are proud of them," said Apeejay schools CEO Kiranjit Pannu.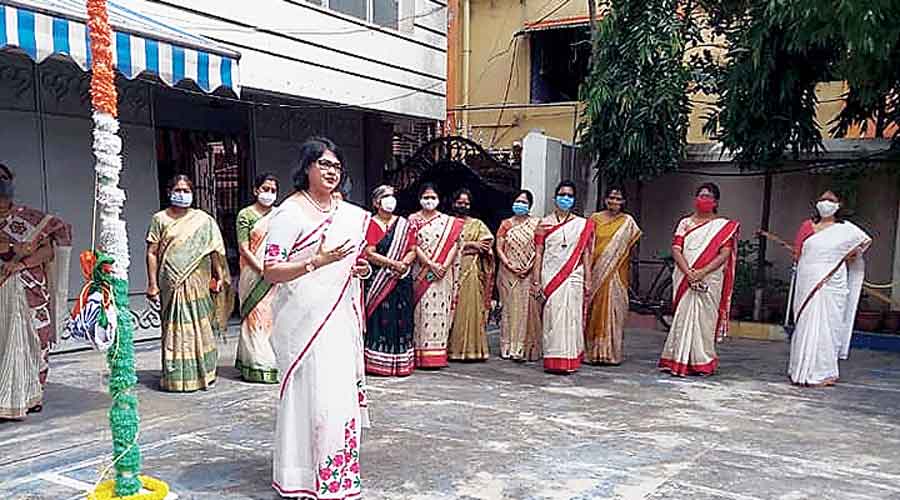 The Telegraph
Aditya Academy Senior Secondary School, Dum Dum
The school premises of Aditya Academy Senior Secondary School, Dum Dum, was abuzz with excited chatter as 20 students of classes XI and XII — all members of the student council — met physically to celebrate the 75th Independence Day. In between singing patriotic songs and talking about the meaning of freedom, the teachers and students also shared personal notes.
The school also uploaded a 20-minute video on the occasion, showcasing cultural performances of students from Nursery to Class XII.
The school's film and dramatics club made eight short films on their interpretation of freedom. The children created the short films on the issues they could connect with, using their mobile phones. Each house produced two films each. "The children interpreted different aspects of freedom. It was a very creative endeavour. The films will be judged and uploaded shortly," said senior principal Sonali Sarkar.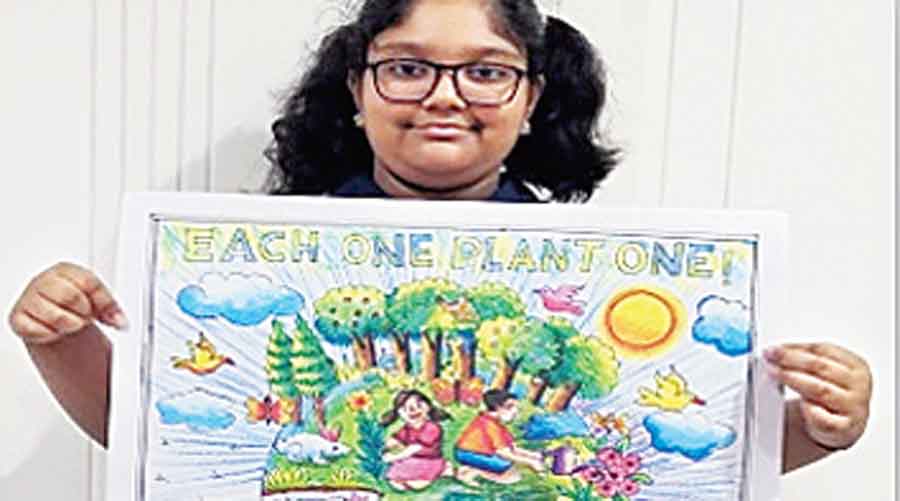 The Telegraph
Sushila Birla Girls' School
Students of Sushila Birla Girls' School recently observed World Environment Day to spread awareness about the importance of nature and fight against ecosystem degradation.
This year, it was held on June 5. All activities were closely aligned with the United Nations' Sustainable Development Goals and aimed to reduce the carbon footprints.
"The school believes in sensitising the students to safeguard and nurture the environment. It is our duty to teach children — our future generation — to give back to nature what they are taking from it," said principal Koeli Dey.