Sania Mirza walked for Anushree Reddy in a pastel lehnga as her showstopper for her collection 'Mystic Fantasy'. Post-walk, she told t2 how the butterflies are the same as the ones you get while walking out on to the Centre Court, but with a difference!
You are as comfortable on the ramp as on the tennis court! Tell us, a ramp walk is equal to which tennis shot?!
I fake it well! (Laughs) I think the moment when you are walking out on to the Centre Court, the butterflies that you get, that's how you feel in the entire ramp walk. Usually, when I get on the tennis court, I am fine, but here, until I am actually done, I am like: 'Don't fall, don't do this!' (Laughs)
What have been your fashion faves over the years?
I don't really understand fashion so much. I am lucky to have a really good styling team behind me.... I am really happy to be out here, like Anushree said, after Covid, to just come out here and have some normalcy and do this after many years.
Why is white such a favourite?
Whites, ivories, I like pastel colours. I have been a little bit of a tomboy all my life, so pinks were not really my deal, usually, until I got a little older.
Who plays effortless tennis?
Roger Federer, right? It's tough to beat that!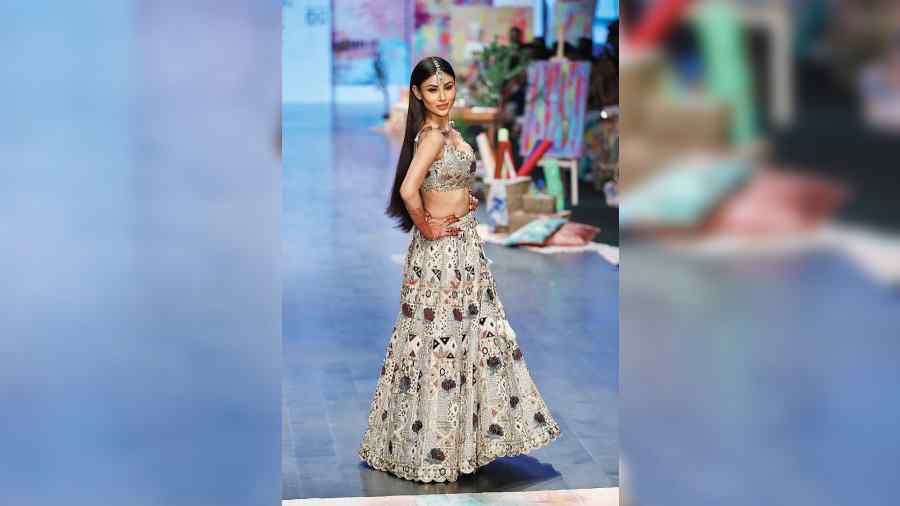 Mouni Roy in Payal Singhal at LFWXFDCI in Mumbai.
Payal Singhal showcased easy glamour with 'Painterly' and Mouni Roy walked in a bridal lehnga in a muted hue. A quick chat with the Brahmastra: Part One — Shiva, star.
What were the festive times like for you?
I was actually working throughout Durga Puja. Only on Ashtami did I get to go and offer anjali.
Are you still nervous before a ramp walk?
This was the fourth time I was walking the ramp, ever. When something is out of your comfort zone, you do get nervous. If this was a dance performance, of course you feel the nerves, but it's not nerve-wracking. This (walking the ramp) is nerve-wracking for me.
What do you think of this colour as the bridal colour?
I love it! Anything that has ghungroos and lotus on it, I love. The zardozi work is rich... perfect for a bridal outfit.
What are you loving at the moment in terms of fashion?
A black dress. I think I have hundreds of blackclothes at home!