St. Xavier's College (Kolkata) Alumni Association presents Sangam Reunion Dinner 2022, in association with The Telegraph, got ex-Xaverians back to their Park Street campus last month to spend an entertaining evening together while nurturing old bonds. With the theme of this year's celebration as 'Gujarat', the alumni association included a number of entertainment performances based on the culture and heritage of the state.
Starting the evening with a felicitation programme, the alumni members enjoyed an evening full of entertainment including Dandia and Garba dance performances, a fashion show by designer Abhishek Dutta and DJ Harish's mixes. Following traditions, the batch of 1997 celebrated their silver jubilee. Delish Gujarati delicacies and beverages awaited guests for dinner, after the performances, served on the college grounds.
Snapshots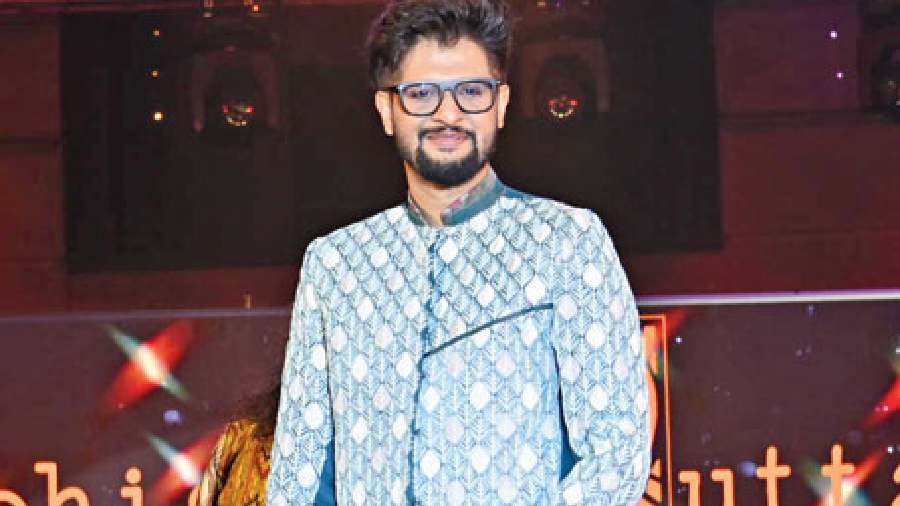 Designer Abhishek Dutta curated a beautiful fashion show with professional models and ex-Xaverians walking the ramp. Actor Neel Battacharya who is also an alumni, was the showstopper of the night. "It always feels fabulous to associate with St. Xavier's Alumni Association. Here, I had the opportunity to showcase my winter festive collection where our models as well as the alumuni walked the ramp in various Indo-western attire," said Abhishek.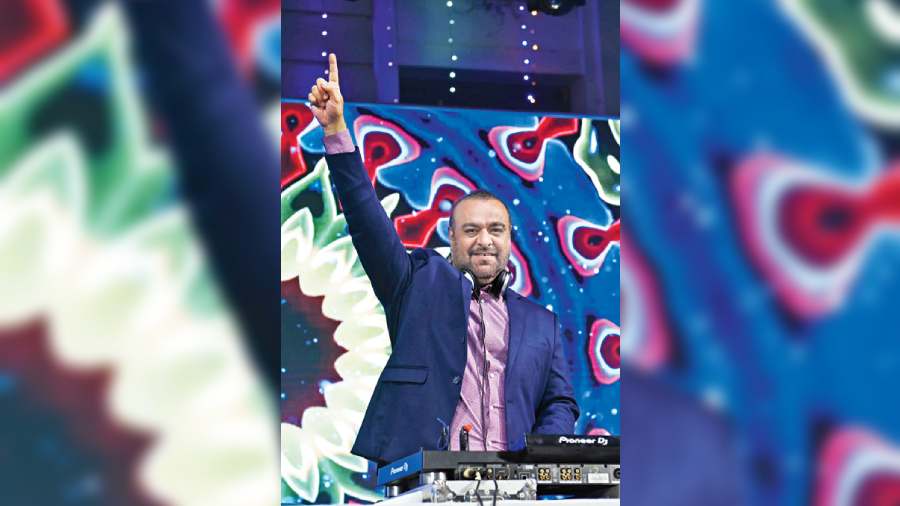 Xaverians swayed and danced to DJ Harish's beats. He is also a proud Xaverian and kept spirits high on the dance floor with retro and contemporary Bollywood numbers.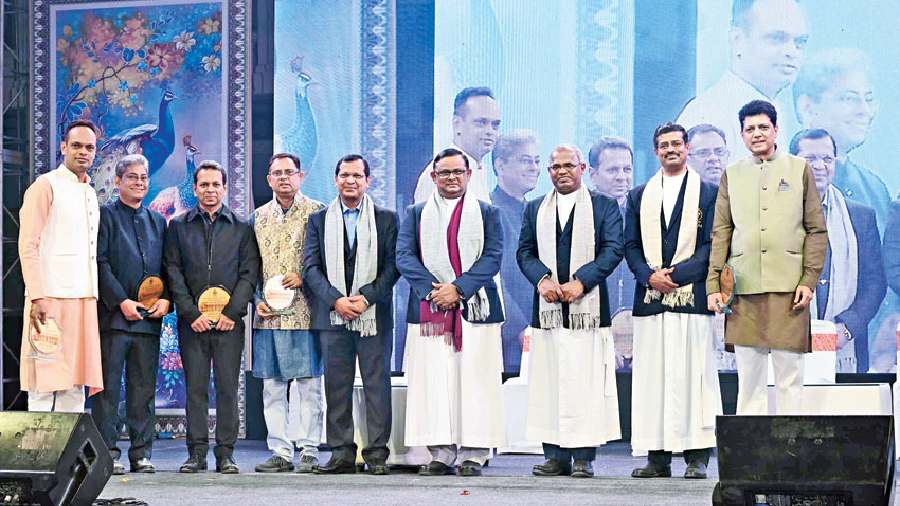 (L-R) Zahid Rafique, convenor of the event; Malay Ray Choudhary, advisor; Deepak Gupta, advisor; Firdausul Hasan; Father Joseph Kulandai; Father Dominic Savio; Father Jeyaraj Veluswamy; Father Peter Arockiam; and Rajeev Buvaria, convenor. "We miss the famous green benches. Professor Biswanathan was our favourite because of his oratory skills. The reason for choosing Gujarat is because of the city's vibrant vibe and we wanted to play around with the theme," said the convenors. "When you talk about memory-making at Xavier's there is nothing that is out of it. Everything's a memory. I was a student leader of this college, I found my love, my wife. I grew up here. I believe life is all about making memories and the best memories of my life I have made here. That's the one reason I come back here again and again," said Firdausal Hasan, honorary secretary of St. Xavier's College (Kolkata) Alumni Association.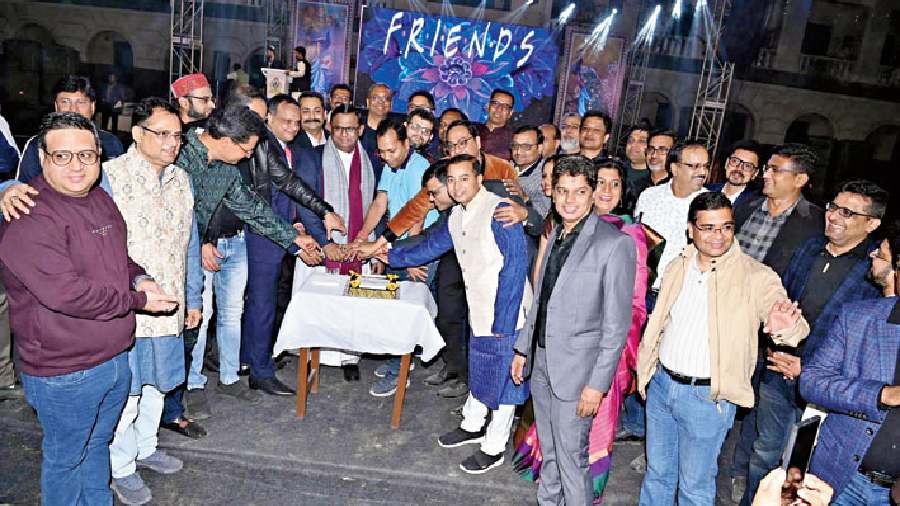 The cake-cutting ceremony of the 1997 batch.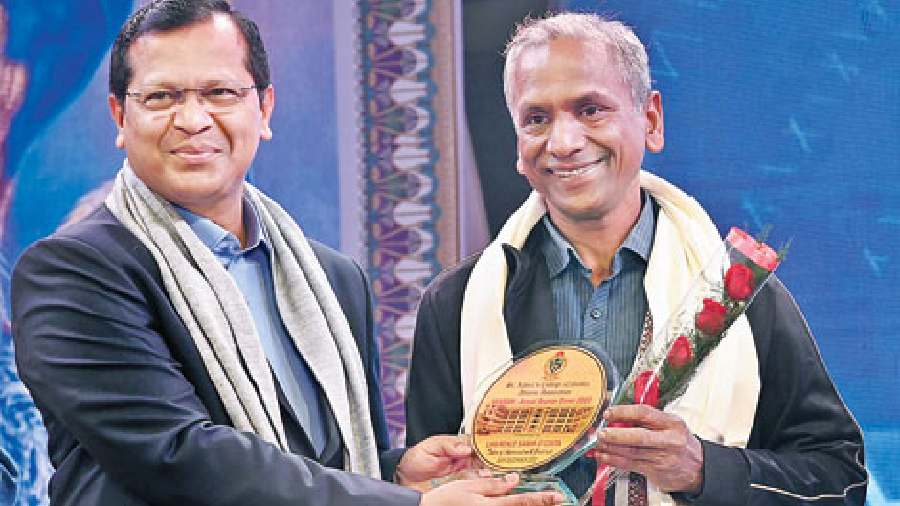 (Right) Samir Lawrence D'costa was felicitated for completing 25 years of dauntless service towards St. Xaviers College.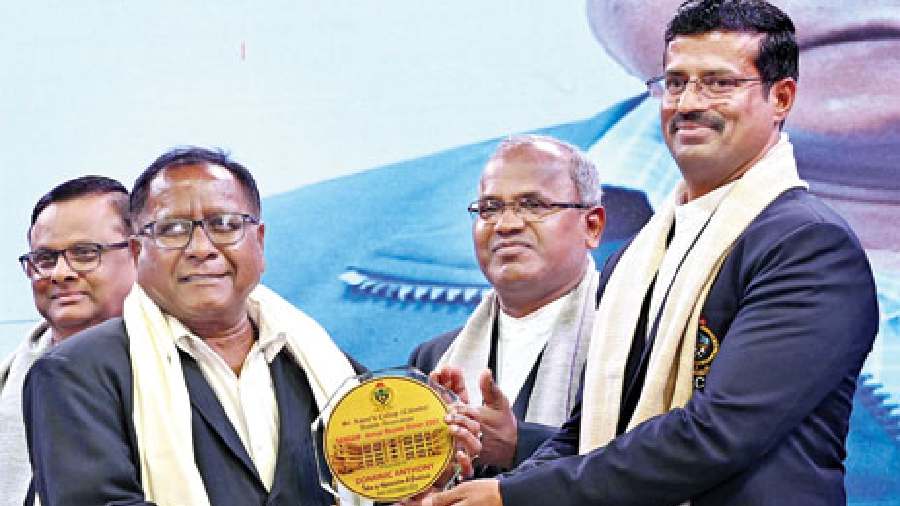 Dominic Anthony completed 25 years as a St. Xavier's staff member and was felicitated for his tireless service by Fr. Peter Arockiam.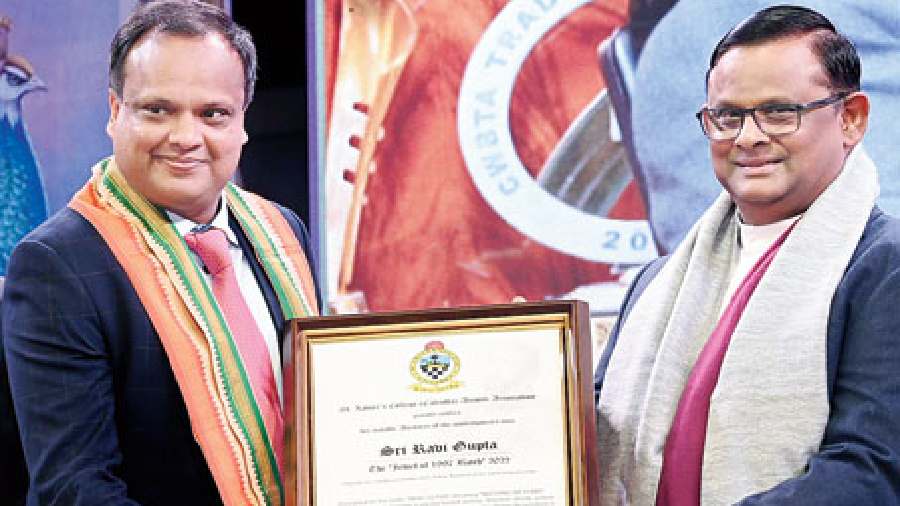 Ravi Gupta from the 1997 batch got the Jewel of 1997 award.
Alumni speak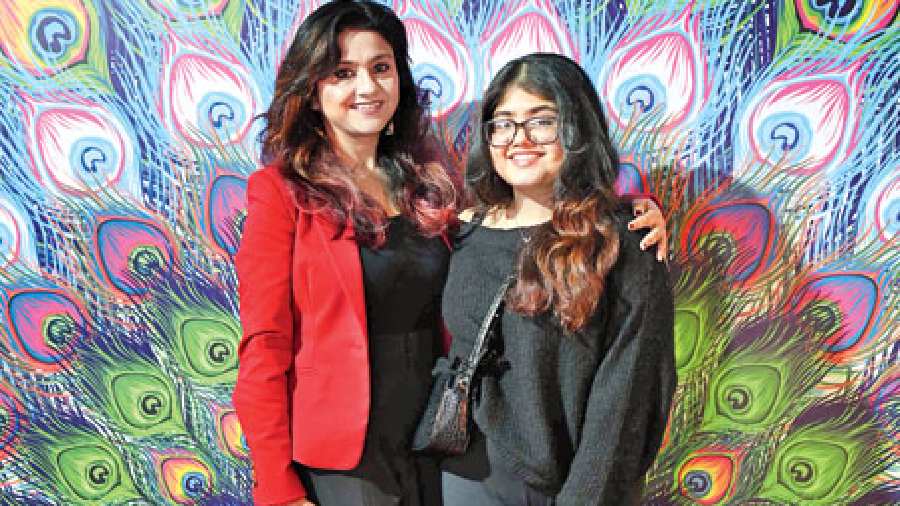 "I was in the English honours department and miss the kind of fun we had. I miss the green benches, it's not there anymore. Most of our friends are here in the alumni association. So we are in touch always. The college kids now have gone through a whole pandemic. We were much luckier that we enjoyed our college physically. The whole technology thing is actually making them miss out a lot," said Hasnu Mukherjee of 1993 batch, who attended the event with daughter Heeya.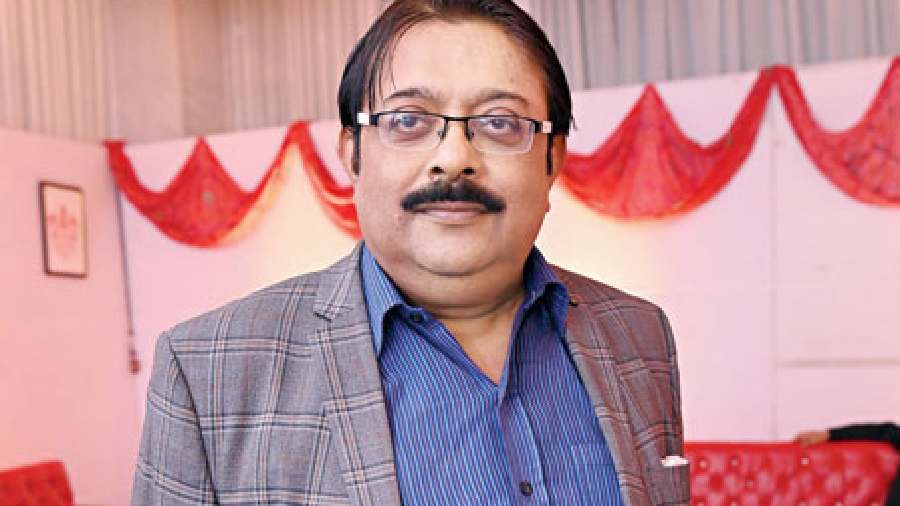 "The best years of my life has been in the college. We had some legendary professors in the mathematics department. I cherish the interaction with the other students with whom we used to play cricket. I have wonderful memories of the canteen, the field and the class. It is Xavier's that taught me so much," said film-maker and actor Ashoke Viswanathan, of 1981 batch.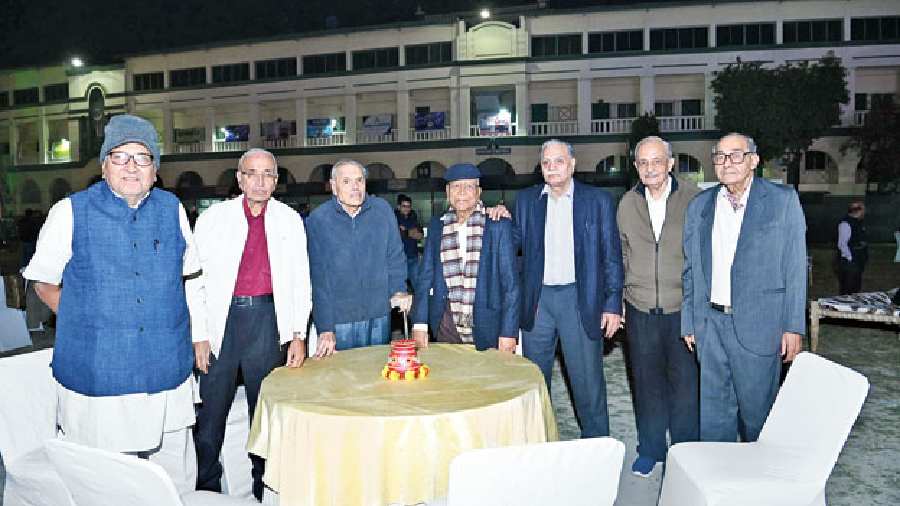 The 1964 batch got together after several years of passing out of college. (L-R) Omprakash Maskara, Bimal Bhansali, Rajendra Sanghaneria, Ram Gopal Agarwal, Bithal Kothari, Bijay Anchalia and Sudarshan Malhotara. Malhotra(left) has saved his college certific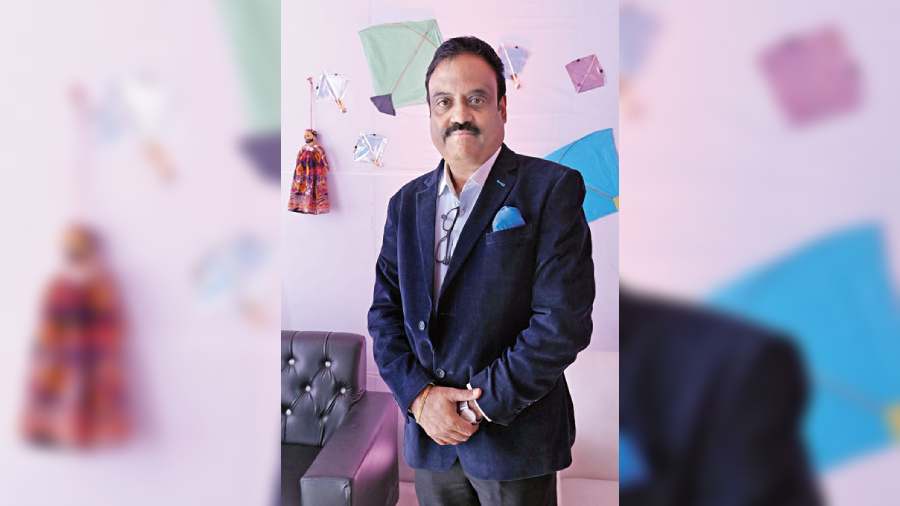 "I have very fond memories about my college. The fathers and the professors are so good and warm. I still remember being a part of the committee that celebrated the 125 years of St. Xavier's. I have fond memories of Pope John Paul II coming to our college and many such luminaries who have blessed us with their valuable presence in the college," said Jayajit Biswas of 1986 batch.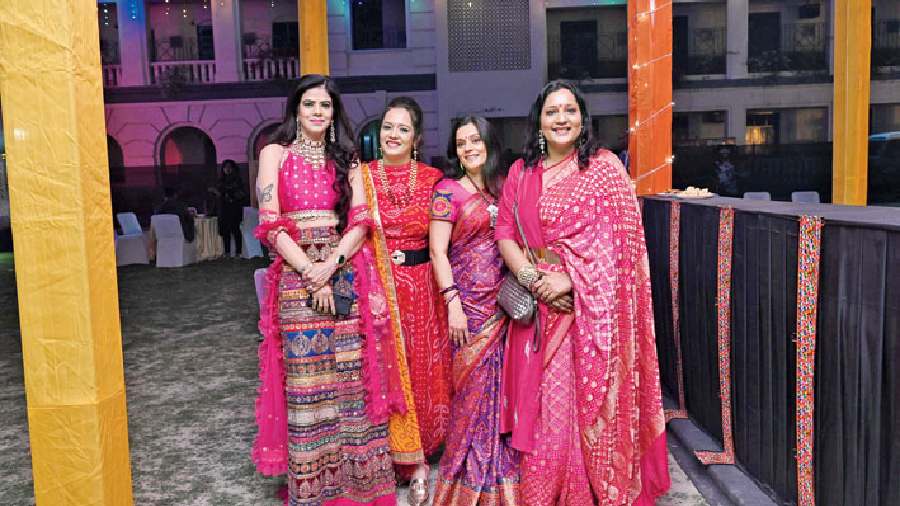 The batch from 2001 dressed up according to the theme in outfits detailed with Gujarati crafts. "Sangam Reunion is an event that as a Xaverian we always look forward to. We also performed Garba on stage," said Kavita Lohiya (far right) along with her friends (r-l) Ruchita Bajaj, Ruchi Chandak and Meetu Kakarania.
F&B: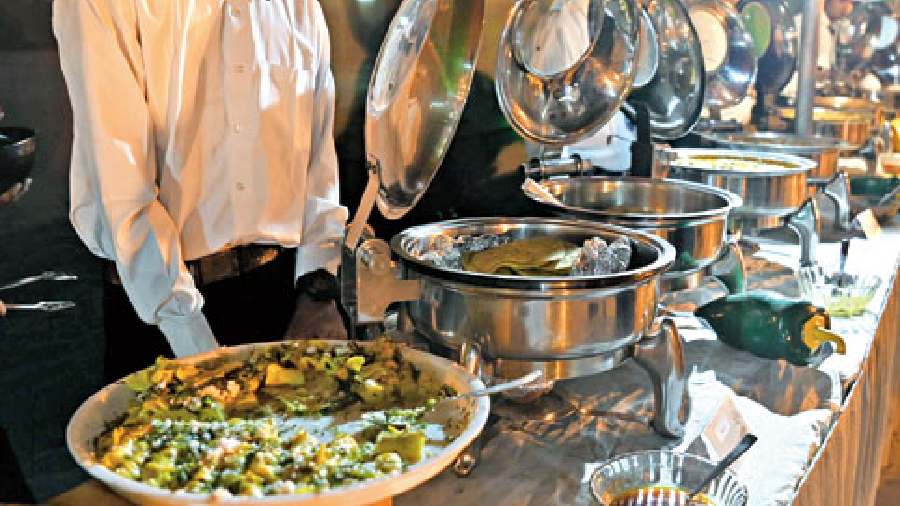 A reunion is always incomplete without yummy food. The Sangam reunion dinner had a variety of Gujarati delicacies, including Jalebi, Khandvi, Thepla, Dal Dhokli, Shrikhand, Dabeli and Pani Puri.