Women painted the town red at puja pandals this year as puja committees organised 'normal' sindoor khela after a two-year COVID break.
Masks, sanitisers and social distancing were forgotten as the clubs made the ritual extra-special with celebrities and sweets.
At Hazra Park, actress Rituparna Sengupta participated in sindoor khela on Wednesday morning with several other guests. "It was indeed a special occasion. Physical distancing cannot be maintained during sindoor khela and so we did not celebrate the ritual in the past two years. However, yesterday, hundreds of people gathered at the pandal and bid adieu to Ma Durga just the way they should," said Sayan Deb Chatterjee from Hazra Park.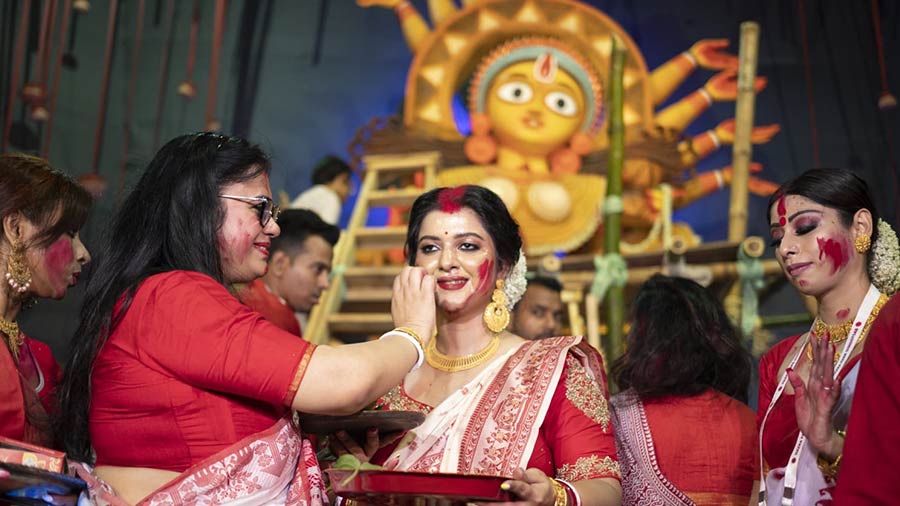 Women participate in 'sindoor khela' at Hazra Park
Local residents had been waiting eagerly for the sindoor khela celebrations at Chetla Agrani and Prafullakanon Sarbojonin Durgotsav, this year. "This is one ritual that creates a bonhomie among people. Women wait eagerly for sindoor khela. In the past two years, we have not been able to organise it properly but this year, we will be doing it in the way we used to in the pre-pandemic years," said Samir Ghosh, a member of Chetla Agrani club.  
Keeping COVID protocol in mind, Behala Nutan Sangha came up with several new ways last year to celebrate sindoor khela while maintaining physical distancing. The organisers didn't allow any outsider and no more than five participants were allowed inside the pandal at the time, only after showing vaccine certificates. "Thankfully, this year, we do not have to implement any such rule. On Thursday, several people joined us in the ritual regardless of their caste, creed or religion. Meanwhile, all the organisers, who have been immensely busy for the last two months, had a peaceful evening with tea and some adda," said Abhishek Bhattacharjee from the club.
Swarup Nag from Aswininagar Bandhu Mahal said actress Satabdi Chakraborty was invited to the puja on Thursday. "After immersion, we have arranged for sweets for everyone," Nag said.
Other clubs also arranged for food and sweets after the ritual. Chetla Agrani has ordered bonde, mihidana and rosogolla. "There will be a special Bijoya Sammilani after a few weeks, but today we will be having a special rosogolla from Bongaon," said Bhattacharjee.