The Satyajit Ray auditorium at the Indian Council for Cultural Relations (ICCR) came alive with myriad tunes as Kolkata-based youth bands took part in the final of Badyi Bejeche (Battle of the Bands) on October 15.
Part of the flagship event by Sunday Classics Organisation (SCO), Sharodified Chapter-3 was held in a hybrid mode for the third year in a row. My Kolkata was the digital media partner for the event.
The show
October 15 saw the culmination of various events held over a span of a week – online and offline – between September 18 and 24. The evening was full of music and dance with some witty compering by emcee and co-founder SCO Hrittik Ghosh thrown in. Gen-X received valuable suggestions from the icons. Winners of music and dance events presented special performances during the prize distribution ceremony.
Guest dancer and founder of Mudragraphy, Tithi Das, flagged off the event for the evening.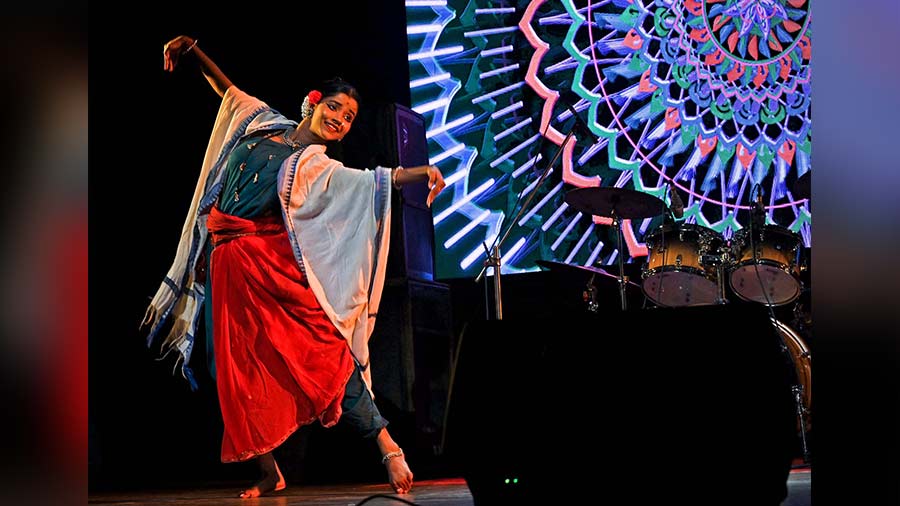 Tithir Das was the guest dancer for the evening
Amit Datta/My Kolkata
All about SCO
Sunday Classics Organisation is a youth-run institution that embodies creativity, presents a platform to express oneself and bridges the gap between dreams and reality through entertainment. Co-founder Sinchani Dutta said, "This year, we worked on the theme of sustainable development. Currently, its (sustainable development) goals have a major role to play, and as event organisers, we feel we can do a lot in this regard, especially in spreading awareness about the sustainable development goals and how to incorporate the same in such large-scale festivals.''
Online to offline
"Courtesy COVID, for the first two years, the show was online. For the first time, we brought it on ground which we feel was a huge feat. Soon, we shall see this festival as a medium to spread different types of art, most of which are 'endangered' now. It is our attempt to conserve the heritage aspect centred around this festival.'' added Dutta.
The events
The seven events included online competitions like Daaker Dak (creative writing), Rong Milanti (art), and Focused (photography); the final round of the offline event Maddox Bitorko (debate) was held on September 18 at the ICCR; and the hybrid shows included Badyi Bejeche (battle of the bands), Symphony (music), and Tandav Lasya (dance).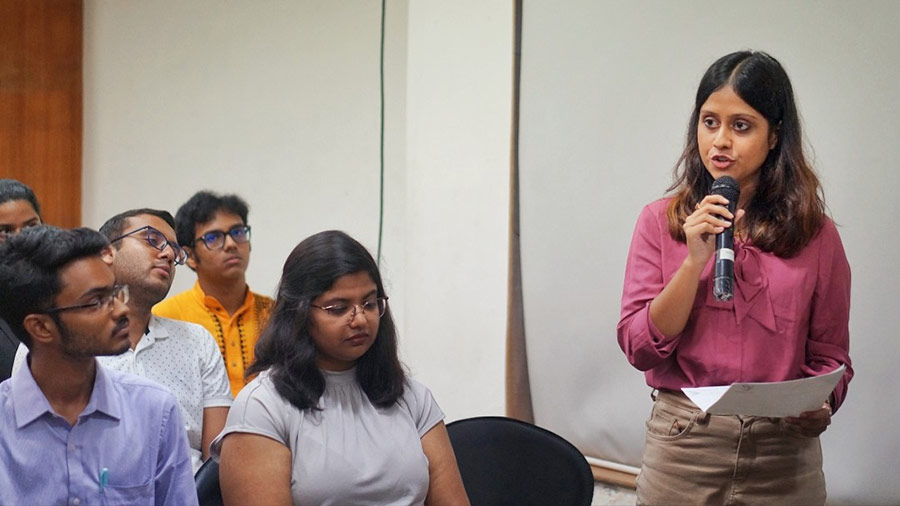 The debate competition final was in progress at the ICCR on September 18
Soumyajit Dey/My Kolkata
Daaker Dak, the creative writing competition, was judged by Biswanath Dasgupta, editor-in-charge of The Telegraph in Schools, and Debnita Chakravarti, associate professor and post-graduate coordinator of Shri Shikshayatan College.
Daaker Dak gave the participants an opportunity to write short stories and letters. While Ishani Routh, a final year English honours student from Rani Birla Girls' College, won in the 'tales category', Baidanti Choudhary from Nabadwip Vidyasagar College walked away with the prize in the 'letters category'.
Rong Milanti was judged by brothers Susruta and Saswata Mukherjee (Bob and Bobby) who are filmmakers, animators, and illustrators. Sagnik Ghosh from IIT- Bombay emerged the winner. Performer, curator and arts manager, Paramita Saha, judged Tandav Lasya and Sounisha Gupta, a Class XII student of National Gems Higher Secondary School, was declared the winner.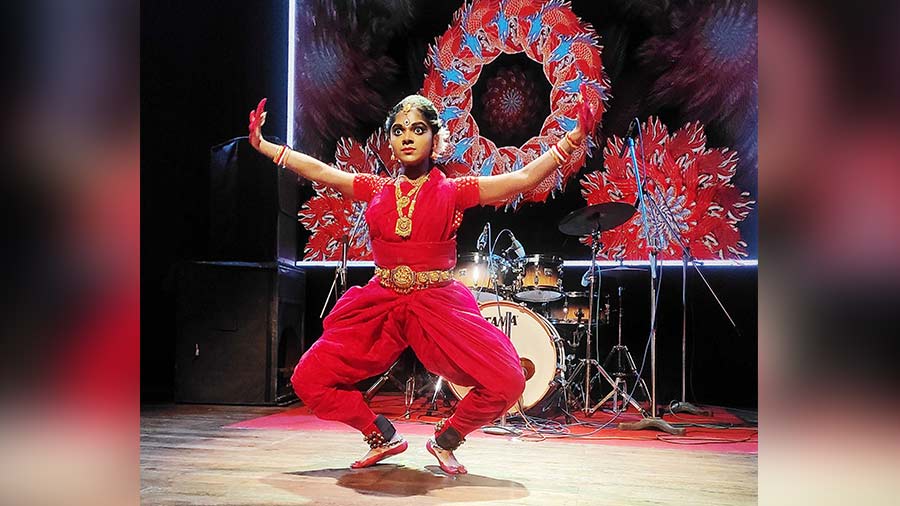 Sounisha was declared the winner of Tandav Lasya and gave a special performance on October 15
Amit Datta/My Kolkata
Street and documentary photographer, Soumya Sankar Ghoshal, judged Focussed and declared Sreejit Bhattacharjee from Vijaygarh Jyotish Ray College as the winner.
Radio jockey Jimmy Tangree who judged the finals of Badyi Bejeche, declared Katataar band as the winner.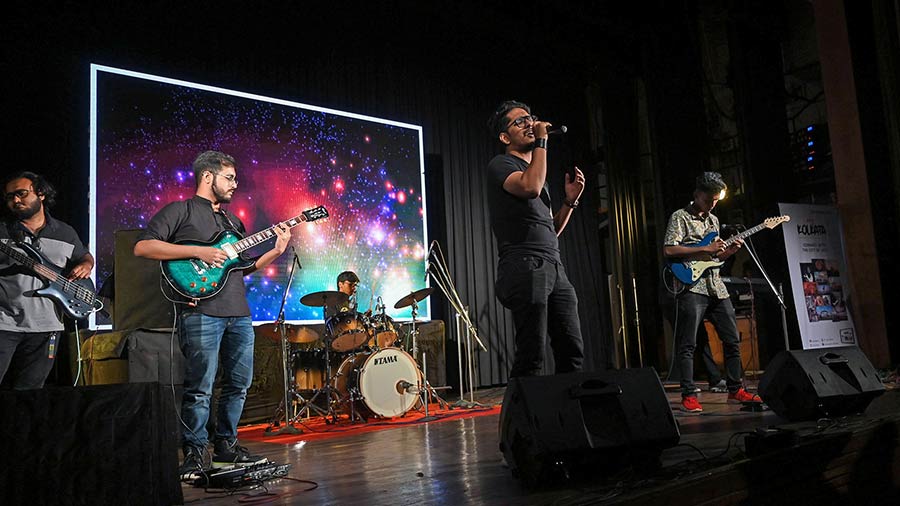 The winning band Katataar performed original composition Katataar Anthem
Amit Datta/My Kolkata
The winning band comprised vocalist Soumyasish Das from Asutosh College, bassist Atreyo Mondal from Maharaja Manindra Chandra College, guitarist Abir Dutta from Jadavpur University, drummer Arya Gon Chowdhury and keyboardist Nilavro Mazumder from St Xavier's University Autonomous and guitarist Soumyadeep Chatterjee from RCC Institute of Information Technology.
Raju Raman, programme consultant to Victoria Memorial, judged Maddox Bitorko. The motion of the House was 'Celebration of Durga Puja is a hindrance to sustainability'. Anusha Chowdhury from Garden High School and Meghna Mitra from St Xavier's University, were adjudged the best speaker for and against the motion respectively. The best team award went to Anusha Chowdhury and Ipshito K Ghosh from St Joseph's College.
Musician-cum-heritage and disaster management professional Sukrit Sen judged Symphony. He declared B.Com third student of South City College, Meghadri Bhattacharya, as the winner of the solo performance while Soumyadip Das from Scottish Church college and Arpan Dutta from Naba Ballygunge emerged winners in the duet category.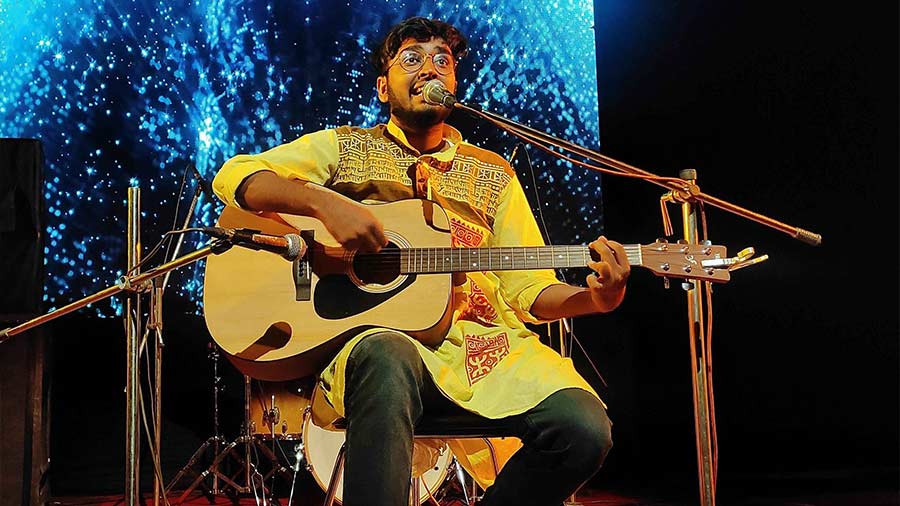 Meghadri Bhattacharya winner of Symphony solo made the whole auditorium dance when he sang songs like Eta ki 2441139 ? , Tomar Ghore boshot Kore … and others.
Amit Datta/My Kolkata
Winner speak
"Being a folk singer, I decided to sing Gouri Elo and Lal Pahari Deshe Ja as Sharodified was a Durga Puja-based event. However, I modified these numbers slightly. It was an impromptu decision to participate. Some contestants were extremely capable and I believe that there will always be someone better than you and you must respect them,'' said Meghadri.