Taking a break from online classes, students of St Francis Xavier school performed skits, danced and recited patriotic pieces for their Independence Day programme.
Aditya Chaudhury of Class XI read out a speech on how the day is celebrated across the country, including marchpasts and parades and how it is the duty of citizens to serve the nation. Tamanna Bandyopadhyay recited Sarojini Naidu's poem The Gift of India. 
The show was moderated by Ashmit Palit of Class XII who inserted tidbits of history and recounted the sacrifice of freedom fighters in between introducing fellow students. "I used to study in a boarding school in Siliguri till Class X and have joined St Francis Xavier in Class XI. My only interaction with these new friends and teachers is online but I've still come to know many of them through such extra-curricular activities," said Ashmit.
Arkadev Pande edited a PowerPoint presentation about eminent personalities who have shaped the history of the country along with famous words by them. For instance, Netaji Subhas Chandra Bose was quoted saying: "Give me blood and I will give you freedom".
Swastika Ghosh introduced the next section that had students dressed up as freedom fighters and delivering a line of two. Pronoy Ganguly appeared as Mangal Pandey, Rajveer Singh as Bal Gangadhar Tilak, Aditya Choudhury as Gopal Krishna Gokhale..."Our history teacher asked me to dress up as Lala Lajpat Rai," said Aditya Majumder of Class X. So he wore white kurta-pyjama and learnt from YouTube and tied his mother's dupatta as a turban on his head. "As for Rai's white moustache, my mother painted one under my nose." He looked both cute and credible.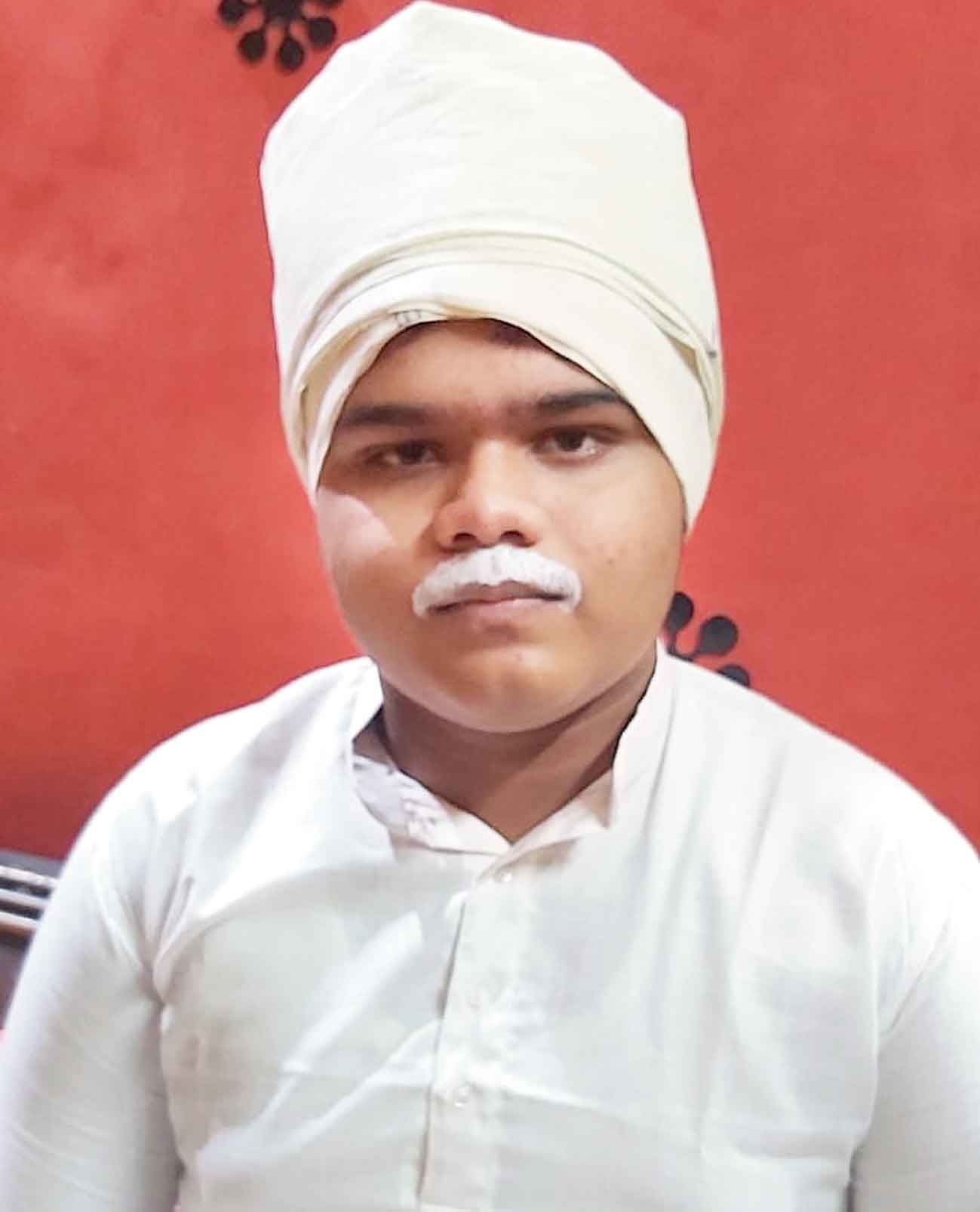 Aditya Majumder of Class X appeared as Lala Lajpat Rai
A colourful group dance was presented by senior school girls. They danced to the song Bharat ki beti from the film Gunjan Saxena and their performance was interspersed with images of women achievers like Matangini Hazra, Sarojini Naidu and Kiran Bedi.
"We had rehearsed as a group on Zoom with our dance teacher Atreyee Sengupta but for the show we went to school. It felt nostalgic," said the Pawanee Ghosh of Class IX, who is now learning Odissi online.
Officiating principal Anil Srivastava got students contemplating about why foreign powers were able to enslave Indians in the first place. "It's because we lacked unity," he said. "We were and, sadly, still are busy discriminating on the basis of language, religion and race. To return to our era of lost glory we need to respect everyone alike and develop a sense of belonging," he said.