December 14, 1am IST
Somewhere in my neighbourhood a passionate cry, lusty in hope of 'the' dream, sliced through the silence of the night. 'Goaaaaaalllllllllllllllllllllllllllllllll'. Lionel Messi had netted one at the 34th minute in the semi-finals vs Croatia — the team which had beaten Brazil in the quarter-finals and left Neymar in tears — taking Argentina a step closer to what everyone's heart desired — him with the holy grail of football, shedding happy tears. The World Cup. Then came another two from Julian Alvarez, in the 39th and 69th minute of the match. Argentina had sealed their berth in the finals.
As I sat massaging night cream on my face inside my mosquito net, the magnitude of it all struck me. Suddenly. My breath quickened and my lips curled into a smile. I'd be watching Lionel Messi live at one of the biggest sporting spectacles in the world. The World Cup finals. I couldn't believe my luck. With reports about how it could be the legend's last tryst with the 'beautiful game' in a World Cup (we hope not!), had elevated a mere final into a pilgrimage of sorts. A once-in-lifetime opportunity, made possible and facilitated by Vivo, 'the official smartphone and the only official sponsor of the FIFA World Cup Qatar 2022™ in the smartphone industry'.
I had watched Messi play live before. World football's 5.7ft giant. Coming in as Ivan Rakitic's substitute, he had fired one into the net in a La Liga game between Atletico de Madrid and FC Barcelona at Estadio Vicente Calderon, Spain, in 2015. Barcelona had won 2-1. I'd never forget how he strode past me in a blue denim shirt and a pair of jeans, a drawstring bag slung over his shoulders. Messi, 'The Man' within touching distance. The 30 minutes, 78 seconds that Messi was on the field was one of the most memorable 30 minutes, 78 seconds of my life. Till Lusail came calling.
This was different, the finals of the World Cup, a victory that had eluded Messi. A victory that would be a perfect ending to what had been a great meal. Soul-satisfying and wholesome. And, I would have the opportunity to see history unfold. It was too good to be true, an absolute privilege and a dream come true.
The trip had been in the making since September and only a handful at home who knew about it were put under an NDA by me. Like Messi and his luck at the World Cup, I didn't want the most memorable assignment of my life to be jinxed. In fact, till I landed in Doha on December 16, I had treaded cautiously, not sharing anything on social media. I was still in #fingerscrossedmode, lest anything goes awry. My treasured secret, my 'stairway to heaven'. Only when I had hopped on to the bus on December 18 at 2pm, grabbed and clutched my match ticket, was I convinced. A sigh of relief. Boy, I was actually on my way to watch the finals of the World Cup, starring Lionel Messiiiiiiiiiiiii. OOOOOOMMMMMMMGGGGG!
Having watched numerous matches in stadiums over the years, the majority being at Eden Gardens and Salt Lake stadium, I could vouch for the absolutely electrifying mood of a live game and how nothing, absolutely nothing compares to the experience of watching a match from the stands with the fans and being thrown into their celebrations. From the moment you plonked yourself in your seat, you were no longer just a supporter on a single mission to cheer your team to victory. You were part of a larger community and your extended family would embrace you with open arms. I witnessed the same brotherhood at Lusail Stadium.
The Argentina fans were a different breed. Their energy infectious. Their passion relentless. The way they went after their team like a solid force of conviction, punching into the air, was akin to an Indian fan cheering for our men in blue. The same zeal. The same romance. A bunch of dreamers. There was a certain intoxicating charm in their chants. During my three-day stay in Doha, I saw how the blue-and-white army descended over the capital of Qatar and made it their own. Much like Messi. Who came, saw and conquered more than a decade back. 
At the stadium on Sunday, they were of course the dominant majority, chanting a divine melody that served as a rousing call for their fellow Messi worshippers. From Yemen. From China. From India. Being in the stands gave you a feel of what a truly global star Messi was, touching lives like only he could. It was almost emotional to see how this band of men and women had paused their lives for a few days to live, experience and relish a moment they thought won't be replicated ever again in their lifetime. To see their Messi lift the World Cup. #surreal
A day later, their party continued to rock Hamad International Airport. Congregating right in the middle of the airport, they celebrated for one last time before each went their way. To Yemen. To China. 'We Are The Champions' rang in the air as they went around the airport, still in their jerseys, making the most of the lingering aftertaste of Messi's sweet success, before life happened. Again. My biggest takeaway from the trip would probably be this brotherhood. The spirit of an entire nation seemed encapsulated in this group of football lovers which can actually put a smile on your face and perk you up.
Just like their hero Messi. A man who had the unbelievable power to unite people with his mastery over football and drive them to tears of joy with his magic. Can you imagine the pressure on him? The roar that greeted him when he showed up at the warm-up on the pitch at Lusail or disembarked from the team bus, was thunderous and deafening, translating into numbing expectations. Yet, that man was a picture of calm, walking on the field like he's out for a stroll and not to claim the World Cup. I just kept marvelling at his composure even when Kylian Mbappe kept firing at the Argentina net, threatening to spoil the party. What could he be thinking? What was going on in his mind? So near yet so far? The topsy-turvy match with Messi's fate hanging in balance was not what Lusail had signed up for. They had come to see Argentina cruise through. And at half time, it certainly seemed so, with them leading 2-0.
All that was set to change in the second half which would translate into what seemed like a marathon of nerve-wracking minutes, the fear of the worst, the heart beating fast like the Mission: Impossible score. I thought of my father back home whose dream I was probably living at that moment. A former professional footballer, my father, a man of few words had never expressed so much curiosity about any assignment his daughter had been for in the last 15 years. He'd be devastated.
Yes, France were the defending champions, but what a dampener it would be if they won and spoiled Argentina's long overdue party of 36 years and stand in the way of Messi's road to the ultimate footballing glory. I just couldn't get myself to be a sport at that point. I saw no fairness in Messi losing. Just like in many a Rafael Nadal match when my heart was in my mouth. As defiant and a gentleman like Lionel Messi. Messi's troughs seemed personal. It wasn't him playing out there. It was each one of us out there on the field, dribbling past our demons, trying to stay afloat and emerge victorious in our own way. His success, our wish fulfilment and the power of faith.
A young boy from China high-fived a Bangladeshi man right next to me once Gonzalo Montiel had netted the final penalty for Argentina. And, as Lusail plunged into unbounded joy, his tears too knew no bounds. The Bangladeshi man video-called his brother, the backdrop being an electrifyingly lit-up Lusail. He, like all of us, had just witnessed history and wanted his family back home to feel the spiritual peace of the euphoric moment. United by Messi. Glorious in Messi-ness.
A special word must go out to Qatar which made this World Cup a project to remember, embedding it in every part of the Qatari life, not letting you forget even for a moment that they were the hosts of the prestigious tourney. From the airport to the stadium. A privilege they never seemed to have taken for granted. Instead outdoing themselves to make it an ode to the fans.
As I squinted hard to see Messi lift the cup of joy, my mind travelled back to my neighbourhood. My middle-class locality must have erupted with the leftover firecrackers from Kali Puja. Their Messi, as much a commoner as them, had made their night special, showing 'impossible is nothing'.
The Mission: Impossible score played in my mind again. Just apt for the Lusail thriller I had just watched.
December 18, global standard time
#issraatkisubahnahin
#PostcardsfromLusail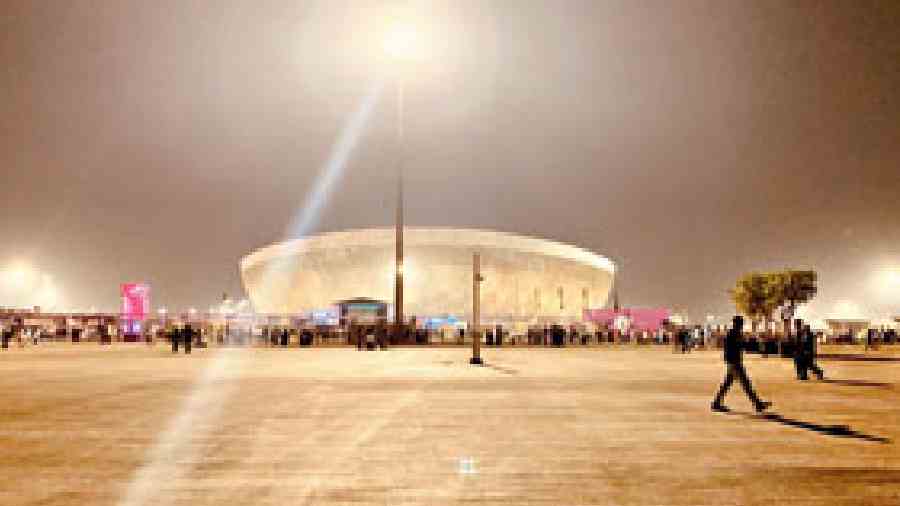 The golden bowl of Lusail Stadium saw history being made on Sunday when Argentina beat France in the World Cup finals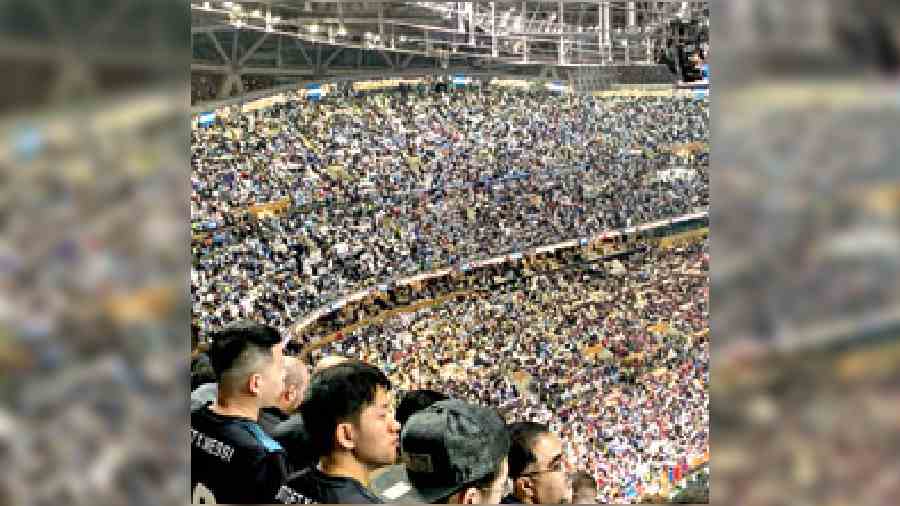 A full-capacity crowd of 87,966 watched Messi lift the cup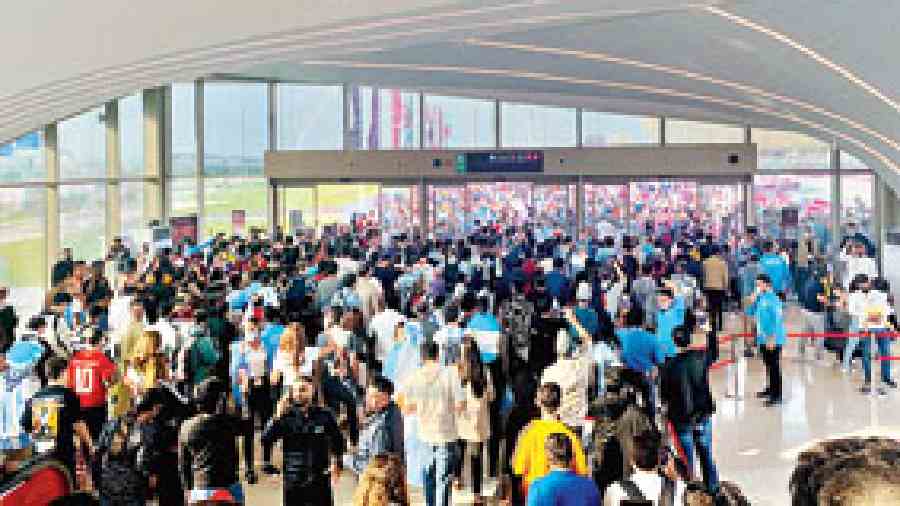 En route to Lusail. At the Qatar University Metro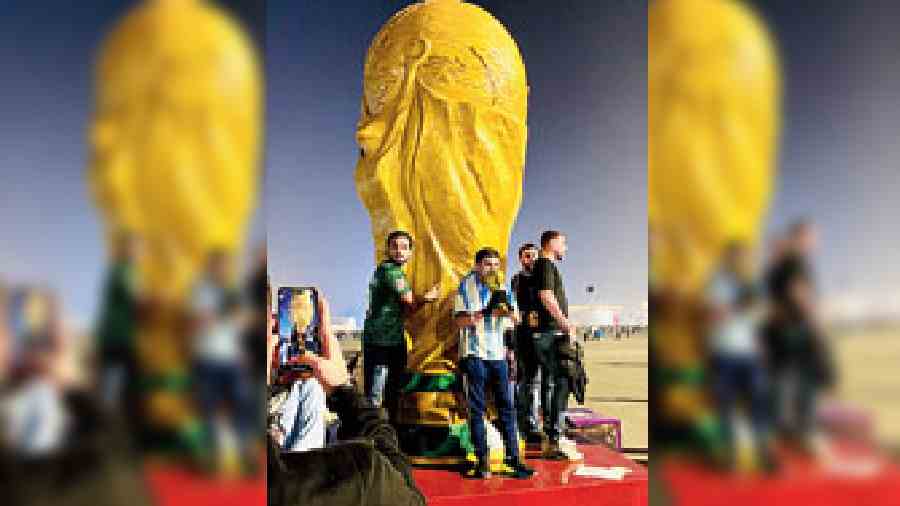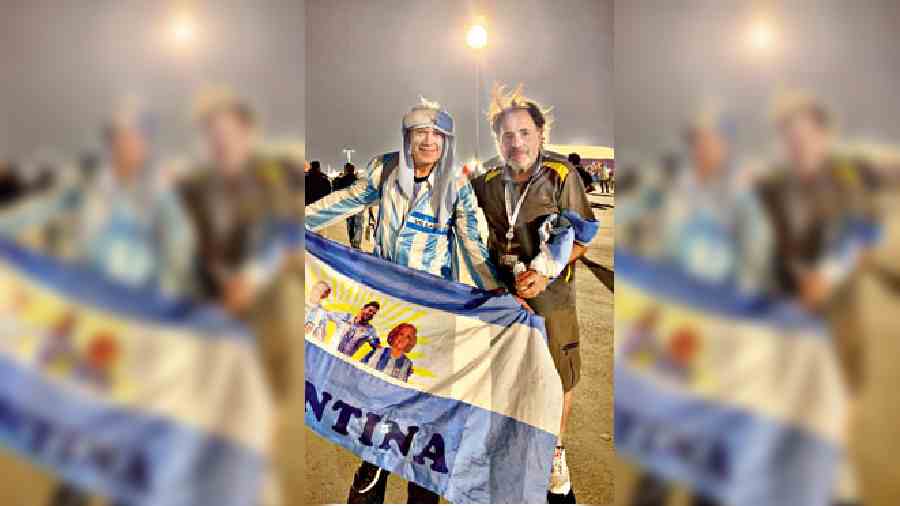 Celebration scenes post Argentina's win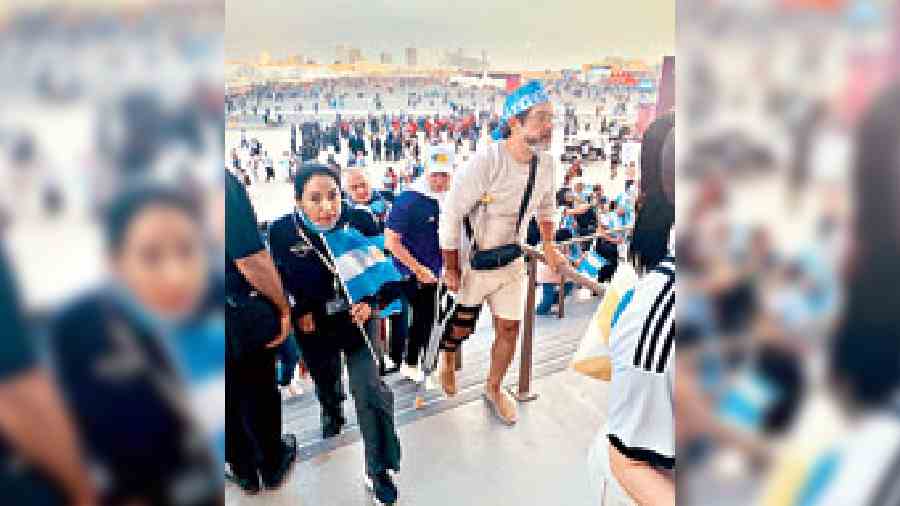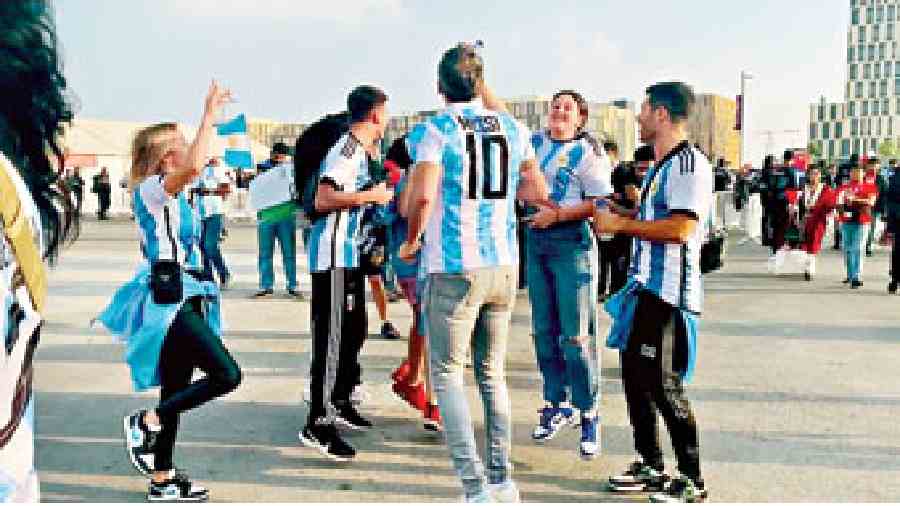 Fans came from all over the world to cheer for their teams.
Pictures: Saionee Chakraborty