We have all heard stories of how the changed pace of the pandemic life brought about significant changes in most of our lives as well. For gastroenterologist Sanjoy Basu, it was the rediscovery of his love for art and getting to paint every night from 11pm to midnight that has served as his outlet to vent. And now, the product of that daily, therapeutic hour of art has borne fruit in the form of his first solo exhibition at Tribe cafe, Golpark.
"I used to draw as a child and my mother (66) still draws. For 20 years, I was running after being a doctor. I went abroad and then came back in 2012 finally. Feeling imprisoned in my life as a doctor with all my stress is what made me reach out to art again. Encouragement from a painter friend and my family helped," said Basu. A glimpse at his paintings (acrylics on canvas) will make onlookers notice his love for people. But as much as the people are a subject of his paintings, it is also the city of Kolkata, its pathos and character, that shines through Basu's canvases.
"Being a doctor gives me a lot of advantage in the sense that I am meeting people every day and listening to them speak not just about their ailments but also about their lives. So when I look at people on my way to and from work, certain subjects catch my eye. How a person stands or how he is walking is of great interest to me," Basu explained. Incidentally, facial features are not of much interest to him as he tells the story of a scene in his frame that he might have come across during his commute. So when he paints a worker at the Tara Ma Hotel washing his feet, the story is about the culture of the 'paise hotels' in Kolkata that he tells.
In fact, his love affair with Kolkata is what brought Basu back to the city after spending 10 years in the UK. "I love the pace of the city and I love that there are things that matter to us in Kolkata that wouldn't matter to anyone else, elsewhere. So when I draw these scenes of the city, I am very real about it. I do not want to paint a romantic picture of the city," Basu added.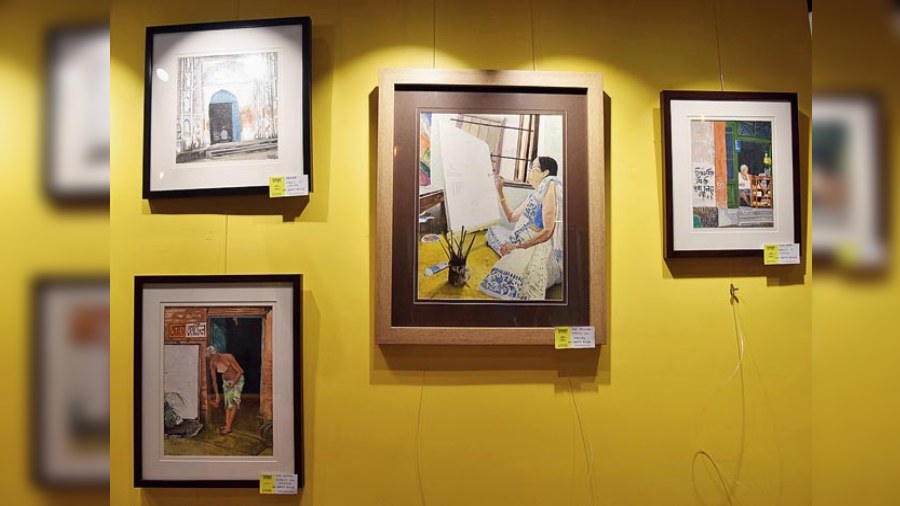 But there are also three portraits — of his mother, aunt and mentor — that are a part of this collection. The detailing is evident as he enunciates that he was attempting at reproducing each of his subject's characters in those portraits — from the way one sat on the armchair to how his mother continued making art. Therefore when asked about the most interesting reaction he received about his art, he talked about his mother's reaction when she visited the exhibition. "Art is an unrealised dream for her but she is so happy for me. When someone asked her if she was the subject of the painting that I made of her, she took off her mask and posed for a picture with the painting. It was something very emotional for me," Basu said.
The plan next is to evolve his process and to dedicate more time to his art as he says that he hopes to mount a bigger exhibition sooner than later. "I am very conscious of the fact that I am untrained. I don't consider this as my first exhibition but it is nice to see people who like my works," signed off Basu.
Basu's exhibition of paintings is on till the end of this month at Tribe cafe, 11am to 8pm.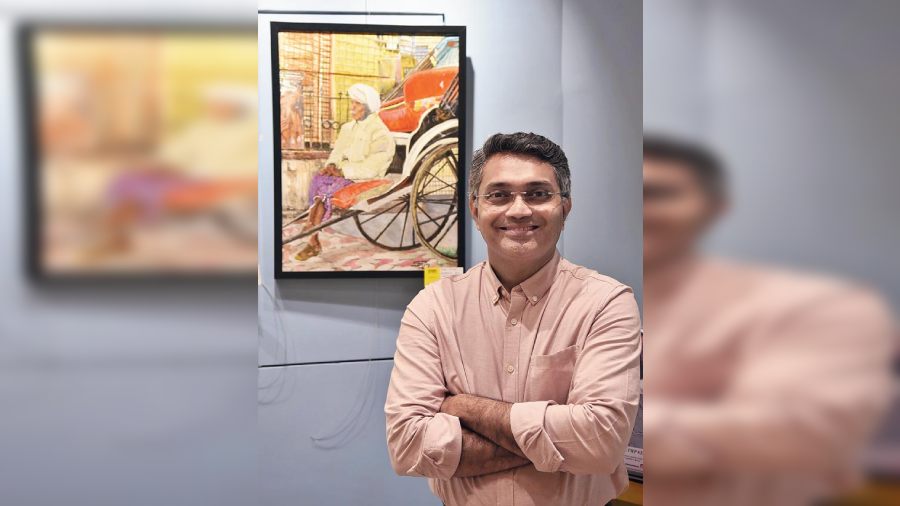 What: Glimpses, art exhibition by Sanjoy Basu
Where: Tribe, Golpark
On till: April 30, 11am to 8pm
 
Pictures: B. Halder