Two-tiered wooden structures decked out in colourful paper and flowers, trundling down uneven roads, pulled by little boys and girls — a once-common sight on Rath Yatra is now rather rare.
As the Rath Yatra fortnight comes to an end on Ulto Rath — believed to be the day Jagannath, Balaram and Subhadra set off on the homeward journey from their maashir bari (maternal aunt's home) — My Kolkata goes into rewind mode, remembering all those things we loved about Rath Yatra.
Decorating and pulling our own little raths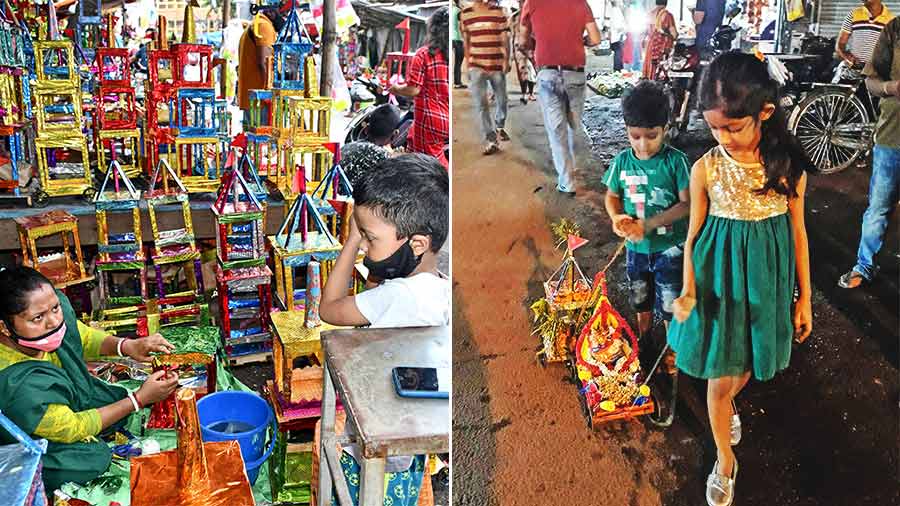 Picking the perfect rath and (right) little charioteers pull their raths
Amit Datta
A beautifully decorated rath was every child's pride. And days before Rath Yatra would begin the pestering of elders to buy a new rath. Once the two-tiered (three-tiered for some lucky ones) chariots came home, there would begin a frantic search for any coloured or glittery paper or trimmings left in the house from previous celebrations. Hours would be spent decorating the rath, placing the idols of Jagannath, Balaram and Subhadra the right way so that they wouldn't topple over.
Come the day of Rath Yatra and there would be a rush to place tiny plates of batasha or nokuldana or gujiya in front of the deities, get dressed in all finery and take the raths out on the road. 
The taller and more decorated the rath the prouder its owner felt. And no grown-up passing by would be let go without handing out a few coins. 
One does spot a rath or two on the Kolkata streets, especially in the fringe areas, setting off a trip down memory lane.
Rather mela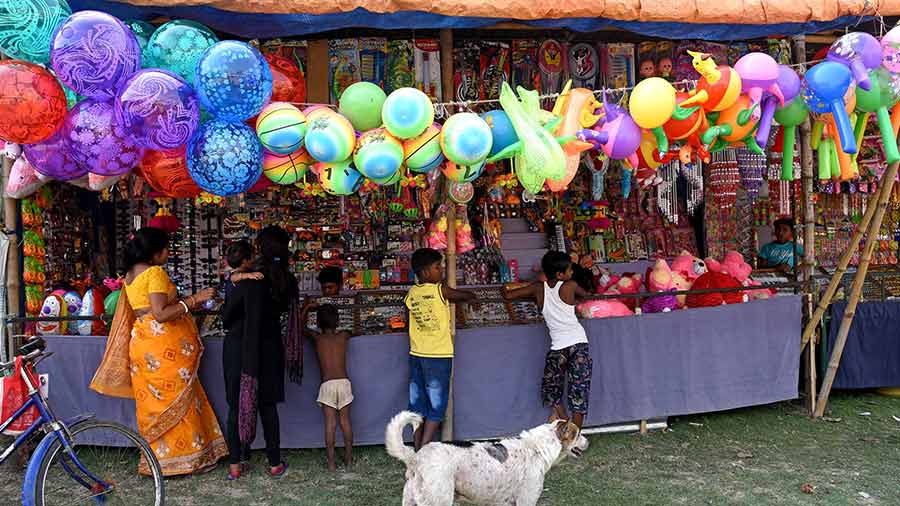 Traditional wooden toys have been replaced by plastic ones at the 'rather mela' stalls
Amit Datta
Joy rides, a wide array of toys and snacks galore made rather mela an inviting affair. No Rath Yatra would be complete without a visit to the nearest mela. Rather mela is still held in a few places from Ramleela Maidan, Moulali in the north to Rathtala near Garia in the far south but the things on sale have more often than not changed. Gone are the wooden toys, paper windmills, talpatar shepai (soldiers made from palm leaves) and tomtom gari, replaced now by cheap plastic ones. Fishes, birds, rabbits and guinea pigs are also not to be found as many of these have become illegal to sell. What remains are the rows and rows of plants of every kind on sale. Nagordola (wooden Ferris wheel) and merry-go-round, too, remain but in modernised avatars. An eternal favourite remains the balloon shooting stalls.
Giant papads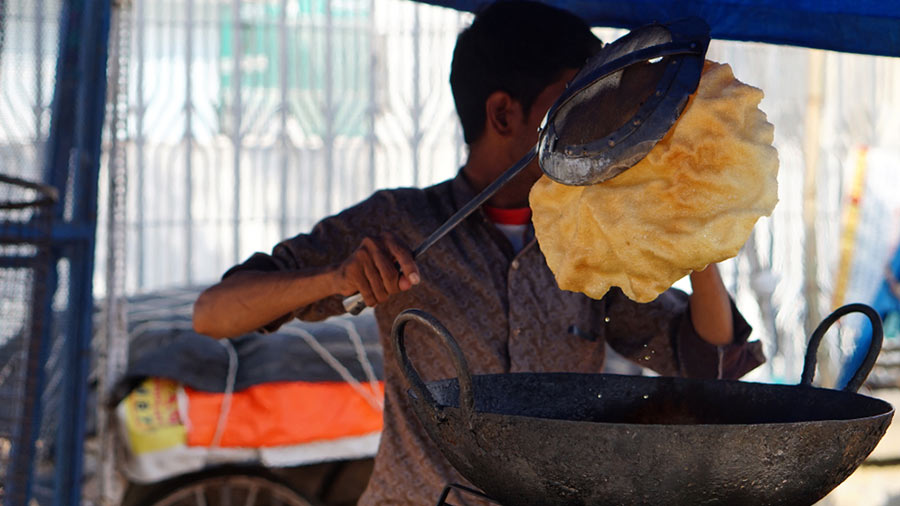 Giant papads are a tempting, if sinful, snack
Shutterstock
Giant papad dripping in oil is synonymous with Rather mela. The ones fried at home can in no way match the taste of the those sold at the fair stalls, fried in huge woks full of oil. These would be often accompanied by telebhaja and sweet bites like gur kathi (jaggery sticks). Roadside stalls selling papad and other fried fritters can still be spotted in many neighbourhoods and who can resist their lure?
Syrupy jilipi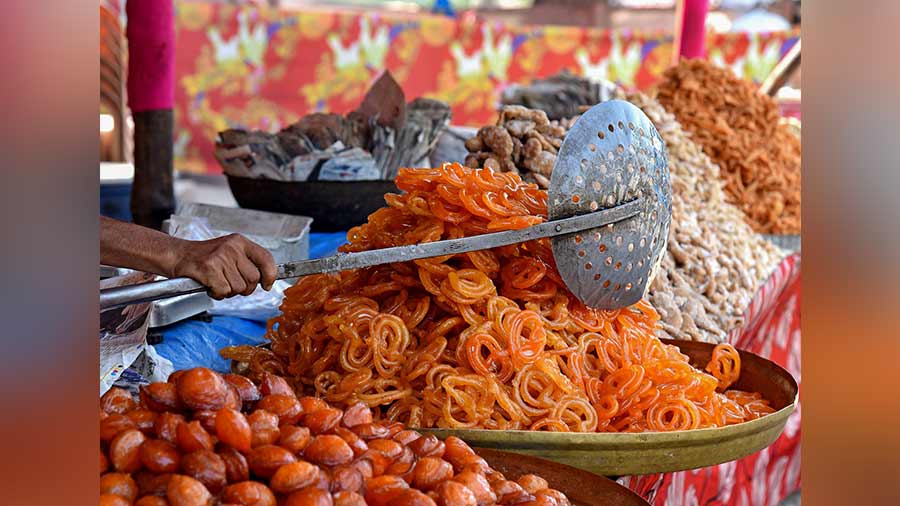 Sweet and syrupy 'jilipi' on sale at a roadside stall
Amit Datta
Bengalis cannot imagine a festival without sweets and Rath Yatra is no exception. Gorging on jilipis (not jalebi, mind you!) at Rather mela or street-side stalls was a must-do. Hot, syrupy jilipis fresh off the wok and served in sal patar thonga continue to be a lip-smacking delight. And amrita or imarti can at best be a poor cousin in the Bengali's gastronomic lexicon.
Khunti puja and countdown to Durga Puja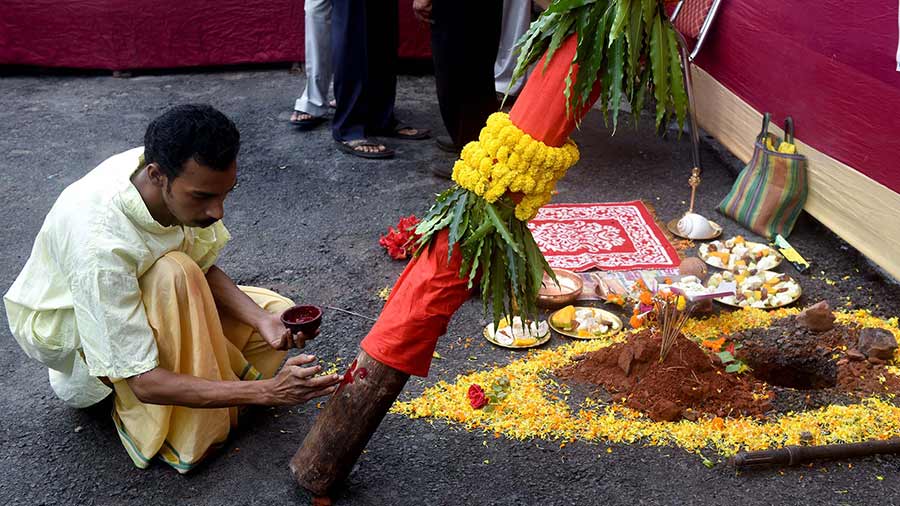 'Khunti pujo' at Singhi Park
Amit Datta
Khunti pujo or kathamo pujo is the ritual that sets off preparations for Durga Puja. This ritual has traditionally been observed on Rath Yatra with the structure being laid for idol-making. While most barir pujo continue with the tradition, many puja committees have started shifting the ritual to any date to suit the calendar of celebrity guests or start off work for elaborate theme pandals earlier.