Smarting from a humiliating defeat on Saturday, the Kolkata Knight Riders (KKR) will be going up on Monday against the one team that has given them the most trouble in IPL, the Mumbai Indians (MI). Rohit Sharma's men will be buoyant after beating table-toppers Gujarat Titans (GT) on Friday, who have since lost pole position thanks to KKR's dismal outing against the Lucknow Super Giants (LSG). With MI mathematically out of contention for the playoff spots and KKR chasing a mathematical improbability, Monday's contest largely comes down to the thing KKR and MI have not been able to boast of much this season — pride.
In the reverse fixture, KKR conjured up arguably their most memorable performance against MI till date, making a chase of 162 seem like a cakewalk. KKR's convincing win by five wickets in Pune was possible courtesy an innings of a lifetime by Pat Cummins, who obliterated the MI bowling on his way to the joint-fastest fifty in IPL history. However, such has been Cummins's form since then that he is a favourite to watch the upcoming clash with MI from the bench.
Before KKR look to keep their faint playoff hopes alive against MI, My Kolkata identifies the key battles that will separate the winners from the losers.
Aaron Finch versus Jasprit Bumrah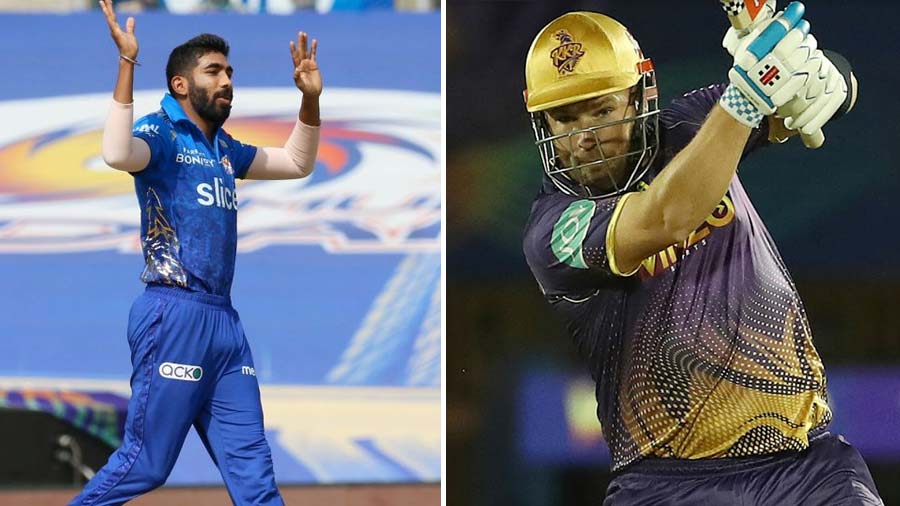 Aaron Finch will look to dictate the tempo in the early going against Jasprit Bumrah
BCCI
Neither Finch nor Bumrah has enjoyed a good IPL this year. And yet, such is their match-winning potential that their individual showdown is almost certain to have a tangible effect on the outcome. Long-time observers of Finch will know that the Australian is most comfortable square off the wicket on both sides, areas batters find difficult to score in against Bumrah. This means that Finch will have to play straighter and get on the front foot a lot more if he has to neutralise MI's champion bowler. In the past, Finch has faced 28 balls from Bumrah and scored at less than run a ball, including one dismissal, which means that the bowler will have the psychological edge over the batter in this contest.
Tim Southee versus Tim David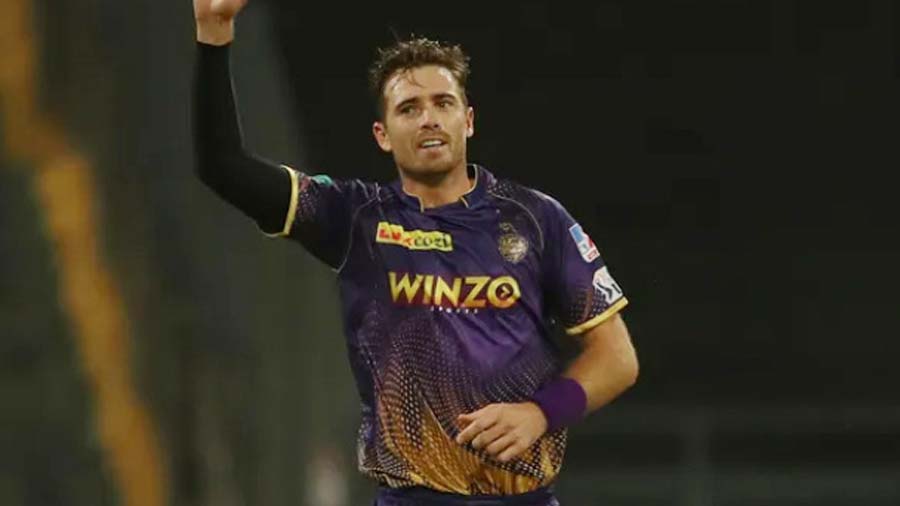 Tim Southee will have his work cut out at the death against the big-hitting Tim David
This is one head-to-head where neither player can afford to be tim-id (yes, we could not resist!). Not least because should Southee and David square off, it is likely to be at the death with the match hanging in the balance. As he demonstrated against the Rajasthan Royals (RR), David can swing the long handle in a crunch chase and guide his team to victory without losing his nerve. Southee, on the other hand, has done enough to show that he remains Kolkata's best bet with the ball when the result is on the line. With years of experience, Southee will know not to pitch the ball in David's arc between midwicket and long on. As a result, the onus will be on the Singaporean to improvise and put the pressure back on his mate from Down Under.
Sunil Narine versus Suryakumar Yadav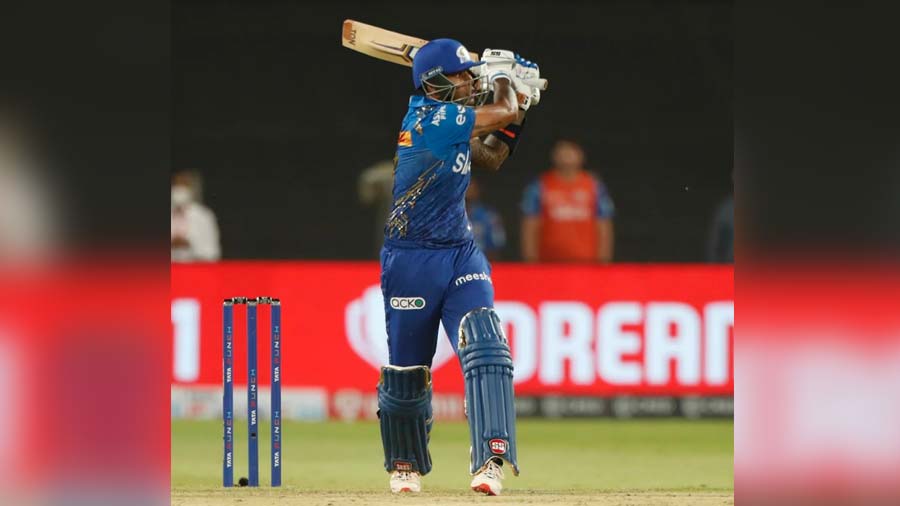 Suryakumar Yadav saw off Sunil Narine without any hiccups in the last meeting between MI and KKR
BCCI
If Suryakumar bats well, MI usually get to a respectable score. Such has been the reliance of the five-time champions on their middle-order lynchpin. The last time these two teams met, SKY scored an enterprising half-century, navigating most bowlers, including Narine, with relative ease. In Navi Mumbai, however, it could be a different ball game, with the uneven pace making Narine harder to pick and hit through the line. Like most batters, SKY might opt to see Narine out and target the rest of the KKR attack, which gives Narine the leverage to attack even more with his field as well as his length. As the two most consistent performers for their franchises for a number of years, Narine and SKY are no strangers to being in the limelight. But whoever shines brightest in this tussle could end up making their teammates glow with a precious couple of points.