A man, an accordion and a handful of model animals had children enthralled with an enchanting story of love and loss at The Harrington Street Arts Centre on July 3. The innovative storytelling session of Peter Rinderknecht's Minor Matters was presented by ThinkArts, with the support of Swiss Arts Council Pro Helvetia.
Rinderknecht's narration is very much unlike usual children's events that are brimming with joy and cheer. Minor Matters comes with its share of loss, aspirations and even dismay. It is a story of "departure, desires, hopes and disappointments".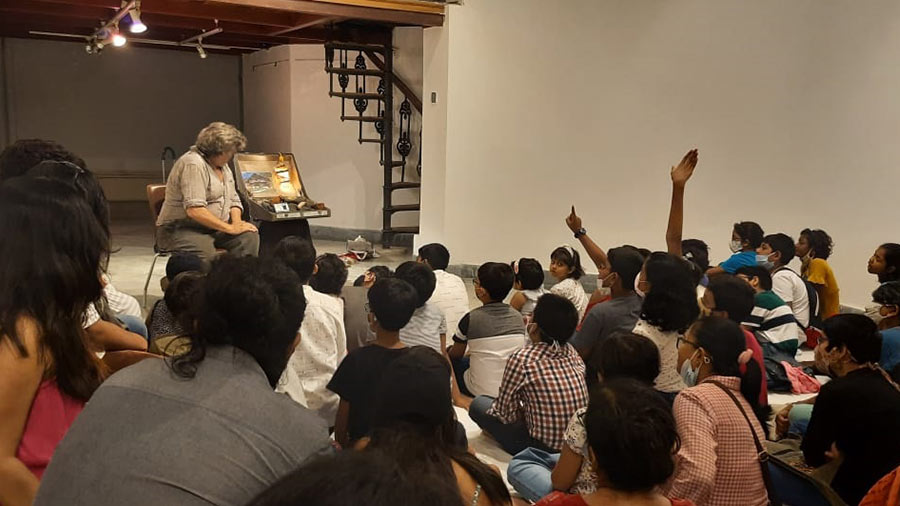 Rinderknecht at The Harrington Street Arts Centre.
Antara Dasgupta
The storytelling began with Rinderknecht taking the help of his young audience to create a farm, complete with sights and sounds. He brought to life a farmer who works hard on the fields, feeds animals. The farmer seems more or less satisfied with his life till he goes to town one Saturday evening and meets the woman of his heart. The two start a family and live happily together but not ever after.
Rinderknecht — author, actor and director — used everyday objects to make the narration interactive. He connected with the 80-odd kids in the audience by naming his characters after them. He even asked the children what they felt the animals on the farm might sound like. The children, of course, loved being a part of the storytelling.
Santanil Ganguly, the founder of Kolkata-based theatre group Jahalapala, found the use of mundane and innocuous objects as a torn page of a book or a toy thrown away as props interesting. "It's as if someone has been collecting these and using the same to tell a story. As the story concludes, the narrator calmly collects all the items he has used," he said.
Rinderknecht has been practising his art for over 40 years and his focus has always been on younger audiences. He has been developing what he calls "theatre for a growing public". What has added to his worldwide fame is that his open form of story-telling creates a unique world where reality and fantasy merge.
The organisers had arranged for a response wall and what came up on it was ample enough proof of the mark the artiste from Switzerland had left on his young audience.
Rinderknecht was impressed by the venue. "The Harrington Street Arts Centre is a wonderful inspiring place where any artistic work is welcome. I met helpful, respectful, curious and competent people and felt very comfortable," he said.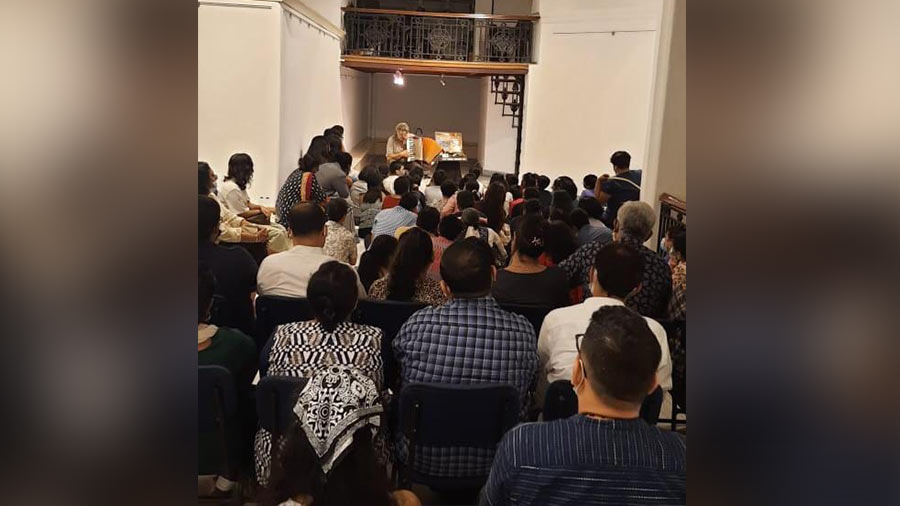 Rinderknecht at The Harrington Street Arts Centre.
Antara Dasgupta