Few directors of Bengali films since Rituparno Ghosh have been able to craft and conjure magic through the poetry of their words, visuals and music and transform the space of cinema, adding meaning through symbolism drawn from everyday life.
Nearly a decade has passed since Ghosh's death in May 2013. His sudden departure left Bengali cinema beggared. His art, his ideas and his vision, however, continue to live on.
On August 31, music director Debojyoti Mishra, Rituparno's ally and confidante in all his musical endeavours, celebrated his beloved director-friend on what would have been his 59th birthday. Nostalgia reigned at ICCR as "Of Raincoats and Memories" intertwined songs and stories about the maverick creative genius that was Ghosh.
The creator of many a gem like Unishe April, Utsav, Dosar, Chitrangada, Raincoat, The Last Lear, Titli and Chokher Bali, Ghosh found Mishra, Debu to him, to be the perfect complement to his cinema, adding much-needed music to the poetry of his visuals, creating a symphony that is well-remembered and well-loved.
The warmth of memories from yesteryear kept the mood light and floaty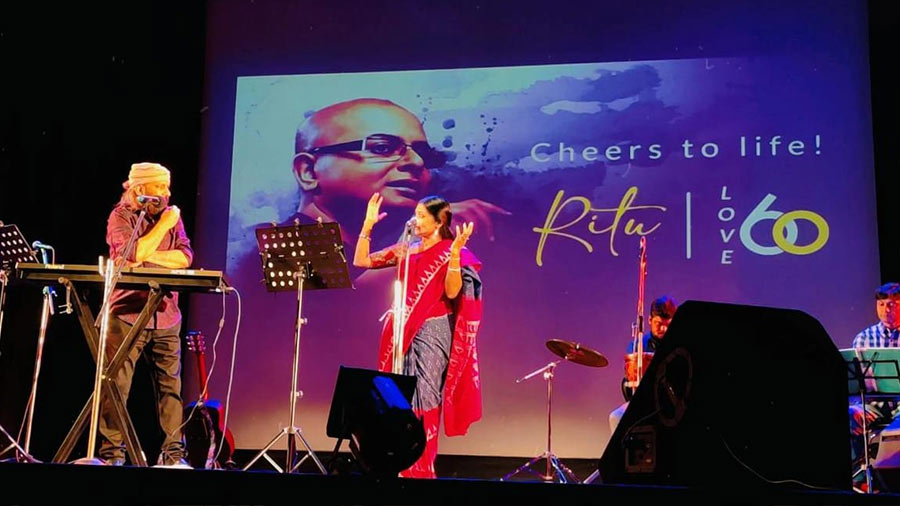 Subhamita Banerjee performed 'Sakhi hum' and 'Mere Laal' to mark the occasion
Sohinee Basu
Recreating some of the old magic, Mishra, along with renowned singers of the Bengali music fraternity — from veterans like Srabani Sen and Subhamita Banerjee to new generation talents like Samantak Sinha and Madhubanti Bagchi — assembled at ICCR to remember their Rituda, sharing many an anecdote in between songs that have been immortalised through Ghosh's work.
As the evening flowed with tales of how Sen had to stop midway while crossing a bustling Gariahat Road, phone to her ear, to perfect the notes of a certain Rabindrasangeet and help Mishra in his composition or how Sinha became Ghosh and Mishra's choice to make Rabindrasangeet more avant-garde yet accessible with the popular television soap, Gaaner Oparey.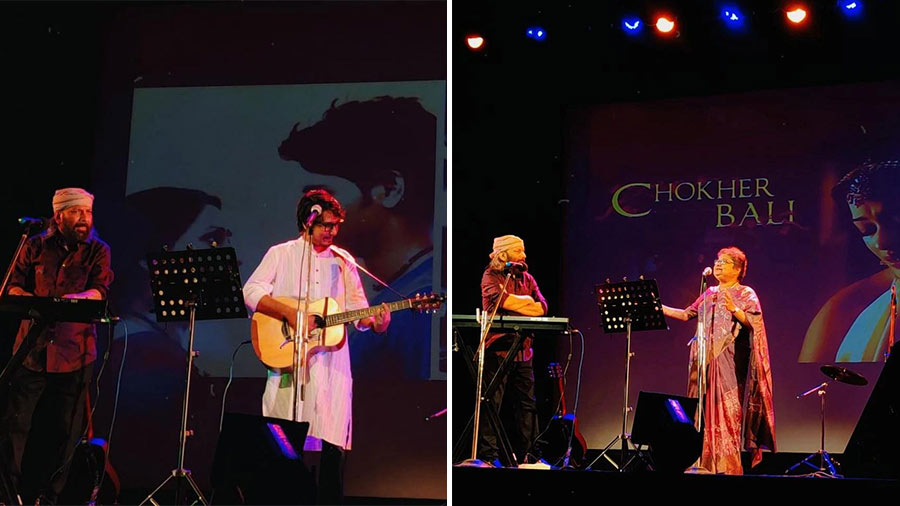 Samantak Sinha and Srabani Sen at 'Of Raincoats and Memories'
Sohinee Basu
But it was only when the songs began that the magic was spun — Sen, in her melodious voice, sang Amal dhobol pale while Sinha moved hearts with Rupe tomay bholabo na. Banerjee nudged many an emotion with her rendition of Sakhi hum and Mere laala while Bagchi's unique voice did rare justice to Shubha Mudgal's Mathura Nagarpati, making Ghosh's works come alive once more.
A Ritu for all emotions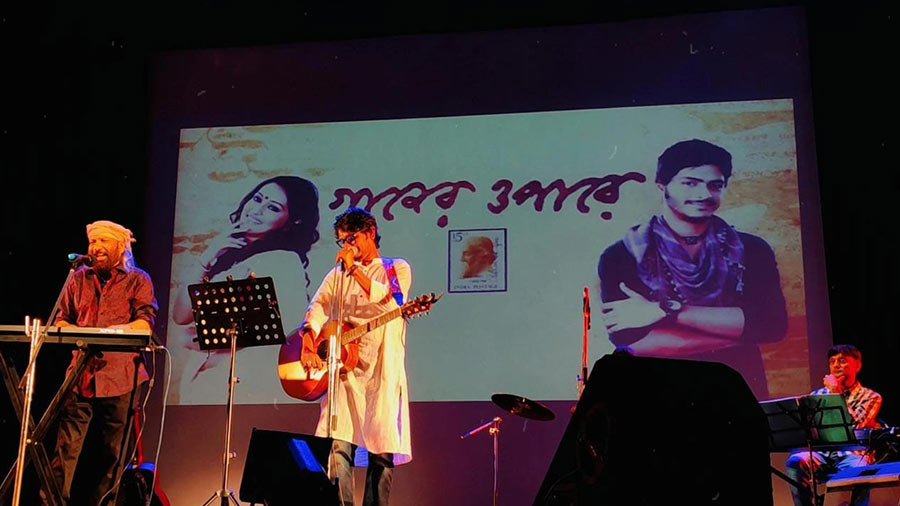 'Gaaner Oparey' and how its music became a middle ground for Ghosh and Mishra was a recurrent theme during the evening
Sohinee Basu
Much like his personality and gender expression that refused to adhere to conventional moulds, Ghosh's cinema sought to be fluid in its representation, making us confront the vulnerable. His music, aided by Mishra's idiosyncratic style, helped create a space where music provides not just pleasure but purpose, with every crescendo and dip saying something, meaning something.
Through the evening, Mishra and Co. remembered how Ghosh's genius really worked, how the process of creation germinated, how lyrics and song notations were scribbled hastily on cigarette wrappers, how wild ideas of infusing a "rock touch" to Rabindrasangeet led to Gaaner Oparey that showcased the old and the new find middle ground through the music of Tagore.
Although it has been nine years since Ghosh's demise, the evening was a reminder of how his music and his works are for all seasons. As is the Ritu-Debu jugalbandi, which became our megh-peon, having a song to offer us for all our myriad everyday emotions.