It has been a wordy week in the IPL, with a lot of the verbal action stealing the thunder of bat and ball. Time now to recognise those who have talked the talk as well as walked the walk. As is the case every Wednesday, we are all set to unveil our winners of Wrong 'Uns, our IPL weekly awards that promises to honour the brilliant and the bizarre and most things in between.
Another new award debuts this week, while a familiar one comes back to the lineup. Additionally, a fresh head, which also happens to be the youngest of the lot so far, gets to wear our unenviable White Cap.Without further ado, here is presenting the sixth edition of Wrong 'Uns.
The Socrates Award for Best On-Field Dialogue
The IPL tends to throw up some really feel-good interactions during the post-match interviews between players. The latest instalment, which also happens to bag our Socrates Award for this week, is a heartwarming conversation between Ruturaj Gaikwad and Mukesh Choudhary, both of whom stepped up in style to help the Chennai Super Kings (CSK) return to winning ways against the Sunrisers Hyderabad (SRH). Hearing Gaikward and Choudhary talk about their families' presence during the game makes for one of those wholesome moments when you realise the IPL is not just about the spectacle of cricketainment. Another standout part of the discussion was when Gaikwad asked Choudhary if skipper Mahendra Singh Dhoni was happy with the latter's performance. Choudhary, as if innocently recollecting a teacher's response to a schoolkid's examination, gave a hint of a smile and said: "Ha, khush hain (Yes, he's happy)."
Most Startling Statistic of the Week
Some good news at last for the Mumbai Indians (MI) this week. And no, we are not talking about their first victory of the season, but about Forbes estimating that MI are the most valuable team in the IPL right now (no, they did not include Mukesh Ambani's net worth). The American business magazine valued the five-time IPL champions at a whopping $1.3 billion. To put into context just how startling this figure is, Forbes regards MI to be worth more than six teams in Major League Baseball (MLB), 27 teams in National League Hockey (NHL) and every single team that plays in Major League Soccer (MLS), America's top football (read soccer) competition. Following MI on the most valuable list are CSK and the Kolkata Knight Riders (KKR), worth $1.15 billion and $1.1 billion, respectively.
The Yudhisthir Award for Unfiltered Honesty
MSD wins the Yudhisthir Award for the second time this season, with his words clinching it this time around. While everyone expected Dhoni to field questions about Ravindra Jadeja relinquishing the captaincy and handing it back to Dhoni, few would have anticipated the bluntness with which CSK's ex-turned-new leader explained the situation. Dhoni did not try to make any excuses for Jadeja and cut to the chase without any prompting. "For the first two games, I oversaw his (Jadeja's) work and let him be later. I insisted he take his own decisions and responsibility for them. You cannot spoon-feed everything to them… I think captaincy burdened his prep and performances, it meant he could not go with the bat and the ball with the same intensity," said Dhoni. Knowing Jadeja and the rapport he shares with CSK's talisman, the beleaguered all-rounder would be the first person to acknowledge Dhoni's honesty.
Best Almost-Drop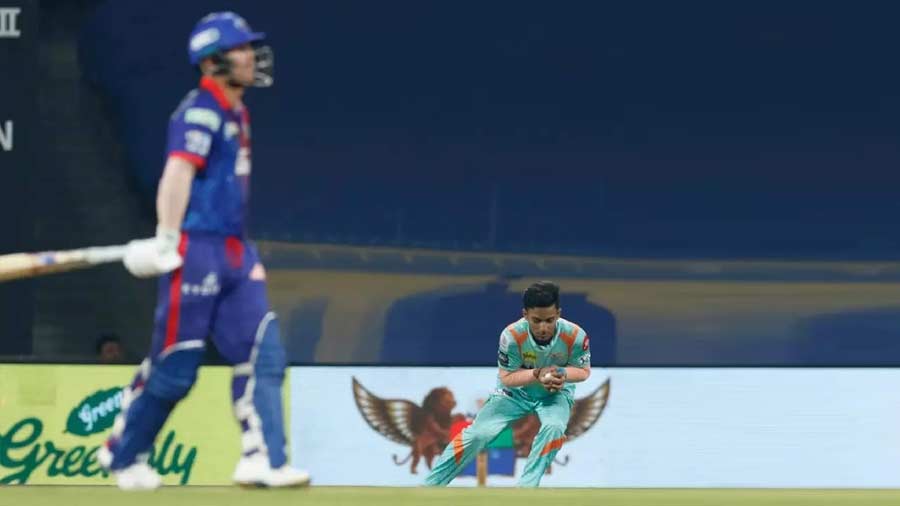 Like in the recent clash between DC and LSG, David Warner had been caught by Ayush Badoni when the teams met earlier in the season
BCCI
During his short stay at the crease for the Delhi Capitals (DC) against the Lucknow Super Giants (LSG), David Warner looked visibly frustrated, not least because LSG's latest sensation Mohsin Khan was able to keep the lid on the Aussie in the early going. That frustration soon produced a petulant pull from Warner, which seemed to have picked out Ayush Badoni at midwicket with inch-perfect precision. Replays, however, cast a fair bit of doubt over the catch, with the naked eye struggling to understand if the ball had touched the ground after being clasped by Badoni's fingers. In a classic 50-50 call, the third umpire decided to go in favour of the fielder, with Badoni credited with a catch that may very well have been cited as a drop on another day.
The Glenn McGrath Award for Best Set-Up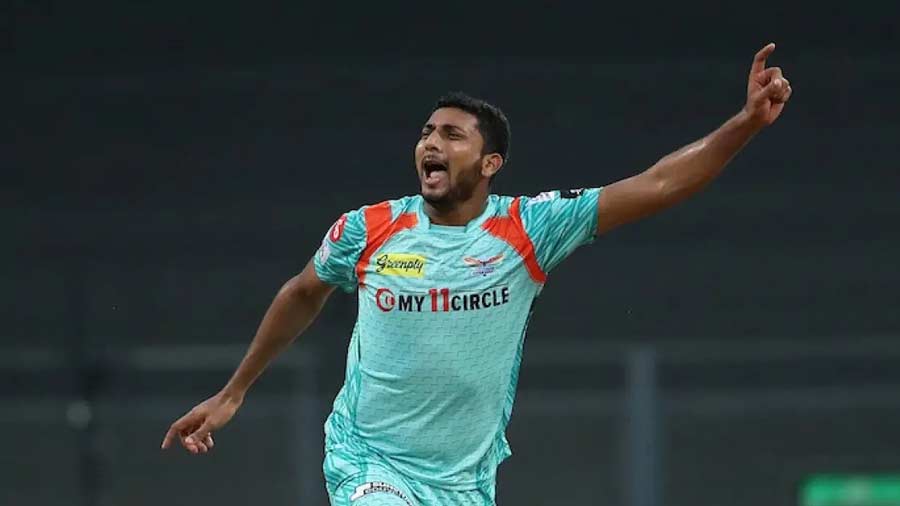 Mohsin Khan put in the best IPL performance of his career during an inspired spell against DC
BCCI
We admit that Glenn McGrath's impeccable skill of setting batters up by constantly bowling in the corridor of uncertainty did not manifest itself often enough in the IPL (for those looking up IPL archives, McGrath did indeed play in the competition once upon a time, for Delhi). But after watching Mohsin Khan second guess Rishabh Pant and dismiss him in a game-turning moment, we could not think of a better parallel than the iconic Australian. Starting off short of length against Pant, Mohsin produced two dot balls in a row. The danger of Pant doing something reckless seemed to have been averted when he took a single off the next ball to bring Rovman Powell on strike. But Pant was back taking guard for the final ball of the over, which he expected to be short once more. Having made up his mind, Pant had started skipping down the pitch when he realised that he had been outfoxed. Not only had Khan pitched the ball up, but he had also ratcheted up his pace, producing a full-length delivery that clocked 145kmph and left Pant castled.
The Amitabh Bachchan Award for Angry Young Man of the Week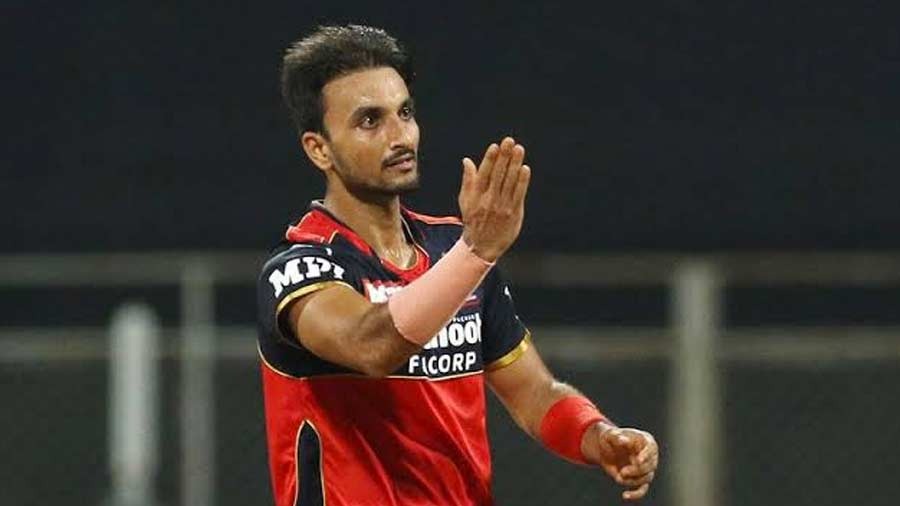 In a match where nothing went his way, Harshal Patel lost his temper with Riyan Parag
BCCI
After finishing as the leading wicket-taker of last year's tournament, Harshal Patel has endured a rough ride this year. Things got even rougher for the Royal Challengers Bangalore (RCB) pacer when he showed a lack of composure and an absence of grace in RCB's encounter against the Rajasthan Royals (RR). Patel had been on the receiving end of a late onslaught by Riyan Parag, with the youngster smashing last season's Purple Cap winner for 18 runs in the final over of the RR innings. After being taken to the cleaners, Patel went up to Parag and gave him an earful. Parag did not hold back, either, and the pair had to be separated by their teammates. Just when it seemed that the Patel-Parag episode had run its course, there emerged a sequel to the furore after Patel was the last man dismissed for RCB in another defeat. With little regard for the gentleman's game and the Fairplay standings, Patel, arguably still seething within, refused to shake Parag's hand, adding fuel to the fire and displacing Pant as the angry young man of the IPL.
The Tewatia Award for the Most Explosive Finish
How ironic that Rahul Tewatia was at the other end when this week's recipient of the award in his honour teed off in grand fashion to conjure a sensational win for the Gujarat Titans (GT) against SRH! With 22 needed off the last over, Tewatia seemed poised to win his own award when he launched Marco Jansen into the stands. But a single off the next ball meant that the finishing role was temporarily allocated to Rashid Khan, who had no shortage of motivation against the franchise that chose not to retain him ahead of this season. Rashid, who had not had the best of games with the ball, suddenly unlocked carnage mode as he powered his way to three sixes in four balls, including a last-ball maximum, to seal the deal for GT and leave Jansen with the kind of nightmares that a certain Ben Stokes would know all too well.
Back with a Whimper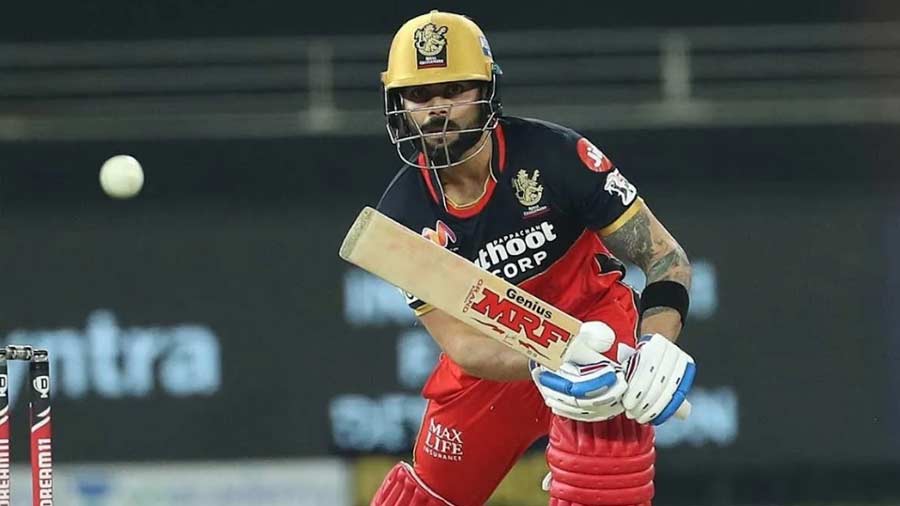 The runs trickled instead of flowing for Virat Kohli against RR
BCCI
Virat Kohli finally returned to form against Gujarat with his first fifty of IPL 2022, or did he? If we were to be ruthless, we could describe Kohli's 53-ball-58 as a match-losing innings, since it failed to give RCB the acceleration they needed while batting first against table-toppers GT. Like all batters going through a rough patch, Kohli decided to see it off by spending time in the middle. But the 33-year-old could not find the acceleration he needed later on and was bowled by Mohammed Shami in the 17th over, with RCB stuttering along. As it turned out, GT chased down RCB's eventual total of 170 with three balls to spare, and while Faf du Plessis's bowlers did not do enough, fingers were also pointed at Kohli for coming back to form with a whimper.
The White Cap
Kohli may have been pedestrian in his approach against GT, but he did manage to get rid of our immaculate White Cap from his head, which currently finds pride of place back in the MI camp. Thankfully for Kieron Pollard, he is not the bearer of the IPL cross this time. Instead, it is MI's wonder boy Ishan Kishan, who has been struggling for runs in a bid to justify the eye-popping money MI rolled out for him at the auction. In tandem with skipper Rohit Sharma (who narrowly missed out on possessing the cap himself), Kishan has consistently let the MI batting down this season, putting too much pressure on Suryakumar Yadav and Tilak Varma. Even though he got a start against RR, Kishan could not convert it into a big score, which means that he has now accumulated just 47 runs in his last four games at an embarrassing strike rate of just under 84. For Kishan's sake, we hope that the White Cap creates the same desperation for runs that it evoked in Kohli, even if it means that Kishan ends up transferring the cap to his captain next week!