Rants, hops, ducks and drama reigned supreme last week in the IPL, with the actual cricket often taking a bit of a backseat. As is the case every Wednesday, we are all set to unveil our winners of Wrong 'Uns, our IPL weekly awards that promises to honour the brilliant and the bizarre and most things in between.
Two fresh awards will be presented this week while our White Cap lands on the most decorated head till date. Without further ado, here is presenting the fifth edition of Wrong 'Uns.
The Socrates Award for Best On-Field Dialogue
One of the outstanding emerging players this season, Ayush Badoni of Lucknow Super Giants (LSG) has adjusted seamlessly to life in the world's most competitive T20 league. After another LSG victory, this time against a rudderless Mumbai Indians (MI), Badoni caught up with LSG assistant coach and former Indian wicket-keeper, Vijay Dahiya, for a heartwarming conversation. The 22-year-old from Delhi recalled his feelings at being bought at the auction and how he told LSG skipper K.L. Rahul that he is comfortable batting in any position, for flexibility is among his greatest strengths. And then, in the moment that sealed this week's Socrates Award, Dahiya asked Badoni the secret behind his confidence with the bat. With an air of innocence, Badoni smiled and replied that his confidence is "in-built" and "natural", providing a rather memorable finish to the dialogue.
Most Startling Statistic of the Week
With eight losses out of eight, Rohit Sharma's MI are all but out of contention for this season's play-off places. MI's woeful run is unsurprisingly the worst in their history, but in what makes for a startling statistic, it is still some way off the IPL's longest losing streaks. The record for most consecutive IPL defeats is shared by the Delhi Daredevils (now the Capitals) and Pune Warriors India, both of whom lost 11 games on the trot. Delhi's nightmarish run began with the India leg of IPL 2014, where they could not win a single match out of nine, with the then captain Kevin Pietersen looking as listless as Rohit does nowadays. The following season started with two more losses from Delhi before an inspired Yuvraj Singh helped them snap their string of losses. As for Pune, they hit their nadir in 2012, when they lost 12 out of 16 games, with 11 of those back to back. The disastrous run led to Pune dropping Sourav Ganguly as captain, assigning him the role of a mentor, then bringing him back to lead, before eventually handing the reins to Steven Smith.
Best Almost-Drop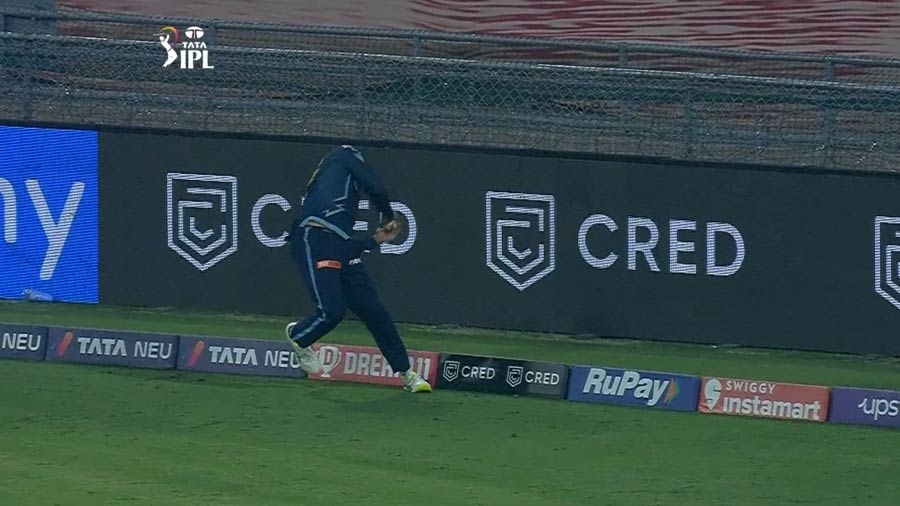 Abhinav Manohar midway through one of the catches of the season so far
BCCI
This week's dancing-near-the-boundary honours go to Abhinav Manohar of Gujarat Titans (GT), who completed one of the stunning catches of the season to get rid of the Kolkata Knight Riders's (KKR) Venkatesh Iyer. Looking to break the shackles against Rashid Khan, Iyer fashioned a good-old slog over midwicket, but did not get enough distance. Stationed near the boundary, Manohar jumped backwards and somehow plucked the ball out of the air, before showing nimble footwork to avoid touching the boundary rope. To complete the catch, Manohar, without falling, completed a half-turn in half a second that even Lionel Messi would have been proud of.
The Simon & Garfunkel Award for Best Duo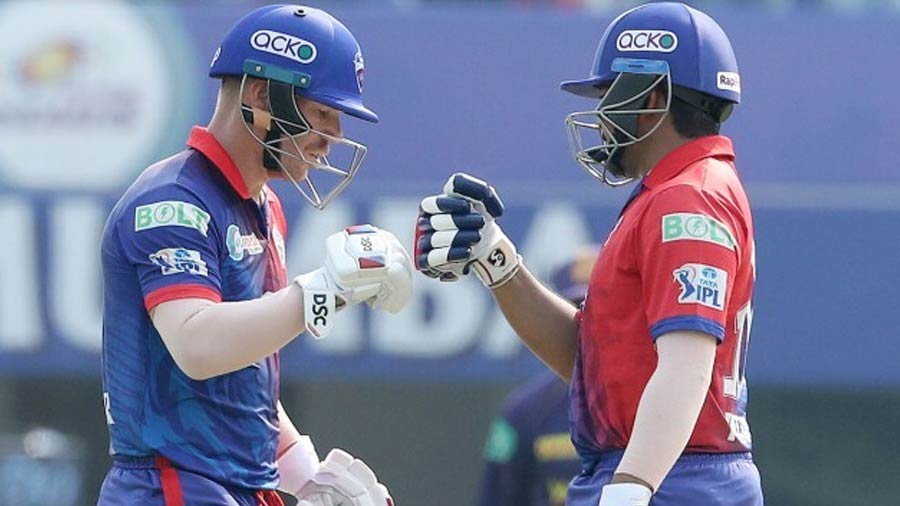 David Warner and Prithvi Shaw have not missed a beat up top for DC
BCCI
In one of our debut awards for this week, we recognise the marvellous double act that David Warner and Prithvi Shaw are turning out to be as openers for the Delhi Capitals (DC). Over the past week, Delhi's pocket dynamos first punctured an already diffident Punjab Kings (PBKS) by putting on an 83-run stand in a chase of 115, before coming out of the blocks quickly against the Rajasthan Royals (RR) with a quickfire partnership of 43. In their last five outings, Shaw and Warner have put on 336 runs for the first wicket at a magnificent average of 67. If War-Shaw (yes, we coined that one) can keep their show going, DC should have a great shot at the play-offs.
The Deepika-Ranveer Award for Most Needless PDA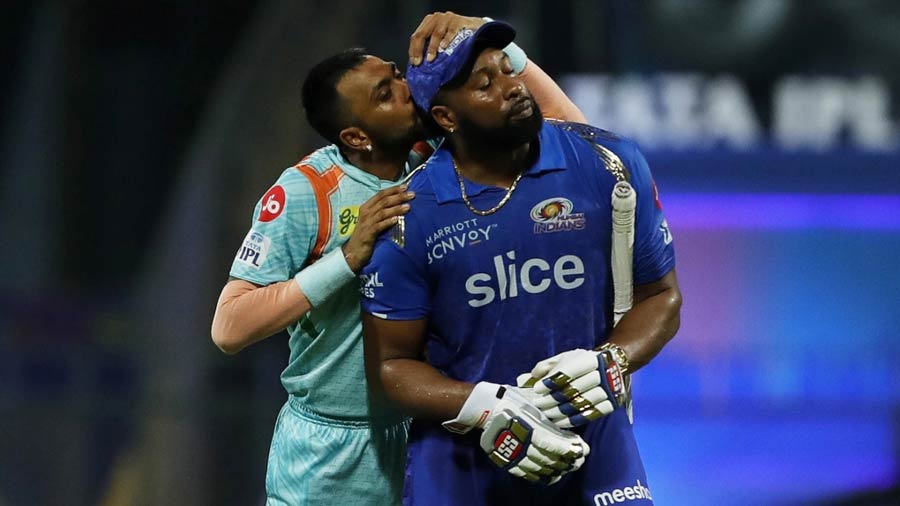 Krunal Pandya gives Kieron Pollard a bizarre send-off after getting him out for LSG versus MI
BCCI
It is no secret that Krunal Pandya got along with Kieron Pollard as teammates at MI. But Pandya's affection for his fellow all-rounder went slightly overboard when he dismissed the big West Indian with the result already in LSG's bag against MI. As Pollard started his slow walk to the dressing room after being caught in the deep by Deepak Hooda off Pandya's bowling, in a surge of passion, Pandya hopped onto the back of Pollard (some hopping required for that!) and kissed him on his head (actually cap)! To his credit, Pollard, who seemed no happier than a partner who had never agreed to being tagged on mushy photos on Instagram, kept his cool and did not react. In the end, Pandya's needless PDA served to take some of the headlines away from another commanding LSG performance besides handing him this particular prize.
The Amitabh Bachchan Award for Angry Young Man of the Week
In an award that is fast becoming a monopoly, DC's skipper Rishabh Pant is back to encourage naysayers who feel that he needs anger-management classes. Pant's fury this week was once again directed at the umpires, who declined to call a no-ball against Rajasthan Royals's (RR) Obed McCoy during a tense finish between DC and RR at the Wankhede Stadium. Convinced that McCoy's high full-toss to DC's Rovman Powell was above the waist, Pant, who was in the dugout, started gesturing towards Powell and non-striker Kuldeep Yadav to head back in protest (imagine the pandemonium had they done so). Then, with the umpires still standing by their call, Pant sent coaching staff Pravin Amre to go and make a case to the umpires on Pant's behalf. Amre, with no Ricky Ponting around to stop him, obliged and failed. The match carried on, with DC falling short of the target. As expected, Twitter exploded after the game, with most fans showing very little sympathy for Pant, though some pointed out that a similar instance had happened with MSD back in 2019, in which Captain Cool had stormed onto the pitch himself. No prizes for guessing the opposition in that match.
The Tewatia Award for the Most Explosive Finish
Even Rahul Tewatia might argue that his name should be removed for this week's award to pay tribute to our latest winner, the man who has finished more matches than many cricketers have played in their careers. That man is none other than Mahendra Singh Dhoni, who took matters into his own hands to see the Chennai Super Kings (CSK) over the line against MI. Tasked with 16 to get off four balls against Jaydev Unadkat, a bowler Dhoni would have seen a lot of while the two played together for the Rising Pune Supergiants, Dhoni anticipated every ball to perfection and made the stiff chase look all too easy. A six straight down the ground gave Mahi the momentum he needed as Unadkat floundered with a short ball immediately after to concede another boundary. Dhoni ran an express two off the penultimate ball, before finding the fence once again off a low full toss to seal the deal for CSK and condemn MI to another defeat.
Back with a Bang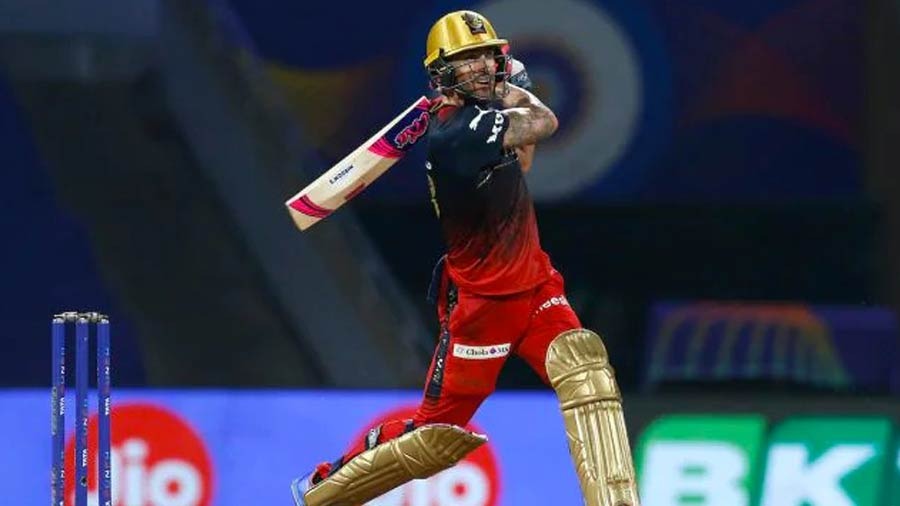 Faf du Plessis played a captain's knock against LSG after a series of low scores
BCCI
When you are the skipper of a high-profile franchise like the Royal Challengers Bangalore (RCB), you walk a neverending tightrope. South African veteran Faf du Plessis has learnt this the hard way this season after struggling with the bat following a solid 88 in his first match, against PBKS. Heading into RCB's clash with LSG last week, du Plessis had only managed 66 runs in five matches at a strike rate of less than run a ball. A big knock was needed against LSG and with the pressure piling up, du Plessis delivered. Batting till the second last ball of the innings, du Plessis anchored the RCB innings with grace and gusto, stroking 96 off 64 balls, unperturbed by the steady fall of wickets at the other end. Even though he missed out on a century he would have deserved, his return to form proved enough for RCB to see off LSG by 18 runs.
The White Cap
1, 12, 0, 0, 9. No, this is not Elon Musk's Martian address or the OTP for your Zomato order. They are, unbelievably, the scores of Virat Kohli in his last five IPL matches, with the two ducks being the wrong kind of golden. When a modern great is going through a difficult patch, there are two types of responses from the cricketing community. One is to question whether the player is the same anymore (whatever that means) and condemn them for complacency. The second is to blindly believe that their form would return and refuse to write them off no matter what. The truth, though, is rarely simple. For Kohli, in particular, has shown glimpses of his genius in this year's IPL already and it might just be bad shot selection instead of horrible form or plummeting confidence that is causing his undoing. Whatever the real reason, he is, for now, our new winner of the White Cap, which Matthew Wade has discarded by default by not featuring over the last week for GT. Will the White Cap finally be the push that Kohli needs to conjure another of his trademark innings or will he pay heed to Ravi Shastri's advice and take a break, dragging our prized possession with him? Find out next Wednesday.