After welcoming its new president recently, the Ladies Study Group hosted their first event of this year by welcoming Gaur Gopal Das at ITC Sonar on May 4. The lifestyle guru, motivational speaker, eminent author and revered spiritual influencer made it an evening to remember for the LSG ladies with his talk, songs and personal interactions.
LSG president Bhawna Agarwal welcomed him to the event, where he spoke on 'Finding Balance and Purpose in Your Life'. Taking up the subject of women's empowerment, he explained why it was not necessary. " She is the Shakti…equipped with tenacity, resilience, the ability to multitask and has a natural affinity to give back in larger multiples than they receive," said Gaur Gopal Das.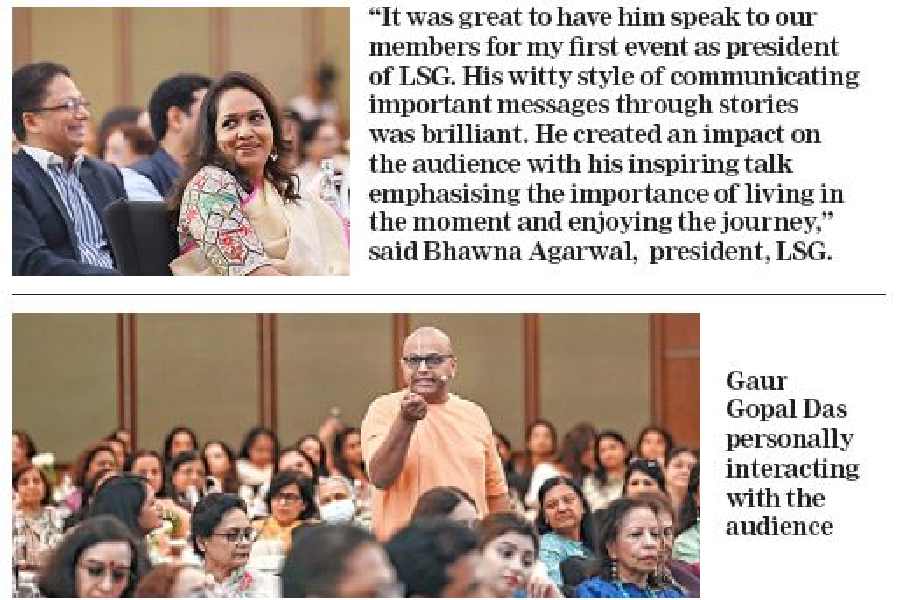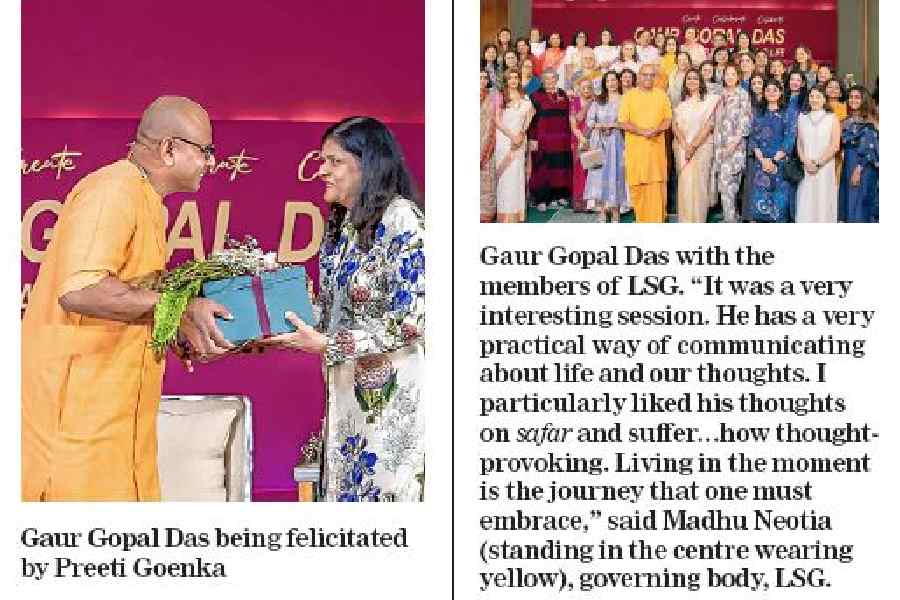 Singing songs like Safar khoobsoorat hai, manzil se bhi as an interlude to his talk, he continued to explain why enjoying the journey of life is important rather than measuring it according to the events or success. He stressed on how it is important to "suffer the safar". According to him, no one is perfect. So, he encouraged his listeners to live a life with the virtues of patience, tolerance and forgiveness.  He further spoke about learning the art to live in the moment as there is no ideal way of balancing life's demands. "Kaun hai jiske pas kami nahi hai, asamaan ke paas bhi zameen nahi hai," he said. While repeatedly talking about giving importance to self-care and selflessness, he also advised his listeners to share grief and pain with loved ones to garner support."Kuchh kah gaye, kuchh sah gaye, kuchh kahte kahte rah gaye, asi sahi galat ke rishton mai, na jane kitne riste bahe gaye," he said.
Taking up the subject of how change is the only constant, he spoke about the relevance of changing beliefs with time but also emphasised on building a strong foundation of values that will guide the journey. After his talk session, he walked through the gathering to establish a unique personal connection with every individual in the room. Sharing life lessons and wisdom interspersed with his wit, poignant melody and anecdotes, Gaur Gopal Das left the audience mesmerised. He inspired the members to share and collaborate to work together and celebrate life's moments.