Nothing refreshes you more after a tiring week of work than enjoying a night at the theatre. The intimacy of watching an artist speak to you on a stage and with a spotlight is unparalleled. On September 9, Gyan Manch saw a night of singing and satire, as stand-up comedians and musicians shared the stage at Song-Laugh, presented by Krish's initiative. My Kolkata was there as the digital media partner.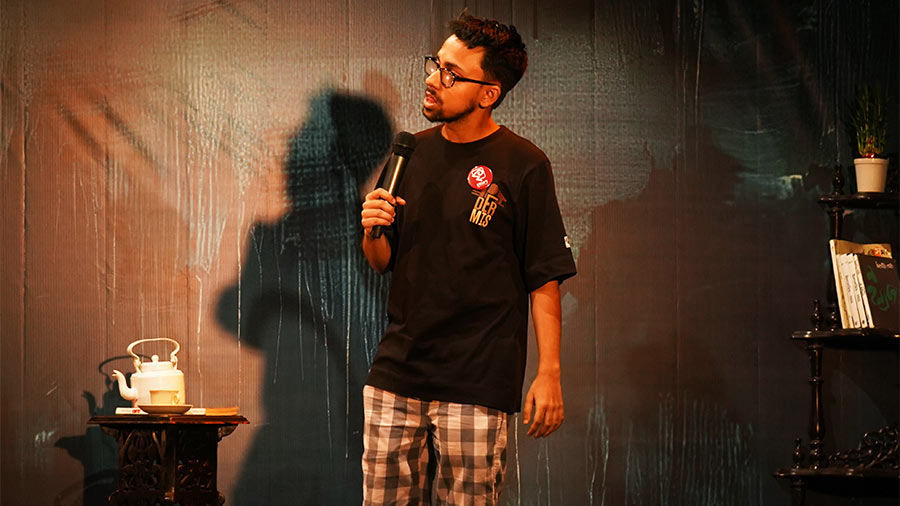 Comedian Shiladitya Chatterjee was the opening act of the night, warming up the crowd with his razor-sharp observations on Kolkata
The event was hosted by comedian and actor Subhadip Ghosh, who constantly kept the audience's spirits high with his smart quips and sharp jokes. The evening began with a routine from Shiladitya Chatterjee. The comedian had everyone in splits with his unique observations about classism against Howrah residents, the battle between Mandarmani and Santiniketan, and the never-ending sale of Kolkata's nostalgia. "The audience of Bengal is mature enough to appreciate stand-up, irrespective of language or form. This is very healthy for an artiste, and a platform like this motivates me to work even harder on my craft," Chatterjee quipped.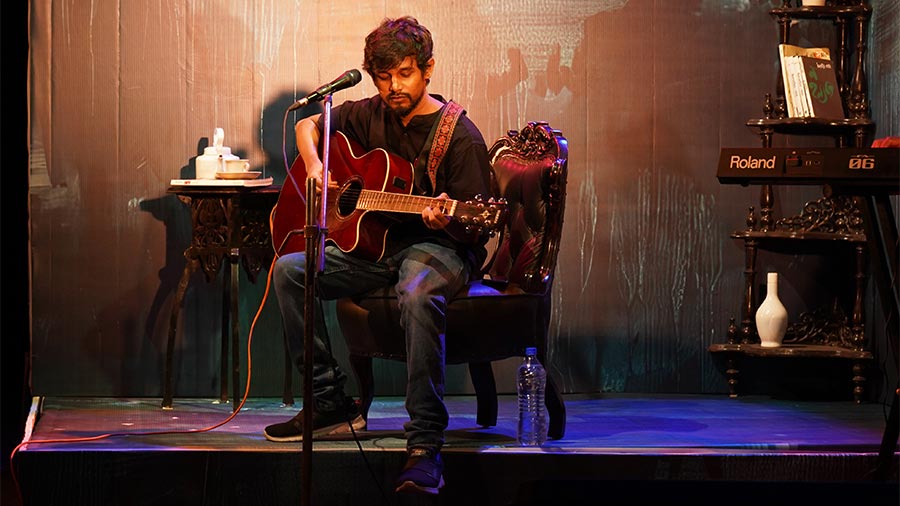 Independent artist Saptak Sanai Das captivated everyone with his original music
The mood then underwent a swift change, as Saptak Sanai Das mesmerised everyone with his voice, breathing fresh life into both popular and new songs like Cinderella Mon and Valentina. The loudest cheers were reserved for Baaynabilashi, a song he confessed to having sung with his wife at their wedding. "I want to thank Krish for having faith in me, and it was an honour to be a part of such a creative collaboration. As young independent artists, we always look forward to a platform where we can showcase our originality. The acceptance from people made it extra sweet," he said.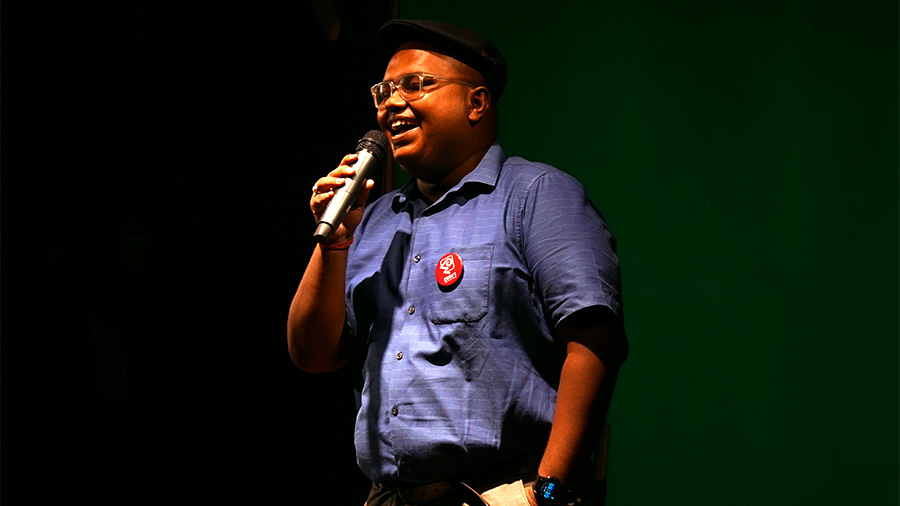 'This is the first time we were attempting such a concept. Naturally, we were a bit nervous, but the response from people was truly overwhelming,' said Subhadip Ghosh, the host of the night
After this, the vibe returned to humour, as Soumit Deb took the stage. Armed with a guitar, his performance blended comedy and music. The layers weren't restricted just to his form, but also his material. Deb made the audience laugh and think at the same time, holding up a mirror to classism, talking about the authoritarianism in our democracy, and making a case for depleting personal freedoms, all with powerful punchlines. "The Bengali stand-up comedy scene is still in its nascent stage. We mostly perform at cafes and restaurants for very few people, or at corporate shows where we can't say whatever we want. Song-Laugh was delightful, providing us a quality audience and the freedom to express ourselves," he said.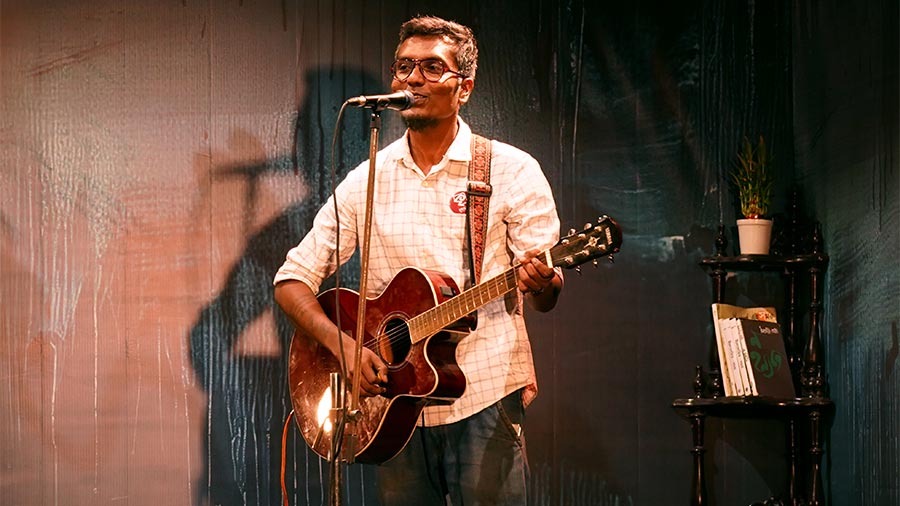 Soumit Deb blended comedy with music, pushing the audience to think using humour
The night ended with Debdeep Mukherjee's magical music. Before his act, Mukherjee admitted, "I'm getting up on stage after a while. I'm slightly nervous." But as he crooned the opening lines of Ghum Nei, all the anxiety faded away, with everyone clapping and singing along. Mukherjee went on to sing many of his loved originals including Priyo Gaan, Andho Kore Dao and Hoyni Alap. He even presented an unreleased song called Feerey Feerey Ashey that he had just finished writing that morning. As the audience lit their flashlights, he said, "Eta Debdeep er gaan noy, eita amader gaan."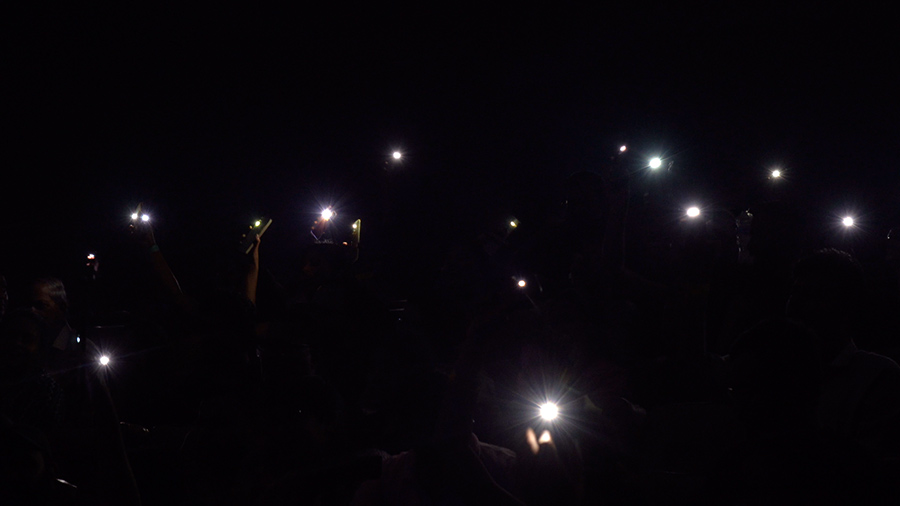 The audience at Gyan Manch had a 'lit' time
As the night ended, the cheers were loud. Gyan Manch had just witnessed something special.