American Center played host to the first edition of The Jefferson Junior Debates organised by the US consulate general, Kolkata, and iLead on Friday.
Eighteen schools from Kolkata participated in the debate moderated by American Center director Adrian Pratt. The motion of the debate was 'The US-India strategic relationship thrives on democratic values'.
Each school had a team of three participants. While two spoke for and against, one researched the topic and provided information to the speakers. The debate was judged by Dieter Bruhn, president and founder, One World Training; Prithwiraj Basu, journalist and debater; and Divya Bajaj, exchanges and alumni coordinator, public diplomacy section, US consulate Kolkata.
The La Martiniere for Girls team comprising Sakshi Bhagat, Abhishikta Paul, Orshia P Sarkar was declared the winner, with Sakshi also becoming the best speaker against the motion.
Sushila Birla Girls' School, represented by Riddhima Kuthari, Saanvi Daga and Laksshha Khanna, was declared the first runners-up, while the La Martiniere for Boys team comprising Anuj Poddar, Aarav Midha and Aniroodh Chaudhury finished as second runner-up. Laksshha was the best speaker for the motion.
"We got the topic around two weeks ago. The three of us came up with arguments arranged both for and against the motion. I think our success lies in immaculate teamwork," said Sakshi, a student of Class XII.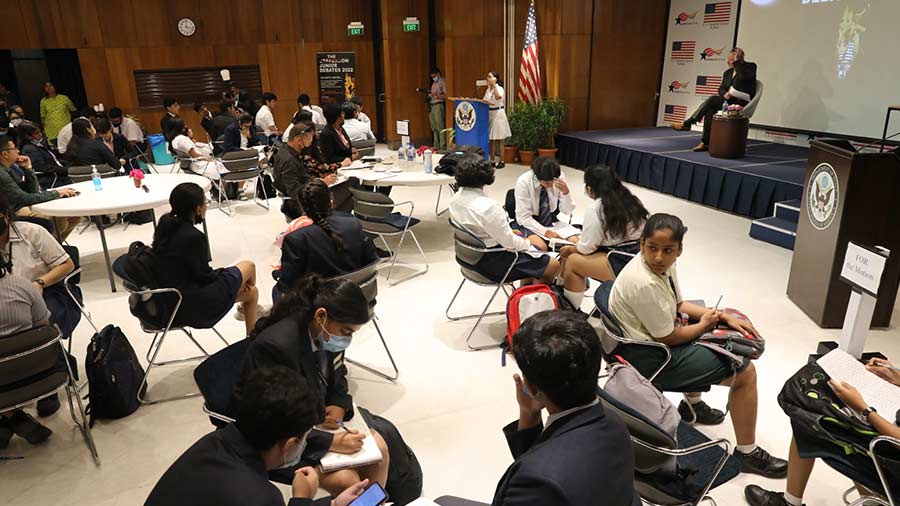 The debate in progress at Lincoln Room of American Center, Kolkata.
Arijit Sen/ My Kolkata
"I found out about this debate on Monday evening and then prepared a speech against the motion. But this morning I came to know that I would be speaking for the motion! My teammates really helped me and came up with points that I included in the speech," said Laksshha, a student of Class X.
After the event, Adrian Pratt told My Kolkata, "The students brought to the debate a stunning level of professionalism, research and enthusiasm. I was absolutely bowled over by these high school debaters. It was fun and really inspiring."
Other schools that participated in the debate were Birla High School; The Assembly of God Church School, Tollygunge; St. James' School; Mahadevi Birla World Academy; MP Birla Foundation Higher Secondary School; Pratt Memorial School; La Martiniere for Girls; The Heritage School; St. John's Diocesan Girls' Higher Secondary School; Abhinav Bharati High School; Shri Shikshayatan School; Don Bosco Park Circus; Delhi Public School, Newtown; St. Lawrence High School; Silver Point School and Modern High School for Girls.