Wouldn't it be fun to make your magazines? Get your hands on some coloured or white sheets, colouring pens, art materials, old photographs, cutouts, newspapers and you are good to go.
The Maker's Collaborative, Kolkata, introduced students and teachers to the concept of 'zines' through a workshop at Oxford Bookstore, Park Street, on July 23. The organisation curates and creates STEAM- based (Science, Technology, Engineering, Arts, Mathematics) educational aids, prototypes, workshops and more.
"Zine is short for a magazine. It's all about self-publication. Zines can be made by hand as well as through digital medium. But we prefer to make them by hand. Zines are made on A4 sheets and can be made by anybody from children to adults. We are pushing the use of mini-zines in schools and for social impact organisations,'' said Swati Mishra, founder of The Maker's Collaborative.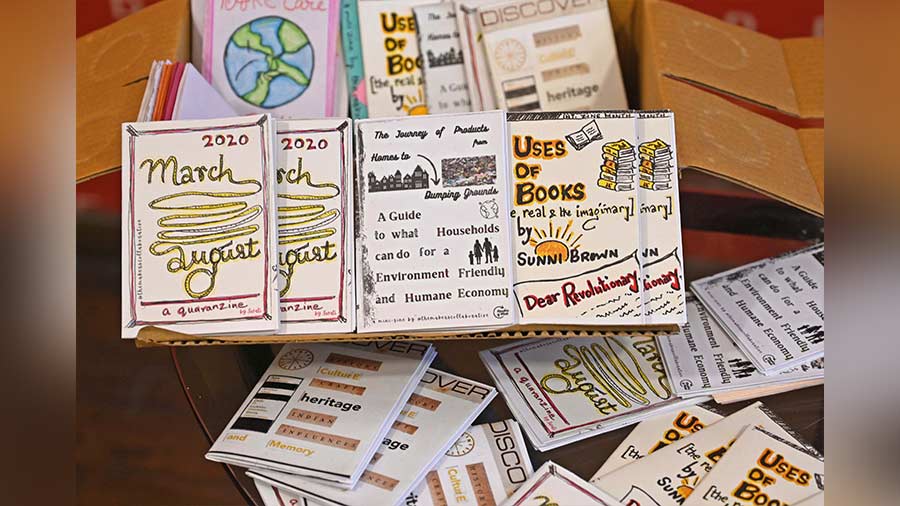 Zines are made on A4 sheets and can be made by anybody from children to adults.
Amit Datta/ My Kolkata
About the event
The workshop saw seven participants create their own mini-zines on single A4 sheets, guided by Mishra. The zines were carefully constructed through various prompts. Information about each individual, memory mapping to pinpoint where they live, their hobbies and interests — all these formed the zine.
The interactive session continued for two hours where the participants were shown sample zines and made to understand the concept. At the end of that session, each participant demonstrated their creativity through handmade zines and shared it with the other participants.
Aesha Roychoudhury, a student of Class VII at Calcutta International School, came to the workshop with her mother Preeti Roychoudhury, a teacher at the same school, and her colleague Tania Mukherjee. Travis Chen, who studies in Class VI at St. Joseph's College; Nandin Dutta, a student of Class VIII at Future Campus School; Samadrita Sarbajna, who studies in Class VII of Gyanpith School; and Asmita Dasgupta, a Class VII student of BD Memorial International School, also took part in the workshop.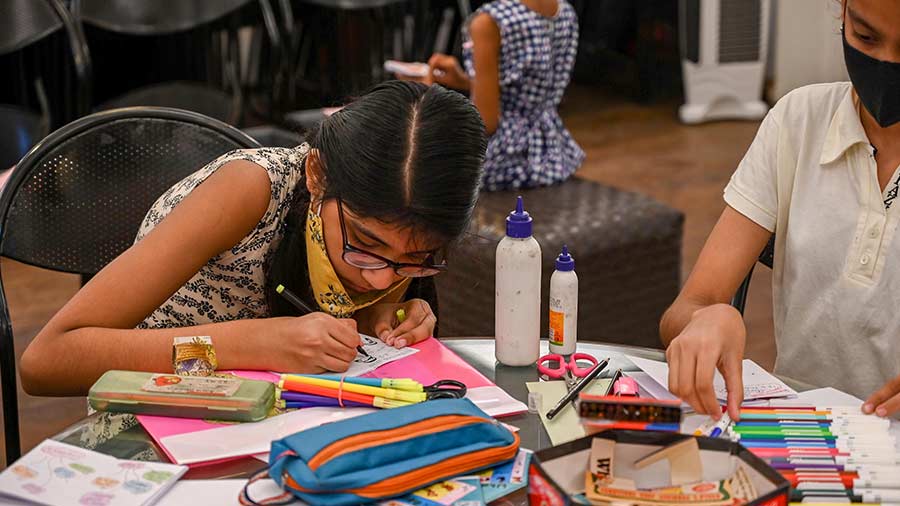 Students and teachers were present at the workshop organised by The Maker's Collaborative and Oxford Bookstore.
Amit Datta/ My Kolkata
"I signed up to know more about zines. The theme of today's zine was based on me. From this workshop I learnt many ways of communicating with others. In future, if I have to make a zine, I want to make it to spread awareness about pollution, how to keep the environment clean and so on,'' said Travis.
Zine as an educative tool
Applying creativity to create themes is the idea behind zines, which act as a great resource of communication, promote team or individual work and pave the way for moulding one's ideas into a concrete form.
"The concept of zine fascinated me when I heard about it first. It's a wonderful way of visually representing or manifesting children's knowledge, interests and inclinations. We look forward to taking this concept to our school. I want to do something with this so as to create a resource for teachers,'' said Preeti Roychoudhury.
Zines in Kolkata
Celebrated as International Zine Month, July sees a global surge in the exchange of communications and creative ideas through zines. But it is a fairly new concept to the people of the city. While it interests school students, the general public is yet to familiarise themselves with zines.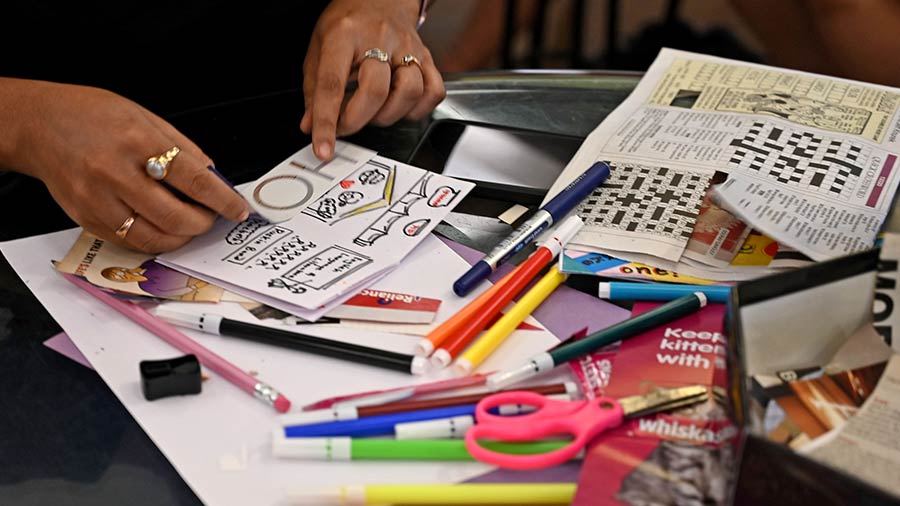 Zines can be made by hand as well as through digital medium.
Amit Datta/ My Kolkata
"Of course, there is a growing interest in zines, especially at schools. But very few people have actually heard or read zines. The Makers Collaborative conducts lots of workshops and events at schools, NGOs and corporates throughout the year. We'll be happy to conduct more workshops. People can get in touch with us at @themakerscollaborative on Instagram,'' said Swati Mishra.