The sweet smell of attar or the rhythmic sound of the dugdugi inviting children to watch some monkey antics — these are many of the smells and sounds that were once intrinsically attached to the city but have become rare with time.
Sights, sounds, smells and other sensory experiences are as much a part of Kolkata's cultural heritage as its art and architecture. 'Tracing Sensory Heritage of Kolkata Streets' — an exhibition held at Kamala Palace on July 30 and 31 —  demonstrated just that.  
Five researchers traced Kolkata's everyday sensory heritage as part of a collaboration between the Bartlett Development Planning Unit of University College of London and Durham University Geography Department. Raktim Ray from University College of London; Rishika Mukhopadhyay from Durham University; Nilanjan Das, art practitioner and professor at Rabindra Bharati University; Sayantan Das, professor, Department of Geography, Dum Dum Motijheel College; and Suromita Kanjilal, Indus Valley World School; joined hands to bring together the vivacious sounds and vivid smells of the past and the present.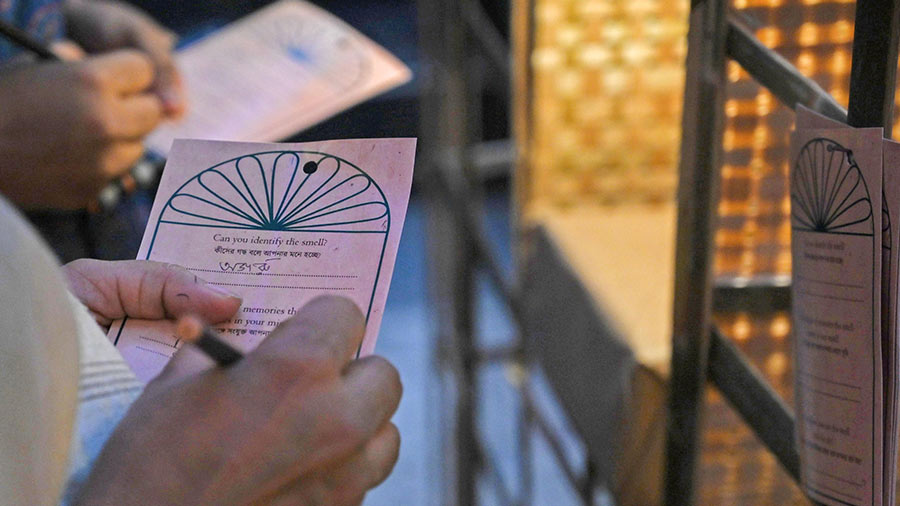 The visitors were given cue cards where they could write down the sounds and smells after identifying them
Amit Datta/ My Kolkata
Research and crowdsourcing
The researchers scoured around Chitpur for sounds and smells. The courtyard of Kamala Palace, a heritage venue, offered visitors a chance to experience more than 25 sounds and eight smells that would transport them to Kolkata of the past.
The visitors could listen to the sounds on headphones and take a whiff of the smells arranged in aatar daanis. They were given cue cards where they could write down the sounds and smells after identifying them.
"I rediscovered many sounds of my childhood which I do not get to hear anymore. Like the feriwallah's call or the cry for bhaater phyan or the bhikhari's (beggar) pleas. The revival of these sounds and smells was an emotional experience for me," said Supriya Samanta, a Bengali teacher.
The sounds collected as part of the project have been put together in a digital archive that can be accessed through SoundCloud. Visitors to the exhibition were invited to add to the archive.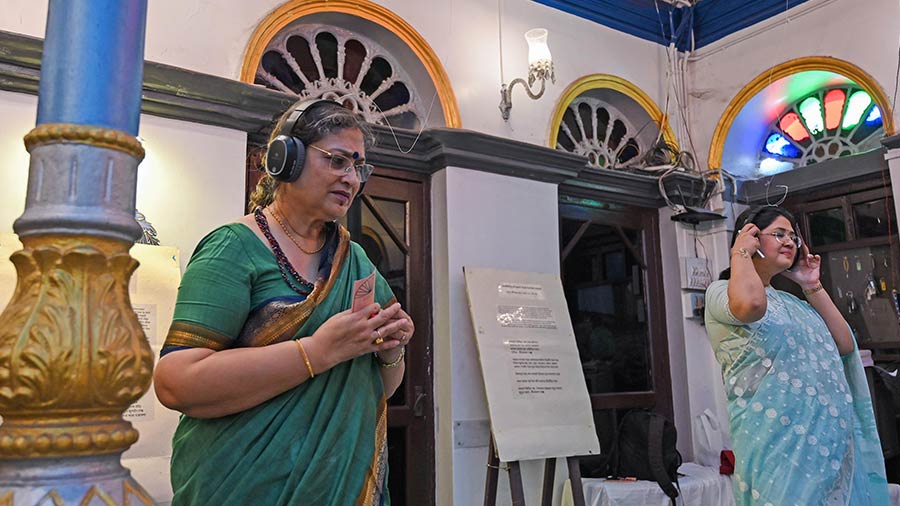 The visitors could hear more than 25 sounds on headphones
Amit Datta/ My Kolkata
Geo-tagging the sounds
The sounds of the past have been geo-tagged. ''My main association with this project is as a mapping specialist and sound technologist. We have collected various kinds of sounds and have crowdsourced them as well. After collection, editing the sound was important because all sounds cannot be given in raw format. One unique aspect of this particular work is to geo-tag everything. We have used Google My Maps and SoundCloud to geo-tag. If one goes to Google My Maps and clicks on the sounds in those particular locations, they can hear them," said Sayantan Das, who led the process.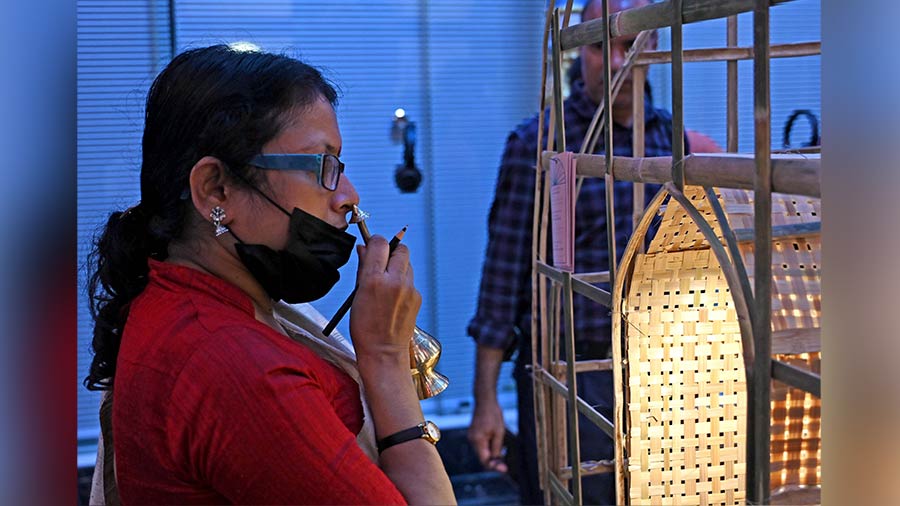 Eight attar daanis were in place and visitors could take a whiff of various smells characteristic of Kolkata
Amit Datta/ My Kolkata
Creating an olfactory experience
Showcasing smells of different objects was the highlight of the exhibition. Nilanjan Das was struck by the distinctive smells of each place he visited to collect sounds. ''We were first working with sound. But while visiting various places, their distinct smells struck me. Kumartuli has a distinct maatir gondho (earthy smell) while the area around the ghaats of the Hooghly smells of spices, the lanes and bylanes near Nakhoda Masjid are filled with the fragrance of attar," he said.
"So we thought of including smell as an element as well. As a visual art practitioner, I continuously try to study and capture the abstract. Smell is also an abstract. In this exhibition, there are eight smells at the moment. It is difficult to archive smells because we don't have the technology yet. But we thought maybe in future we can create something,'' Das said.
Sonic analogy to literary texts
Kolkata's heritage has deep roots in its literary narratives. From Rabindranath Tagore to Nabaneeta Dev Sen, these sonic and olfactory experiences have found mention in poetry, stories, novels, essays and the like. Keeping this in mind, the sounds have been categorised into six segments through texts — Lost Identity and Emerging Soundscape of the City; Home and the World: Women Hawkers for Women at Home; Temporality of Sound and Smell; Inaudibility of More than Human Sound; Multisensory City — Smells of Good and Bad; and Sounds in Poem/Poetic Sounds.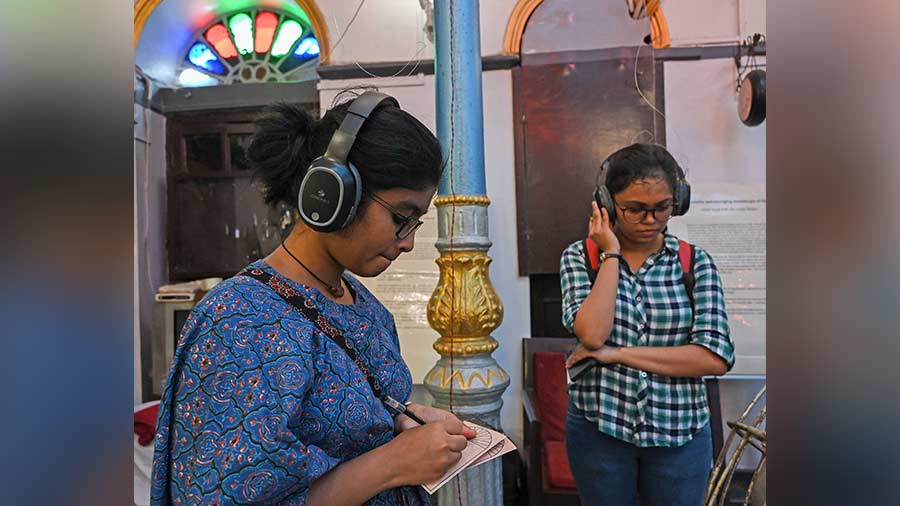 Visitors at the exhibition
Amit Datta/ My Kolkata
Co-existence of heritage and technology
Technology is often blamed for destroying heritage. But this exhibition is a unique blend of both technology and heritage.
"We actually wanted to conserve heritage through technology. We have worked with real objects when it comes to smell. But in the future, we might be working with paraffin wax. But the real challenge is to geo-tag everything. This idea is still being explored. You can't click on a place and get the associated smell through technology as of now. But we are working towards it to make technology and heritage co-exist in future,'' Das said.
The sound archive can be accessed through SoundCloud via this link.