The faces on the posters are some of the most adorable you have seen and your heart just might melt a bit more when you cuddle them in person at the Puppy Adoption Camp by Dog Tales, which is all for #adoptIndie. Shreemoyee Chakraborty, founder, Dog Tales, tells The Telegraph why adopting is the need of the hour.
Can you tell us about the puppy adoption drive and its genesis? Is this the first one by Dog Tales?
This Puppy Adoption drive is being held on May 8 at Cafe Offbeat Up There from 5pm to 7pm! Some of the pups joining were orphaned and consequently hand-raised since they were about a week old, some of them were sick when found and underwent extensive and appropriate treatment, some of them were taken away from their mothers and abandoned. But, with the help of numerous kind souls, all of them have now grown to become happy, healthy, well-socialised pups, all set for their new forever homes!
Till now most of our adoptions were facilitated on a case to case basis. This adoption drive is the first stop in our search for avenues through which we could reach a wider audience for adoption and at the same time spread awareness about adopting rescued animals. With the help of OffBeat CCU we have found a way of making people fall in love with our indies, by making them meet in person!
How old is Dog Tales?
Dog Tales is only five years old, and we owe it to a very large number of kind hearts who have made it possible for us to be in a position to make a big difference in the lives of some of these voiceless strays.
Although people around me will vouch that Dog Tales is my baby, but I like to think that Dog Tales owes its existence to the large number of good people who have helped us grow, and most importantly, to people who have opened their hearts and homes to so many homeless and rescued animals through this platform.
What kind of awareness do you think there is about adopting vs buying pets? What more needs to be done?
I think there is always room for improvement when it comes to awareness. There is still a dominant preference towards buying pets amongst the general public.
To improve awareness and bring about significant change, in my opinion, we should drive certain initiatives within various social circles:
Community level awareness regarding malpractices of unlicensed and unethical breeding and the underlying plight of the animals who suffer the consequences. The horror stories behind the cute puppies we see at pet stores needs to be brought to the forefront.
Familiarisation with community animals through awareness drives. For example, conducting empathy training in schools within a controlled environment. These initiatives can target holistic change in the general perception, to reduce inhibitions against community animals.
Using various media channels to promote volunteering activities in animal shelters and helping rescuers. Working with indie dogs and cats is the best way to get to know how amazing they are!
Stringent protocols enforced by the government for buying pets, with mandatory tracking of the breeders' legitimacy, conditions in which the animals are kept, health and general disposition of the parents etc.
Getting influential persons to publicly acknowledge and promote the virtues of adopting indie dogs and cats over buying from pet shops! Indies make hardy, loyal and friendly pets and more people should get to know about this.
Tell us a bit about your love for pets. What pets do you have?
My love for animals in general manifests itself as empathy and the will to help. I don't know who all qualify as pets in my case. I started with Alladi (a rescued indie dog), my first, and currently I have three dogs and five cats who stay with me permanently. All of them were rescued from the streets at some point in their lives. I, however, tend to bring in a few animals, including dogs, cats, birds and pigs every now and then, and foster them till they find their forever homes. And last but not the least, I've befriended more than 200 dogs and cats around the city and feel the same for them as I would for my Alladi. All of them are fed every day, dewormed, vaccinated, sterilised and given the best treatment the city offers when needed. And I would give all the credit to my Aloo (Alladi) for changing me as a person and helping me unlearn a lot of my biases.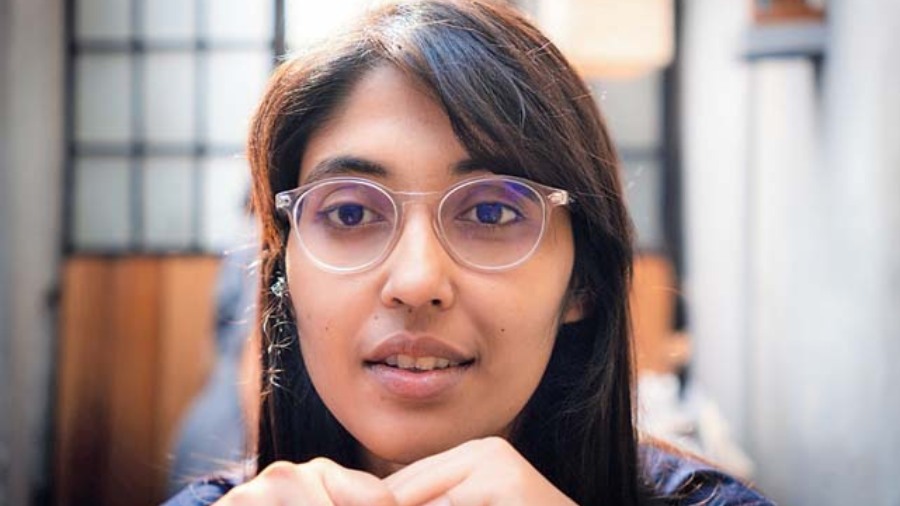 Multi-hyphenate women Sneha Ghosh (right) and Chitrangada Satarupa have a ball of a time cuddling the puppies. "It's a wonderful initiative that Dog Tales has taken of finding loving homes for the indie pups. The adoption culture in Kolkata is not that strong yet. People prefer buying pups. I am really glad that this adoption camp is happening. The idea of adoption, if it becomes more popular then all these babies will get a good and healthy life. I hope we have more such camps and encourage people to adopt than shop," says Chitrangada who has four dogs currently— two Labradors, one Pomeranian and one St Bernard. "The Labs were adopted, the Pomeranian was born in our house and the St Bernard was rescued. The four babies are our world. We also have two indie babies living under our building who are a part of our lunch and dinner plans," she smiles. Sneha got a dog nine months back. "That's one of the main reasons why I have been able to connect with this entire cause so much more.... I see Shreemoyee go out of her way and put them before herself and in a world where you don't see humanity for what it is... working for animals who genuinely need help.... And dogs love you more than they love themselves too!" she says.
What: Puppy Adoption Camp by Dog Tales
Where: Cafe Offbeat Up There, 36/F Topsia Road
When: May 8, 5pm-7pm
Contact: 8697612084/ 8017896945/ 9830784328