Far away from Kolkata and miss seeing the pandals? Don't want to go into the crowds and yet want to catch a glimpse of the goddess? You can now experience the pujas at Ahiritola Sarbojanin, Deshapriya Park, Ballygunge Cultural Association and Tala Park Pratyay from the comfort of your homes. All you need is a mobile, laptop or a wearable visual device. Spatial, a metaverse platform, promises to change your very perception of pujas. 
My Kolkata caught up with Suveer Bajaj and Sukrit Singh, co-founders of Metaform and XP&DL, to understand the vision behind blending technology and festivities.
The idea 
MetaPujo will go far beyond a virtual recreation of the pandal, instead representing a shared social space where people can explore and interact together with their avatars. 
"We didn't want to chase a trend that fades out. Durga Puja is a culture that has existed for centuries, and will continue to do so. Families and communities have always enjoyed pandal-hopping together. We live in a world where families are scattered, but this social space will allow the community to get together, just like they always have," Bajaj said.
"Durga Puja is one of the largest mass social gatherings in the world and we have always believed that the Web 3.0 revolution will bring a future where people will socialise inside the internet. We thought bringing it to the metaverse would be a great way to unite devotion, culture and society," Singh said.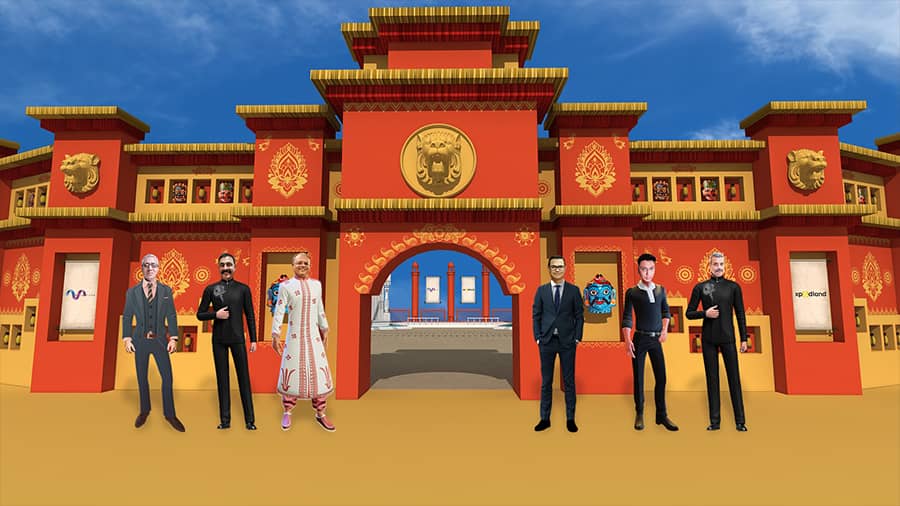 Members of the four puja committees explored pujas in the metaverse with Singh and Bajaj
Photograph: Metaform
The duo presented a unique Utopian platform, where a family can simultaneously enjoy Durga Puja despite a cousin studying in London, an uncle working in Chicago and a grandmother staying in Delhi. They can enter the pandal for anjali, click photographs and selfies and even give donations through NFTs.
"We started working on this campaign in March by reaching out to our friends and family who understand the pulse of Durga Puja. They helped us identify the four pandals who wanted to collaborate. The support of such well-known pujas has also worked as a stamp of approval. When your family has been visiting pandals for generations, there are emotions attached to it, and we hope the MetaPujo brings back those emotions," said Singh, explaining how the 3D animated renders were done to provide a sense of familiarity and comfort to the people.
Sayan Kumar Daw from Tala Park Pratyay is happy with the association, "This is the first time that Kolkata's Durga Puja will be accessible on such an international scale. We want all our close ones who haven't been able to visit the pandal in the last two years to socialise with us through MetaPujo."
Debashis Datta of Ahiritola Sarbojanin also welcomed the initiative. "This blend of religion and cutting-edge technology will revolutionise festivals. It will make the celebration of not just our faith, but also our art much grander," he said.
Metaverse vs Reality
Metaverse will act like a twin to human life, Singh said, becoming an accompaniment to our social interactions but not a replacement.
MetaPujo pandals will not be exact replicas of their physical counterparts, adopting the broader themes but having their own independent personas. However, care has been taken not to tamper with the protima, which will be loyal to the original one in the pandal.
"I grew up with physical telephones, which rang perhaps only four times a day, then came mobiles that keep us engaged all day. But it hasn't replaced all the other things we do. Similarly, the metaverse isn't a replacement, but a complement to our reality," Singh said.
"Our platform is the only one in the world that allows people to access the metaverse from their mobiles. We understand that many people might face friction in adopting this technology, but our goal since Day I has been to make it as accessible as possible," Bajaj said.
Singh opened a metaverse space on his phone, highlighting how the system will function smoothly on any basic 4G connection.
Another major game-changer for MetaPujo is the role of NFTs. "We believe that NFTs are going to be a critical part of how we transact. Moments of people praying to the protima can be captured as NFTs that belong to the devotee. I see NFT darshans becoming a norm in the future," Singh said.
For now, four unique NFTs have been introduced for each pandal, with free drops for each visitor. XP&DL are looking to give away around 5,000 free NFTs per pandal this year and also help visitors with creating a Web 3.0 wallet.
"This platform seeks to harness technology to take Kolkata's Durga Puja beyond geographical confines. Our puja has always had a knack for introducing many 'firsts' and MetaPujo is a huge step towards the future," said Amitava Sinha of Ballygunge Cultural Association.
Sujoy Moulik of Deshapriya Park affirmed this belief. "While we would still like people to visit our pandals in person, this is a great way for more people to celebrate with us. We are glad to have been associated with this," he said.
The future
Educating people about this new format may be a challenge, but gradually metaverse will evolve from popular culture to 'mass culture'. "India has already crossed 700 million active internet users and 5G is around the corner. Facebook has renamed itself to Meta, and everything is pointing towards real-time digital experiences. Both software and hardware will democratise with time, and will become more accessible as prices come down," Bajaj said.
Together, Bajaj and Singh have set themselves a target of bringing 100 pujas to the metaverse next year. "Over time, we want to bring the revenue models that pandals use, both with donations and advertisements, to the metaverse. the future, we will give people NFTs against their donations. Since these will be on blockchain, there will be complete transparency in what the funds are used for. In 1000 days, every single pandal should have an easy path towards the metaverse," Singh said.
The MetaPujo pandals will be unveiled on September 29.
You can experience them here.