Simple silhouettes, loose kimono-like fits, easy-to-wear kaftans — comfort and confidence took precedence over all else in the outfits designed for the participants at Walk with a Difference (WWAD) Season 3.
The fashion pageant organised by Aims Media showcased the hidden talents of differently abled persons and gave them a platform to present their personality. 
To boost the morale of the participants, friends and well-wishers from corporate firms, entertainment and performing arts gathered at Science City Auditorium. Musician Tanmoy Bose and his students put up a musical performance while choreographer Sangram Mukherjee graced the stage with a performance to lift everyone's mood.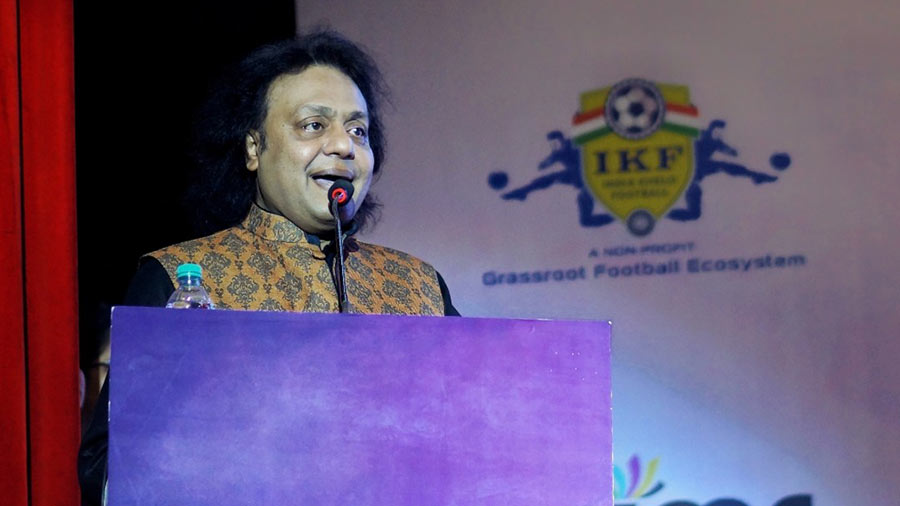 Tabla exponent Tanmoy Bose addresses the attendees
Turning challenges into celebration
Poulami Chatterjee, textile and fashion designer, said, "I had never worked in this field before. But I took it up as a challenge and researched extensively. It was like taking a step forward and making it easier for them (differently abled persons). Time was short and there were nine different categories. I spoke to the organisers and realised their (participants') requirements. Some of them have motor skill issues. When I designed the clothes, I tried to make the silhouette not so complicated, almost like loose kimonos. If you are wearing something you are not comfortable in, you are not confident. When I designed, I tried to bring out the inclusive factor. Instead of using the usual buttons, I used velcro and press buttons. Even for kids, they can wear the clothes themselves, this would give them confidence.''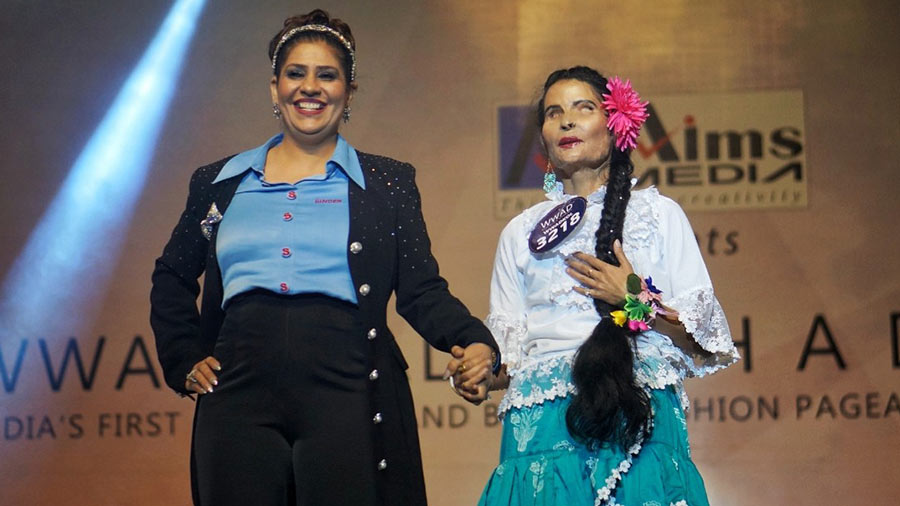 Models on the ramp
Choosing sustainable fashion
Manas Ghorai, social entrepreneur in the Bengal loom industry and designer, said, "I believe we are all different in some way. Keeping that in mind, I always wanted to do something for them and have been associated with Amrita di [Roy Chowdhury from Transcendent Knowledge Society]. When Aims Media approached me, I felt it was an opportunity to do something. The concept is very unique and I felt that we who work in the sustainable fashion industry, will be able to create a platform for them. While everyone faces some challenge, they (differently abled persons) face an inner conflict all the time and seek solace in comfortability. So, I designed free and flowy clothes for them which will be casual and comfortable. We made dhoti pants which were stitched and kaftans which were easy to wear. We chose white and golden dots fabric. While white symbolised their innocence, golden dots represented their special and valuable personalities in the society. We also chose bright yellow, orange, red, purple combinations to celebrate their happiness. We developed Indo-western style dresses through this.''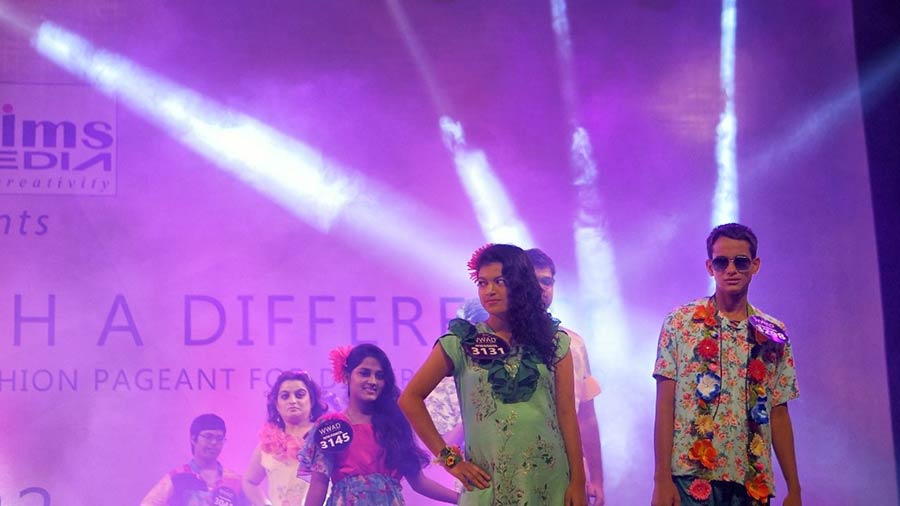 Participants walk the ramp wearing clothes specially designed to meet the needs of differently abled persons
Behind the scene
A nation-wide talent hunt was organised before the grand finale which took place at the Science City. Around 1,000 aspirants from all over the country enlisted for the one-of-a-kind fashion pageant in nine different categories like autism spectrum disorder, down syndrome, intellectual disability, hearing impaired, locomotor disability, acid attack survivors and more. The auditions for the same were held on November 12 at The Heritage School, Kolkata. Thirty finalists were chosen from the enormous pool of talent and were trained between November 13 and November 18 before they ruled the Science City Grounds!
Choosing fashion as a platform
Speaking to My Kolkata, consultant director, Aims Media and convener of Walk with a Difference, Rakesh Dhasmana, said, "The moment we utter the word fashion, most people feel that it is very hard to visualise a differently abled person to look fashionable. We need to shatter this stereotypical thinking immediately. We must also realise that the youth is the future and they want something new. We need to sensitise more and more people in this regard. We are aware of drawbacks, but we need to look beyond and highlight talent. That is why we chose fashion. Also, fashion is all about glamour and people in general are attracted towards it. Differently abled persons are still a deprived lot in the fashion industry. Fashion brands and houses must involve them (differently abled persons) as models or ambassadors to change the mindset of people."
The road ahead
Aims Media has been organising WWAD since 2015. The first edition took place in Delhi followed by Bangalore in 2016. The third edition took place in Kolkata this year. The organisation caters to the differently abled community and offers inclusive and accessible skill building services through fashion, art, sports, music and dance. This year, the finalists hailed from Assam, Gujarat, Uttarakhand, Delhi, Uttar Pradesh, and of course West Bengal, among others. Participants were awarded cash prizes as well as corporate gifts for their participation.
Talking about the future, Dhasmana said, "Keeping in mind the growth graph of each season, we are planning to host the next season in Mumbai, but it will not be a one-day grand finale. We are planning to keep it going for around five to seven days. This will be the world's first fashion week of its kind.''