A table laden with food. An installation of cups and saucers suspended from the ceiling. Women in dreamy dresses, colourful shoes and eyes. The men a part of playful choreography. Eka put a happy collection, full of 'lightness of being' and a soaring spirit. Rina Singh of Eka decoded the collection for The Telegraph.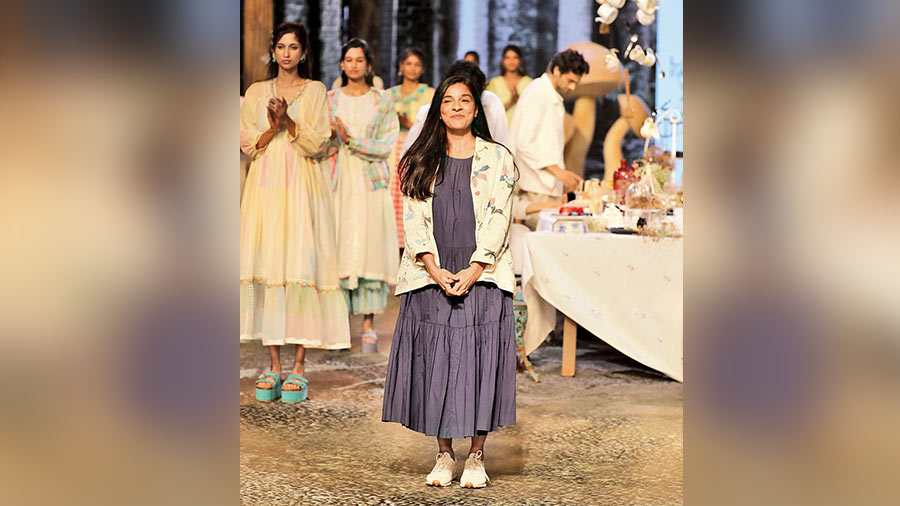 Tell us about the set-up...
All my life, I have escaped from reality with books. Actually post-pandemic, a lot of us have internalised a lot of stuff that was happening in the world where we became emotional, got carried away and sentimental. Then books were a respite. I thought why not celebrate this coming back to life, fashion, reality with an after-party. Then I created a mood board of Alice in Wonderland. After the fall, it's a delusional reality... a lot of what we create as fashion designers is hypothetical and imaginary because that's the world that brings us respite.
'Lightness of being' really fits in with what you create. This was so happy...
It is happy. We want happy in our lives now. We all want to look at the world optimistically. I think reality is something we bear and live in, but where do you want to go when you don't want to live in the real world? It's books, stories, art, beauty that brings you respite and I think as dreamers and creative thinkers, we are fortunate to have that kind of a superpower to create that world into anything we want it to.
The show music was unusual...
I have always loved Pina Bausch and Jun Miyake. Pina Bausch was a choreographer and she brought so much joy to my life. I have looked at Jun Miyake's work... not saying I have rendered the best version of what I could do, but I have definitely wanted to incorporate it somewhere.
Eka is a state of mind. How would you describe it?
A lot of times I have used the phrase 'lived in' with Eka. That it is a part of you. You live in the clothes. It's your reality. It's your grief, your joy, beauty, children, life, career, pets, gardens.... I just want to again and again re-emphasise that. I just want to say that fashion is a part of our life. It is not something that we look at one day in awe and forget the next.
Is the fabric all cotton?
I resonate so much with handwoven and the crafts of India that there is no way I can look at something that I don't know personally from my childhood, that I have touched and felt. After working so much with the crafts of India, I feel that's become my strength. I create with them... my co-creators, my artisans and people. They are as much my hands and eyes as I am my own. They are all natural fibres, cottons and linens. For the laces, we use handwoven organza as a trim.
Tell us about the accessories...
It was little beadwork that we did in the studio. It started from the shoes. The vendor who was making the shoes sent me some slippers as an idea. From there we started doing little things and it just grew in the collection so beautifully. It's a party. So, let the girl play a little dress up.
The choreography and the boys were fun!
So, it was an after-party and I wanted to present menswear also, but when I was looking at women in the pretty, I couldn't fit the men in the pretty. So, I thought let them be wasted on the stage! (Laughs)
What have you internalised over the last 10 years...
A lot of internalisations, honestly. I think in fashion, a lot of what we feel has to express itself in optimism, hope, joy, beauty and love. Have we left some ideas behind in the process? Yes, we have. Have we incorporated new in the process? Yes, we have.
The next decades are dedicated to?
This is my comfort zone, but there are so many extensions of what we want to do. This whole space of lived in as a part of fashion, glamour perhaps, can extend itself into a lifestyle. This party could be someone's reception party, why not?
Pictures: Sandip Das