Kolkata's Gen Z (18-25 year olds) are redefining modern romance by prioritising compatibility and mental well-being. The finding is part of Tinder India's Future of Dating 2023 report, which was released at The Salt House, Kolkata, on August 2.
For over a decade, Tinder has facilitated how people meet, not just staying ahead of the curve, but anchoring it.
A panel comprising Aahana Dhar, communications director at Tinder India; YouTuber Indrani Biswas aka Wonder Munna, and Joshua Benjamin, a member of Team Tinder from Kolkata, shared some insights exclusive to dating in the City of Joy. The discussion was moderated by entrepreneur and model, Ushoshi Sengupta.
The evolution of the term 'situationship' shows how Gen Z is averse to pressure and labels
Changing terms and trends
Dhar began the session by highlighting how today's Tinder users are tech savvy. When Tinder started 12 years ago, people were still figuring out the idea of a dating app, but today's Gen Z are digital natives and know exactly how to get around a dating app, she added. The other significant thing to note is that today, mental health and self care are super important to people, and something they look for in prospective partners as well. "Particularly in Kolkata, 87 per cent people say that they find matches who prioritise their mental well-being more attractive," said Dhar. The report also mentions that 85 per cent of the city's Gen Z feel that their partner valuing self-care is integral to a happy relationship.
The evolution of the term 'situationship' — which has been picked as a dating preference on Tinder by 45 per cent Kolkatans — shows how Gen Z is averse to pressure and labels. "The youth isn't rejecting the notion of romance, but accepting it in more dimensions. It can range anywhere from texting with someone for a few months to seeing them as their life partner," she added, explaining how dating has completely changed from what it was in the last generation.
Another change in trends is in the nature of first dates. People are opting for shared-interest dates like picnics or pottery. The one thing exclusive to Kolkata, however, is festive first dates, with 47 per cent picking a festival as their top place to break the ice. "We were amazed to see how festivals were unanimously popular here, particularly Durga Puja," Dhar exclaimed. Sengupta had the best and most relatable answer to that. "Saraswati Puja is actually considered to be the Bengali Valentine's Day! Bengali moms are known to ask you 100 questions a day, but on Saraswati Puja or Durga Puja, you actually have a free pass!"
"Kolkatans are all about authenticity, and keep both the red and green flags on the table from the start."
Gen Zs and the dating scene
Falling under the Gen Z umbrella herself, Biswas candidly shared how Tinder has changed the dating game for her. "It's easier to date someone, and Tinder makes everyone accessible, from 80km away to 80m away. You get to meet people from all walks of life. I'm a media student, and I once spoke to an aerospace engineer about why the sky is blue."
She also pointed out how Kolkatans are all about authenticity, and keep both the red and green flags on the table from the start. These findings are supplemented by the Tinder report, which states that 64 per cent of the city's youth provide weight to dating intent, and knowing what you want.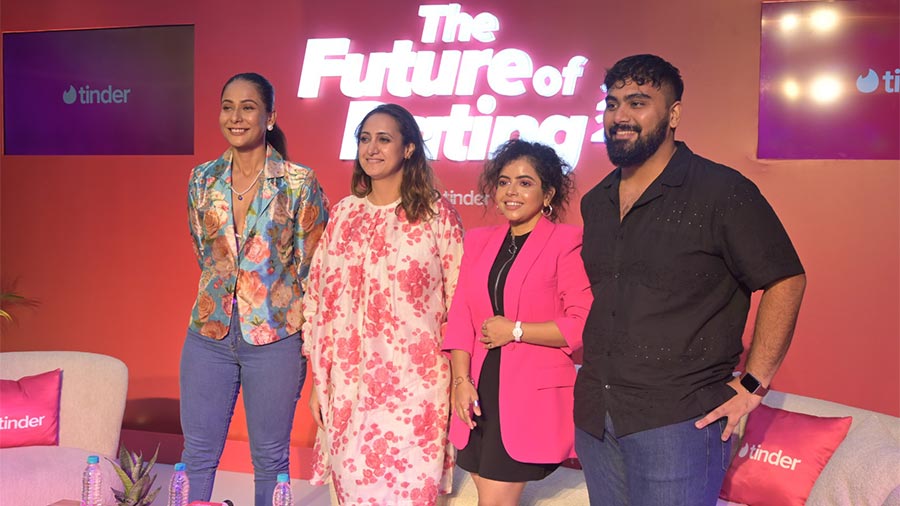 The panel members weighed in on various dating topics from terms to red flags and relationship types while sharing snippets from their own dating journeys
Benjamin supplemented this by pointing out that Gen Z looks for intentional dating because they know what they want and are all about exploring options without tying themselves down. "It's not about playing games, but just cutting to the chase." He backed this by mentioning how the 'Relationship Type' feature on Tinder helps him filter people who are looking for the same things as him. Incidentally, one of his most memorable first dates was one full of clarity, during Durga Puja! "For our first hangout, we went pandal hopping, followed by snacking on some phuchka and jhaal muri." He added that honesty was the best part of the date, with both parties being upfront about seeking something casual.
Autonomy and diversity
Tinder has played a big role in helping women attain more autonomy to explore desire and pleasure. According to Dhar, 60 per cent of young women said that dating apps provide them with opportunities of self discovery and to understand themselves better, while 41 per cent said that using Tinder to date boosted confidence. "Our LGBTQIA+ database has also grown twice the size in two years. So using Tinder is a very different experience for women and other minority genders as opposed to men," she added, saying that their focus was on developing the app according to the needs of its most vulnerable users. Sengupta agreed, adding, "Women look at dating as a way to gain self confidence. It goes beyond just finding partners, and falls under the category of self-love."
Beyond gym bodies
Biswas drew attention to some important red and green flags from her own dating journey. "While swiping I feel reassured that the person I'm talking to is genuine, when they have a verified mark on their profile. But if they end up disrespecting their ex on the date, that's a huge red flag." She reinforces the need for a healthy sense of humour to keep the conversation from becoming boring, and splitting the bill.
Kolkata is synonymous with culture and intellect, and it's no surprise that Tinder found that 86 per cent of people feel that an alignment of cultural values with their partner is important in dating. Similarly, 72 per cent of people emphasise on aligning on political values too.
Dhar summed it up saying, "Kolkata doesn't look at gym bodies. It's more about personality and intelligence. They're very authentic about what they want and what they don't. We've found that Kolkata owns the dating game unlike any other city in India."