Kolkata is art. There are stories in all its rustic alleys, in the aroma of ghoti gorom, in the last train taken, and the last Metro missed.
DAG Museums is bringing back The City As A Museum, its art and heritage festival for a second edition. From November 18 to 27, the organisation will celebrate World Heritage Week with tours and workshops that will take Kolkatans into the history of little-known art collections and iconic heritage spaces, documenting how art has flourished in the city. DAG has also roped in accomplished historians, artists and storytellers to take people through this journey that aims to reimagine the city as a living museum.
Sumona Chakravarty, vice-president of museums at DAG, elaborates on the vision behind this festival. "We started with a bunch of museum exhibitions in Kolkata, the first being at Currency Building. They made us realise that there are so many other narratives and stories about art. We wanted to expand the narrative of visual art in Bengal, and started looking at heritage spaces where artists lived and practised. We discovered ways of finding art in different unexpected parts of the city, realising that the city itself is our biggest muse." 
Chakravarty emphasises on the need to learn about history through lasting experiences and memories. "Nature is a very important part of our events this year, and we are trying to incorporate sight, sound, memory and hands-on experience to our workshops," she adds.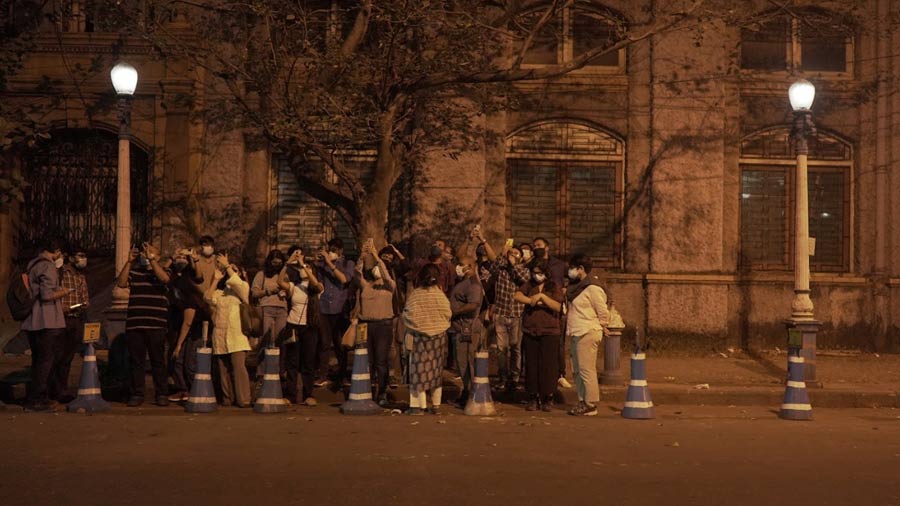 In the 2021 edition, audiences gathered afterhours to explore the history of the Dalhousie neighbourhood, documented by many nineteenth century European artists from the DAG collection
Parameshwar Halder
One of DAG's chief principles is making art less intimidating. "We try to make art accessible by showing how it connects to so many other factors of our life, be it history, ecology or politics. We have all grown up with some kind of family history, so there has been a culture of creating art, not just consuming it. Art is seen in the context where it was created, and not as something separate from our lives," summarises Chakravarty.
The following is the list of events to be held during the festival:
Revisiting the Tagores
Tagore, preceded by a conversation with Sujaan Mukherjee about the Tagore family's ties to music, theatre, and art patronage.
Date: Friday, November 18
Time: 6pm
Venue: Prasad Tagore Palace, Pathuriaghata
Relearning the Fresco
An art workshop and a tour of the Hooghly Imambara, relating the history of this iconic monument and the remaking of the fresco paintings that adorn its interiors with Agnibesh Ghosh, Mirza Sajid Ali and Sumantra Mukherjee.
Date: Saturday, November 19
Time: 11am - 4pm
Venue: Hooghly, Chinsurah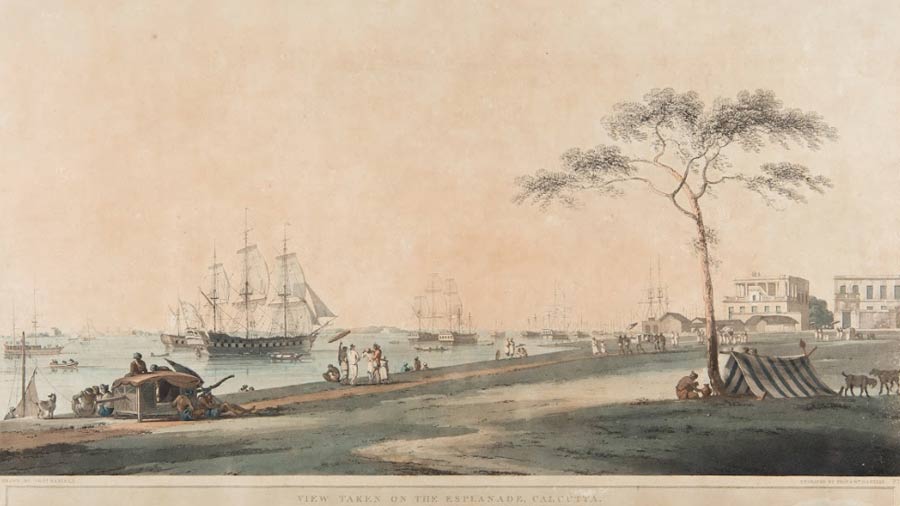 The City as a Museum Edition 2 becomes a portal into the lives of people and places which nurtured artists and their practices (Thomas Daniell, View Taken on the Esplanade, Calcutta. Aquatint, coloured)
Image Courtesy DAG
(Un)Making History
A creative workshop for young people, from ages 12 to 14 years, interacting with the narratives depicted in history paintings, inspired by a special viewing of artworks from the museums' vaults.
Date: Monday, November 21
Time: 11am - 1pm
Venue: Victoria Memorial Hall
Participation in this programme is by invitation, do email dag.museums@dagworld.com if you would like to join in.
Envisioning the Past
A workshop for high school teachers in collaboration with the Victoria Memorial Hall, based on a special viewing of selected history paintings from the museums' vaults. The workshop will investigate images as a medium for learning, introducing educators to tools for incorporating art into pedagogy.
Date: Monday, November 21
Time: 2 - 4pm
Venue: Victoria Memorial Hall
Participation in this programme is by invitation for schools and learning spaces in our network, if you are an educator do email dag.museums@dagworld.com to participate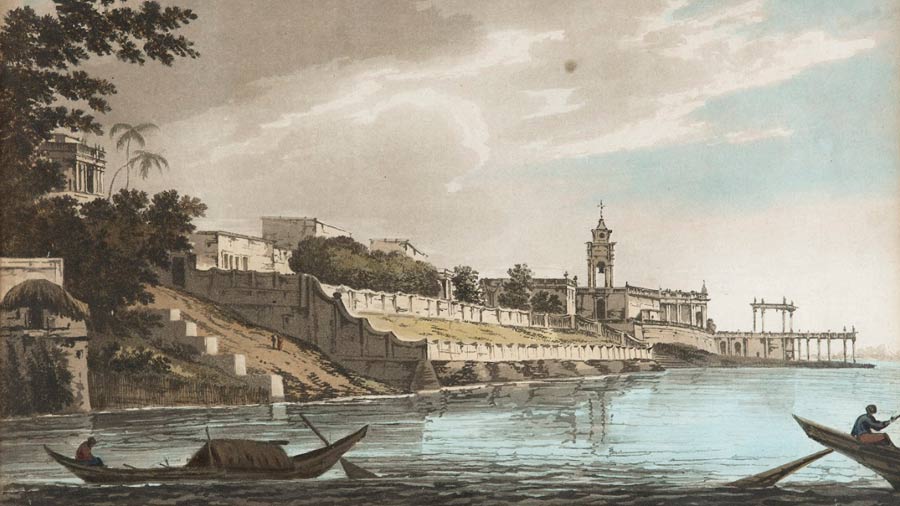 The City as a Museum takes people to less known art collections and sites (William Hodges, A View of Chinsurah, the Dutch Settlement in Bengal. Aquatint with etching, coloured)
Image courtesy DAG
A World within a Home
An intimate evening at the home of the artist Shanu Lahiri, featuring stories about the family collection and archive told by a family member, and looking at the close-knit world of Calcutta's creative community post-Independence.
Date: Tuesday, November 22
Time: 5.30pm
Venue: Home of the artist's family, Lake Town
Living with Science
A walk by researcher Namrata Ghosh on the history of the house museum at Acharya Bhavan and the Bose Institute, focusing on J.C. Bose's unique collection of iconic Bengal art.
Date: Wednesday, November 23
Time: 4 - 4.45pm and 5 - 6pm
Venue: Acharya Bhavan and Bose Institute
An Artists' Retreat
An exploration of the relationship between art and ecology through a visit to the house-museum of artists Chintamoni and Amina Kar, followed by a foliage study session in the idyllic bird sanctuary that surrounds it.
Date: Friday, November 25
Time: 1 - 3pm and 3.30 - 4.30 pm
Venue:​ Chintamoni Kar Bird Sanctuary and Bhaskar Bhavan State Museum
The Past in Print
A guided walk of the first free circulating public library of India — Uttarpara Jaykrishna Public Library — with researcher Sarbajit Mitra, traversing the history of regional literary cultures, and sifting through their vast books and periodical archive to delve into the vibrant world of print illustrations in colonial Bengal, followed by a poetry ready by Sujoy Prasad Chatterjee.
Date: Saturday, November 26
Time: 2 - 4pm
Venue: Uttarpara Jaykrishna Public Library
Pebet
Pebet is a phunga wari, a type of traditional fireside story told to Manipuri children by their grandparents. Directed by the renowned theatre practitioner Heisnam Kanhailal and performed first in 1975, it subverts the familiar icon of the bird and the cat to comment on political and cultural indoctrination.
Director: Heisnam Kanhailal
Performers: H. Sabitri, Pangambam Tyson, Lanchingba Laishram, Huidrom Holyna, Thangjam Priya & ​Chanchal Laishram and Ahanthem Upendro Mangang
Light: Guru Koken
Date: Sunday, November 27
Time: 7pm
Venue: Satyajit Ray Auditorium, ICCR
Sunday Adda with Bong Eats
An online cook-along with Bong Eats and food historian Pritha Sen to delve into the history of dishes made by our grandmothers and mothers, that form a large part of the art that we experience in our day-to-day life, in the kitchen and on our plates.
Date: Sunday, November 27
Time: 10am
Location: Live on Bong Eats - YouTube
You can find out more about the events and register for them here: https://dagworld.com/event/events.html