Author Chitra Banerjee Divakaruni, known for brewing tales around interesting female protagonists, through a variety of genres like magic realism, historical fiction, myth, and fantasy, addressed participants and a group of women professionals, members of the CII-Indian Women Network (CII-IWN) on September 10 at the CII-IWN meet's virtual session titled 'Women: Then and Now'. As an organisation, CII-IWN's works include empowering career women to become better professionals and achievers in their fields. Hosted by Paromita Ghosh, director, Candid Communication, with Divakaruni as the guest speaker, the engaging conversation of the evening touched upon various women's issues of global importance and relevance in contemporary times.
Starting the conversation reminiscing her college days at the Presidency College, Divakaruni spoke about her earliest influences in the field of writing, starting from the Shakespearean and Greek tragedies she had read in college. Studying mythologies from other countries got her interested in Indian mythology, a genre she later explored through her writings. Divakaruni, who also teaches a creative writing program at the University of Houston, navigated the conversation towards the evening's topic and stated that women's wants years back and at present haven't altered much. "They want to be respected, want some autonomy, and to be treated with dignity. It is just that the social and historical contexts are different. So, I try to write from a human level..." she said.
Coming to the use of the first person in her book, she emphasised how this narrative style brings about closeness in the reader-writer-character relationship. Talking about the contemporary women who are challenging the regressive social norms and overcoming all obstacles to achieve their dreams, Divakaruni brought up her exploration of the character of Maharani Jindan Kaur in her latest book The Last Queen, who had challenged her gender role and confronted the British and her enemies.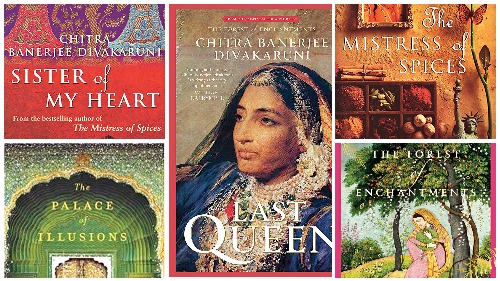 Contextualising the conversation with stories of strong women characters like Draupadi and Sita that she re-told in her books, she urged women of today to confront situations and crises keeping these two characters as two contrasting templates. Sita — the mature person, who gently had her way around, and Draupadi — the temperamental and dramatic character who fought straight through her obstacles.
"We have achieved so much for which we should be both grateful and proud, but there remains a lot to be achieved. I think the spirit of feminism as I understand is very simple," she said as the conversation proceeded into the discussion of feminism. More than focusing on the term, Divakaruni stressed how every woman deserves a life of dignity and the ability to make her own choices. She stressed over and over again upon women's education, their financial independence, the need to give them career-oriented training, and women coming forward to help other women grow.
In her discussion, she urged women to come out and tell their own stories, re-writing history that had always unfairly glorified men. She exemplified Tagore's works, where women characters have a different representation. "History, mythology, ancient tales have focussed on men largely because it was men telling those stories. I feel very happy to see there are such wonderful women's voices coming into the field of literature. Unless we tell our stories, who is going to tell them? Men just see things from the angle of what affects them, it is not unnatural, therefore it is particularly important that we take control of our stories," she smiled assertively.
Divakaruni expressed her strong critic of women who feel threatened by other women's courage to break out of their traditional roles. Sighting the example of her work The Last Queen, she mentioned how apart from fighting against the patriarchal forces, women too at times fail women. She further discussed her focus on creating relatable human characters in her books, breaking away from the notion of looking at women through a lens of perfection and from a deified position. "For me as a writer it is most important to build human characters. It is a wrong pressure put upon women to be perfect. Every time a book comes out, I am scared but we have to move forward despite our fears. I wanted to be true to Sita's story. But Sita's greatness doesn't depend on bringing Ram down. I have respect for all my characters. It is always scary when I am dealing with a controversial issue but it has to be done," said Divakaruni.
As the discussion progressed into the women's issues of the contemporary world, apart from organisational resistance by women, education, job training, and financial independence, she emphasised on the need for the change of attitude of general people, especially where women are not treated as equals. "This (change of attitude) is a larger and more complicated problem, which is to change the mindset that a strong woman is negative. A strong woman who is earning and taking up space in the outside world is a great asset to her family and community," said Divakaruni. Expanding on her personal experiences and the transitional phase that the character of Maharani Jindan Kaur goes through, she said, "A strong woman is not just a woman who makes use of life's opportunities but also manages to stand strong when things fall apart."
The discussion continued with participants' questions for Divakaruni on contemporary women's issues like the Texas abortion law, struggles of a single mother in contemporary society, Indian men's attitude towards and acceptance of feminism, and the Taliban defining the role of women restricted only to childcare. Divakaruni addressed them all by sharing her perspective with her gentle voice, firm disposition and lucid explanations. She concluded the evening session on a note of motivation saying, "For every woman, it is very important to see what I can change in the world in which I find myself. If all of us think that way, there is something we can do. For larger problems, we can write, pray and make noise but I have to find out what I can do at a local level."
Commenting on the enlightening session, Sucharita Basu, the chairperson of CII-IWN, West Bengal said, "We all know that women issues are historical, while many of them have been addressed over the centuries, we still have a long way to go. The course for progression in resolution of social issues is often chartered though historical narratives and storytelling and Chitra Banerjee Divakaruni has pioneered both in the most impactful manner. Hence, it was truly our privilege to have Chitra explain to us in her usual lucid style about 'Women — Then and Now."