It can be one of two things — either you may be a curious basketcase or you blush a unique reddish hue every time you see the winter sunlight playing on your lover's face (real, imaginary, et al), and proceed to hum under your breath, Tumi jor er shesh ey shurjo dhowa ghor (you are the warm sunlight that floods into my room after a fever), which is enough evidence for being a true Bengali in love.
Fiddling with emotions that concoct the very essence of 'Bangali-ness', Chandrabindoo's music — easy, conversational, rhythmic, relatable and appropriately appealing to the middle-class poetic sensibilities — tinkers with the heartstrings and tug at nostalgia, even now.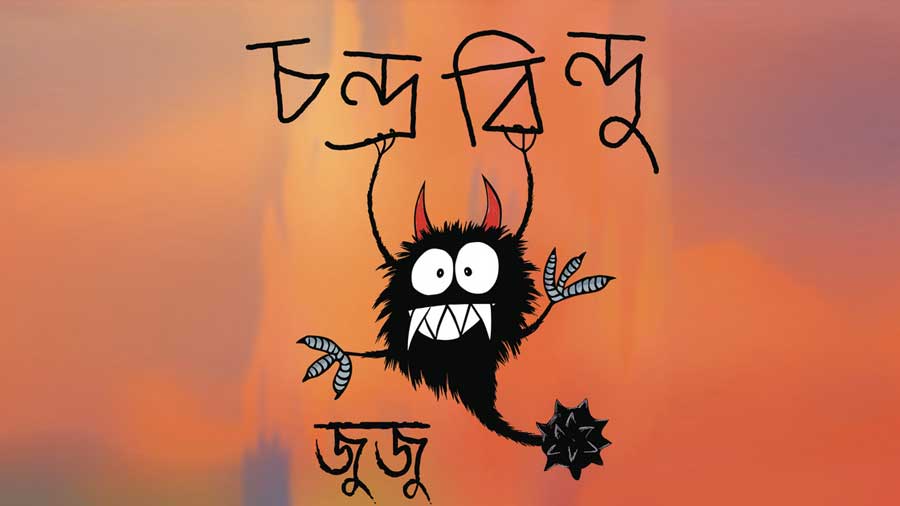 Chandrabindoo's songs continue to capture the essence of 'Bangali-ness'
This was in evidence on February 14, when Upal Sengupta and Anindya Chatterjee, the lead singers of Chandrabindoo, organised an informal, intimate concert called Bhyaa, phonetically mocking the Valentine's occasion in an all-too-Bengali manner, at the Indian Council for Cultural Relations (ICCR).
Setting the mood for the evening and engaging in light banter throughout, Anindya went on to joke: "Many people tell us how special our songs have been in their love story… how they fell in love because of us! All I tell them is — Good for you guys! Because we haven't been so successful… I have to spend the rest of my life with Upal!"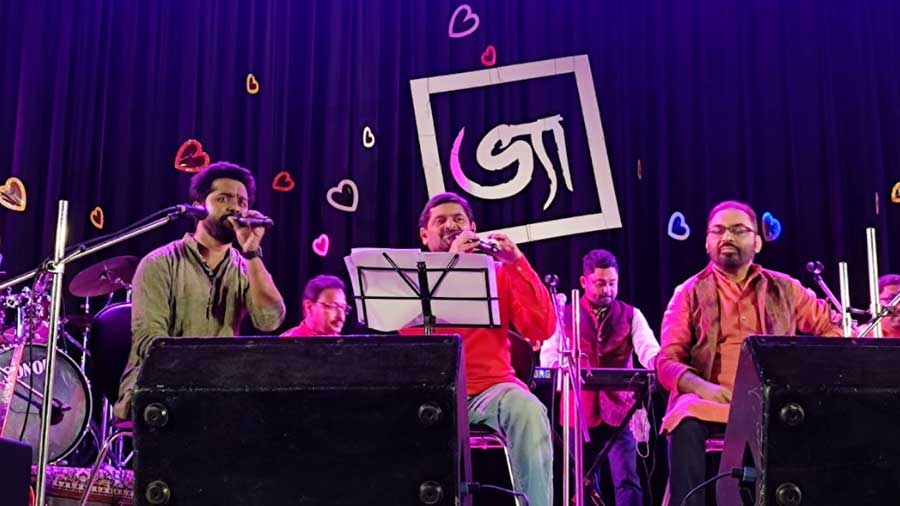 Nilanjan (left), Upal, Shibu and Anindya presented new compositions like 'Tomay Pachhi Koi' at ICCR
Sohinee Basu
Love expressed the Chandrabindoo way
Truth be told, over the last three decades, Chandrabindoo has treated the ordinary Bengali to an entire discourse on how to fall, trip, crib and mostly, stay in love, right from childhood crushes to college heartthrobs and thereafter. If you have felt it, chances are Chandrabindoo has sung about it.
From tales of college canteens and bringing in the dusk with melodies sung for a friend, to dreaming of making impossible things happen if a certain person said yes to settling for a romance with the prized pashbalish — Chandrabindoo has gifted us with a customised dictionary for love.
Unsurprisingly then, the ICCR auditorium was filled with a motley crowd, called out by both Anindya and Upal as folks with "nowhere else to be", spanning an odd mix of generations who had somehow thought it wise to celebrate Bhyaa-lentine's Day with this duo, who largely continue to shape how Bengalis love — a little poetically, a lot lazily, and yet, passionately and romantically.
Curating a Kolkata collage
Perhaps no other Bengali band in recent times has been able to successfully collate and collect a pastiche that conjures the aadotey aanari essence of Kolkata, creating a collage of the city with songs that are timeless. So when Chandrabindoo urges you to love, it's not just with a person — it's with a city as well that has seen you grow up and tried all it can to guard you in its arms.
The love that Chandrabindoo's music offers and professes is tender, often shy, but capable of mammoth acts (Jodi bolo gaan, eka'i hoyi Dover Lane to Jodi bolo plane, pithey niye urey jabo Spain!) — the band's relevance lies in being able to create characters out of the songs, till they feel like a familiar friend you would be sitting with for a chat, reminiscing about the good, old days.
Imagining a college romance for any Bengali who grew up reading Asterix-Tintin and hearing Doodh Na Khele Hobe Na Bhalo Chhele and crying over Awnko ki Kotheen and being particular about Amake Roga Bolo Na is difficult without dates at an Aminia or Chung Wah to dream about, nothing doing!
In search of some 'moddhobityo bhiru prem'
At their most recent concert, however, Anindya and Upal did not strum the guitar to their classics Bondhu Tomay Ey Gaan Shonabo Bikel Bela or Sweetheart or remain strictly in Chandrabindoo territory. Rather, they sang newer compositions, brewed heavily with old but mature emotions, such as Tomay Pacchi Koi and Protita Gaan Hobe Tomay Niye, spinning a fresh thread of nostalgia, as they hoped for a more "vagabond life" instead.
To make matters more intimate and musical, Anindya and Upal also brought in friends from the Bengali music industry, with Somlata Acharyya Chowdhury, Prabuddha Banerjee, Ranajoy Bhattacharjee and composer-lyricist-singers Nilanjan and Prasen making merry on the stage with the duo. Cheering on from the packed crowd were Tanmoy Bose, Anupam Roy and Chandrabindoo's very own, Chandril Bhattacharya.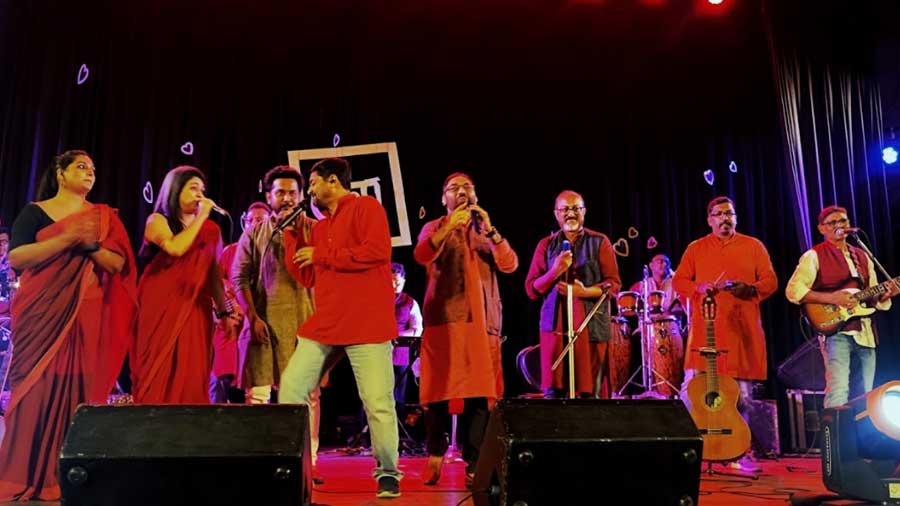 Somlata, Prosmita, Nilanjan, Upal, Anindya and Prabuddha make the crowd sing along to 'Bhabaya Bhabachaka'
Sohinee Basu
Traipsing quietly and picking out phrases, emotions, myriad actions and behavioural antics from the ordinary Bengali life, Chandrabindoo's songs, powered by witty, hilarious and effortlessly wise lyrics have been triumphant in making us sheepishly believe and fall in love, over and over again. After all, there can be only select people in your life to whom you can plead, "Please ghum hoye jaao chokh'ey, amar mon kharap er raate", and hope they understand.
Wheeling this old cassette reel of nostalgia and acting a lot like this parentally nagging city unwilling to let go of the past, Chandrabindoo's songs hold our hands firmly. Years might have passed but Bhyaa was quick to remind us that while lovers come and go, emptying vacuum spaces in the heart, the city lives on, watching us stumble from our first loves to our last till we find someone who makes our moddhyobitto bhiru prem worth it all, one that no Juju can paw down.