At the end of the third longest Wimbledon final in history, it is tempting to think how the most defining image of the match did not involve either competitor. For it was the shot of a racquet that lay still on a patch of grass. As contrasting emotions unravelled at both ends of the court following a near five-hour epic, the motionless racquet symbolised a prophecy playing out in realtime. The prophecy of the emergence of "The Chosen One" from a pool of brilliant, burgeoning potential. The one whose weapon of choice remained in contact with his turf of conquest for several minutes after the final. The message, if not deliberate, was clear: Wimbledon now has a new king, and perhaps, so does tennis.
The racquet in question belonged, of course, to Carlos Alcaraz, the third youngest men's winner at Wimbledon, and the first not named Roger Federer, Rafael Nadal, Novak Djokovic or Andy Murray to triumph on Centre Court since 2002, when Alcaraz was yet to be born. With a performance that seemed reminiscent of 2001's changing of the guard at the same place, in the wake of Federer's dismantling of Pete Sampras, Alcaraz deposed Djokovic 1-6, 7-6 (6), 6-1, 3-6, 6-4. No record-equalling eighth title at Wimbledon for Djokovic, no record-extending 24th career Slam, either. Instead, what the most decorated men's player of all time got on Sunday was the rival he had been waiting for, even if Djokovic wished that he never came along.
'If you want to be the best, you have to beat the best'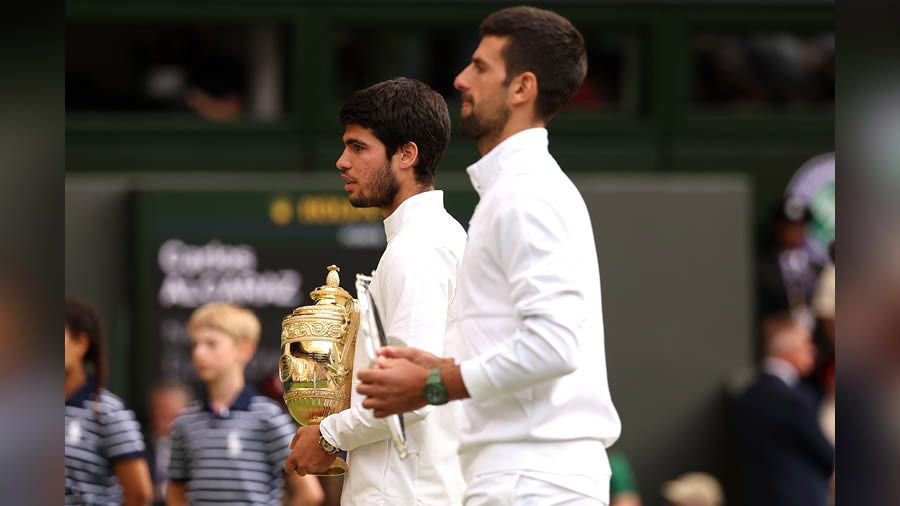 Alcaraz now leads Novak Djokovic 2-1 in their head-to-head contests
Prior to Wimbledon this year, Alcaraz had played just three tournaments on grass. In June's French Open, tipped to beat Djokovic on clay in the semi-final, the Spaniard had succumbed to a paralysis of the mind, attributing his cramps to the "pressure" of going toe-to-toe with Djokovic. But come the Big W on the world's most prestigious court, Alcaraz had not only acclimatised to his least-favoured surface (at least it was until last week) but also eliminated the demons that might have held him back in the biggest moments of his career.
"If you want to be the best, you have to beat the best," said Alcaraz, in the middle of a tournament that was destined to pit the reigning champion and GOAT against his young pretender. Then again, many men before Alcaraz had dreamed of usurping Djokovic on grass, but none had done so since 2017. On Centre Court itself, Djokovic had not lost since Andy Murray's sublime display in 2013. A decade later, Murray was in the royal box, while Djokovic was still in the middle, still the man to beat.
The aura of the seven-time champion was too much to handle for Alcaraz in the early going, as Djokovic blitzed his way through the first set, making it seem like a formality. However, the precise point at which other starlets would have retreated into uncertainty, the star that is Alcaraz came out swinging. With a combination of nuclear forehands, delightful backhands and drop shots that nobody bar their maker could anticipate, Alcaraz lit up the final with tennis so electrifying that it recalled the halcyon days of Federer in all-white. Against the best returner and defender in the modern game, Alcaraz won points by sheer force of stroke as well as will, compelling Djokovic to err on his groundstrokes as the contest wore on.
A decisive shift in the showdown arrived during a breathless game midway through the third set, which lasted 26 minutes, 13 deuces and seven break points. So often in the past the nerveless Serb was the one who won such crucial matches within matches. But with the wind and whistles playing on the Djoker's mind, it was the king-in-waiting who seized his opportunity. Even though the 36-year-old came back from two sets down to take the fourth set later on, he rarely felt in control. Alcaraz was invariably the aggressor after the opening set and, once Djokovic's serve was broken in the third game of the fifth, it was only a matter of time before the future of men's tennis also became its present.
The most complete player at 20 that tennis has ever seen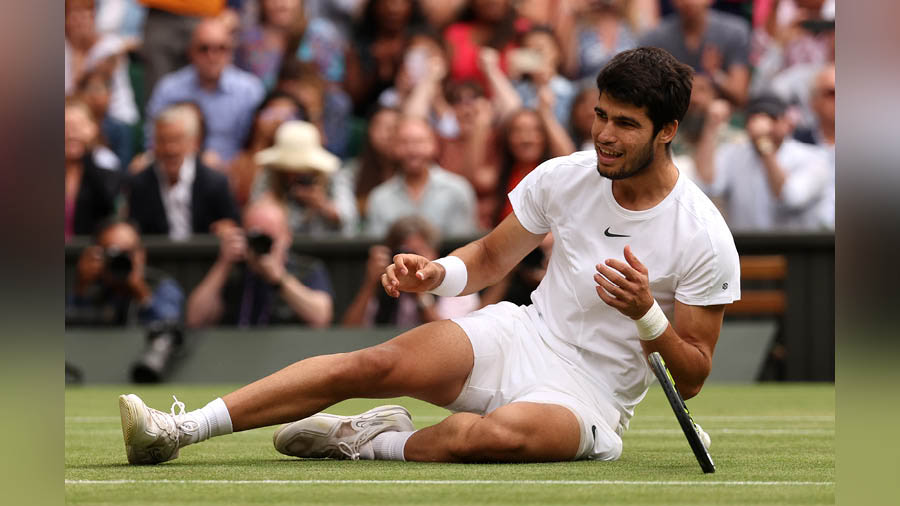 An emotional Alcaraz after becoming the first man to defeat Djokovic on Centre Court at SW19 since Andy Murray in 2013
Most people watching the Wimbledon final had heard of Alcaraz before he took to the court on Sunday. For the best part of a year, Alcaraz has been hailed for his shots and his smiles, both devastating in their own ways. Those who have seen him up close have identified him as one for the long haul, not another impressive youngster living his 15 months of fame. And yet, it was impossible not to marvel at what Alcaraz produced against Djokovic on an afternoon that had begun with Kate Middleton, the Princess of Wales, getting the biggest cheer from the audience.
At the conclusion of proceedings, though, Alcaraz had grown into the definitive darling of SW19. His innate grace, evident not just in his strokeplay but also in his conduct towards everyone around, was a big hit at a place not known to take change too well. Perhaps Alcaraz was helped a touch by Djokovic lavishing praise on him, going on to agree with journalists that, at 20, Alcaraz is arguably the most complete player the game has ever seen. The youngest world number one in history was described by Djokovic as having "the best qualities of Roger, Rafa and myself". But none of the three most successful men in tennis had achieved what Alcaraz already has at his age. Even if one sets aside the statistics, the fact that Alcaraz showed practically no weakness in his game under the most intense scrutiny is testament to the chutzpah that underscores his character.
Witnessing Alcaraz run, slide and fetch with balletic ease in the final was Chris Evert, who, along with Martina Navratilova, had won 18 out of 20 women's singles majors between 1981 and 1986. Then, like a bolt from the blue, came a German called Steffi Graf, who bettered Navratilova in the 1987 French Open, before winning more singles Slams than either of the two women who had dominated so much of the '80s. Whether Alcaraz can do the same for the men's side of the sport in the coming days depends on a multitude of factors, not least on how long Djokovic hangs around.
Forget the Big Three, Alcaraz will do things his way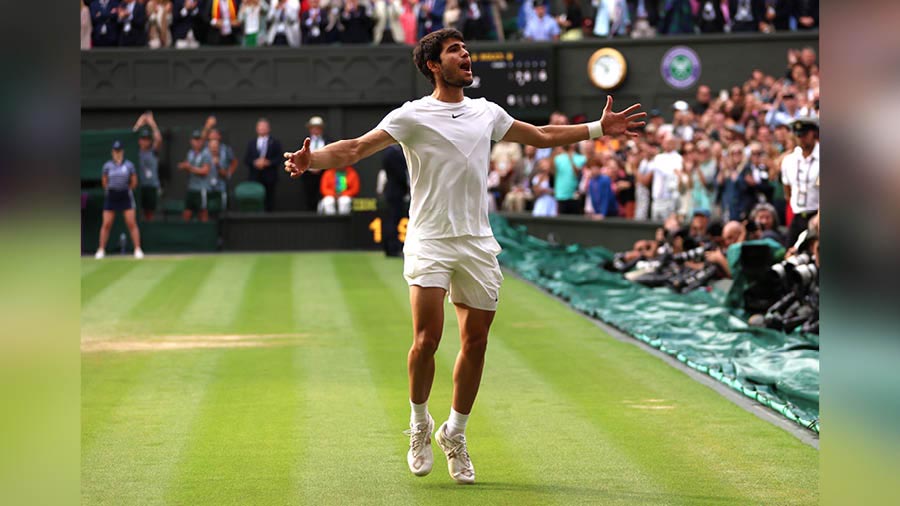 Djokovic described Alcaraz as having "the best qualities of Roger, Rafa and myself"
Just before the fourth set in the Wimbledon final, Djokovic had disappeared for an extended toilet break, leading Alcaraz to stand and look across nobody at the opposite end for multiple minutes. That might as well be a metaphor for men's tennis when Djokovic hangs up his boots. Simply put, there is nobody apart from Novak who can deal with Alcaraz right now. A rotating cast of contenders might push Alcaraz every now and then, but nothing suggests that a post-Djokovic era is not Alcaraz's to rule.
Having said that, Djokovic is not going anywhere. At least for another couple of years, if not more. The urge to equal Margaret Court's 24 Slams and have one more push at a Calendar Slam (winning all four slams in the same year, not done by any man since Rod Laver in 1969) will keep pushing Djokovic's extraterrestrial limits. In the meantime, Nadal, who has officially termed 2024 his farewell season, may yet have another Slam win left in him (no prizes for guessing where). The permutations are several, even if in all of them Alcaraz comes out with both time and talent on his side.
A bit like Kylian Mbappe in football and Shubman Gill in cricket, it is easy to be swept into believing that Alcaraz's excellence can only magnify in the mid to long term. That none of money, fame or failure can turn his head. That Alcaraz can lead the cohort he has ushered in, that he can emulate or even eclipse the Big Three in due course. But such is the fickleness of sport that the leap from can to will is never guaranteed.
What is guaranteed is that Alcaraz will do things his way. Wearing the legacy bequeathed to him lightly, he will not be another Federer, Nadal or Djokovic, even if he borrows from their playbook once in a while. Here is a man who will define himself differently, even if he misses out on defining his sport like his legendary predecessors. For all the comparisons with the Big Three, Alcaraz is in uncharted territory, faced with representing a generation in his profession without living out one in life. For now, all that matters is that men's tennis has turned over a fresh leaf. Whether or not he is here to stay, Carlos Alcaraz has arrived.