Barbie, the much-anticipated movie of the year directed by Greta Gerwig, has released worldwide and is ruling the box office and breaking one record after the other. The movie has not only surpassed Christopher Nolan's latest film Oppenheimer at the global box office, but has now beaten the box-office record of The Dark Knight too. The movie that is high on feminism messages, breaks the stereotype that Barbie is just about looking pretty or being blonde and silly, having unrealistic body standards and so on. The movie has resonated with many women as it shows powerful insights about feminism, gender upliftment and more. Continuing that mood, The Telegraph brought together our Barbies — chef Sneha Singhi Upadhaya, model Jessica Aaron and Rebecca Rajpal, make-up artist — each making a mark in their respective fields. We caught up with the three for a chat and a fun Barbie-themed party shoot. Excerpts...
When you think of Barbie you think of…
Jessica: Everything fashionable and pink!
Rebecca: My seven-year-old self was excited for every new Barbie collection.
Did you own a Barbie? Share your early Barbie memories...
Jessica: I owned many Barbies and I till date have them! One of my earliest Barbie memories would be the time my aunt would visit us from Australia and would bring loads of gifts. I would eagerly sit by her side waiting for her to unpack and give me the amazing Barbie dolls and other Barbie merchandise that she would bring for me! Most of those weren't available in India yet so it was always super exciting to get those! I had this Barbie whose hair colour would change if you wet the hair with hot/cold water! My absolute favourite!
Sneha: Barbie was my love! I think I had the biggest Barbie collection amongst my friends. About 45 Barbies! I still remember my dad taking me to a small shop every week and buying the newest one for me. My favourite was the colour-changing one. You had to add cold water on her clothes and hair, and the colour used to change. I was sooo excited with that.
Rebecca: Yes, whom I named Jennie and I would often brush her beautiful blonde hair and put nail paint and lipstick on her. Maybe that is what inspired me to become a makeup artist. (Smiles)
There is a concept that Barbie is perfect. Have you ever felt the pressure to be perfect in your profession?
Jessica: If I had a penny for every time I've felt the pressure, I'd be a billionaire right now! Being in such a competitive industry that is hyper-focused on how you look and carry yourself, the pressure seems never-ending at times.
Rebecca: My profession demands high standards and accuracy hence I've surely felt the pressure to be better than I used to be and mostly it's me adding that pressure on myself. As I'm from the creative industry I know there are a lot of people who are equally talented and hardworking hence I always stay up to date with the latest trends and techniques.
Sneha: I think I did feel it to start with. It was a very new experience for me, and I definitely wanted to please everyone — that was my only aim when I first opened Paris Cafe. People compared me to everyone. After a few months I realised I'm not here to please anyone, I'm doing my thing to keep myself happy. And that thought still keeps me going.
The Barbie movie shows Barbie visit the "real world" and discover patriarchy. As a model, did you feel the struggle to be taken seriously when you started off early?
Jessica: I personally feel models get the least credit when it comes to the fashion industry, when we in fact are the backbone of it. There are always people who think this career is super easy and there is no hard work whatsoever. Every now and then we do come in contact with people who don't take this profession seriously so the struggle is always there in some ways. There were always people who doubted me but I believed in myself and I knew I'd prove them wrong.
Sneha, what about you?
Yes, I definitely did when I first started off. My seniors never took me seriously, and every time I made a mistake, they'd point out that I'm from a big college (Le Cordon Bleu, Paris), studied abroad but still didn't manage to do it the right way. I used to feel bad initially and then I stopped caring, because there were so many people who gave me so much love otherwise, I just felt gratitude for that.
Rebecca, you have also modelled as a plus-size model and have been confident in your skin. Have you ever been objectified or judged or not taken seriously because of your plump body type, which we feel is beautiful?
Rebecca: I was taught at a young age by my parents that everyone deserves to be treated with respect and taken seriously regardless of their appearance or body type and I think that's one of the reasons why I'm so confident in who I am, what I wear and how I look, but yes I've been objectified for my curves and fat shamed as well during my school days. Irony is that today I'm one of the few curvy models in all of India associated with one of the topmost agencies, Runway Lifestyle. So I say thank God for them curves.
If you go out clubbing, what kind of Barbie would you be in terms of fashion: the comfy cool, the hot and sexy or a mix of both?
Sneha: Is there a kind that's always in her pyjamas lying in bed, sleeping early and not bothering about partying? That's the one... that's me. (Laughs)
Rebecca: I'm surely a mix of both, it depends on how I'm feeling that day. I'm always experimenting with my style and being a curvy talent is something I keep in mind while picking my style.
Jessica: This Barbie loves having the best of both worlds. So I have two extremely opposite fits. I'm either loving my crop tops with sneakers for a cool comfy fit or I will go all out and wear something sexy. All depends on my mood that day.
If you had to throw a Barbie-themed party, which celebs would you pick as Barbies and who would be Barbie's Ken?
Jessica: I think Blake Lively and Ryan Reynolds would be a perfect Barbie and Ken duo. She's so beautiful, smart and graceful! The way they individually carry themselves to how they both are with each other, it's perfect!
Sneha: For me, it would be Emma Stone, Kiara Advani, younger Jennifer Aniston and Gal Gadot. And Ken would be Chris Evans, Liam Hemsworth, Ranveer Singh and Zack Efron. Too many Kens!
Rebecca: I would love to have Ashley Graham, Mindy Kaling, Gal Gadot, Beyoncé and Marilyn Monroe of course as my Barbies and Ken would be Bradley Cooper, Ashton Kutcher, Brad Pitt, George Clooney and David Beckham.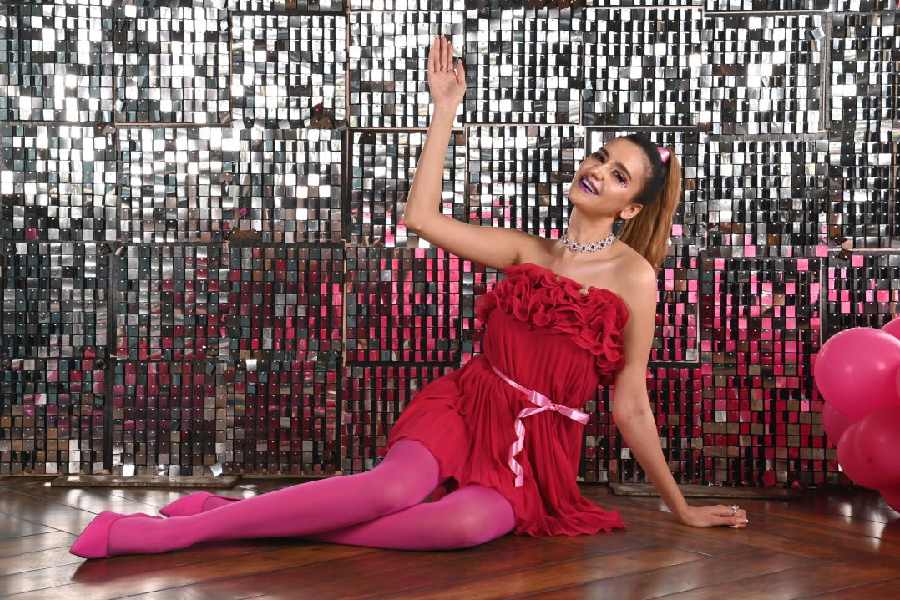 When we thought of Barbie, Jessica Aaron popped into our mind. Young, stylish, vivacious, a successful model — Jessica is a classic Barbie in every sense. For someone who has always been obsessed with pink, a Barbiecore shoot was a cakewalk. "We went all ruffles and pleats in pink. Cute yet sassy pink stockings and heels to match the drama. The puffed-up hair and make-up high on highlighter, studs, bold purple lips spelt OTT which I totally love!" decoded Sumit. Jessica effortlessly slipped into her Barbie avatar and struck the "Hi Barbie!" pose.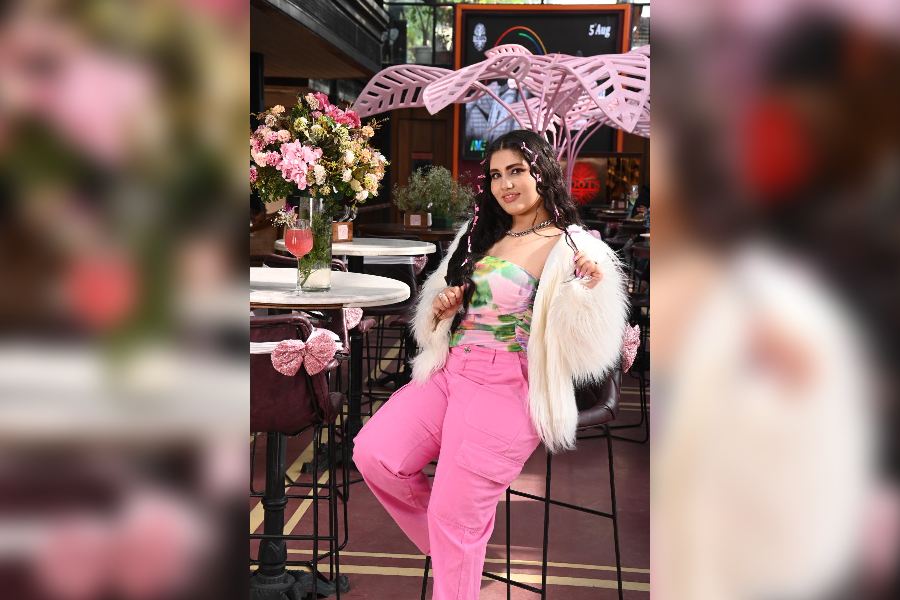 Rebecca Rajpal, an entrepreneur and our model for the day, is bold, confident and definitely body positive. She oozes glamour while embracing her curves! While she loves wearing darker shades, this Barbie shoot was all about letting her hair down (quite literally!) in pink utility pants that are a must-have in your wardrobe, a multicoloured mesh top teamed with a white fur coat for the touch of EXTRAA!! Her long locks were curled and braided with pink ribbons for a cute Barbie touch.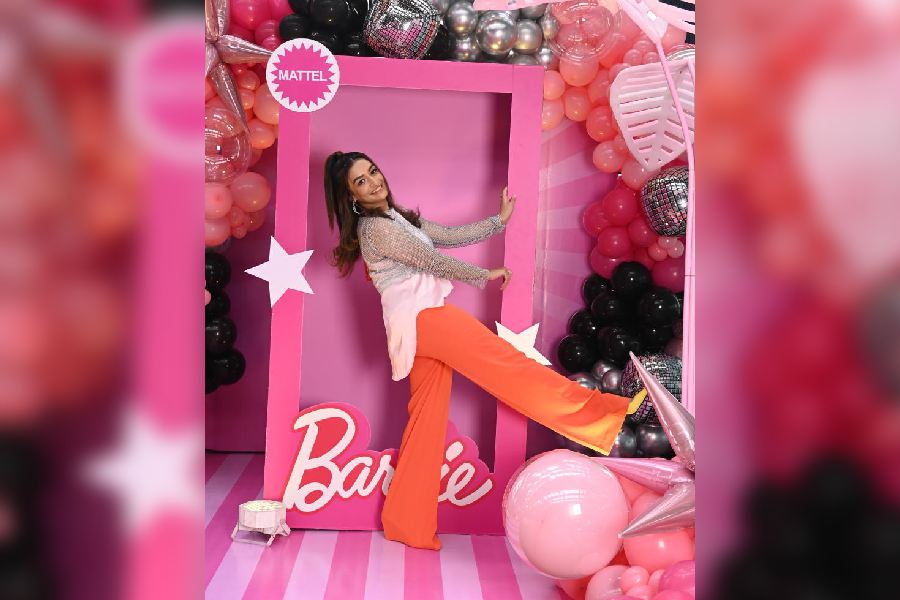 Our chef Barbie, petite, humble and talented, Sneha Singhi Upadhaya who has been ruling the IG world with her recipes, thousands of followers while tackling the role of a food consultant across the country, broke free from her apron for some cool colour-blocking because why not?! When you think of the Mattel doll you think of colours — pink of course being the most common. But for someone who has had enough of the Barbiecore shade can opt for a dust pink top worn with high-waist flared tangerine pants with a super glam rhinestone top, just like Sneha. We styled the look with canary yellow heels for more colour! "Who said Barbie has to wear only pink? Sneha is the icky picky fashionista Barbie so for her party look we put together a very vibrant mood board for her," said Sumit.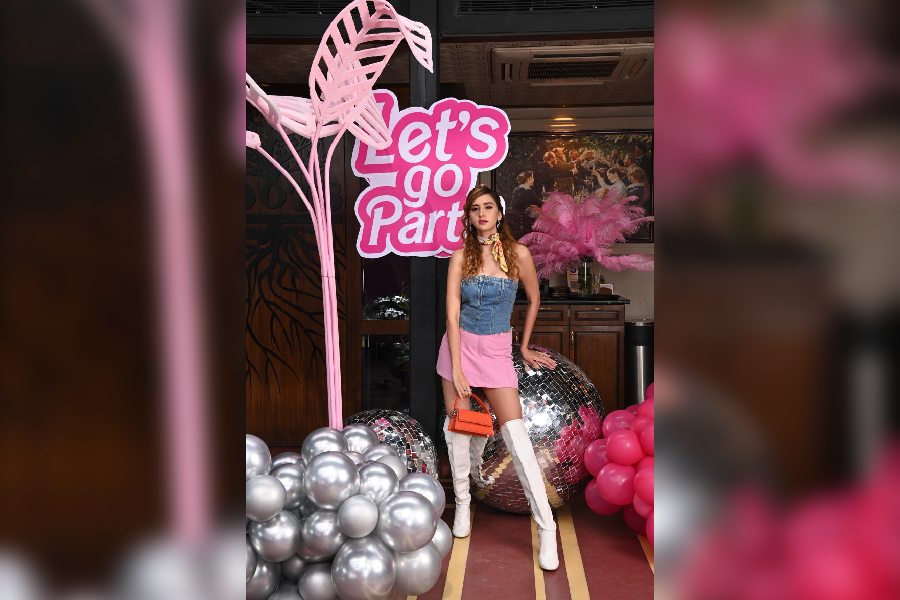 Jessica looked straight out of the Mattel world dressed in a micro-mini pink skirt, teamed with a denim corset. This Barbie's accessory game was spot on with white thighhigh boots, a micro tangerine bag and a cute scarf tied around her neck. Pink soft eyes and wavy locks summed up her party OOTN!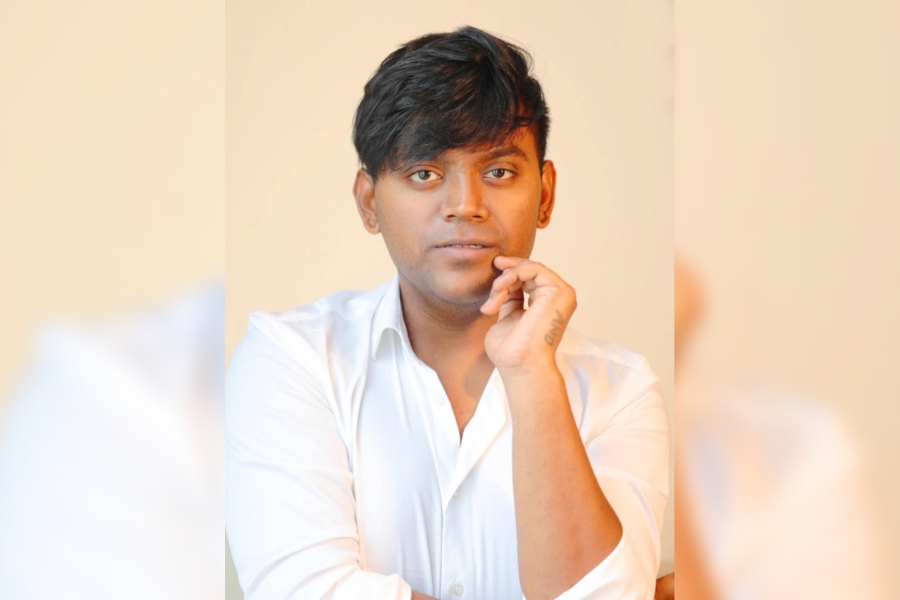 When you dress like Barbie know you rule the game because Barbie never goes out of fashion. Play up the pink, pop out and add bling! Slay every bit of it, don't forget to keep the drama high! Also, Barbie is anyone, any body type — skinny, petite or plus size, let nothing stop you from dressing like Barbie and feeling like one too! — Sumit Sinha, stylist