As part of Women's History Month, around 100 college students from the city and the outskirts participated to celebrate contemporary women voices from the United States at the American Center in Kolkata, on Thursday.
The event began with assistant public affairs officer, Juan Clar, welcoming the audience. The screening of "The Centre Cannot Hold" and a panel discussion on American writer Joan Didion, moderated by Dr Saikat Sarkar, was a special attraction. After this, professor Laura Lomas and Dr Julie Banerjee Mehta spoke about women who are writing on the immigrant experience -- blending personal and political, fiction and poetry, reality with fantasy, exploring the "in-betweeness" of cultures and offered an alternative narrative of home that exists in the hearts of the immigrants who moved to a new land.
Panel discussion
Dr Julie Banerjee Mehta, a former professor, at the University of Toronto, discussed the importance of Asian-American women writers who documented the diasporic dilemma of women living in two countries in their novels. "In 'The Interpreter of Maladies' by Jhumpa Lahiri, food formed its own narrative as nostalgia and reclaimed its cultural space by being representative of one's identity which took one back to her homeland," she said.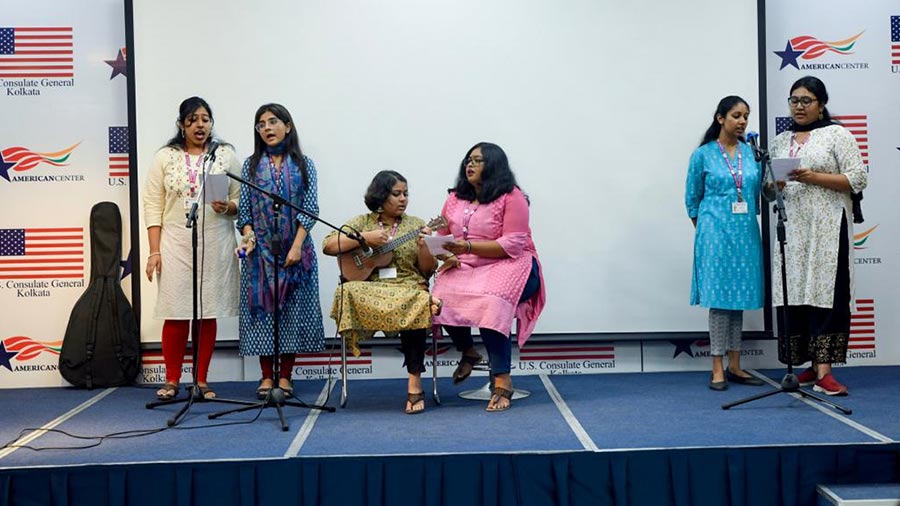 Reading session
"I am a student of English and American Literature has always attracted me. With the screening of documentaries and discussion sessions, this was a great opportunity to learn more about my favourite subject," said Ayan Lahiri, a participating student.
Following this, students from Midnapur College staged dramatised readings of 'My Name' by Sandra Cisneros, Notozake Shange's 'For Colored Girls who considered suicide' and Adrienne Kennedy's 'Funny House of a Negro'. Accompanying them with music, Adira's band presented soulful numbers like 'Stand by Me' and 'Donna Donna'.
Talking about the event, an official from the American Center said the project included students, authors, academicians, artists and musicians for a series of six events and this was the last session.