The final day of the Nabanna Earth Weekend, in association with My Kolkata, was an amalgamation of endings and continuations — an end to three days of inspiring conversations about art, nature and the human condition, leading seamlessly into the continued bustle and life of the folk art fair. Let's take a look at what Day Three held in store for visitors.
Divisions and growth
In the first session of the day, titled Border Crossings, designer and researcher Archi Banerjee explored how Partition affected the crafts of Bengal in conversation with Oindrilla Dutt. From kantha, Tangail and idol makers to baluchari weavers and the Mirpur Benarasi tradition, Banerjee — whose exhibition, Parted Crafts, was on display recently in Kolkata — and her wealth of knowledge ensured a rapt audience, many of whom participated in an interactive session with her afterwards. "The effects of Partition on the region's crafts dawned on me when I went on a personal quest to find out what happened to a certain form of Durga idol-making that seemed to have disappeared," said Banerjee. "It is interesting to study the artisan-patron relationship and how it influenced craft during and after post-Partition migration."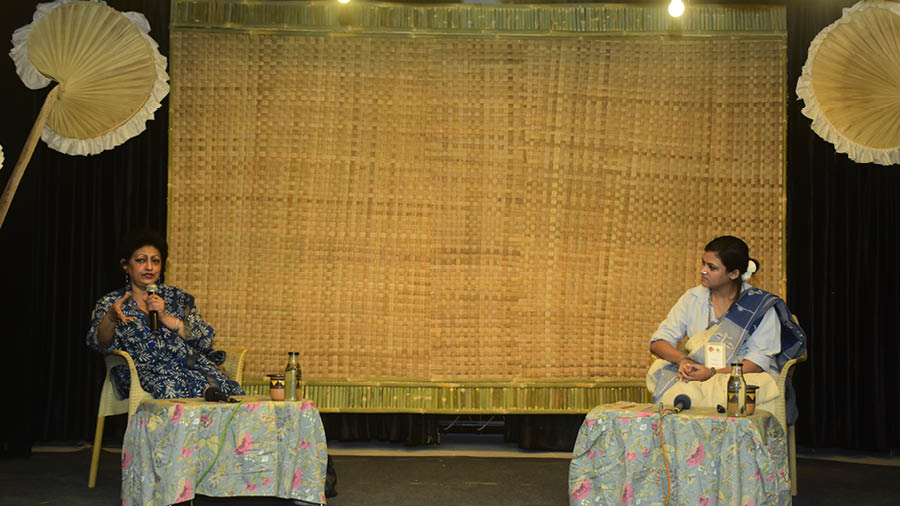 Oindrilla Dutt (left) and Archi Banerjee talk about Partition and Bengal's crafts during the session 'Border Crossings'
ROHIT BAGADI
A fascinating part of the discussion revolved around the origins of Tangail weaving, resulting in part from the crisis surrounding the trade of muslin owing to British policies; Banerjee also spoke at length about the creation of a complex monopoly by migrating capital-holders, whose initial support for weavers resulted in exploitation as well; there was also a discussion about the erasure of crafts, such as the Shantipur gharana, owing to Tangail. Banerjee's skill in communicating with her audience lay in her ability to make dense information accessible; Border Crossings was the highlight of the final day of the Nabanna Earth Weekend.
Creations of the soil
Day Three also involved a much-anticipated pottery workshop at the Confetti handicrafts centre in Birbhum's Daronda village. It was conducted by the master craftsman, Arun Pal, who is famed (and has been awarded) for his skill, innovative designs, 'jaali' work items and ability to swiftly gain mastery over new pottery technologies. Participants at the workshops also had the option of getting their creations glazed and fired.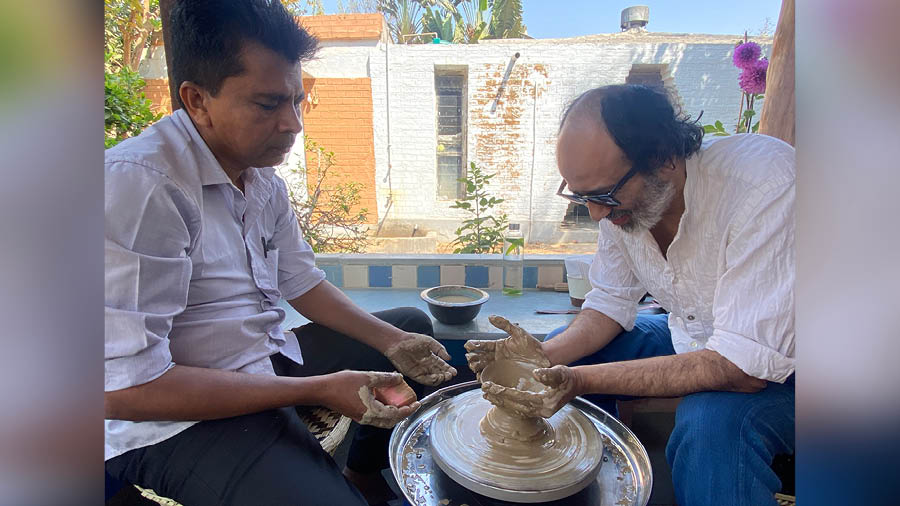 As a part of Nabanna, master craftsman Arun Pal (left) conducts a pottery workshop at Confetti, Daronda, Birbhum
Nayantara Mazumder
'Translators read texts more closely than anybody else'
What fuels the quest of translation, and what are the challenges that confront a translator, especially one who translates to and from Bengali? These were some of the key questions pondered at the session, Jal/Pani = Water, in which academic and award-winning translator, Arunava Sinha, spoke with author-editor Anjum Katyal. "When Gabriel Garcia Marquez won the Nobel Prize, I realised that we were reading a work of translation when we were reading One Hundred Years of Solitude," said Sinha, whose first-ever translation was of a short story by Sankar (after which he went on to translate Sankar's Chowringhee into English). "I began wondering what goes into translation; I was studying English literature at the time, and now, when I look back, I realise that a lot of what we study are works in translation."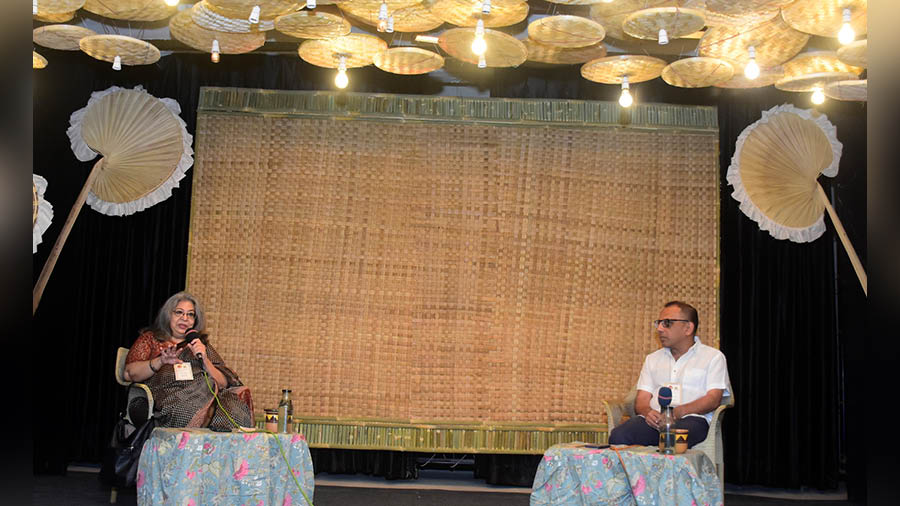 Anjum Katyal (left) and Arunava Sinha during the session 'Jal/Pani = Water'
ROHIT BAGADI
"Whenever people talk about translation, they usually bemoan all the things that cannot be taken from one language to the other, especially when it comes to Bangla, where onomatopoeic sounds play an integral part," said Sinha. "Initially, a guideline I followed for translating involved fidelity to the text; over the years, what has changed is what fidelity means, as several factors influence the act of translating. It's not just the meaning of every word — there is also music, silence, allusions, cultural references, secret notes… ultimately the act of translating is a literary education. I would argue that translators read texts more closely than anybody else!"
Sinha, who went on to read an excerpt of his translation of Bangladeshi novelist Akhteruzzaman Elias's Khwabnama, said that the act of translating this work was "difficult and, therefore, exhilarating". "Many people were unhappy that Khwabnama was translated; they feel that no translation can do justice to this text, a feeling echoed by lots of custodians and gatekeepers of Rabindranath's writing. Whom does imprisoning a person's writing to one language help, really?"
Decoding a master's legacy
The day's conversations then moved to the site of the local exhibition, where installation artist and pedagogue, Sanchayan Ghosh, had created a discursive space as a tribute to the veteran deceased filmmaker, Mrinal Sen, on the occasion of his birth centenary. Ghosh spoke to filmmaker Supriyo Sen on Mrinal Sen's cinematic and cultural legacy. "The filmmaker, in his interviews, used to say that he was never trying to weave grand narratives, but instead exploring personal spaces through individuals and characters," said Ghosh. "These approaches often took his films out of the realm of fiction and into an autobiographical space." "His characters were very representative — not just of communities, but of histories and ideologies," said Supriyo Sen.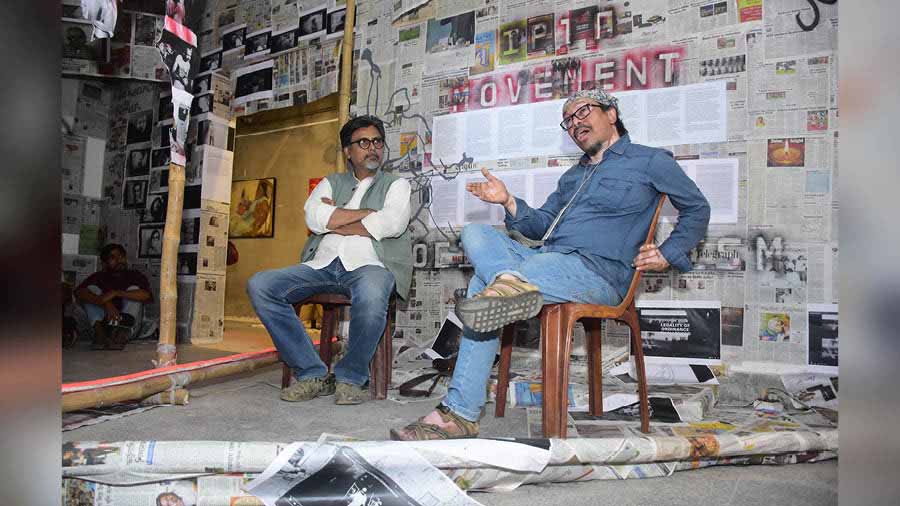 Sanchayan Ghosh (left) and Supriyo Sen discuss Mrinal Sen's cinematic legacy at the Nabanna Earth Weekend
ROHIT BAGADI
"Mrinal Sen's belief in social change and revolution was unshakeable," continued Supriyo Sen. "The shape of the revolution in his mind changed post the fall of the Berlin Wall, but he remained a 'private Marxist', as he called himself. His filmmaking language, however, remained very dynamic — whenever there was a need to intervene, he did, with every available form of artistic practice. He was also one of the most important feminist filmmakers of his time."
Lesser known stories of a national icon 
Netaji Subhas Chandra Bose and his legacy were at the centre of the next session's discussion, as political scientist Sumantra Bose spoke to Oindrilla Dutt about his mother Krishna Bose's book, Netaji: Subhas Chandra Bose's Life, Politics & Struggle — a conversation filled with fascinating anecdotes that took on a certain quality when told from the perspective of an insider. "Subhas escaped from India in January 1941; when the news of his 'disappearance' was deliberately released 10 days after he had actually escaped, telegrams poured in," said Sumantra. "Tagore cabled from Santiniketan, saying 'please keep me informed'. In April or May 1941, he summoned my grandfather, Sarat Chandra Bose, to Santiniketan; by this time, Tagore was in his final months. It turns out — and this won't surprise any of us now — that Tagore was deeply worried about the future of Visva-Bharati after his passing. So he wanted someone as eminent as Sarat Bose to play an important role in safeguarding the university's future."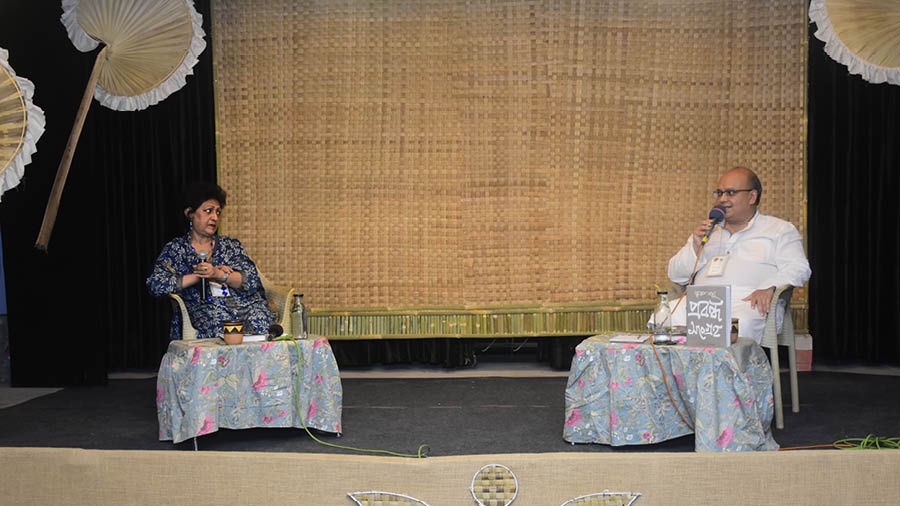 Oindrilla Dutt and Sumantra Bose talk about Netaji Subhas Chandra Bose's legacy
ROHIT BAGADI
"One evening, Tagore said to Sarat, 'you can tell me…'. It was a question about Subhas," said Sumantra. "This put my grandfather in a bind; he had kept the escape secret even from their mother, Prabhabati. But Tagore's concern was so heartfelt that Sarat ended up telling him the truth. Years later, in 1984, when my parents visited Santiniketan, they met Rani Chanda, the widow of Tagore's secretary, Anil Kumar Chanda. They asked her if she remembered Sarat Bose's 1941 visit. 'Yes,' said Rani. 'In fact, something very interesting happened; one evening, Rabindranath wanted to speak privately to Saratbabu. Not only was everybody asked to leave the room, but my husband stood guard at the door!'"
'It is impossible to be living, and living alone'
John Donne had famously written, "No man is an island". It thus struck academic Ananya Dutta Gupta that one of Sumana Roy's poems contains a line that says, "No tree is an island." The role played by trees and, indeed, all plant life, in the existence and imaginations of the inhabitants of this world was at the centre of Roy and Dutta Gupta's conversation during the session My Natural World. "Susan Simard, in her book, Finding the Mother Tree, tries to show that what we have today — the internet, networks of communication — has existed among plant life and their roots ever since the beginning of time," said Roy. "That has always played on my mind; how trees communicate, warn one another of impending calamities and so on… I had turned to plant life to escape the emotional economy of human social life, and I realised, when I came to writing the poem You Think You Can Repair Flowers, that I had been wrong all along. It is impossible to be living, and living alone."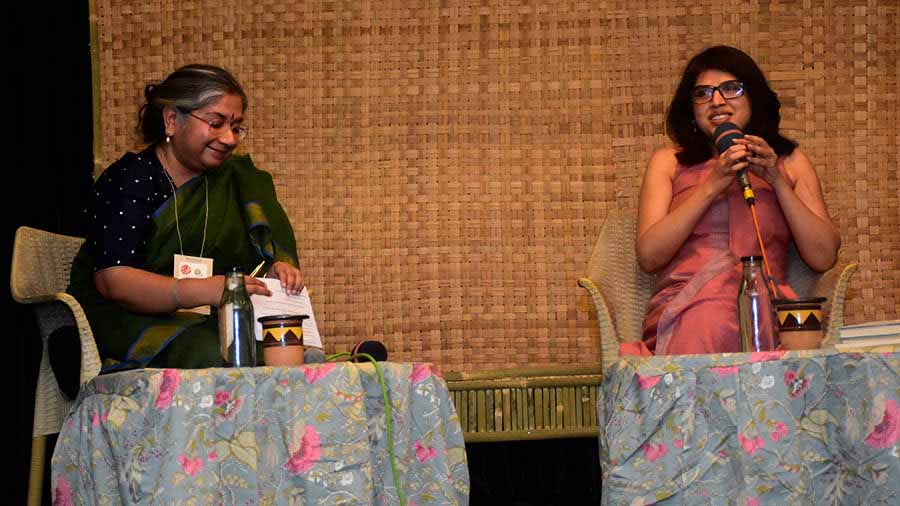 Ananya Dutta Gupta (left) and Sumana Roy talk during the session My Natural World
NARAYAN MURMU
Saving Bengal's heritage
A tale of two revivals — that of Bengal's local rice varieties, and of the practice of tussar silk weaving — formed the basis of the next session, Revival for Survival, where Amar Khamar's Sujoy Chatterjee and Bodil Bitze Faber and Sumit Kumar Sanyal of AHEAD spoke to moderator Auroni Mookerjee. "I am telling someone else's story — that of hundreds of thousands of farmers and individuals in the food industry who have been trying to save and bring back the state's local food traditions," said Chatterjee. "Around the 1960s, we had approximately 5,500 kinds of indigenous rice varieties in Bengal; around 500 survive today. About 200 are preserved by the farmers we work with, while Amar Khamar is able to sell about 40 kinds. These are all different; they are our heritage, and the quest for reviving them is intensive." Chatterjee provided historical contexts to the trajectories of the farming and demise of these varietals; the picture he painted was fascinating, alarming and dotted with glimmers of hope.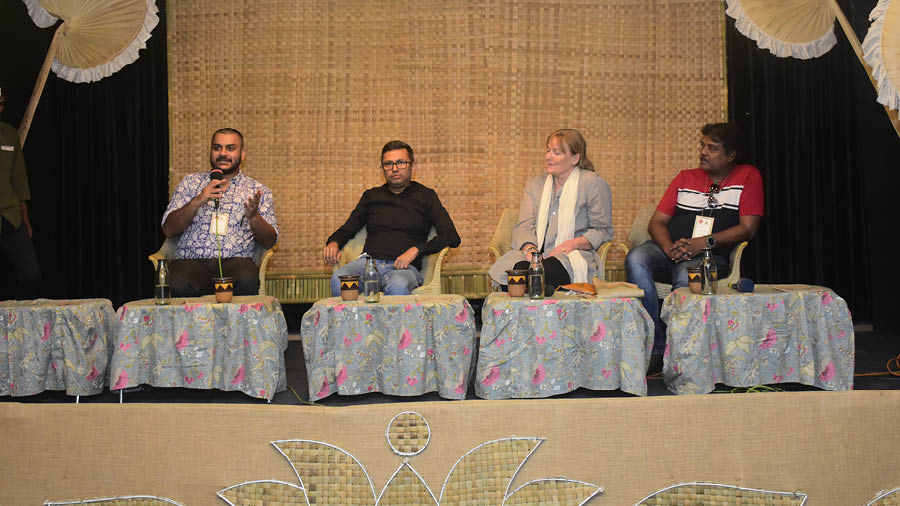 (From left) Auroni Mookerjee, Sujoy Chatterjee, Bodil Bitze Faber and Sumit Kumar Sanyal during the session Revival for Survival
NARAYAN MURMU
"The AHEAD initiative started in West Bengal, Odisha and Jharkhand," said Sanyal. "Tantipara, as we all know, is famous for its tussar silk — the artisans are the backbone of this initiative to save and revive this complex handicraft." "Creating something via the human hand is a way to communicate, all over the world," said Faber, who is a designer hailing from Denmark. "When I went to Tantipara for the first time, it was a transformative experience — I had to observe closely to understand how I could play a role in this immense task of revival and creation." This mission turned into an experiment for finding natural ways to eke out colour for the weaving processes; as Faber said, "There is no recipe for starting something new… everything begins as an experiment."
Where worlds collide
The penultimate session of the day witnessed filmmaker Supriyo Sen and art historian Anshuman Dasgupta talk to Anjum Katyal about the confluences of culture, religion, art and cinema. "In a traditional artisan community, it is very rare for women to take over," observed Sen, who spent some of his early filmmaking years in Naya, a village in Midnapore, observing patuas — an exercise that eventually resulted in his film, Unfolding the Pata Story, which documents the lives of traditional scroll painters and the poverty and social taboos they struggle against for sustainable living. "But that's what has happened to the patachitra tradition of Bengal; the men now play second fiddle. There is a feminist angle to it but, more importantly, a survivalist aspect. As a filmmaker, I feel comfortable following characters and telling stories, so telling these stories came naturally to me."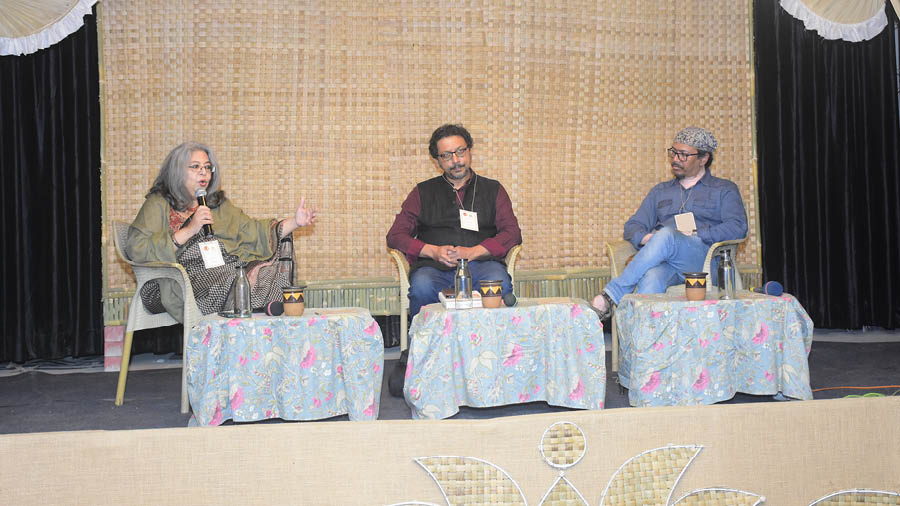 (From left) Anjum Katyal, Anshuman Dasgupta and Supriyo Sen discuss the confluences of culture, religion, art and cinema
NARAYAN MURMU
The conversation covered fertile ground in the form of syncretic practices by women within religious boundaries, and the complex structures within artisan communities that are both restrictive and oddly empowering — for instance, women not being allowed to marry outside the community because doing so would result in them being prevented from practising their craft.
'An everyday philosopher is very much a part of society'
It was soon time for the final session of the Nabanna Earth Weekend, and it was one that encapsulated, in different ways, the refusal of artistic thought and practices to be stripped of their fluidity — a facet that art and philosophy have in common. It was thus fitting that the session, titled Street Philosopher, featured German thinker and philosopher Krisha Kops in conversation with Arunava Sinha. Where does Kops place himself in the long tradition of German philosophers who have been interested in India? "The interest of German thinkers in India had a lot to do with their own projections and yearnings," said Kops, who also lives in India a lot of the time. "From the Romantics in the 19th century or the early 20th century German novelists, the interest was more about themselves than about India. What is happening now is what I call 'intercultural philosophy'. It's not about one kind of thought or philosophy being superior to the other, or about one trying to find itself in the other, but about trying to look for the 'inter' — what is happening in between? What happens when one philosophy could be integral to another, and vice versa?"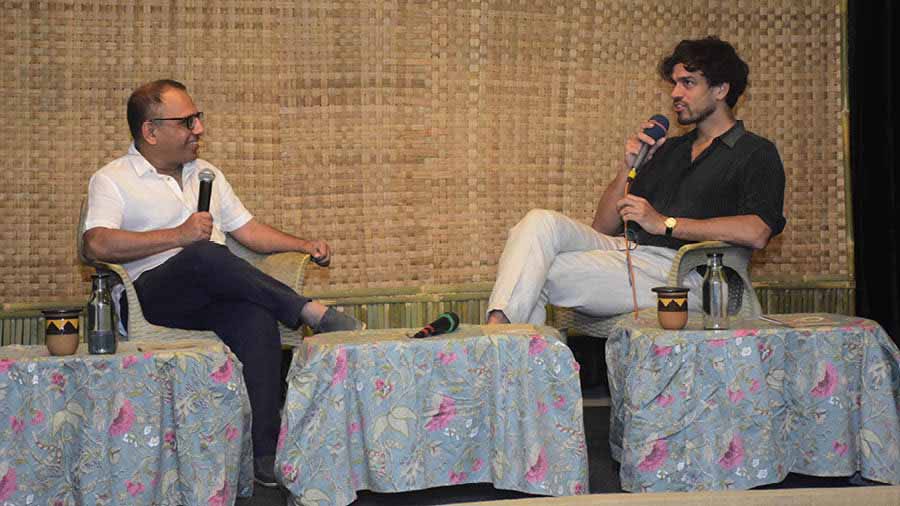 Arunava Sinha (left) and Krisha Kops during the session 'Street Philosopher'
NARAYAN MURMU
Why does Kops call himself an 'everyday philosopher'? "Philosophers in ancient Indian, Greek and Hellenistic societies were all street philosophers; they weren't in the universities," said Kops. "From what we know from existing texts, Socrates and others had dialogues with other citizens. These philosophers were very much a part of society — that's what I call an everyday philosopher."
If this isn't also a definition of the universal nature of art, then what is?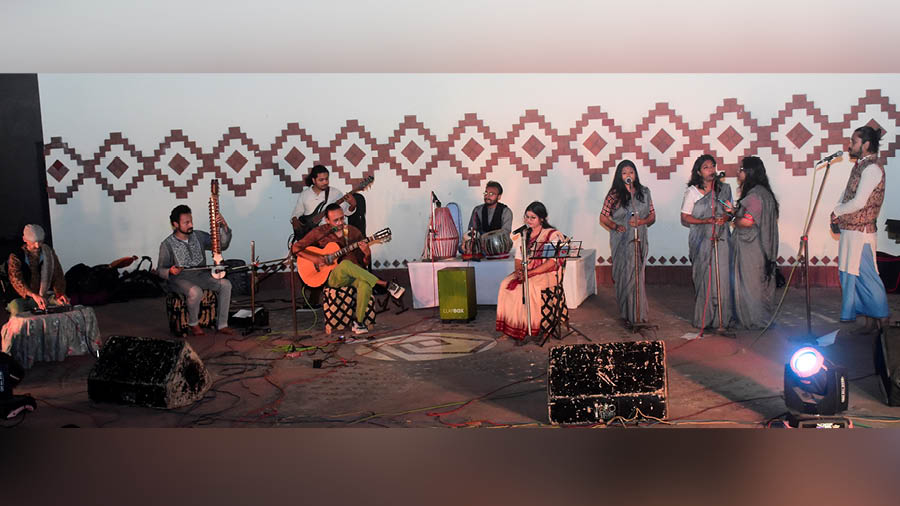 The Eekeermeekeer Collective and Guy Seika perform at the open air theatre of the Gitanjali Cultural Complex
NARAYAN MURMU
Melodies of the night
It is only fitting that a festival in Santiniketan celebrating the rigour and expansive nature of art and artistic thought would conclude with musical performances by some of the most renowned and respected artists in the musical arena, across borders.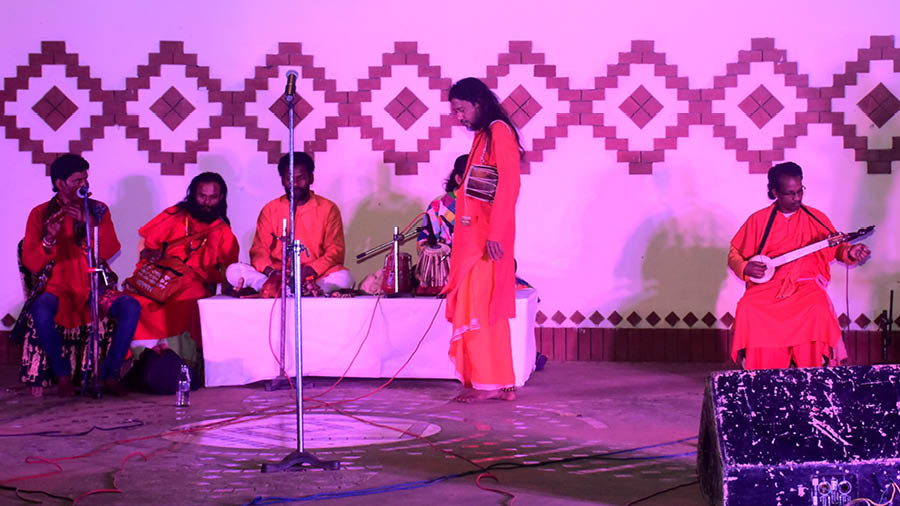 Lakhan Das Baul performs at the conclusion of the Nabanna Earth Weekend 2023
BY NARAYAN MURMU)
The celebration of the end of the Nabanna Earth Weekend — and the promise of going forward thus, year after year — was sealed with two concerts: the first by the Eekeermeekeer Collective, headed by Neel Sarkar and Sanjana Das, and joined by experimental electronic artist Guy Seika, and the second by none other than Lakhan Das Baul, who kept his audience mesmerised.