The first thing that strikes one upon entering the Nabanna Earth Weekend auditorium in the Gitanjali Cultural Complex in Santiniketan is its decor. It is the first day; outside, on the complex grounds, the rhythmic sounds of a soon-to-be-bustling fair are slowly gaining momentum, as artisans, craftspeople and food vendors set up their stalls. As you look round the compact, quiet space of the auditorium — a bubble that almost makes you forget that there's a folk art fair in full swing just outside the doorway — you are struck by the authenticity with which it is done up. Swirls of cloth adorn the walls — some with Rabindranath Tagore's words printed on them. Light fixtures and stage backdrops are made of bamboo, and decorative haath pakhas flank the stage. There is no use of plastic in sight; not even in the chairs set up on the stage for the festival's speakers.
This is a marked departure from the way in which other fora on sustainability and indigenous art are organised; it signals the commitment to craft and craftspeople that Shanta Ghosh, the managing trustee of the 38-year-old Suresh-Amiya Memorial Trust (SAMT), under the aegis of which the Nabanna Mela and the Nabanna Earth Weekend are annually organised, has often spoken of. As Anjum Katyal, the curator of the Nabanna Earth Weekend, observed: "A lot of thought was put into even the details of the auditorium decor — it creates an atmosphere that is congruent with the values espoused by the Trust."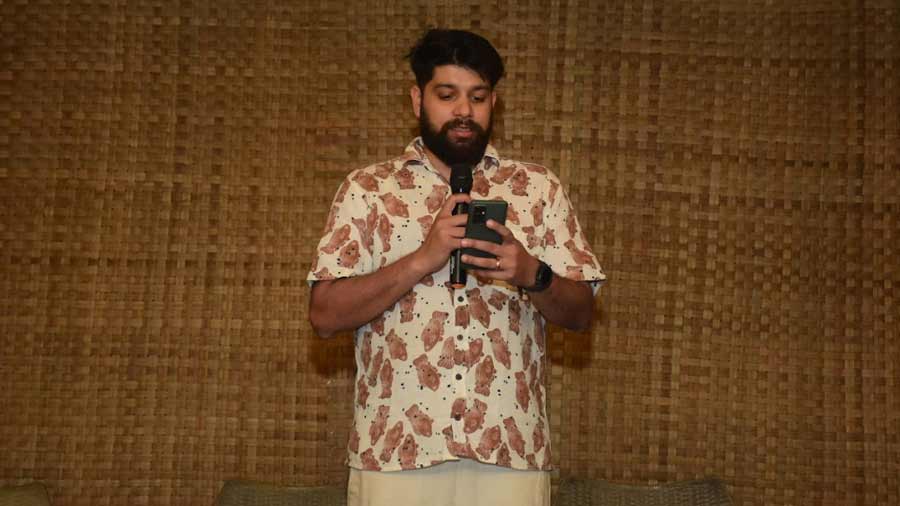 Rewant Lokesh welcomes the audience to the Nabanna Earth Weekend 2023
The focus and commitment extended to the inclusion of new ideas around all manifestations of art, the world and the human condition. This was evident not just in the fair itself, but also in the dynamic conversations and panel discussions that took place over three days at the Earth Weekend. Let's delve into Day One. 
Heralding new beginnings
Nabanna Earth Weekend 2023, in association with My Kolkata, started with an official inauguration signalling the bounty of a new harvest, with a symbolic pouring of rice by eminent individuals — including Shanta Ghosh, journalist-author Jean-Claude Perrier and the chief guest, Nicolas Facino, director of Alliance Française du Bengale — as well as artisans.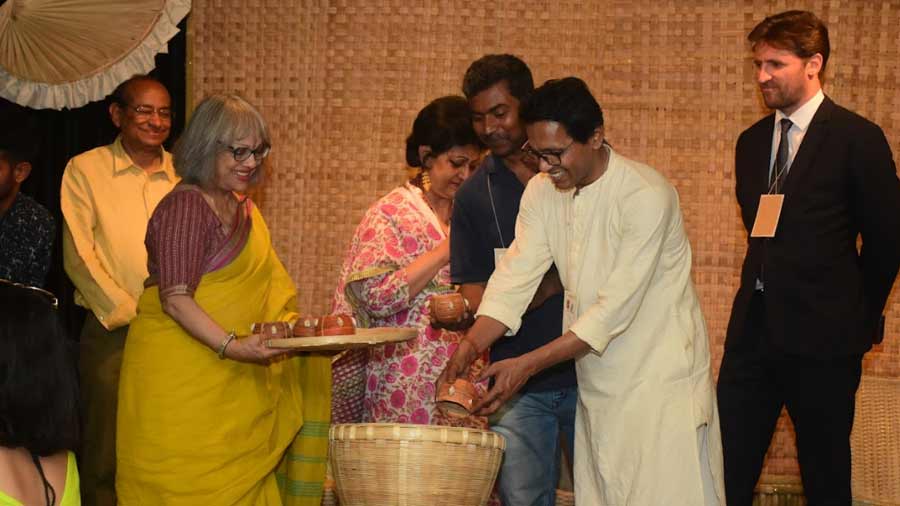 Skilled weavers and artisans participate in the rice pouring ceremony to herald the beginning of the Nabanna Mela and the Nabanna Earth Weekend
"Nabanna Mela came about because of Shanta Ghosh's need to be close to artisans, and to help them access a platform where they can showcase and monetise their skills," said Rewant Lokesh (business head, Sienna Cafe) in his welcome address. "Nabanna Earth Weekend, a festival of art, literature and ideas, is now in its fifth year; this year, too, the festival will showcase art in all its forms, with the participation of the best minds from different walks of life."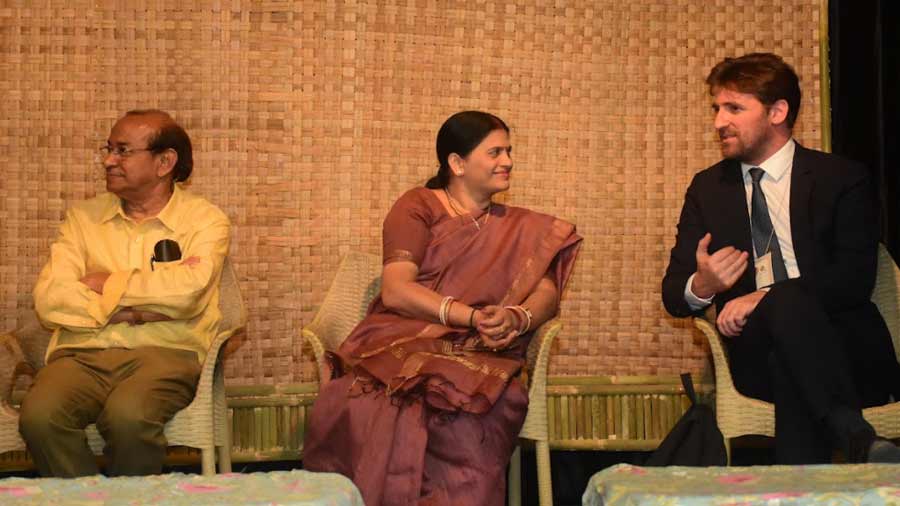 Subir Chakraborty and Nicolas Facino share the stage with Parna Ghosh, chairperson, Bolpur Municipality
A bond between nations
True to these words, the inaugural session of the festival — titled 'The French Connection', and featuring Jean-Claude Perrier and Nicolas Facino — brought together several strands of a collective artistic endeavour. It looked at the impact India had on the French authors, Georges André Malraux and André Paul Guillaume Gide — including the influence of Rabindranath Tagore on Gide — a subject that is explored in depth in Perrier's book, Comme des barbares en Inde (translated into English by Sriparna Banerjee as Like Barbarians in India).
Right off the bat, Facino asked Perrier to talk about his fascination with Indian culture. "My relationship with India began 40 years ago, when I was 24 years old," said Perrier. "It has changed my life. I have written about it extensively. My favourite part about the country is the people and their positive energy; Nicolas can attest to the fact that when I was in Kolkata, I was out on the streets to be with the people of the city."
Tagore, Gide, Kabir and Nehru
This 40-year-old love story played a part in Perrier's focus on Gide, who, more than 100 years ago, translated Tagore's masterpiece, Gitanjali, into French. "In the same year that Gide's translation of Gitanjali was published in France, Tagore won the Nobel Prize," said Perrier, also observing the serendipity in the Nobel-winning French author, Annie Ernaux, being in India at the time of this session. "Gide and Tagore kept in touch via letters; incidentally, Gide also translated Tagore's Dakghar! The translation, illustrated by the Japanese artist Foujita, was published in France in 2022, though not many know about it."
"In 1916, during World War I, Gide suffered from depression," revealed Perrier. "He was close to 50, and had already written his most important books by then. So, to occupy himself, he decided to translate Kabir's dohas, from Tagore's English translation. The 25-odd dohas he ended up translating remained unpublished and hidden in Gide's archives. When I found the manuscript around 2010, with the consent of his daughter, we decided to publish the book under the title La Flûte de L'Infini." He gifted a copy to Shanta Ghosh; "After all," he smiled, "it is good to give back to India what India gave to France."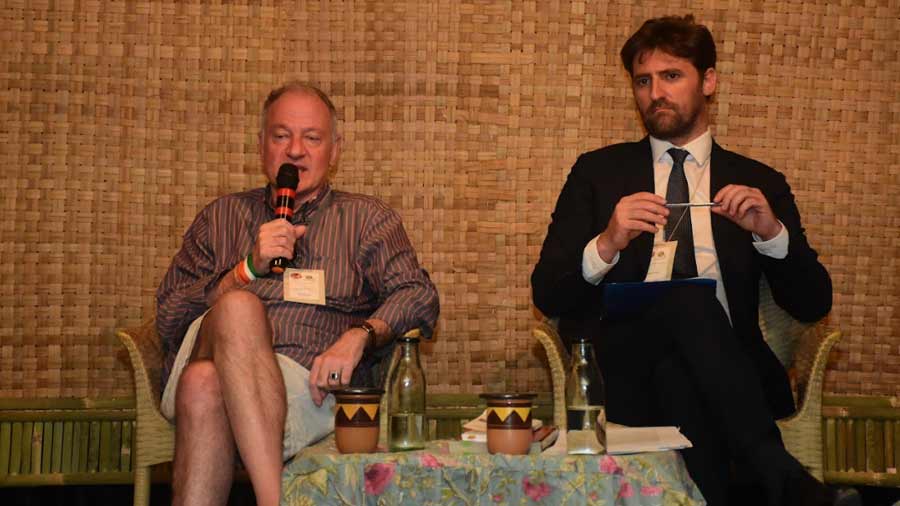 Jean-Claude Perrier and Nicolas Facino talk about the connections between India and France through the literary and real-life relationships shared between Rabindranath Tagore, André Gide, André Malraux and Jawaharlal Nehru
The connection that Perrier drew between Gide, Tagore and India went even further; it extended to Gide's friend, the writer André Malraux, as well as Jawaharlal Nehru and Indira Gandhi. "Gide never visited India, but his connection to the country was real," said Perrier. "In the 1930s, Gide and Malraux met Nehru in Paris." Nehru, of course, spoke some French, and India's first Prime Minister became lifelong friends with both, especially Malraux, who, upon being asked by Nehru what he had seen on his visit to India, had famously answered: "Ajanta, Madurai and Nehru."
What about the Indira Gandhi connection? "Nehru sent his daughter, Indira — who would eventually become an Indian Prime Minister herself — to school in Bex, Switzerland, close to the French border," said Perrier. "Gide's daughter, Catherine, also went to the same school. The girls met, and formed a kind of friendship." Catherine, incidentally, had given Perrier a picture of herself and Indira at the school. "I asked Catherine, do you remember Indira?" reminisced Perrier. "She said she did. I then asked her what her impression of Indira was. Catherine replied, 'Oh, she was so serious!'"
What Gide and Malraux thought…
A fascinating part of the conversation involved Facino and Perrier unravelling why Gide — who was Protestant, and lived in a religious environment with several Catholic friends — was drawn to the Indian mystic poet and saint, Kabir. "It is likely that the act of translating Kabir's works acted as a sort of balm for him, and provided him with a sense of quiet and another kind of knowledge about religion," said Perrier. "There is something peaceful about Kabir's writing."
This worldview was a syncretic one, as Kabir believed in no single religion; his spiritual path was made up of different influences. Perrier and Facino then went on to read Gide's French and Tagore's English translations of Kabir's dohas.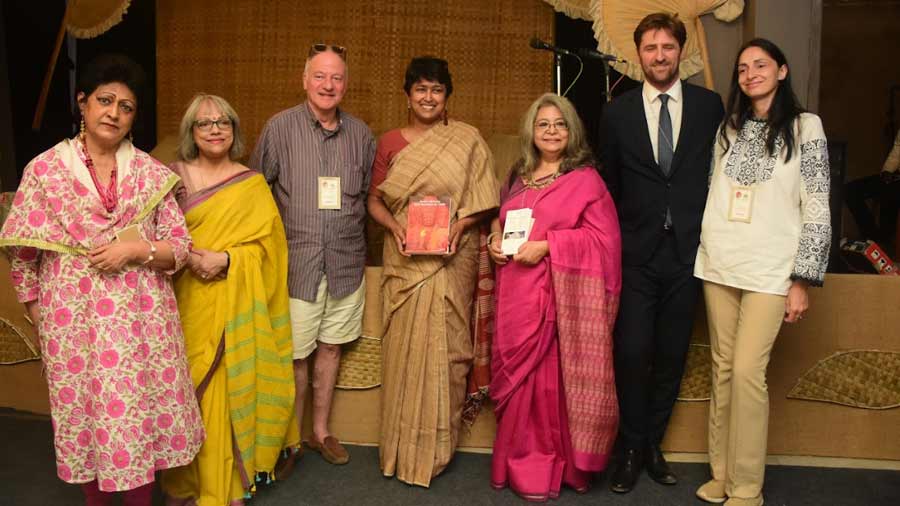 (From left) Oindrilla Dutt, Shanta Ghosh, Jean-Claude Perrier, Ruchira Das, Anjum Katyal, Nicolas Facino and Iryna Vikrychak display copies of Andre Malraux et la tentation de l'Inde and La Flûte de L'Infini
Facino observed that unlike Gide, Malraux visited India no less than five times. "Malraux was an intellectual and agnostic, but he was fascinated by religions," said Perrier. "He discovered India in 1930, and although he did not write specifically about the country, India was very important to him."
The second time that Malraux met Nehru was in 1958, in free India; he was the then French president Charles de Gaulle's minister for cultural affairs, and was on a visit to India to convey de Gaulle's good wishes to the independent nation. "That visit cemented their friendship further. During Bangladesh's Liberation War, Malraux was one of the rare European intellectuals to support the cause of the Bangladeshi people and their Indian supporters; he even wanted to come to Bangladesh to fight! Unfortunately for him, he was in his early 70s then," smiled Perrier. "Indira Gandhi, though moved by his offer, told him not to come; instead, he was warmly welcomed in Dhaka once Bangladesh gained independence."
"Malraux was a firm India supporter," concluded Perrier, as the inaugural Earth Weekend panel discussion wound down. "He often said, in interviews as far back as the 1950s, that India would play a pivotal role in the world in the 21st century. Of course, he was right."
Music for the one within
From the quiet comfort of the SAMT auditorium, visitors and audiences then moved to the sprawling open air theatre of the Gitanjali Cultural Complex: a hark back to the tenets espoused by Tagore, whose entire educational vision — for Santiniketan and, indeed, the nation — was premised upon taking learning outside the confines of four walls. At the OAT, listeners were treated to a spirited performance by the Japanese-born baul musician, Maki Kazumi Baul, from Burdwan's Moner Manush Akhara.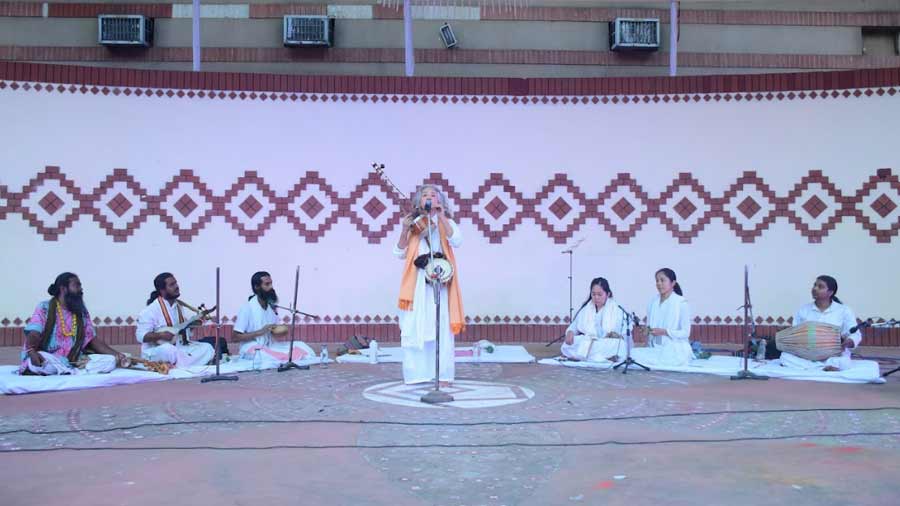 Maki Kazumi Baul of Burdwan's Moner Manush Akhara performs at the open air theatre of Santiniketan's Gitanjali Cultural Complex
A student activist during her university years, Makima first heard the leading baul exponent and mystic from Bengal, Sadhan Das Bairagya, perform in Japan in 1989-90. At that time, she was in her 30s, and working as an industrial designer. The experience of hearing Sadhan Das sing proved to be life-changing; Makima gave up her comfortable life in Japan to come to Burdwan, West Bengal, and become a wandering minstrel with her guru, learning the rigours of his philosophy, worldview and music.
That trip lasted six months, after which she had to go back to Japan. But she returned soon after, and has since been in India for 32 years. Now 63 years old, Makima's songs celebrate love, devotion, the syncretism essential to baul music, universal brotherhood, and the moner manush — the person within. "I want to thank and express my respect for my audience today," said Makima, in clear Bengali. "This is a special day for me!"
Makima was accompanied by Sukhdeb Das (srikhol), Utpal Das (dotara), Srutima (ghungur), Anandamayima (mandira) and Mithun Khyapa (dubki).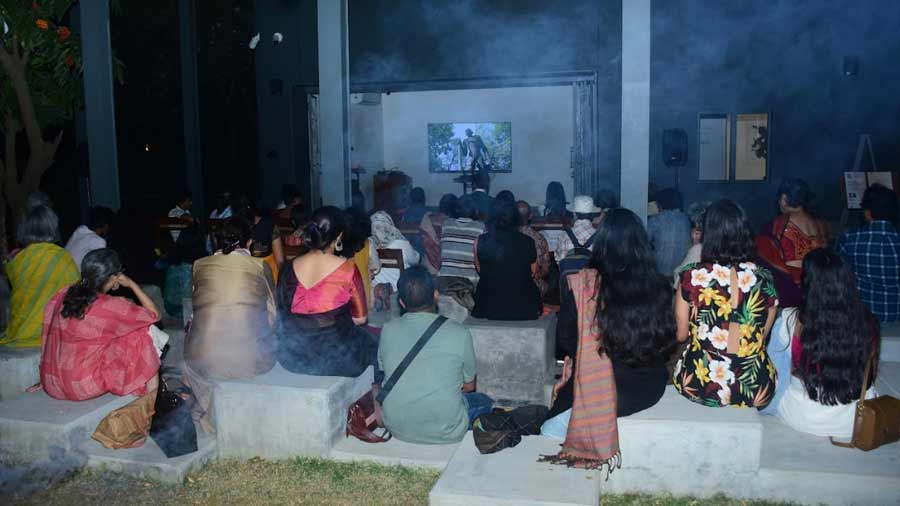 The audience at Arthshila Santiniketan watches a screening of Goutam Ghose's documentary, The Magic of Making, on the life and work of artist K.G. Subramanyan
Remembering a legend
The first day concluded with a screening of veteran filmmaker Goutam Ghose's cinematic tribute to the legendary artist, teacher, thinker and philosopher, K.G. Subramanyan (1924-2016), who studied art in Santiniketan and blossomed under the guidance of masters like Nandalal Bose, Ramkinkar Baij and Benod Behari Mukherjee. Titled The Magic of Making (2014), the film was screened at Arthshila Santiniketan, and introduced to the audience by art historian R. Sivakumar. Minutely exploring the artist's prolific and varied body of work, political thought and artistic vision, the film was a reminder that Manida — as Subramanyan was popularly called — lives on.
Keep watching this space for reports on Days 2 and 3 of the Nabanna Earth Weekend!