Chidananda Dasgupta was one of India's most prolific film critics. He wore many hats — author, historian, documentary and feature film-maker, and one of the founders of Calcutta Film Society alongside Satyajit Ray. 
This year, on the occasion of his birth centenary, the Chidananda Dasgupta Memorial Trust was established by his daughter and eminent film personality Aparna Sen along with other friends and family. The trust has been set up not only as a tribute to her father but also "to encourage debut filmmakers and practitioners of critical writings on cinema for their significant contributions to promote the cause of meaningful cinema in India."
The trust had its two-day debut event at Nandan II (West Bengal Film Centre) on November 20-21, hosted by Aparna Sen and her younger sister, Anuradha Lahiri.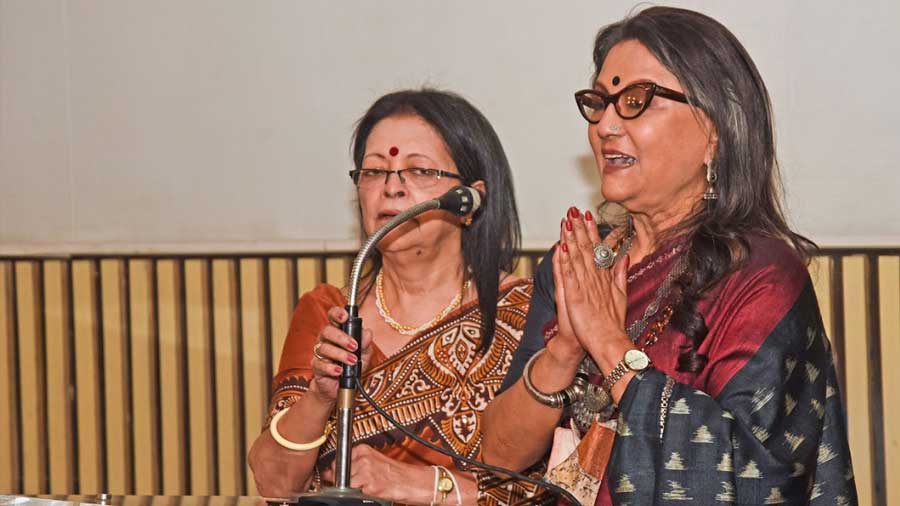 Aparna Sen addressing the audience along with her sister, Anuradha Lahiri
Amit Datta
Planning their first event in the middle of a pandemic wasn't easy, but thanks to the initiative of Chidananda Dasgupta Film Awards Curator Raju Raman, it was made smoother. "He guided us via many Zoom meetings. There was also a lot of coordination done on the phone since it was the first time. Hopefully, after this event it will get a little easier," said Aparna Sen.
The evening event on November 20, anchored by actress Rupsa Dasgupta, celebrated Chidananda Dasgupta's life and also showcased the promising work the Trust wishes to continue to do. Supriyo Sen's film, Tangra Blues, and Dasgupta's documentary Portrait of a City, were screened on November 21.
Dasgupta on screen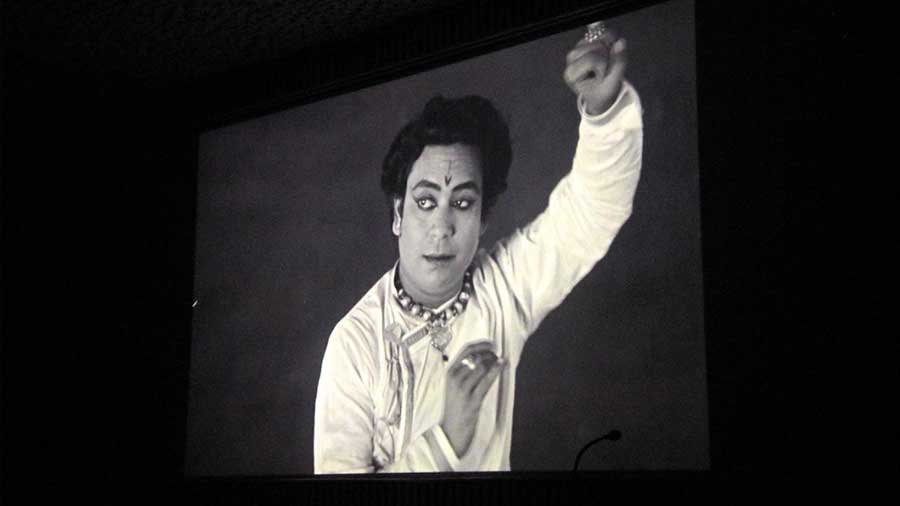 A glimpse of Chidananda Dasgupta's 1972 documentary film, Birju
Amit Datta
The two-day programme began with a screening of Chidananda Dasgupta's 1972 documentary film, Birju, which was digitally restored by the Films Division and the National Film Archive of India.
This 21-minute, black-and-white film is a documentation of Kathak maestro Birju Maharaj with a glimpse into his personal life as a young teacher. He is filmed training students, while playing the tabla and singing ragas.
The first Annual Chidananda Dasgupta Memorial Lecture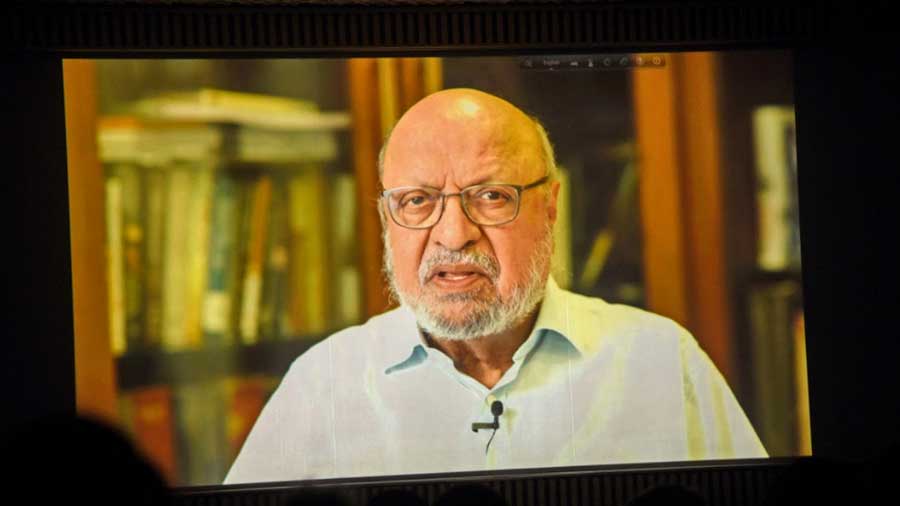 A glimpse of the video clip of director Shyam Benegal
Amit Datta
The documentary was followed by a video clip of director Shyam Benegal talking about Dasgupta "one of the best film critics India has ever seen, and one of my very dear friends."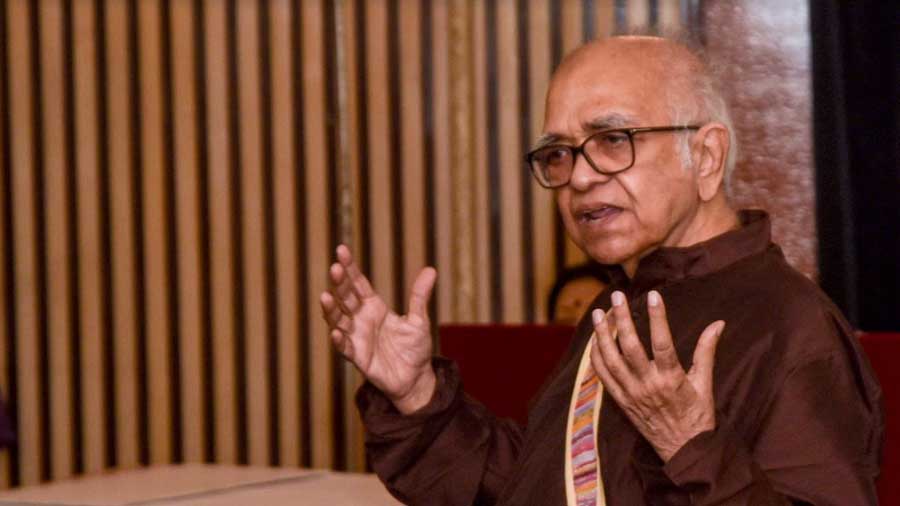 Samik Bandyopadhyay
Amit Datta
Critic and author Samik Bandyopadhyay delivered the first Annual Chidananda Dasgupta Memorial Lecture on 'Cinema as History'.
"Cinema came along with trying to find ways of documenting, recording reality authentically which leads on to the camera. With the camera came further investigations into movements, motion — how horses move, how a train moves, how a man walks," said Bandyopadhyay.
Dasgupta in writing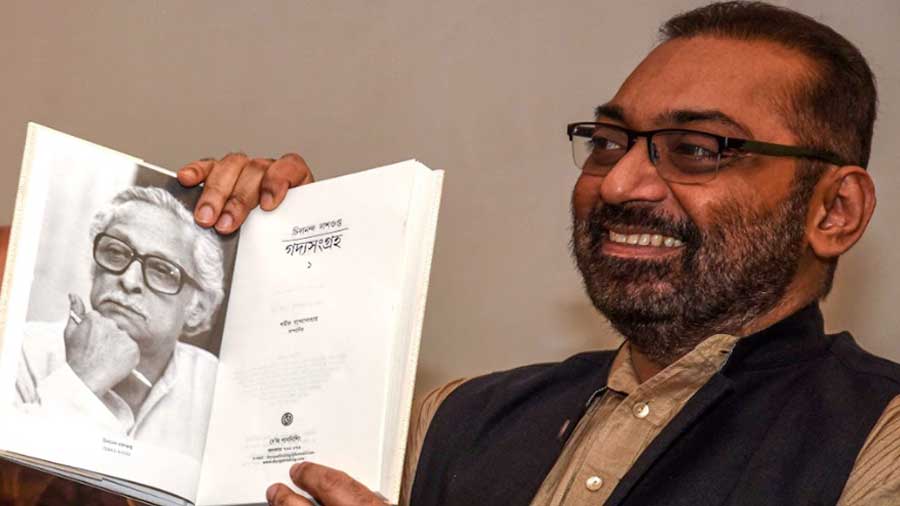 Anindya Chatterjee unveiling first volume of collected writings in Bengali by Chidananda Dasgupta
Amit Datta
The release of the first volume of collected writings in Bengali by Dasgupta followed the insightful lecture. Titled Gadya Sangraha and published by Kolkata-based Dey's Publishing, the book was unveiled to the audience by writer, director, musician Anindya Chatterjee.
"It is like a dream for me, unveiling this book to the world. When Rina di (Aparna Sen) called to tell me this, I first thought she had called the wrong person. To get the opportunity to release the book written by the man who was at the root of the film movement is a great honour," said Chatterjee.
The awards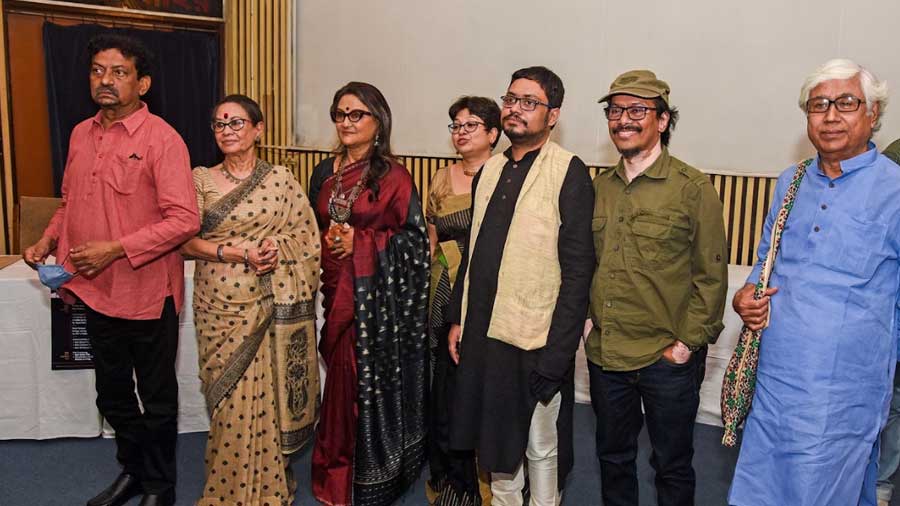 (l-R) Goutam Ghose, Sohag Sen and Aparna Sen with the award winners Sarmistha Maiti, Rajdeep Paul, Supriyo Sen and Vidyarthy Chatterjee
Amit Datta
The Trust wants to encourage new talent in cinema and cinema writing and with that aim, they have set up three awards, inspired by Dasgupta's work and the accolades won by him and his wife Supriya Dasgupta.
The first award, Best Debut Film, commemorates Chidananda Dasgupta's National Award win for best film for Amodini in 1994. A jury comprising fim-maker Adoor Gopalakrishnan, actor Shabana Azmi and director Goutam Ghose judged the best debut film to have come out in the last five years.
Presented by veteran actress Sohag Sen, the award and a cash prize of Rs 1 lakh was given to Supriyo Sen for his film, Tangra Blues.
Sohag Sen was "very happy" to be a part of this event and to be giving away the award as she has fond memories of being part of Dasgupta's first feature film. "My casting was quite out-of-the-box but then again Chidu da's [Chidananda Dasgupta] films were also such. After that he became family, and I've been in touch with his daughter (Aparna) for so many years as well," she said.
The second award was the Supriya Dasgupta Award for Best Costume Design, to commemorate the National Award for Best Costume Design that Supriya Dasgupta won for Amodini in 1994.
The winner was announced by National Award winning costume designer, Saborni Das, who gave away the trophy and a cash prize of Rs 50,000 to Rajdeep Paul and Sarmistha Maiti for their film Kalkokkho.
The last award for the night was the Best Writing on Cinema Award which was given by poet Srijato to Vidyarthy Chatterjee for his book, Calcutta Films - A Joshy Joseph Trilogy.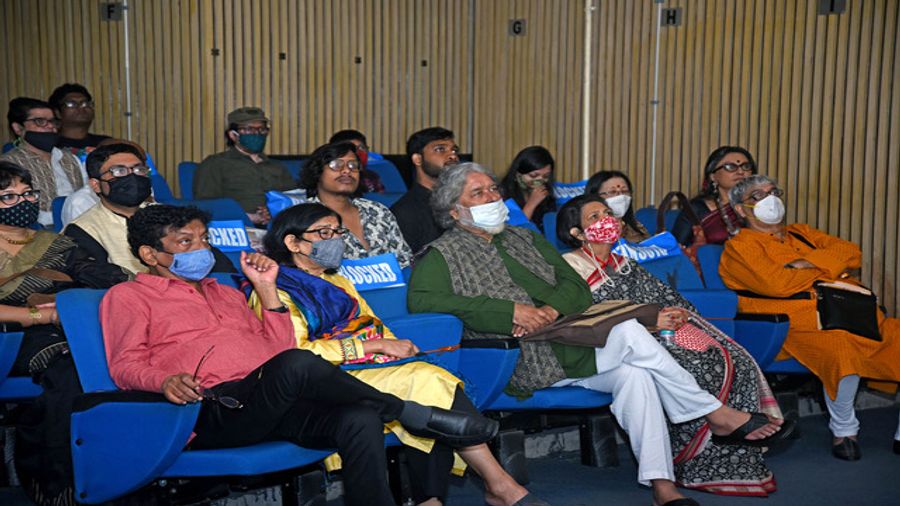 The event was attended by artists like Goutam Ghose, Anindya Chatterjee and Sohag Sen among others
Amit Datta
(You can visit www.cdg100.com to know more about the Chidananda Dasgupta Memorial Trust and their events, along with the life and works of Chidananda Dasgupta)