Dhoot Group presents Sanmarg Aparajita 2022 at JW Marriott Kolkata on August 28 was a grand affair this year, too, with women achievers from diverse walks of life being recognised for their achievements and celebrated for their journeys. The 11th edition of the award show felicitated women under 11 categories. With esteemed jury members like Madhu Neotia, Pawan Dhoot and Sushmita Dev, the awardees were awarded under two categories — Popular Awards and Jury Awards. Like every year, it was a platform that allowed women to share their stories and be saluted for their passion, perseverance, courage and faith. It was touchdown Kolkata for the ever-confident Mandira Bedi, who gracefully hosted the show.
Gulabo Sapera or Dhanvanti, creator of the Kalbelia dance and the exponent of this Rajasthani dance form, was awarded the Lifetime Achievement Award by Pawan Dhoot, chairman of Dhoot Group and Aparajita Awards jury member, and Piyush Dhoot, director of Dhoot Group. Before receiving the award, she mesmerised the audience with some of her dance steps.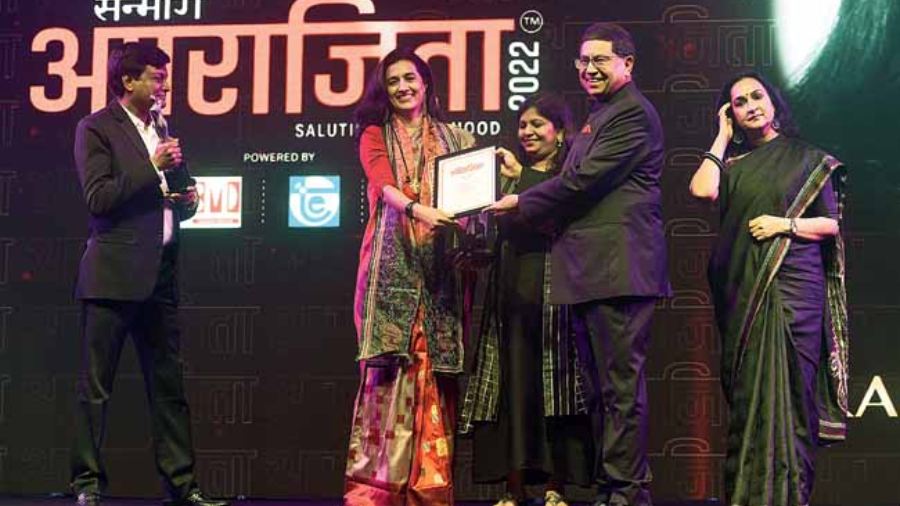 Karuna Nundy, advocate at the Supreme Court of India, received the award under the category You Inspire Law. (L-R) Om Jalan,director of Bengal Energy; Suman Jalan; Sanjay Budhia, managing director of Patton Group, and Madhu Neotia, managing trustee of Neotia Arts Trust and jury member of Aparajita, gave the award to her on stage.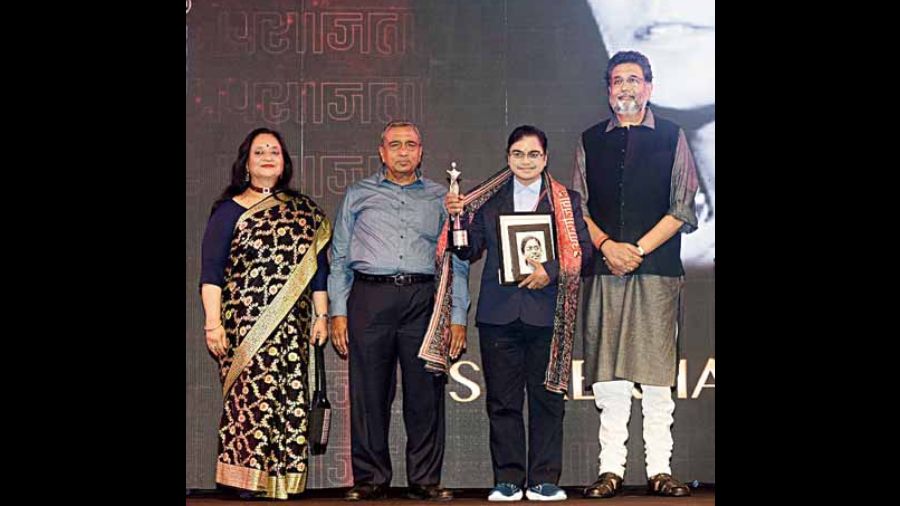 Surekha Yadav, Asia's first woman local train driver for the Indian Railways, received the Unsung Hero Jury Award from (l-r) Nayantara Palchoudhuri, honorary consul for Norway; Kunj Bihari Agarwal, founder member of Neo Metaliks Ltd., and Harshavardhan Neotia, chairman of Ambuja Neotia Group.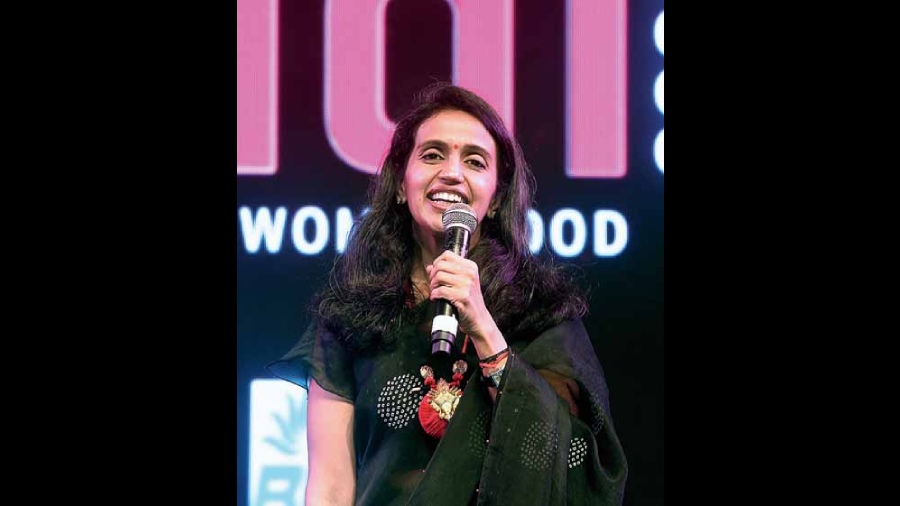 "Every woman deserves a chance to celebrate herself and Aparajita is that celebration of self and of womanhood. We take pride into bringing stories of women and their grit and determination into the forefront and recognise them not only for their achievements but also their daily struggles. From Gulabo Sapera saying that she had felt this happy only when she received the Padma Shri, and Karuna Nundy telling us this was truly homecoming for her, to Bhagwani Devi Dagar (Dadi) giving us so many blessings — it is these moments that make every edition of Aparajita a true celebration of the spirit of womanhood, in all her hues and colours," said Ruchika Gupta, founder guardian of Aparajita Awards, who also announced the launch of the adult digital literacy program on wheels at the event.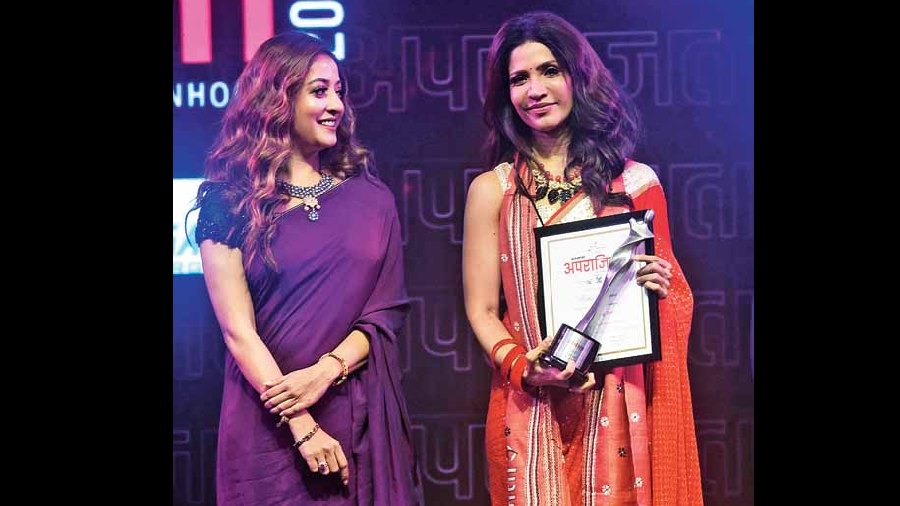 Actress Richa Sharma (right) received the Performing Arts Popular Awards from actress Raima Sen.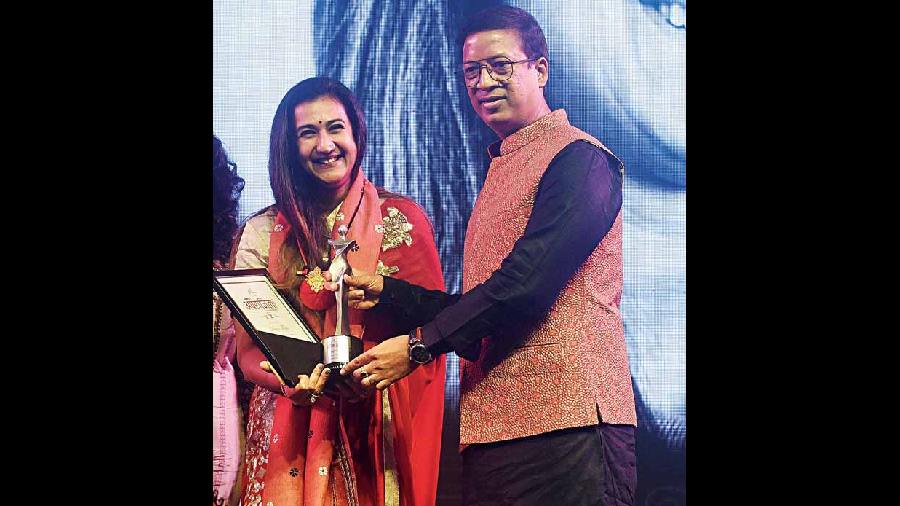 Devina Fogla received the Health and Wellness popular Award from Namit Bajoria, managing director of Kutchina Home Makers Pvt Ltd.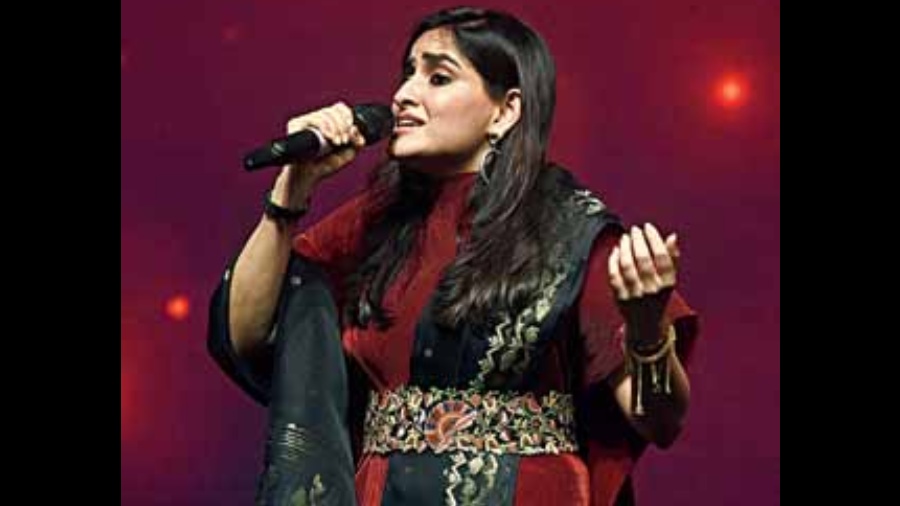 Vasundhara Mantri left the audience members spellbound with her rendition of Tu jhoom before the awards were announced.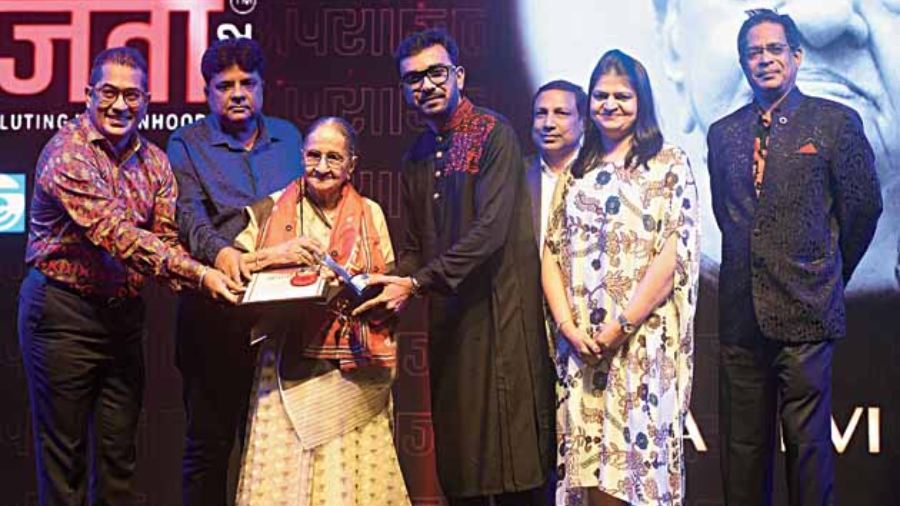 Gita Devi Mody, chef and home-maker, was awarded the Gourmet and Hospitality Popular Award for her contribution in the hospitality sector. She received the award from (l-r) Sanjay Jhunjhunwala, CEO of Mani Group; Amitabh Dassani, managing director of Dassani Film Studio; Raj Kumar Agarwal, managing director of Surya Food; Gaurav Karnani, creator of Caldera in Kolkata; Lalit Beriwala, director of Shyam Steel India; Neha Mody; and Suborno Bose, founder and chief mentor of IIHM.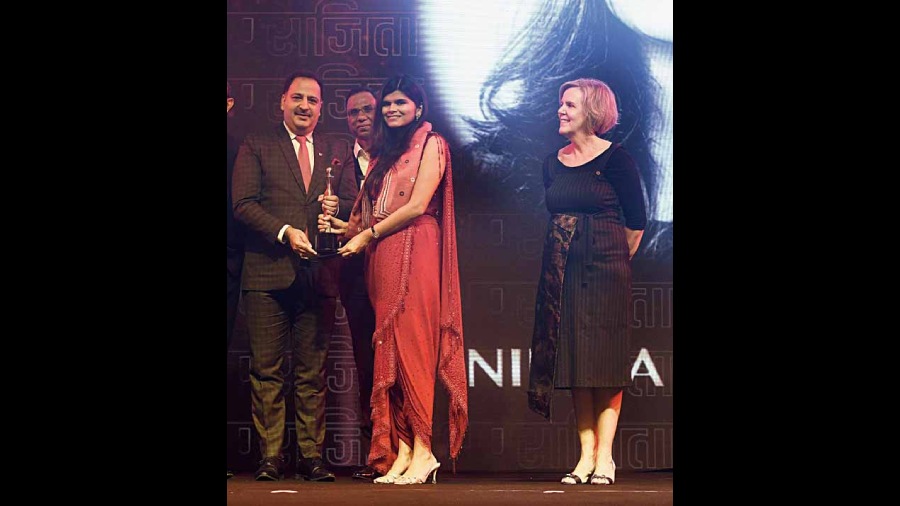 Nikita Bansal, director of Century Plyboards India, received the Business Popular Award from (l-r) Sumeet Suri, general manager of JW Marriott Kolkata; Sumit Binani, director of Value Wise; and Denise Eaton, trade and investment commissioner of Australian Trade and Investment Commission.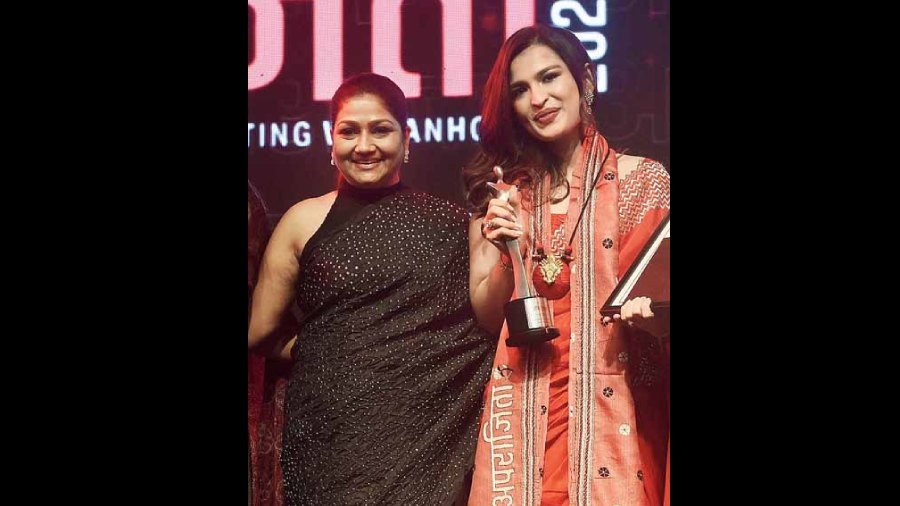 Saachi Bhasin Daga received the Digital Media Influencer Popular Award from celebrity drapist Dolly Jain (left).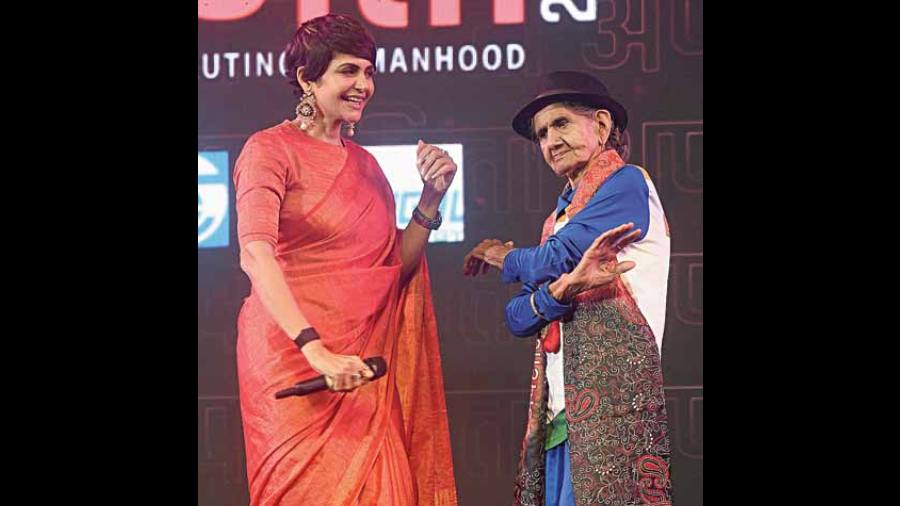 Ninety-four-year-old sprinter, Bhagwani Devi Dagar, received the You Inspire Sports Jury Award and shook a leg on stage with host Mandira Bedi.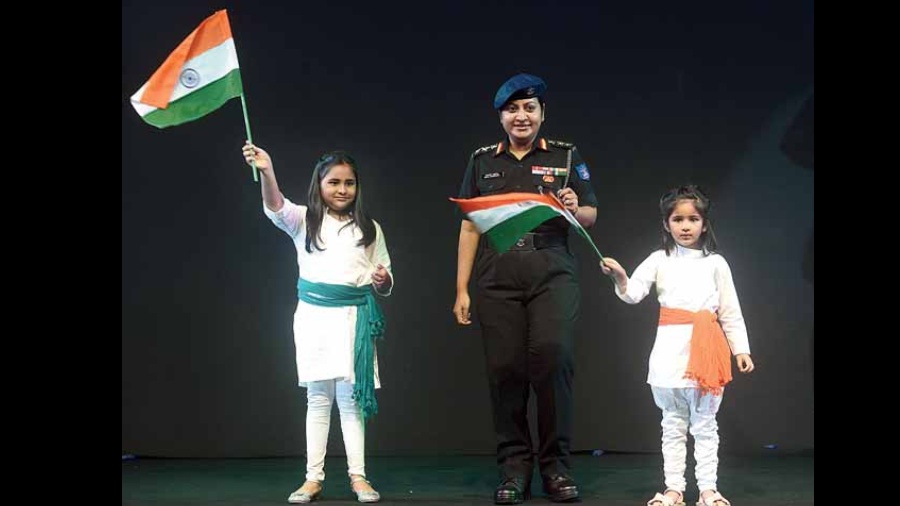 Colonel Mitali Madhumita, first female officer in the Indian Army to get the Sena Medal for her bravery in rescuing 19 army training officers hurt in terror attack, received the You Inspire Patriotism Jury Award in her uniform. She received a standing ovation from the audience while receiving her award from Vivek Gupta, chairman of Sanmarg Group and Raj Prabha Gupta, director of Techno Electric and Engineering Ltd.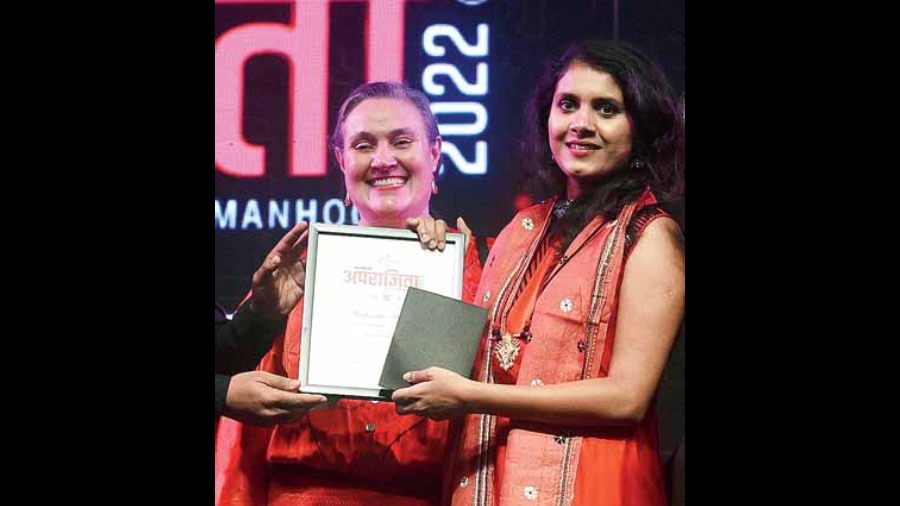 Madhavika Bajoria received the Social Impact Popular Award from Melinda Pavek, US Consul General in Kolkata.
Pictures: Pabitra Das