A huge ramp was built in the open courtyard of Indian Museum, the historic 208-year-old building. The white structure of the building was illuminated with warm lights with Tricolour effect on its walls to create a complementing backdrop. Models and eminent personalities from various walks of life walked down the ramp in outfits made of khadi and Bengal weaves. Patriotic songs added to the mood.
Scenes from Abhishek Dutta's show, 'Walk of Freedom', that made it a memorable experience.
Celebrating India's 75th year of Independence in collaboration with the Indian Museum, the designer showcased a special collection comprising khadi, Chanderi and Jamdani. While the sacrifice of our country's freedom fighters inspired the red-and-white line, the grandeur of the magnificent Indian Museum building inspired the whites. Silhouettes ranged from Indian ethnic, western to the designer's signature fusion styles.
Saris, long dresses, woven jackets, cape jackets and draped kurtas in Chanderi, Jamdani, cotton and khadi were seen on the ramp. Tape weaving, threadwork, embroidery and texturing made up the design details. Adding to the experience was the spirited ambience on the museum grounds. There were servings of Calcutta street food.t2 was there.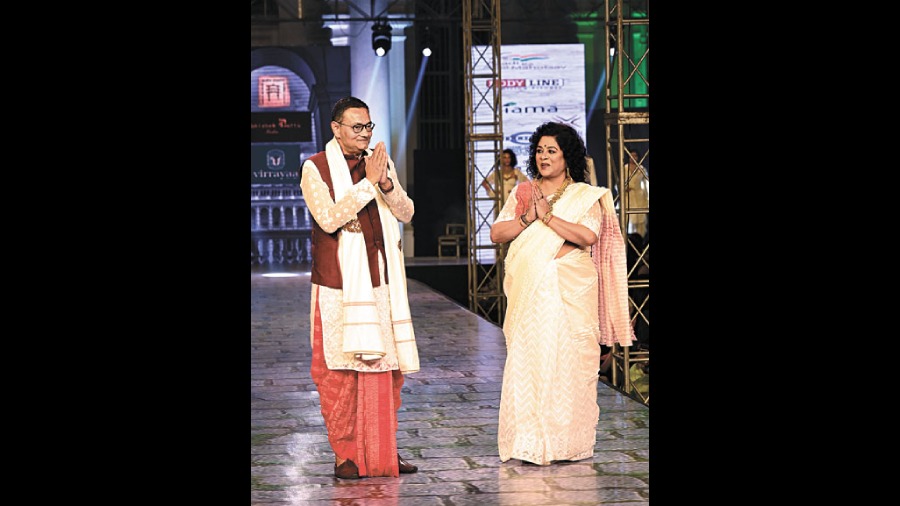 Netaji Subhas Chandra Bose's grandnephew Chandra Kumar Bose walked the ramp with wife Uma Bose. Chandra Bose wore a Dhakai Jamdani kurta teamed with a linen bundi jacket and a linen shibori dhoti and wife Uma wore a handwoven Chanderi custom sari designed with threadwork and paired with a linen shibori blouse.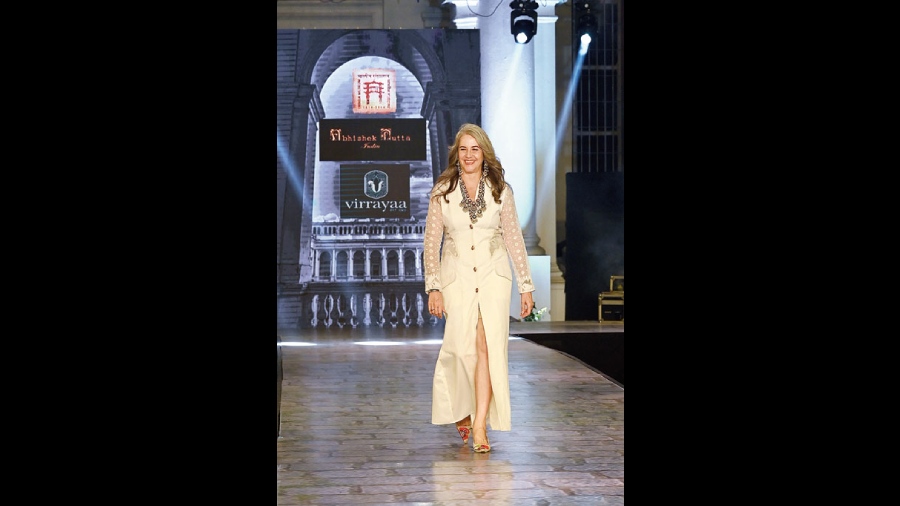 Australian consul general Rowan Ainsworth graced the ramp in a long khadi jacket dress designed with Dhakai Jamdani panels and threadwork.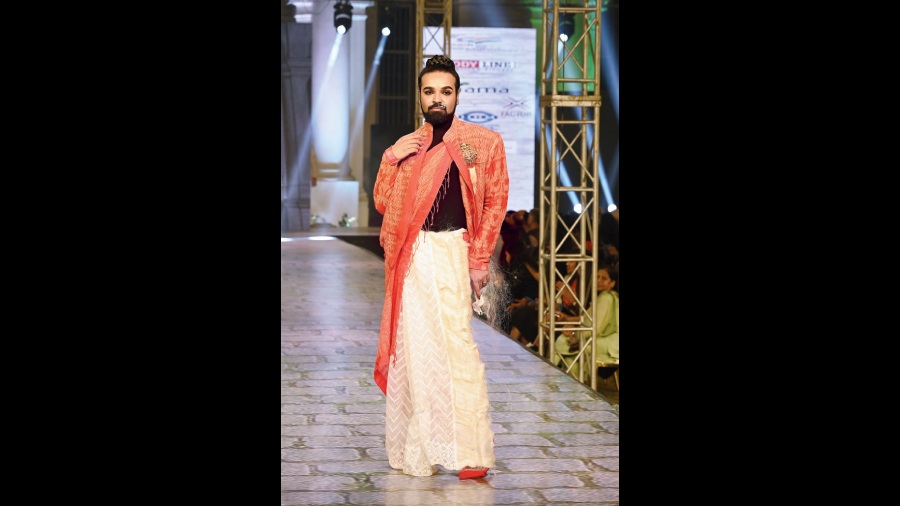 Pushpak Sen made a grand entry in a thread-embroidered handwoven Chanderi sari, teamed with a handwoven linen shibori bomber jacket.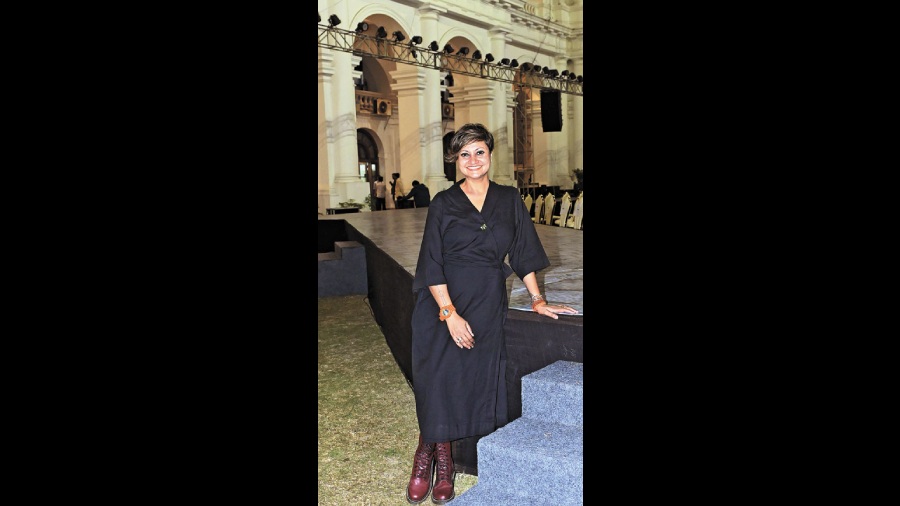 Pinky Kenworthy choreographed the show.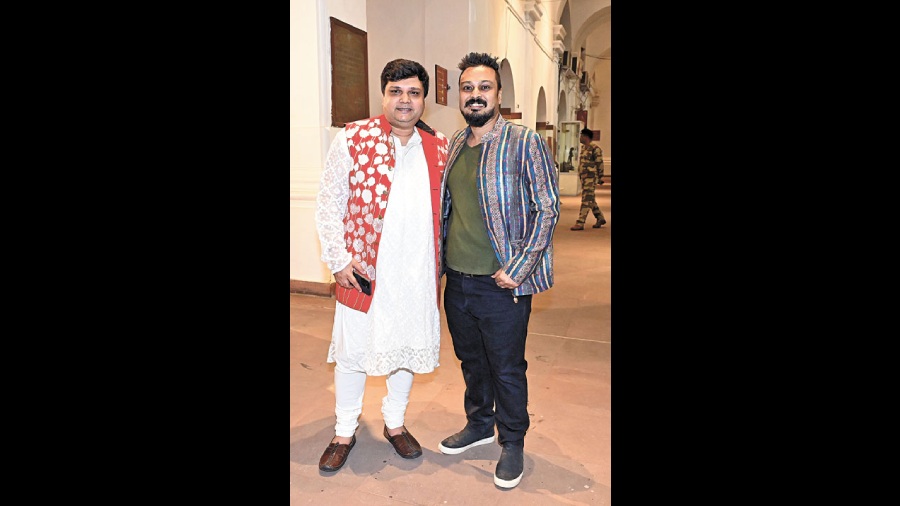 Designer Abhishek Dutta (right)
"This show was dedicated to the 75th year of India's Independence. We have used a lot of scarlet red on the outfits depicting blood drops, a tribute to our freedom fighters, people who sacrificed their life for our country's freedom. We have promoted sustainability and the work of Bengal's weavers in this show. For the silhouettes, I have used my signature fusion styles. There is a western influence on the styles, yet the looks are very much Indian," said Abhishek Dutta, designer.
Indian Museum needed quite a bit of convincing, confessed Abhishek. "It took a bit of time for them to be convinced that we can do a fashion show which can be rooted to the Indian culture and have a global appeal at the same time. The second challenge was the venue. The museum was open throughout, so getting the ramp done was challenging. Since we started working on the venue first, even before we started the collection, it has influenced my collection in a lot of ways. If we see the international fashion weeks, they are all happening at such architectural wonders in different parts of the world. That's how the idea came to me," he said.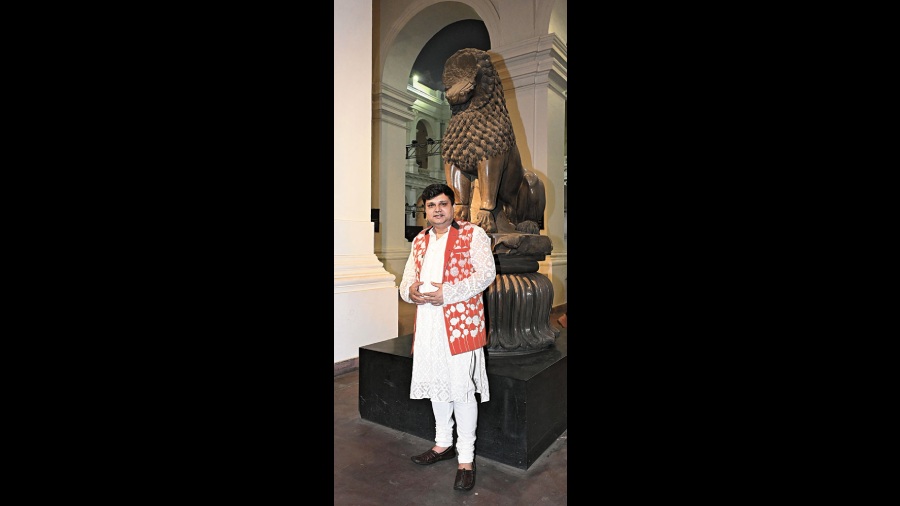 Sayan Bhattacharya, education officer, Indian Museum
"The nation celebrated Azadi Ka Amrit Mahotsav this year on the occasion of India's 75th year of Independence. Abhishek Dutta promoted khadi through his work and that is why celebrating our nation's 75th Independence we decided to showcase his collection at the Indian Museum. People who walked the ramp wore khadi outfits as a commemoration of our country's Independence. The concept of museum is changing everyday and we are becoming more inclusive. Nowadays, museums are being considered as cultural spaces and that is why we are organising these events here in the Indian Museum," said Sayan Bhattacharya, education officer, Indian Museum.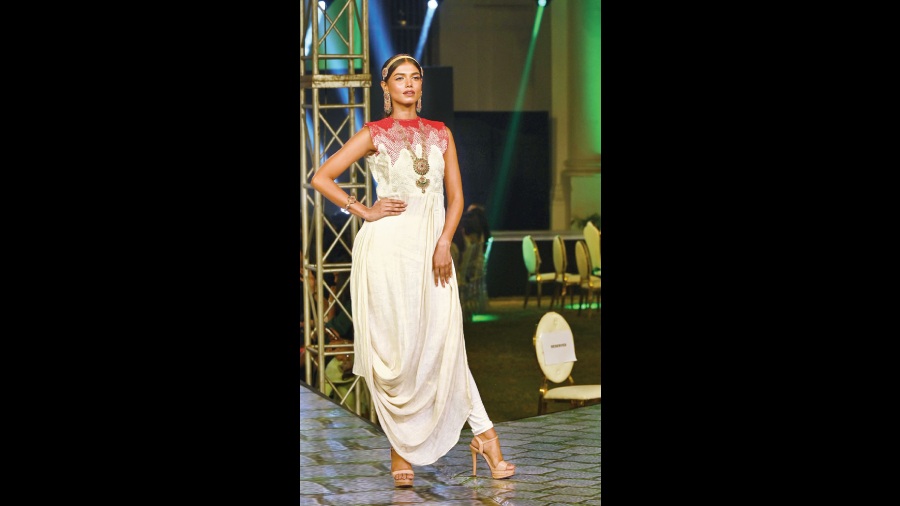 Ankita Singh's look was an elegant frame featuring a handwoven silk-cotton draped dress with French knot detailing and threadwork detailing on the yoke.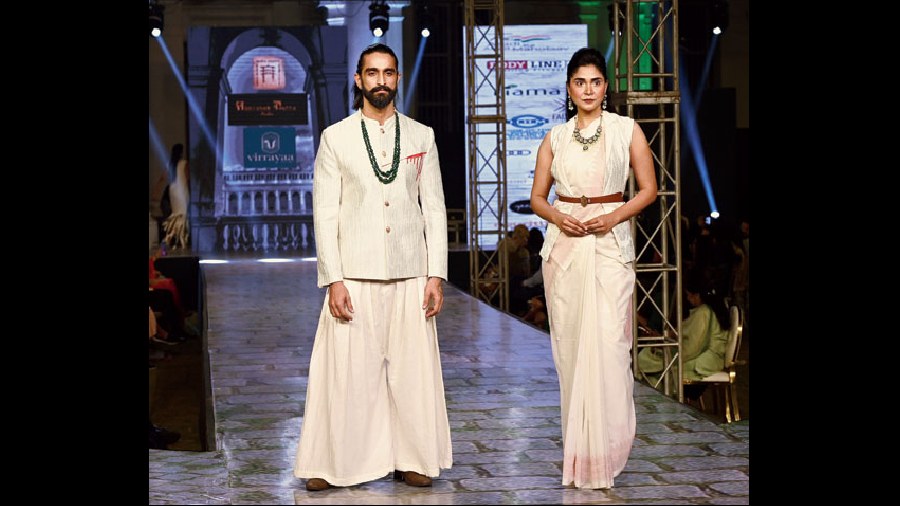 Neeraj Surana donned a linen bandhgala with threadwork and French knot detailing, teamed with cotton samurai pants. Sushmita Roy was graceful in a custom handwoven Jamdani sari, paired with a lapel jacket featuring threadwork and leather panel detailing.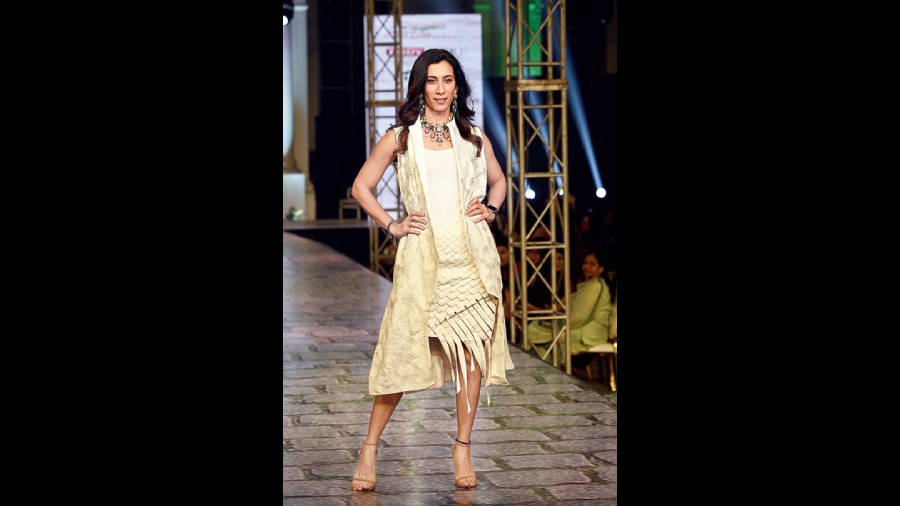 Sanaya Mehta Vyas, director of Selvel One Group and vice president of Rugby India, received a cheerful round of applause from the guests while walking the ramp in a thread-embroidered long open jacket, paired with a panelled woven cotton skirt.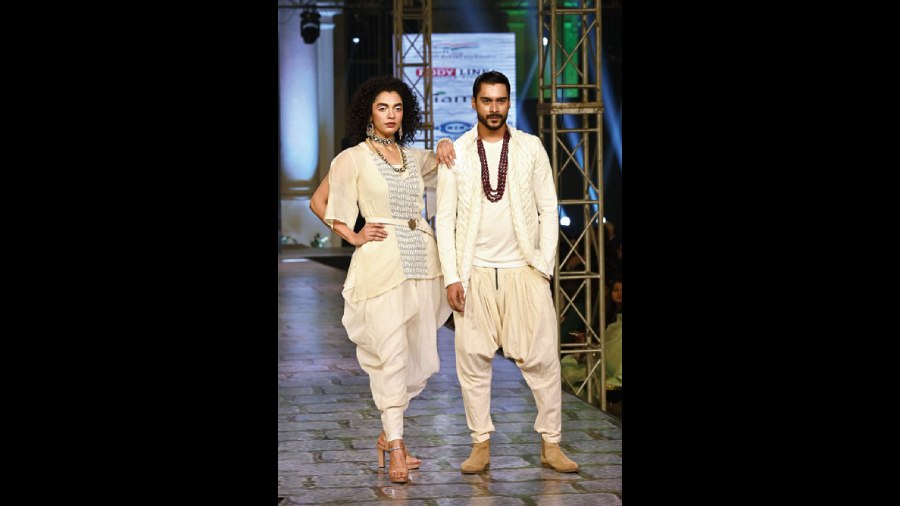 Shubhamita Banerjee was in a Chanderi textured kurta paired with dhoti pants and custom leather belt. Kutubuddin Sheikh complemented the look in a panelled and woven cotton lapel jacket with low-crotch dhoti pants.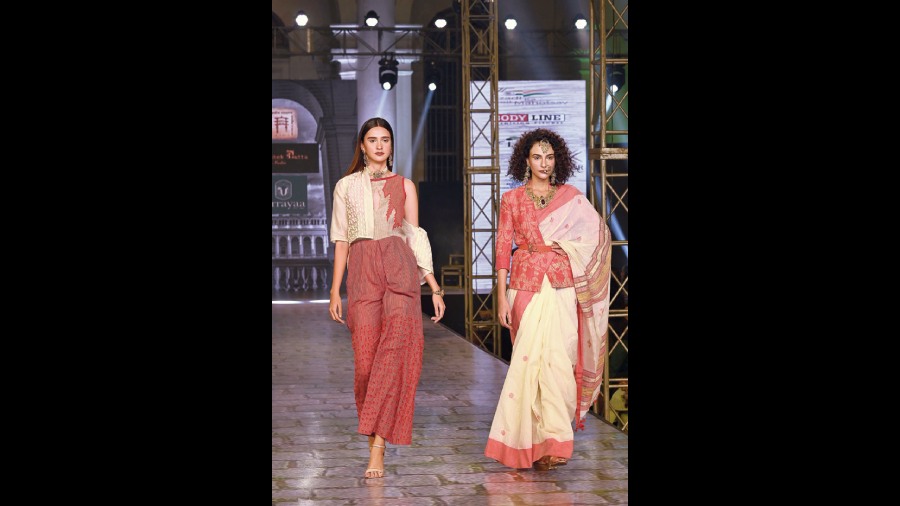 A signature Abhishek Dutta fusion style, Riya Bhattacherjee teamed up a linen shibori jacket in red with a custom-dyed Jamdani sari in the traditional white-and-red combination. A custom logo leather belt sealed the deal.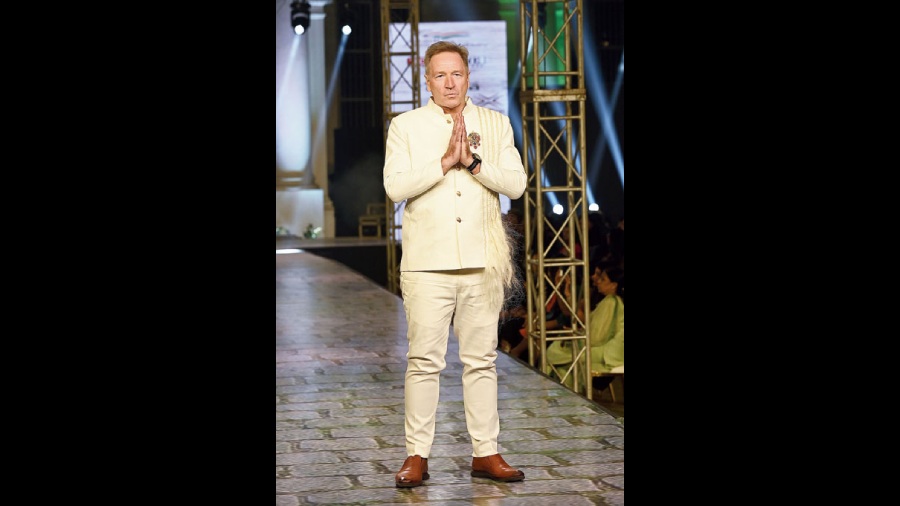 Adrian Pratt, director of American Center, wore a textured khadi bandhgala detailed with raw yarn braids.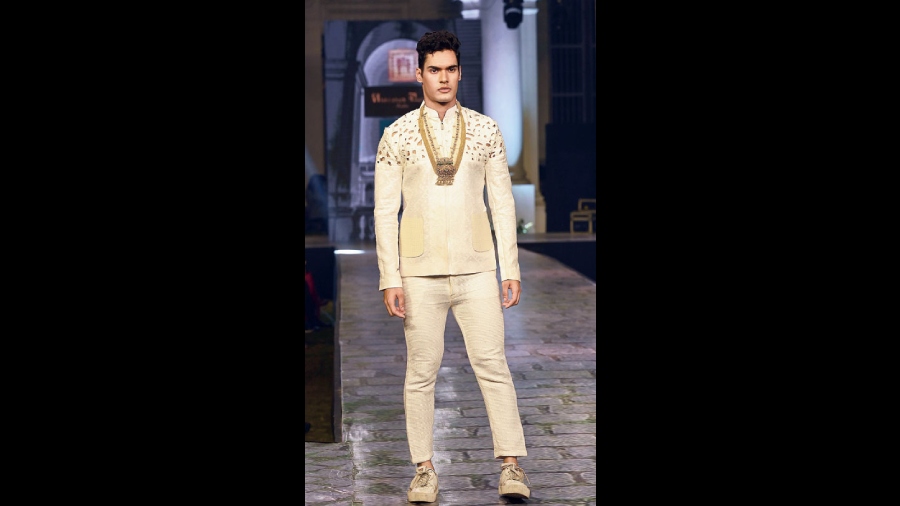 Rangeet Raheel channelled a dapper style in a cutwork khadi bomber jacket, paired with linen pants.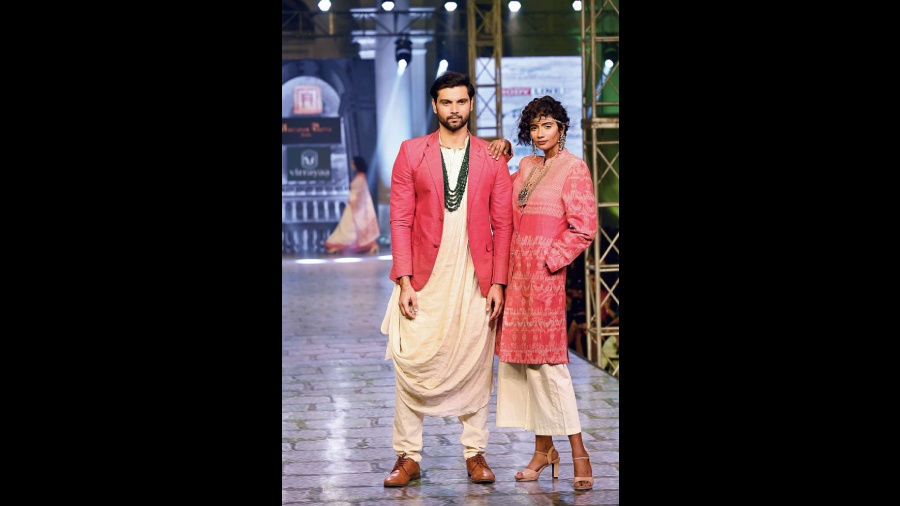 Nick Rampal was in a handwoven linen lapel jacket teamed with a cotton-silk draped kurta. Priyanka Das was smart in a handwoven linen shibori-dyed bandhgala.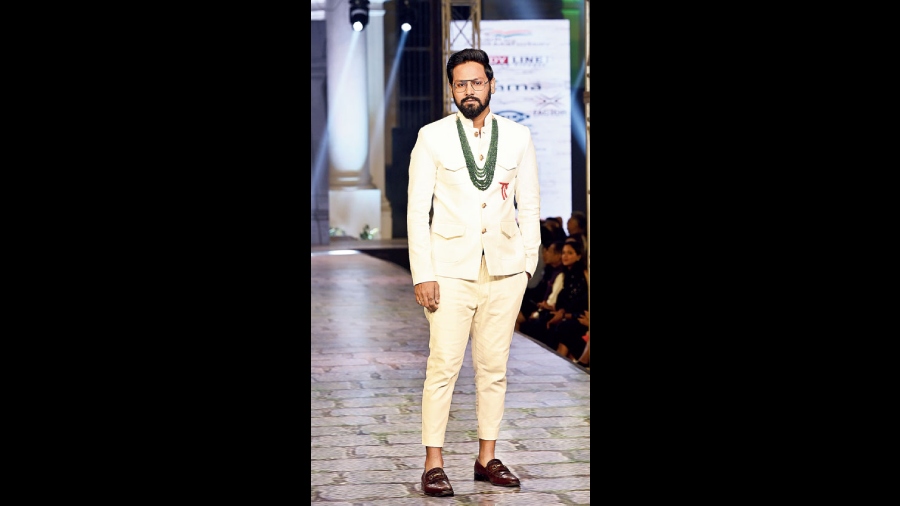 Archery champ Rahul Banerjee walked the ramp in a khadi bandhgala detailed with French knot embroidery and paired with a pair of cropped slim pants.