XLRI holds 66th annual convocation
Event began with the academic procession followed by the  report of the director, Fr. Paul Fernandes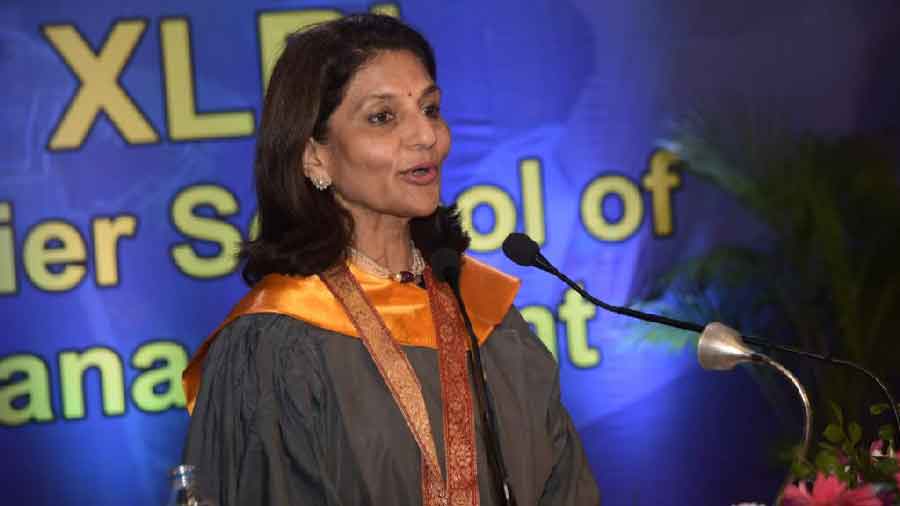 Dr. Preetha Reddy, executive vice-chairperson, Apollo Hospitals Enterprise Limite addressing the XLRI convocation function at Tata Auditorium on Saturday evening
The Telegraph Picture
---
Jamshedpur
|
Published 24.04.22, 04:37 PM
|
---
It was time to bid farewell to the B-school graduates when XLRI hosted its 66th annual convocation on its Jamshedpur campus last evening. The convocation ceremony was held at the Tata Auditorium within the  XLRI campus.
The B-school conferred the prestigious 'Sir Jehangir Ghandy Medal for Industrial and Social Peace' to Dr. Preetha Reddy, executive vice-chairperson, Apollo Hospitals Enterprise Limited She also delivered the convocation address.
The  annual convocation  began with the academic procession followed by the  report of the director, Fr. Paul Fernandes.
The chairman, TV Narendran, CEO and  managing director, Tata Steel also addressed the august gathering and presented the Sir Jehangir Ghandy Medal to Dr. Preetha Reddy, who was the chief guest and the convocation speaker. 
Fr. Donald D'Silva, dean (Administration & Finance), XLRI presented the medals for long service to around 27 XLRI employees.  The event then witnessed the presentation of medals for academic excellence by Ashis K Pani, (Dean - Academics), XLRI to 21 students. 
The event was then followed by the distribution of diploma degrees to the graduating students. In all 497 XLRI students received their graduating diploma degrees in various courses including Business Management and Human Resource Management.
Ten  students were given special awards like XLRI Medal for Social Initiatives, Best All-Rounder Student in memory of Parineet Reddy and for highest CQPI ( Cumulative Quality Point Index ) in different streams. XLRI director Fr. Paul Fernandes  congratulated the graduating students and said, "XLRI started with the dream to change the face of the earth in 1948. We thank our chairman for all his services and constant support for XLRI to rise higher. We thank Dr. Preetha Reddy for accepting the Sir Jehangir Ghandy Medal for Social and Industrial Peace." 
TV Narendran,Tata Steel managing director and chairman, XLRI addressing the convocation function said, "The last two years have given us a lot of time to reflect on what's happening around us, exposed us to vulnerabilities and how we dealt with things happening around us. We fool ourselves saying that we are strong, developed and advanced. A virus as small as this had such a big impact. The virus demonstrated that we can find solutions to problems, the way the world fought together and the way people came together to find solutions is incredible. The last 2 years has accelerated us to the future. We have become more inclusive. Local issues become global and global issues impact us locally. India is a potential source but also a potential market.""
Accepting the coveted medal , Dr. Reddy said, "It is an honor and I thank XLRI for inviting me to the annual convocation. In the turbulent two years, a beacon of hope was provided by healthcare and I believe that this award is for unsung heroes in this sector. If Covid-19 was a war then these people were truly peace makers and that brings me to today's heroes.
She also congratulated the students saying, "Today is a very special day in your life it might happen once or twice or four times but each time it's very special and to graduate from India's most eminent institute."
She also mentioned that. "Anxiety in the healthcare industry over the last two years and a country like ours has coped up with Covid so well that it is now becoming a lesson for universities abroad (Harvard and Boston). I have myself taken a session and talked about India fighting Covid and I'm proud to be an Indian. How sustainable we can be, we showed the world.I am proud to be an Indian."
Dr. Preetha also shared some insights about Apollo Hospitals which initially started with 150 beds in Chennai and is now expanded to 150 countries.