Women perform Aadhaar card puja to ward off coronavirus, and see cash in bank accounts
Garhwa district administration lodges FIR against unknown persons for spreading rumours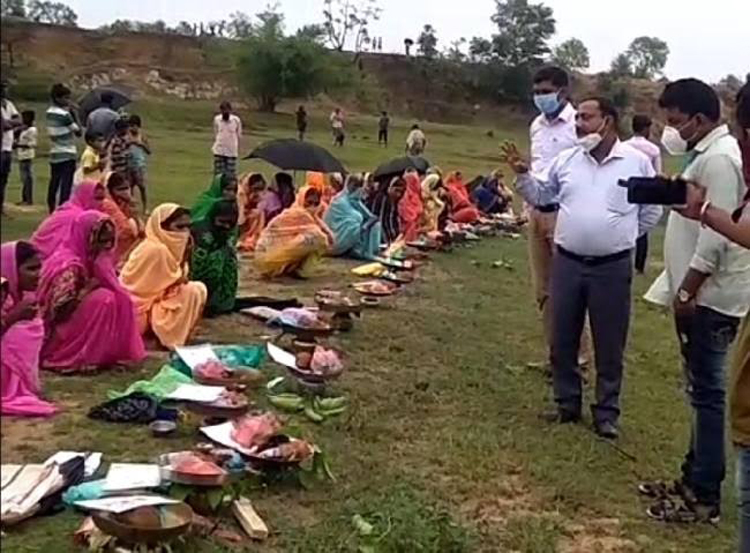 ---
|
Ranchi
|
Published 06.06.20, 06:43 PM
---
In superstition-hit Jharkhand's Garhwa district, a group of women performed "holy rituals" with their Aadhaar cards in a bid to kill two birds with one stone – ward off the evil force of Coronavirus and get Rs 5000 credited to their bank accounts from the Prime Minister's Relief Fund.
The administration, however, could not do much against this bizarre practice but lodge an unnamed FIR against local residents on Saturday for spreading misinformation related to Covid-19 and government schemes.
Rakesh Sahay, the circle officer of Manjhiaon block, around 230km north of state capital Ranchi, said on Saturday that around 250 women performed a puja on the banks of a river in Bicchitola of Bodara village last week.
The women, he said, reportedly placed their Adhaar cards and bank account details on a kalash during the puja assuming that it will impress the Prime Minister, and he would send Rs 5000 to each of their bank accounts.
"After learning about the incident, we informed the women in no uncertain terms that such practices will not kill the virus, and neither will these result in any monetary gains," said Sahay. "Police have been asked to identify the people involved in spreading such rumours and take stern action against them," he said.
Superstitious practices in the interiors of Jharkhand have remained a major concern for the government here for several years. The tribal dominated state witnessed at least 590 cases of witch-hunting from 2001 to 2018, say National Crime Records Bureau (NCRB) figures. Besides, several incidents of occultists trying to resurrect dead people and women getting married off to snakes and dogs have been reported from far off villages here in the past.
Another evidence of the deep-embedded superstition in Jharkhand is the fact that it triggered more killings here than left wing extremism (LWE) in 2018, say NCRB figures.
The motive behind as many as 18 murders in Jharkhand was witch-hunting in the year 2018, while honour killing was the reason behind nine murders in the same year. Interestingly, "extremism/ naxalism/ insurgency" was the reason for only two murders in the state in year 2018, the report added.