Winter to linger longer
Two back-to-back western disturbances to extend the winter phase this year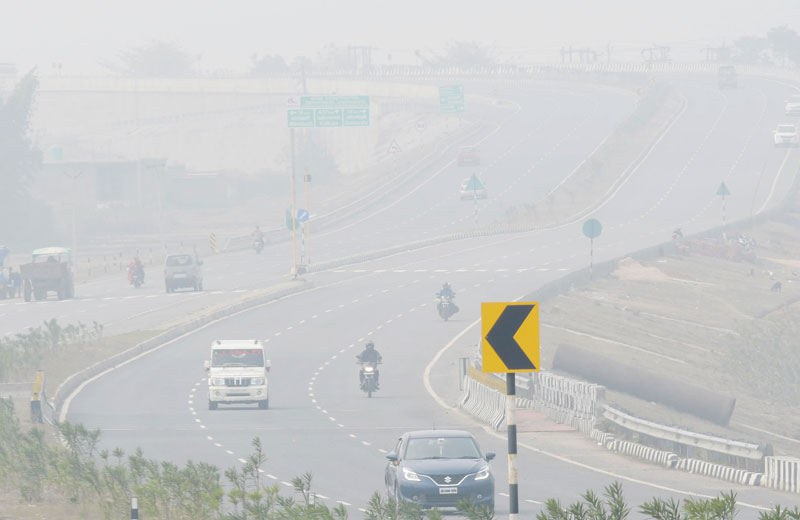 Vehicles negotiate a foggy stretch of Ormanjhi Ring Road in Ranchi on Thursday.
Picture by Prashant Mitra
---
Jamshedpur
|
Published 30.01.20, 06:42 PM
|
---
The Ranchi Meteorological Centre has predicted an extended winter in Jharkhand.
Normally, the season of chill lasts till the second week of February. But this year, two back-to-back western disturbances will extend the phase, the weathermen said.
Both the Ranchi and Patna centres of the India Meteorological Department on Thursday issued an alert of rain in isolated pockets of the state around February 4-5 and cloudy weather and light showers around the middle of February.
Both the Met offices issued forecast of light to moderate rain in the north-west, central and southern Jharkhand on February 4 and 5 due to the impact of a western disturbance passing through the northern parts of the country.
"An induced cyclonic circulation is expected to form over western India close to Jharkhand due to the impact of the western disturbance. The cyclonic circulation will move eastwards resulting in unseasonal showers over Jharkhand. A trough formation was also expected in the middle and upper layers of the atmosphere around 5.8km above mean sea level," said S.D. Kotal, director of the Ranchi Meteorological Centre. He said the phenomenon would stretch winter's stay in Jharkhand beyond February 10 as night readings would again witness an abrupt fall after the system wanes.
Weathermen at the Regional Meteorological Centre in Alipore, Calcutta, confirmed a longer winter for Jharkhand. "Over half-a-dozen western disturbances had impacted Jharkhand's weather in January coupled with the formation of anti-cyclonic circulations due to the confluence of northerly and easterly winds," a duty officer at the Calcutta-based Regional Met centre said. "The western disturbances, which had resulted in unseasonal showers, was expected to impact Jharkhand's weather in the first two weeks of February."
The Met office makes the winter retreat official when minimum readings rise over 13°C for a consistent number of days.
On Thursday, the minimum reading in most parts of the state was hovering at 15°C because of the impact of a western disturbance. But, weathermen have predicted a fall in night temperature by 3-4°C during the next two days in most of the districts.
Weathermen in Patna said they did not see any sign of the withdrawal of winter.
"Currently, Jharkhand is in the grip of southerly wind, which is expected to change to northerly after the next 24 hours. The coming western disturbance in the first week of February will extend the winter," a weather analyst in Patna said.