The man who had lived and died for the poor
Father Stan's name to be added to the list of 52 tribal martyrs
The Jesuit priest was arrested in the Elgaar Parishad-Maoist link case from Bagaicha in Namkum near Ranchi last October 8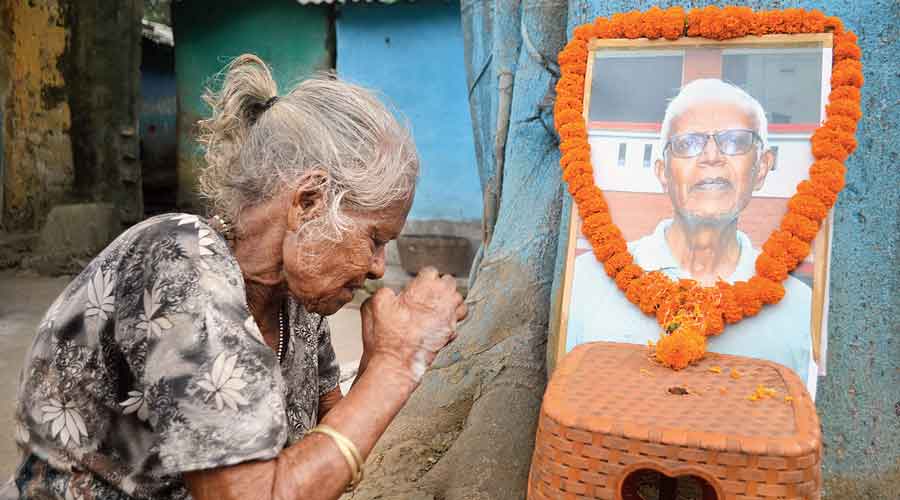 A woman pays tribute to Father Stan Swamy at Bankati leprosy colony in Jharia, Dhanbad, on Saturday.
Shabbir Hussain
---
Jamshedpur
|
Published 18.07.21, 01:22 AM
|
---
There was no dais or chief guest, no expensive floral decorations. Not even a speech.
Just veneration for a man whom the gathering had never seen but who it believed had lived and "died for the poor". A man whom the Indian State accused of waging war against it and held captive for nine months till, aged 84 and suffering from Parkinson's and other ailments, he died in custody on July 5.
A series of remembrances have since been held in honour of Father Stan Swamy, Jesuit priest and defender of the rights of Jharkhand's tribal communities, with Church leaders, social activists and even the chief minister in attendance.
But Saturday's event was unusual. The venue was not an auditorium but an open courtyard at a settlement of people whose forefathers made up some of society's worst outcasts and who even now live in grinding poverty.
A small group of young and old sat on the ground at the Bankati Kusht Colony, a settlement of leprosy patients in Jharia, 8km from Dhanbad and about 145km from Father Stan's hometown of Ranchi.
A framed portrait of the Jesuit priest hung from a nail driven into a tree trunk, the single garland of marigold around it speaking of the organisers' lack of means. In front of it had been placed a bright orange, bare plastic stool.
"Father Stan Swamy kabhi yahan aaye nahi theh, hum sune hain unke baare mein. Khana aur paisa toh bahut log dete hain, par garibo ke liye marna humne Father Swamy se sikha hai (Father Stan Swamy never came here, but we have heard about him. Many people donate food and money but he has taught us how to die for the poor)," said Rahul Sharma.
Rahul, a man in his mid-30s who earns a living by painting houses, was not giving sound bites to this newspaper. He was explaining the occasion to a group of fellow colony residents when this reporter walked in.
The colony is home to some 200 people from 35 families, whose ancestors were leprosy patients. A few of the residents still have the disease and are under treatment. Most of the residents even now beg for a living near religious places and markets and at community functions.
Philanthropists and social organisations often visit the colony to provide rations.
"People do give us food and sometimes alms, considering it charity. But it's rare for anyone to stand up to ensure justice for us and be prepared to face torture and even death for us," Rahul said.
"We have heard that Father Swamy could have easily led a comfortable life by surrendering to the will of those in power. But he chose to die for the poor and the oppressed. This is why we have installed his portrait, so it can inspire us and the coming generations."
Father Stan, who had spent five decades defending the rights of the tribal communities and other oppressed classes in Jharkhand, was arrested in the Elgaar Parishad-Maoist link case from Bagaicha in Namkum near Ranchi last October 8.
Severely ill and treated unsympathetically in Mumbai's Taloja Central Jail, he died waiting for bail, with social activists calling his death "judicial killing".
Father Stan's name is set to be added to those of 52 tribal martyrs on a huge stone slab at Bagaicha, the priest's social action centre and home.
"The names of 52 tribal martyrs are already written on the stone slab, and Father Stan's name will be added on Sunday," said Father Tony PM, who is in charge of Bagaicha.
The stone slab was installed as part of the Pathalgadi movement by tribal youth, which started in 2017. The youths travelled from village to village, putting up stone slabs inscribed with a summary of the Panchayats (Extension to Scheduled Areas) Act, 1996, which upheld self-governance through the traditional gram sabhas and made their permission a condition for non-tribals to buy tribal land.
The movement was inspired by tribal families' age-old tradition of demarcating their ancestral plots by erecting on their boundaries stone slabs etched with the names and contributions of their forefathers.