Jharkhand salutes Stan Swamy's fight for the oppressed classes
Speaking at a memorial service, chief minister Hemant Soren referred to the 'martyrdom' of Birsa Munda and the Jesuit priest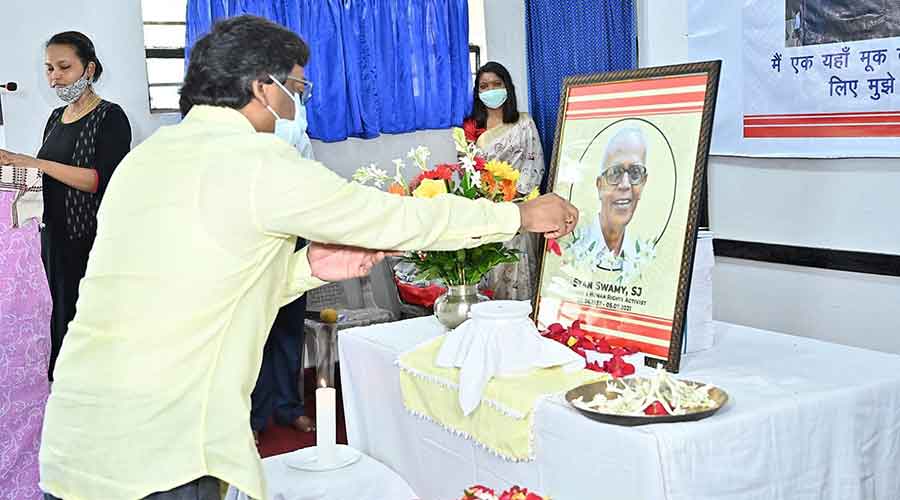 Chief minister Hemant Soren pays tribute to father Stan Swamy on Thursday.
Telegraph picture
---
Jamshedpur
|
Published 16.07.21, 02:30 AM
|
---
Father Stan Swamy was likened to tribal icon Birsa Munda and Jesus Christ at a memorial service on Thursday for his untiring fight for the cause of the oppressed and eventual victimisation and death.
Speaking at the service, Jharkhand chief minister Hemant Soren referred to the "martyrdom" of Birsa Munda and Fr Stan.
"Jharkhand has never been behind in martyrdom; people have seen the likes of Bhagwan Birsa Munda and Fr Stan Swamy," Soren said.
Birsa Munda had fought the British during the tribal movement. He was arrested along with other activists in criminal cases foisted on them by the Raj and died in prison while awaiting trial on June 9, 1900.
Fr Stan, accused in the Elgaar Parishad-Maoist links case, died in a Mumbai hospital on July 5 while awaiting bail in judicial custody.
"The coming generations should know that Fr Stan Swamy had always been sensitive towards Adivasis, Dalits and the marginalised and when the time came, he stood up for them and did not succumb to the oppressors," Soren said.
At the memorial service at Bagaicha, the social integration centre at Namkum near Ranchi that the Jesuit priest and tribal rights activist had founded and where he lived, the chief minister's voice choked with emotion as he said: "Fr Stan Swamy is not among us. Had he not been arrested he would have been with us. I had met him once but didn't realise then the enormity of his long (nearly five-decade) struggle for tribals and the oppressed."
Taking a dig at the Centre and certain media outlets, Soren said: "The present ruling system is adding new chapters of suppression in the country by arresting under the UAPA those who raise the voice of dissent. Several writers, student leaders and social workers are facing consequences for speaking against injustice, and the big media channels remain silent as they do not consider those who raise their voice for Adivasis, Dalits and the oppressed as important."
Soren added: "His life was not easy and he always chose to guide and empower people. Such people come once in ages and leave an indelible mark through their actions. As a chief minister from the tribal community, I am duty bound to implement any scheme keeping in mind its impact on tribals, Dalits and the marginalised."
Felix Toppo, who was named as the Ranchi Archbishop by Pope Francis in June 2018 and installed in August the same year, paid tributes to Fr Stan by drawing a parallel with Jesus Christ.
"Fr Stan Swamy was one such great man who decided to imbibe the teachings of Jesus Christ and followed in his footprints. Like Jesus Christ who raised his voice for the poor and the oppressed, faced opposition and false charges, and was tortured and crucified, Fr Stan Swamy spoke for the tribals, especially on displacement and the usurping of land and illegal detentions, was opposed, tortured in jail on fabricated charges, and finally died in custody," Fr Felix said.
The archbishop said a true homage to Fr Stan would be to imbibe his ideals and take up the cause of the poor and the oppressed in the face of any opposition.
Ranchi auxiliary Bishop Theodore Mascarenhas offered two proposals to the chief minister.
"The UAPA — a draconian act which does not even allow a sick person bail on medical grounds — is not required for our country…. Using the UAPA only to take advantage of it for politics is not appropriate. I would request the chief minister to kindly discuss this topic with other chief ministers," Bishop Mascarenhas said.
"Sedition cases have been continuing since the time of the British. To use this law made by outsiders against our countrymen and arrest them is not appropriate. All sedition cases on (the) Pathalgadi (movement by tribals) and other such cases should be lifted and there should be freedom of expression," he added.
Welfare economist and social scientist Jean Dreze described Fr Stan as a close friend.
"I knew him for the last 15 years. Since he was already 70 years old by then, I have only experienced a small glimpse of his life. We met often during struggles and protests. He was an ideal social activist, showing simplicity and courage," Dreze said.
"I learnt something from him, to love the oppressed, the powerless, the Adivasis, Dalits, women. He was full of love but he was also angry with all injustice. He wanted struggle, not service. He had this philosophy of only standing with the oppressed and exploited who would stand up for themselves. I think we all need to learn, understand and continue his work."
Tributes were also paid by old associates of Fr Stan, Sway Ajita S. George from the Brinda Institute of Research and Social Action, Ranchi, and Father Tony Herbert.