When artists hug dual identities
According to the artists, their jobs help them to purchase the necessary materials like canvas, brush, paints and others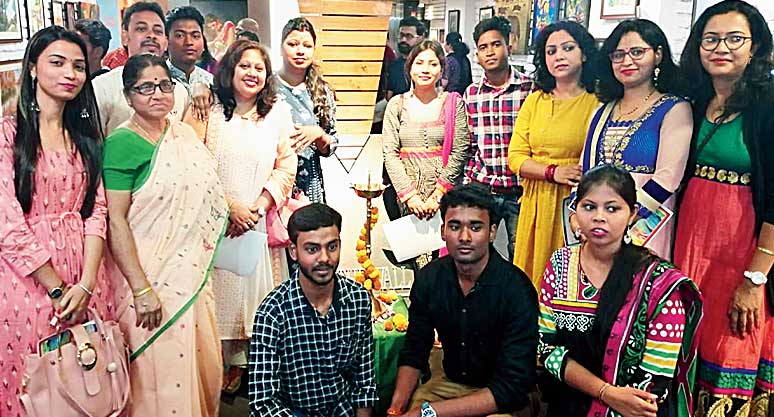 Colour Communicates' artists in Jamshedpur.
Telegraph picture
---
Jamshedpur
|
Published 06.04.19, 06:51 PM
|
---
Sometimes running after money makes us forgo our passion.
This however doesn't hold true for a group of 12 artists from Jamshedpur who are working professionals in the morning and are dedicated artists by the evening.
The team of artists, who call themselves Colour Communicates, mostly comprise government employees and freelancers who wind up their respective jobs in the morning and later in the evening come together to discuss art, paint and plan exhibitions in a Kadma-based studio apartment.
Mentored by city-based artist Prabir Shaw, all the 12 artists are also taking part in a three-day exhibition at Off the Wall art gallery in Sakchi, which kicked off on Friday.
"In a place like Jamshedpur pursuing a profession as an artist is really challenging. Not only does it take time to establish yourself as an artist but there is constant pressure from family to earn a living. All the artists in our group work as professionals elsewhere but later in the evening they come together to discuss artwork of great artists, ways to promote themselves and galleries and shows where they can showcase their work," said Shaw.
According to the artists, their jobs help them to purchase the necessary materials like canvas, brush, paints and others.
Deepak Kumar, a member of Colour Communicates, who works at the public health engineering department, said he loved to take time out to pursue his passion despite all hardships.
"I join the group everyday after coming back from my office in Ghatshila around 6pm. I couldn't pursue my passion as there was a lot of pressure from my family. My job now helps me to buy the necessary equipment. Sometimes all of us stay overnight as we paint and talk. We also list art shows and exhibitions, which might help us to find buyers," said Deepak, who is a former student of Tagore School of Fine Arts and works in pencil and acrylic medium.
Ria Mukherjee, who works as a freelance designer, feels the get-together in Kadma helps to boost her confidence as an artist. "I think working collectively towards art and marketing ourselves give a whole new dimension and also opens a host of opportunities. I think more people should work together to promote their work," she added.