Low-pressure zone brings rain, revives monsoon in Jharkhand
Showers likely to continue for another two days, says weather office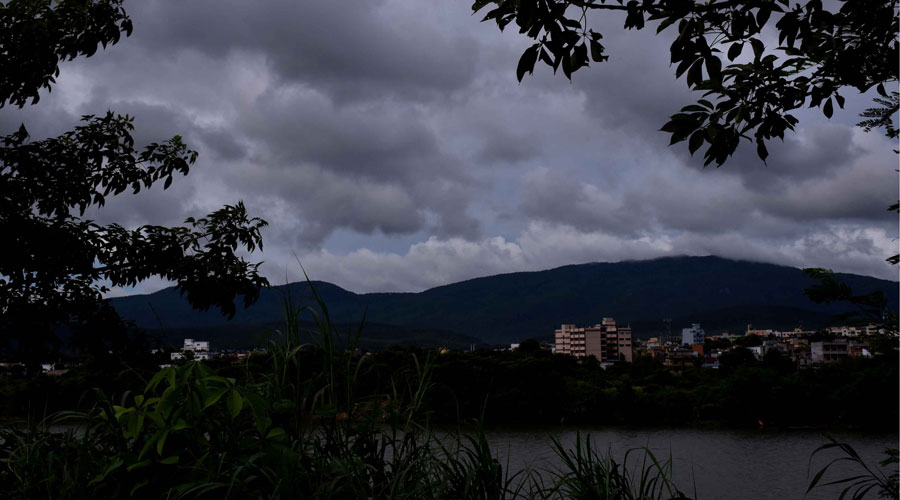 21jamweather -1/4: Dark clouds hover over Sonari in Jamshedpur on Monday.
Pic by Bhola Prasad
---
Jamshedpur
|
Published 21.09.20, 10:36 PM
|
---
A low-pressure area which originated from the Bay of Bengal and moved northwest, led to widespread rain over Jharkhand in the past 24 hours as forecast and helped revive the monsoon over the state.
 The low-pressure coupled with an associated cyclonic circulation extending up to 7.6km above mean sea level resulted in rains in several districts.
 Simdega, Rajmahal in Sahebganj district, Dumka and Koderma received around 50mm rain during the last 24 hours (8.30am of Sunday to 8.30am of Monday). Tundi and Koner in Dhanbad district recorded over 35mm rain, while Ramgarh, Hindgir in Ranchi district and Hazaribagh recorded over 25mm rain.
 Ormanjhi and Mandar in Ranchi district experienced around 20mm rain, while as many as 20 IMD observatories, including those in Daltonganj, Latehar, Garhwa, Deoghar and Chatra, recorded rainfall between 10mm and 15mm.
 "Southwest monsoon has been active in Jharkhandi during the past 24 hours. The low-pressure helped in reviving the monsoon. Moderate to heavy rain is expected at a few isolated places in northern Jharkhand during the next 24 hours," said Abhishek Anand, deputy director of Ranchi Meteorological Centre.
 He said the monsoon trough was passing through Ajmer, Jabalpur, Champa, the centre of low pressure over north west Bay of Bengal and adjoining coastal Odisha.
 Weathermen at IMD's Patna Met Centre said overcast conditions were expected to prevail in most parts of the state till the next 48 hours. The Met office also issued an alert of lightning and thunder in northern Jharkhand on Thursday, September 24.
 Weatherman at IMD's Regional Met Centre at Alipore in Calcutta said that monsoon is going to remain active over Jharkhand for the next three to four days at least.