Water body revival plan put on fast track
Experts suggest that authorities should conduct thorough scientific and hydro-geological survey and identify the source of water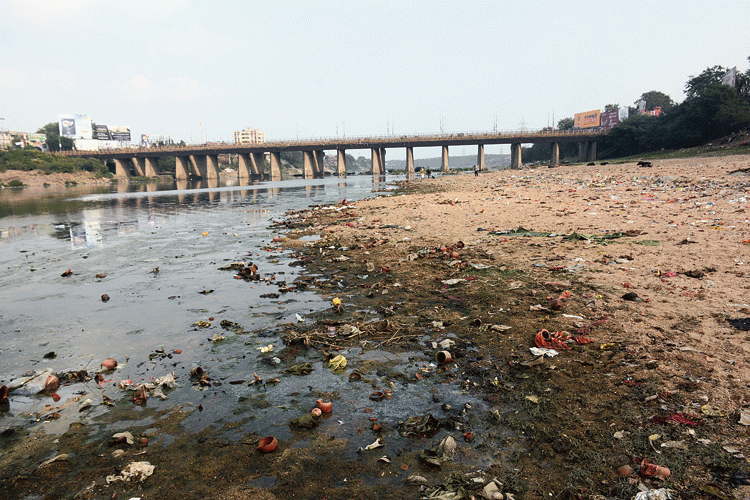 Trash float on the Subernarekha in Sakchi, Jamshedpur, on Saturday.
Picture by Bhola Prasad
---
Jamshedpur
|
Published 04.01.20, 06:35 PM
|
---
The state urban development department has finally woken up to the necessity of conserving and rejuvenating water bodies.
Jharkhand Urban Infrastructure Development Company (Juidco) Limited, an unit of state urban development, has decided to appoint a private consultant to prepare a detailed project report on the rejuvenation and conservation of water bodies flowing through urban areas with special focus on Ranchi, Jamshedpur, Dhanbad and Deoghar.
However, experts suggest that the authorities should direct the private consultant to conduct thorough scientific and hydro-geological survey and identify the source of water before preparing the blueprints to avoid a botch-up similar to Harmu river in Ranchi.
"It is certainly a welcome step by the state urban development though it should have been taken much earlier in view of the water crisis faced in most of the urban areas. However, the consultant should be asked to conduct proper scientific survey of drainage pattern, study of topography and geology of the water bodies including the origin of water. Simply fencing the water bodies will not serve the purpose as has been the case with Harmu river," said Nitish Priyadarshi, an assistant professor in the geology department of Ranchi University, who has been working in the area water conservation in the state for over a decade.
Juidco has already spent Rs 85 crore in the first phase of the renovation of the Harmu river, which stretches 10.5km across the capital city. However, a large patch of the river is still choked with waste dumped by residents though nets have managed to plug garbage carried by drains at certain points. However, polluted water from the drain will continue flowing into the river till the construction of sewage treatment plants in the second phase of the Harmu revival plan.
Juidco project director (technical) Ramesh Kumar said they had learnt their lessons from Harmu.
"I was not in the team when the Harmu rejuvenation project was made. We have carefully figured out the loopholes in the plan and would be taking up the issues with the project management consultant so that a foolproof detailed project report can be prepared for rejuvenation and conservation of water bodies as per the guidelines of the Union urban development ministry," Kumar said.
The Juidco official said the consultant would be appointed by the end of January.
Besides Harmu river, there are nearly 40 ponds under Ranchi Municipal Corporation while in Jamshedpur, Subernarekha and Kharkai river pass through urban areas.
In Dhanbad, there is Katri rivulet and Topchanchi lake.
In Deoghar, there are over 10 lakes and Darwa river.