Violence rocks Dhanbad over coal loading work
Arson, stone-pelting, firing between factions vying for manual jobs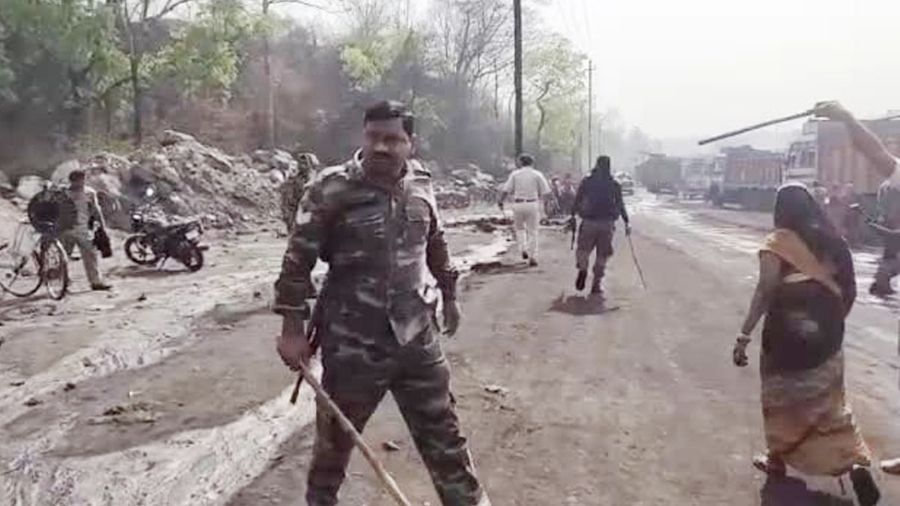 Police try to disperse workers after violence broke out at a coal patch in Dhanbad on Tuesday.
Picture by Gautam Dey
---
Dhanbad
|
Published 16.03.21, 08:46 PM
|
---
Two incidents of stone-pelting and arson rocked Dhanbad on Tuesday, injuring half a dozen workers less than 24 hours after former state rural development minister  K.N. Tripathi blamed privatisation of the coal sector for the escalation of violence in collieries.
The first incident took place at 1am on Tuesday at the coal patch of private excavator Ambey Private Ltd, engaged in coal production on behalf of coal major Bharat Coking Coal (BCCL) at Block II area, around 25 km from district headquarters. Unidentified persons hurled more than six bombs and carried out more than 10 rounds of firing at the coal patch.
The attackers also set ablaze two tipper trucks (bearing registration numbers NL 02K 1492 and NL 02 K 9768) and damaged two other earth movers used in mining work. The armed attackers also caused serious injuries to tipper truck driver Manik Ghosh, an employee of the private coal excavator of Calcutta.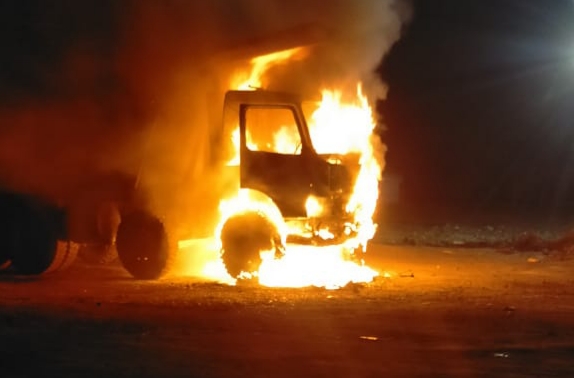 A team of Baghmara police, led by OC Subedar Yadav, that reached the site after being informed by coal workers, admitted the injured driver to a private hospital. The police officer also tried to douse the flames that had engulfed the trucks with the help of local residents.
Yadav said, "We are yet to identify the attackers. We are scanning CCTV footage to identify them."
The other incident occurred at 8am at the Integrated Muraidih-Phularitand colliery in Barora area of BCCL. Two warring factions of local residents involved in coal loading work indulged in violence during which stones were pelted at random. Firearms were used freely, injuring as many as six persons.
Senior police officers led by Baghmara SDPO Nisha Murmu were able to bring the situation under control after a lathicharge.
At the crux of the issue, festering for over a week, is control of manual coal loading at Muraidih Shatabdi coal dump. On Monday, mechanised loading operations were carried out using 13 tipper trucks under police protection due to the volatile situation. On Tuesday, morning, the two factions reached the site after which a clash broke out over who gets to control manual coal loading operations. Murmu said, "We have stopped manual loading in Muraidih Shatabdi coal dump. At the same, we have launched an investigation to find who is responsible behind the violence."
State INTUC general secretary A.K. Jha blamed wrong policies for the escalation of the violence. "Faulty policies of the central government by virtue of which private companies are being engaged in mining activity is primarily responsible for the violence," he claimed.