Villagers' call to scrap Ranchi Master Plan 2037
The protesters marched towards the Ranchi Municipal Corporation office and submitted a memorandum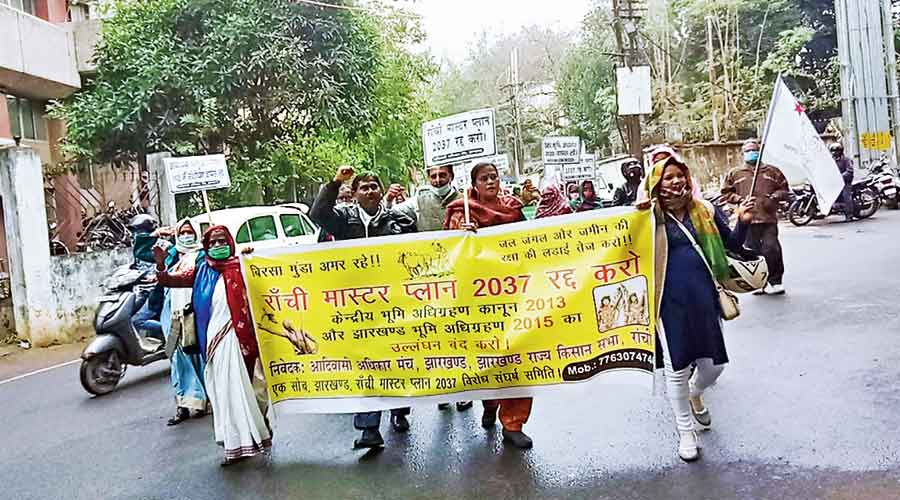 ---
|
Ranchi
|
Published 16.12.20, 01:06 AM
---
Over 400 tribal people from villages adjoining the Jharkhand capital took out a protest march in the city on Tuesday seeking scrapping of the Ranchi Master Plan 2037.
The protesters marched towards the Ranchi Municipal Corporation office and submitted a memorandum addressed to the town commissioner seeking scrapping of the master plan.
The villagers assembled in the city under the banner of organisations such as Adivasi Adhikar Manch, the Ranchi branch of Jharkhand Rajya Kisan Sabha, Ek Soch and Ranchi Master Plan Birodh Sangharsh Samiti.
The master plan aims at developing Ranchi as a big city with better amenities and infrastructure like wider roads, improved transportation, green spaces and affordable accommodation.
But residents of about 120 villages surrounding Ranchi have objected to it their villages spread over six blocks of the district are covered by the plan and their land may be required to be acquired for execution of the plan.
"The villagers have been served with notices asking them to lodge objections, if they have any, latest by December 31," said Prafulla Linda of Adivasi Adhikar Manch.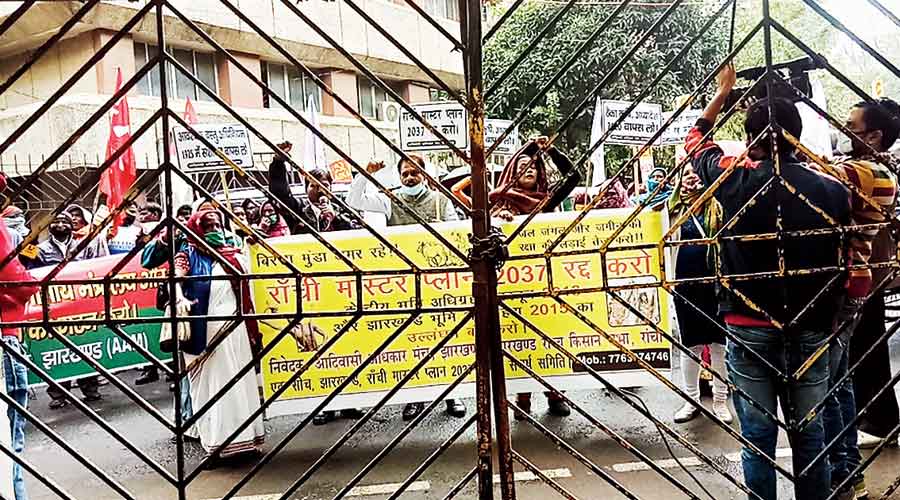 Those notices were "surprisingly written in English, a language most of the tribal villagers cannot read", he added.
"The master plan was passed without any discussion in the state Assembly," said Aloka Kujur, another activist.
She added that the master plan should have been passed by the gram sabhas concerned and the Tribal Advisory Committee before being taken up in the Assembly.
"We also object to violation of the provisions of the land acquisition laws that mandate seeking approval of gram sabhas before initiating land acquisition in a scheduled area," she said, explaining the reason behind their objection to the master plan.
"Those areas of Ranchi district are mentioned in the Fifth Schedule of the Constitution and there is no legal provision for establishing any urban civic body in those areas," the memorandum said, calling the move illegal.
"Since those are scheduled areas, the approval of gram sabhas is a must in case any land acquisition is to be done in those villages," Kujur emphasised, adding no such approval was taken before passing the master plan.
The Jharkhand Right to Fair Compensation and Transparency in Land Acquisition, Rehabilitation and Resettlement Rules, 2015, also specifies that the consent of gram sabhas is required in such cases.
It also specifies that the quorum of a gram sabha meeting consenting to land acquisition must be one-third of the total members present provided one-third of the total women members attend it.
"In the name of so-called development, Ranchi master plan is actually an attempt to dislodge the tribals from their homes for settling the outsiders," the memorandum alleged.