Villagers angry over frequent jumbo attacks in East Singhbhum
Chakulia residents meet forest officials, threaten stir if a solution isn't found in a month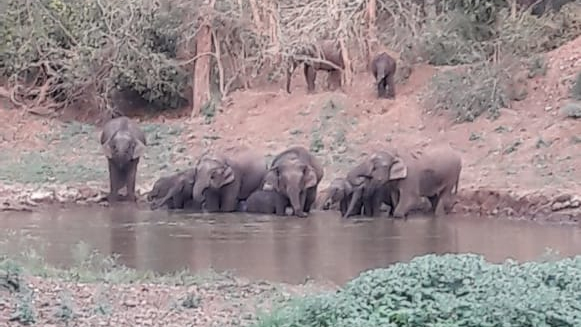 ---
---
Villagers in Chakulia block of East Singhbhum, who are upset with local forest officials for not doing enough to prevent regular elephant attacks, have now threatened to hold an agitation at the range office.
The villagers, under the banner of Janadhikar Suraksha Samiti (JSS), met range officer Ashok Singh on Sunday and handed him over a demand letter.
They said elephants from neighbouring Bengal were testing their patience and were continuing to damage standing crops. Villagers feared coming out of their homes at night in view of marauding elephant herds
Among the demands voiced in their letter are proper compensation for crop damage, increased compensation to the family of those killed in elephant attacks _ from Rs 4 lakh to Rs 10 lakh _ and a government job to the next of kin. They also wanted forest officials to ensure that bushes along roads leading to jungles be trimmed regularly, install high-mast lights in jumbo-affected villages and set up watch towers and corridors for elephants.
The members of the samiti said they would hold an agitation at the range office if the foresters did not find a remedy to regular elephant attacks within a month.
"Job opportunities have shrunk due to Covid-19 and we are somehow managing to sustain our family with farming. But elephants are damaging our standing crops and wiping out vegetables. Chakulia block is experiencing elephant menace for nearly two years now but the foresters are doing little to find a remedy," JSS secretary Kanhai Gope said on phone from Chakulia.
Range officer Ashok Singh said they were alert and trying their best to shepherd elephant herds to Bengal. "We are aware about the problems faced by the villagers. We are doing our best to prevent elephant herds from venturing into farmlands. However, the elephants make it a point to return to Chakulia block. Elephants are moving animals and don't remain at a particular place for long," he added.
Singh said they were operating with quick response teams to drive away elephants to Bengal. Village youths are also helping foresters who move in jeeps. Vvillage youths are armed with mashals (torches) and drums. The forest range office has also distributed crackers among the villagers
Apart from herds, a lone tusker is giving sleepless nights to villagers near Amlagora. The jumbo with two large tusks has been in Chakulia block for over three months now. The tusker is part of a herd but stays aloof. It is temperamental and has taken a liking to venturing into villages, sources said.