Varsity push for foreign tongues
BBMKU to offer certificate, diploma and advanced diploma courses in French, German, Spanish and Japanese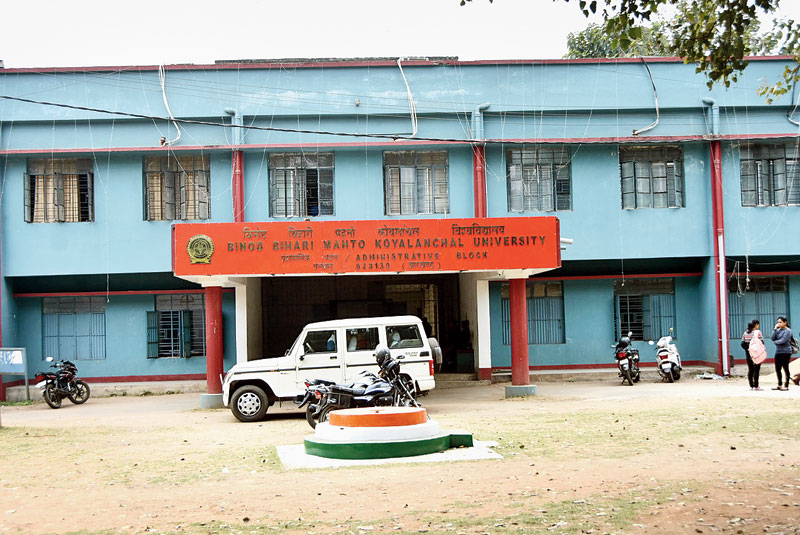 The administrative block of Binod Bihari Mahto Koylanchal University in Dhanbad on Friday.
Picture by Gautam Dey
---
Dhanbad
|
Published 07.02.20, 06:32 PM
|
---
Binod Bihari Mahto Koylanchal University (BBMKU) has completed preparations for the launch of four foreign language courses and is likely to issue the application forms within a fortnight.
The university will be offering certificate, diploma and advanced diploma courses in French, German, Spanish and Japanese, opening a window of opportunity for students to seek careers in foreign services and BPOs or as translators and assistants in foreign embassies.
"The certificate and diploma courses will be for six months. The advance diploma will be a one-year course," head of the department of foreign language at BBMKU, Himanshu Shekhar Choudhary, said.
Each course will have 50 seats.
The fee for the certificate course has been fixed at Rs 3,500 and the diploma course at Rs 5,500.
The advance diploma course will cost Rs 6,500.
A graduate in any discipline can apply for any course and admission will be conducted on a first come, first served basis.
"We have prepared the syllabus of all the three courses in four languages. We had been liaising with the language faculties at Calcutta University and Vishva Bharti University. Language experts from those two universities will be engaged for these courses" Choudhary said.
These courses will act as feeder courses for post-graduation in these four languages that the university will be launching next year.
BBMKU had launched two-year post-graduation courses in French, German and Japanese in 2018, but had received a lukewarm response, prompting it to postpone the introductions of the courses.
According to the norms of University Grants Commission (UGC), the minimum eligibility criteria for admission in a PG course in foreign language is a graduation degree in that language. Arts, science or commerce graduates, who have completed a six-month course in foreign language, can also apply for the PG course.
However, neither the undergraduate course in any foreign language or six-months certificate or diploma course was conducted in any of the universities of Dhanbad.
Therefore, very few students had applied for the PG course when BBMKU first launched it in 2018.
This time, the university decided to first launch the certificate and diploma courses so that the students can apply for the PG course.
"The course fees are the cheapest compared with any other university of the country. We will launching the courses only after getting at least 40 applications," Choudhary said.