Unemployed protesters hold dharna in front of BSL head office
Demonstrators clash with security personnel, traffic disrupted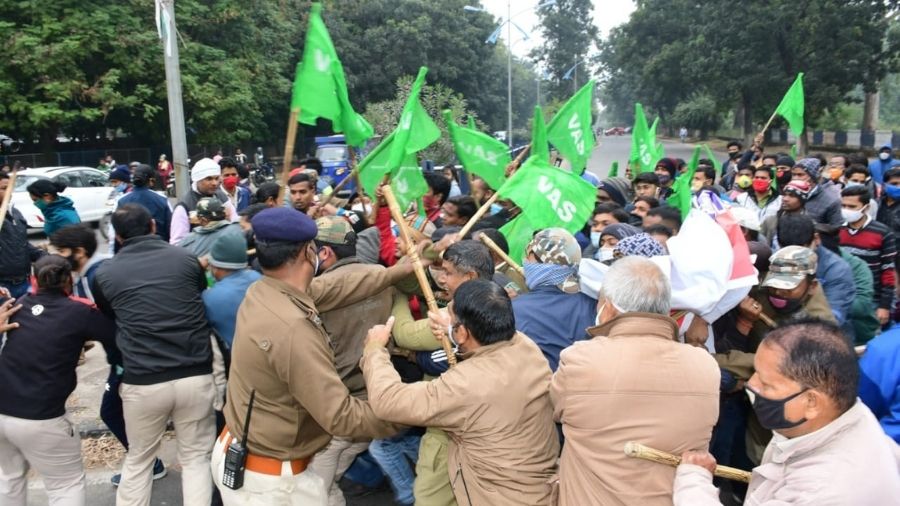 ---
|
Bokaro
|
Published 27.11.20, 05:22 PM
---
Over a hundred protesters of a displaced group on Friday carried out a demonstration in front of the Bokaro Steel Management (BSL) headquarters, as they clashed with the security who tried to stop them from entering the building.
Later, the demonstrators staged a dharna, sitting in the middle of the roads in front of the Ispat Bhawan gate for several hours. As a result, traffic flow in the area got disrupted.
The protesters, under the banner of the displaced Apprentice Association, shouted slogans against the BSL management, demanding employment.
Arvind Kumar, a member of the union, said all of the agitators had pursued apprentice training at BSL, a unit of the Steel Authority of India (SAIL). He claimed that the BSL authorities had earlier said that they could not be directly employed by the company and had to become an apprentice to get the job. Following this, they had also done their apprenticeship.
"It has been a long time since we have done apprenticeships but we have not been provided employment by the BSL. Also, no initiative is being taken by the management to give us employment. This forced us to demonstrate even in the times of the Covid-19 pandemic to catch the attention of the authorities," Kumar said.
"We are going to intensify our agitation if our demands are met," he added.
Chief of Communication, BSL, Manikant Dhan, said they are looking into the matter.
Of late, the BSL's headquarter has become a site to hold agitation despite the area being declared as prohibited by the administration. Over the past month, about half a dozen small and big demonstrations took place in front of the headquarter creating hurdles for commuters and employees. In the past four days this was the fourth demonstration.