UAPA being used as political weapon by BJP, Hemant tells Harvard conclave
'If tribals get educated, who will work as masons, workers and domestic helps for the affluent class?'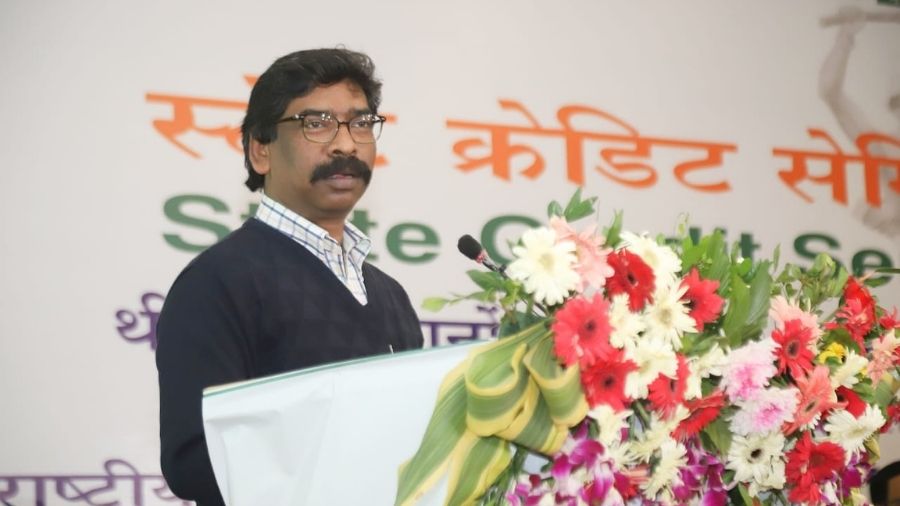 Hemant Soren on Saturday revealed he had seen from close quarters how the BJP government blatantly attempted to thwart voices of dissent during its regime in the state.
Telegraph Picture
---
Ranchi
|
Published 21.02.21, 05:42 PM
|
---
Jharkhand chief minister Hemant Soren expressed serious concern over the increasing misuse of the Unlawful Activities (Prevention) Act to slap sedition cases against rights bodies and activists as a part of political weaponisation by the incumbent BJP- led government in the Centre and maintained that even advocates of indigenous people have come under serious threat in the country. 
Hemant was delivering a keynote address on the second day of the 18th Annual India Conference at Harvard University on Saturday night via video-link on the topic of tribal rights, regional politics, social welfare policies and the mitigation of covid-19 pandemic in Jharkhand. The tribal chief minister spoke his mind for close to an hour during a Q & A session moderated by Harvard Kennedy School's senior fellow Dr Suraj Yengde. 
Citing the situation in Jharkhand, Hemant revealed he had seen from close quarters how the BJP government blatantly attempted to thwart voices of dissent during its regime in the state between 2014-19 under chief minister Raghubar Das when thousands of innocent tribals, many of whom were opposed to the government's move to amend age-old land laws were slapped with sedition cases in the name of Pathalgadi.
To a question about his views on UAPA and sedition cases used as a political weapon, Hemant said: "Sedition and UAPA acts are today being used as a weapon by BJP to fulfill its political agenda. They used it when we were in Oopposition in Jharkhand too. While they (BJP) couldn't personally dent me in their endeavour but they succeeded in nullifying MLA-ship of many of our sitting legislators in the past on shoddy grounds..." 
"Much recently, BJP jailed 83- year- old Stan Swamy, a stalwart of tribal rights, by calling him an  anti-national. He is so old, he can't even do his work on his own. But, he is in jail. Attempts are made to force people to see and believe only that which they (BJP) want to make one believe. This is today the biggest concern in the country," he stressed, adding that the trend of winning polls through caste and communal lines is becoming increasingly dangerous. Resurgence of communal spin
"Now that elections in Bengal are round the corner, we are already seeing a resurgence of communal and casteist spins there. Such tactics lead to an unhealthy situation where people will be forced to adopt extreme sides. As a result of which incidents like mob-lynching takes place. Jharkhand too saw its share of mob lynchings in the past," he alleged.
About the infamous Pathalgadi movement in Jharkhand between 2017-18, Hemant said it was sabotaged by a few "radicalized elements" with links in Gujarat.
"Pathalgadi is an age old ritual of tribals where in they put stone plaques in their villages in memory of ancestors. However, a few radicalized and anti-social elements having links with Gujarat deliberately sabotaged it," he said.
Tribals without identity
for existence. "Tribals are without their own identity in the country," he said.
"They aren't even recognised in the national census. It is why we are demanding from the government of India to have a separate column for tribals to provide them a distinct identity in the 2021 Census. We also passed a resolution in the Aassembly and sent the proposal to the Centre," he xplained.
Asked if he believed tribals (Sarna followers) were Hindus, as claimed by many, Hemant rejected the idea vehemently. "It's a ploy by the BJP. Let me make it very clear that tribals are not Hindus. They are nature worshippers and have different culture, customs and practices which are in no way related with Hindus," he said, adding that adviasis were deliberately forced to live in oppression.
Walking the extra mile
"They are used as napkins. If tribals get educated, who will work as masons, workers and domestic helps for the affluent class? That mentality against adivasis among the developed class still exists today," he rued.
Asserting that the rights of tribals and marginalised are of prime importance to his government, Hemant spoke on how despite facing a funds crunch, his government walked the extra mile to bring scores of migrants back to Jharkhand during the Covid-19 induced lockdown via trains, buses and flights.
"I was the first one to keep pursuing with the Union government to permit us to bring our stranded migrants back but weren't allowed initially for long time till migrant mishaps on rail tracks, roads startled everyone. Soon after states were allowed to get their people, we were the first to host a shramik special train to Jharkhand, led in airlifting migrants from hard to reach areas and so on," he said.
On the post-lockdown roadmap for Jharkhand, Hemant said his government had formulated policies to bolster jobs, tourism, promote sports and all- round development of the state. "Unlike the Centre, which is not saying anything about jobs today, we have dedicated 2021 as the year of recruitments. Efforts are on at various levels to fill all vacant posts, create new avenues. So is our focus on the tourism sector to usher in development. For the first time ever, we came up with a holistic sports policy to promote grassroots sports. To provide global exposure to tribals, we have started scholarships for sending meritorious adivasis to foreign varsities," he said.