Two brothers arrested for theft
Jamshedpur Police solve a complicated case involving close family member, cash and gold recovered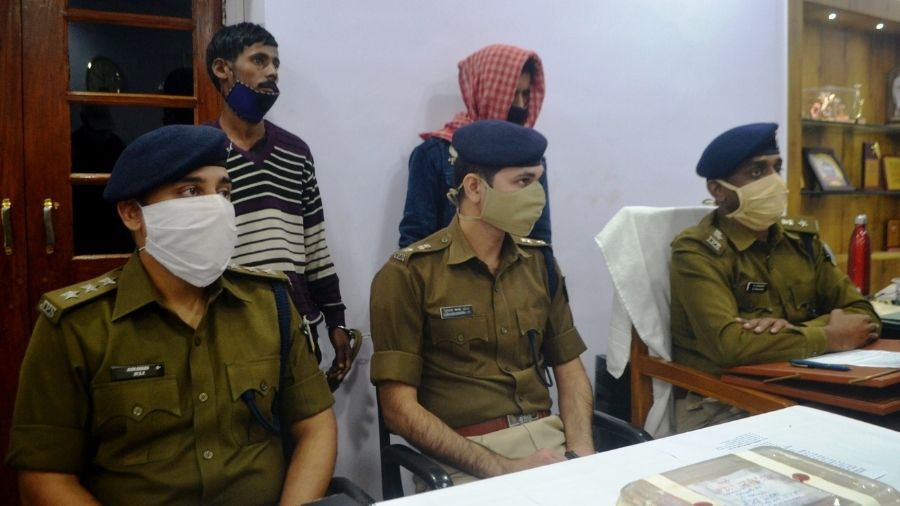 ---
---
A major breakthrough came for the Jamshedpur Police, on Wednesday, for a complicated theft case involving close family members. The suspected duo – Abhishek Chaudhury and Vishal Chaudhury have been arrested, after the police recovered cash (Rs 10,15,000) and gold ornaments from the residence of Vishal's girlfriend, in Jugsalai.
The brothers in their early twenties, had been arrested after the police had registered an FIR on the basis of a case lodged by Devendra Chaudhury, at the Jugsalai Police Station on November 28, against his brother Surendra Chaudhury and his family.
Sharing the details, senior superintendent of police, M Tamil Vanan said Chaudhury, in his complaint, had maintained that cash worth Rs 12 lakhs and gold ornaments had gone missing from his Jugsalai residence, when he was out of town for some work. However, the lock of his residence was intact even after the theft.
"As there was no outsider in the house, Devendra suspected his brother Surendra Chaudhury, his wife and children to have committed the theft. On getting the FIR we set up a special team to get the case investigated," Vanan said.
"Led by the deputy superintendent of police (law and order) Alok Ranjan, the team first interrogated Surendra Chaudhury and his wife, but failed to get any clue. Subsequently the team interrogated Surendra's two sons," he added.
The police officer said that Vishal was really close to his uncle and would often drive his car as well.
"On being interrogated intensively, Vishal gave in and confessed to his crime. He divulged that he persuaded his elder brother Abinash to help in committing the theft at his uncle's house. After taking the cash and jewelry, he had kept them at his girlfriend's house at Jugsalai," Vanan informed.
"On cracking the case, the police led Vishal to his girlfriend's house and recovered Rs 10,15,000 and the jewelries, which included a gold necklace, gold chain, two sets of earrings and two sets of gold rings on Wednesday," he told reporters.
According to the police, Vishal had complete knowledge about his uncle's business and was aware of the fact that he kept a large amount of money at home, therefore he had planned to commit such theft and was just waiting for an opportunity.
"As Vishal was close to his uncle, he had access to the keys of the house as well as the wardrobe. He had even made duplicate keys of the house and the steel wardrobe. When the victim, who is a bachelor, went out of the house, the accused executed his plan," said a police official who was also a member of the special team.
The two brothers have been sent to Ghaghidih Central Jail after having undergone a Covid-19 test and being produced before a judicial magistrate late in the afternoon.